Next Stop, Music City
With the phenomenal success of Summer Fest, and the rise of new venues like White Oak and others, is Houston finally coming into its own as a music capital? Our writer opines.
Julian Bajsel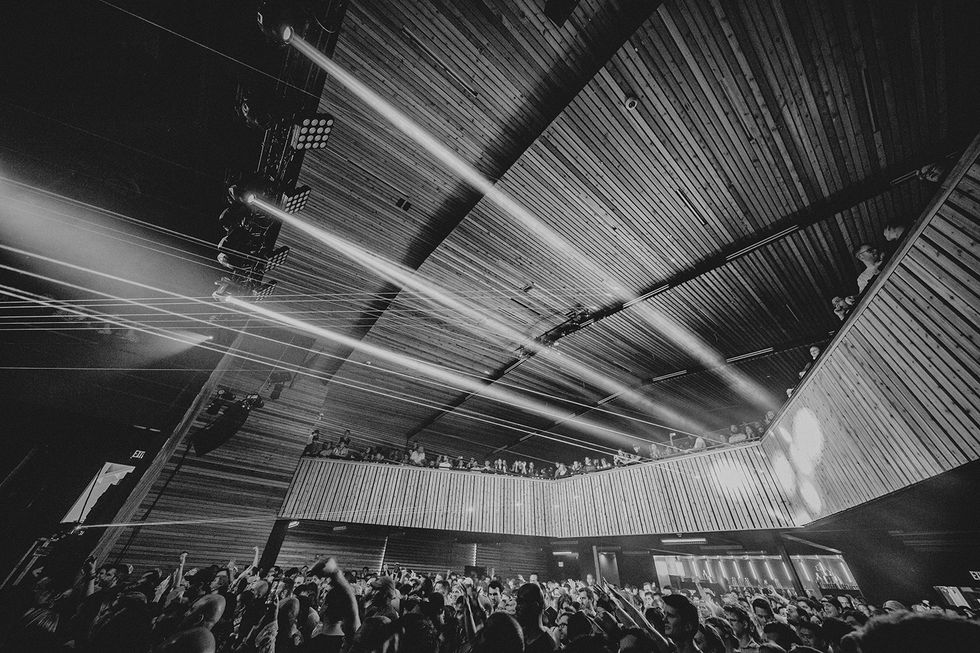 It's Saturday night and cars line a street in one of the unnamed neighborhoods that sit between the Med Center and Reliant Park. A tableau that epitomizes the exciting, often rather odd, and at times controversial evolution of Houston's music scene over the past decade, from famously underwhelming to explosively significant, is playing out nearby.
---
A stream of 20-somethings — nearly all bearded men and women with aggressively hip hairstyles — stream into an otherwise unremarkable house. As the front door opens and closes, snatches of music drift into the night. It's coming from H-Town R&B artist Jack Freeman. In a tight white button-down, jeans and a straw trilby hat, he's leaning into the microphone, swaying his hips, singing. His song "Slow Dance," delivered to the accompaniment of a single guitar, references Marvin Gaye, Stevie Wonder, Gladys Knight and — as this is Houston — Beyoncé. It has inspired a couple to get up and, well, slow dance in the house's small living room. The two are enchanted by the music, and seemingly oblivious to the several dozen other people sitting on the floor, cushions and sofa taking in the scene, all of which is being filmed by several semi-pro camera set-ups to preserve the performance for social media.
The occasion is a show by Sofar Sounds, an only-if-you-know national movement that started on the internet and involves buying a ticket online for a show in a particular city on a specific date. The address and performers are only revealed on the day of the event, via text message. "We've got a great music scene in Houston," says Drew Edwards Evans, a transplanted Angelino who scouts performers and venues for Sofar, "just not all of it is out in the open."
Flash forward a couple weeks, and Evans, also a producer and promoter, is on hand at a performance of yet another rising Houston R&B star, Lee-Lonn. It's a sold-out event at the velvet-lined, boudoir-like club above the House of Blues. After an open-mic affair for aspiring rappers and singers, who each take the stage backed by a full band to improvise an arrangement for a cover or two — Rihanna's "Diamonds," Gnarls Barkley's "Crazy" (twice) — Lee-Lonn steps up. With a drummer and tracks from his Mac offering backup, he launches into "Maybe," one of his earlier singles, which elicits a frisson of recognition and appreciation, and then he reveals he'll be releasing a long-awaited new record, Lush, later this year. "It's all right there for him, he's a star waiting to happen," said Evans, standing in the wings. "Houston's got a lot of world-class talent, but it's often hard to get recognition for it."
H-Town has long been something of the Rodney Dangerfield of music cities, always in the shadow of ATX. "The question I always hear from young musicians is why isn't Houston like Austin," says Allen Hill, an agent who books musicians for private parties and currently plays in his own eponymous outfit, the Allen Oldies Band. "But what people don't realize is that Austin's music scene was really born out of the '70s and sustains itself on the legacy of Willie Nelson, Jerry Jeff Walker and others. But now there's an entire infrastructure in place to support musicians, from studios to bus touring rental companies."
Hill says Houston was once "flyover" territory for touring musical groups. "They'd play New Orleans, but then head to Austin and Dallas, and skip us altogether." Part of the reason, he says, is that Houston is a hard town to get to know and, unlike New Orleans or Austin, there's never been much of a central party district. "The places people play are spread all over town, and unless you're dedicated to coming here six or seven times a year, like some of the bands from Austin do, you'll find it hard to build an audience."
Furthermore, says Hill, there wasn't a lot of crossover between different types of fans; heavy metal fans didn't go to see punk music, hipsters didn't go see country. "But now a lot of the successful groups have similar fan profiles. Seeing great music is like any participation sport and a numbers game: A crowd draws a crowd."
And things are changing. Houston bands like the Suffers, the Ton Tons, Los Carnales and Wild Moccasins have hit the national scene. And new live-music outlets like White Oak Music Hall, Smart Financial Centre and Sofar Sounds' surprise home venues — joining the ranks of Warehouse Live, Revention Music Center, the Cynthia Woods Pavilion and House of Blues — are changing the local landscape for artists and fans alike.
But if there was a watershed moment that marks when Houston's music scene evolved, it would be the launch of Free Press Summer Fest in 2009. It started as a pint-sized version of Austin City Limits attracting a mostly regional crowd of 30,000 to Eleanor Tinsley Park. But it's blossomed into the city's premier festival, drawing fans from all over the world in numbers topping 100,000, and spawning a wave of new cutting-edge music-related festivals such as April's Whatever Fest and December's Day for Night.
Promoter Jagi Katial and Free Press Houston founder Omar Afra are largely credited with making it happen, before selling the operation in late 2015 to Austin-based C3 Presents, which also produces ACL, Lollapalooza and Bonnaroo. The 2017 Summer Fest is June 3-4 with acts including Lorde, Flume, G-Eazy, Cage the Elephant and Solange.
For his part, Katial is also partly responsible for reviving Fitzgerald's, the 100-year-old music venue in the Heights, and he's one of the partners behind White Oak Music Hall, which opened in 2014 nearby. Will Garwood, a developer, and Will Thomas, a musician, are also involved in the $10 million-plus project that offers flexible performance spaces — anything from 300 people on an indoor stage, or 1,500 in a larger indoor hall, to up to 3,000 people who can sit on the space's lawn. (The "Hear and Now" portfolio of musician portraits in this issue was photographed on location at White Oak.)
White Oak has invested serious money in becoming a top venue, having hosted big theatrical acts like The Flaming Lips and moody crooners like Morrissey. "Our intent," says Thomas, "is to give the touring acts a place to land between New Orleans and Austin, and give them a choice of the size of crowd they'd like to play to and how intimate they want their show to be. It also gives fans options; the average ticket price in our smaller theater is $12.50 while the shows in the main hall are $22."
That White Oak Music Hall has found a home in what is essentially a residential community is a function of the changing nature of Houston music. "People are walking to our shows, riding bikes to our shows. There are more people on North Main Street and people feel safer in the neighborhood," says Thomas. It's an anchor that will likely contribute to gentrification, much like Warehouse Live has become an anchor for social life in EaDo.
Of course, as you might expect in a city of several million people, not everyone is happy. Some of White Oak's neighbors have brought the venue to court, complaining the noise of the outdoor concerts and increased foot traffic are violating their property rights. The courts temporarily halted outdoor concerts — of which there have been less than a dozen so far — but they are scheduled to resume this month. Garwood says that there are city ordinances about noise, "and we are following them."
These are the growing pains of a music city coming into its own.
And the beat goes on, as other unique and interesting music outlets continue appearing. "The revival of the Heights Theater as a music venue is maybe the best new thing to happen to Houston live music since Summer Fest," says agent Hill. The 1923 former movie theater re-opened last year after having been purchased by Dallas developer Edward Cabaniss, who also redeveloped the Kessler Theater in Dallas. "It means he came in with great relationships to book bands and is the savviest of the new promoters in town. The place has the right vibe. The signs around the place tell you all you need to know: 'If people are up dancing, then dance; if not, then sit and listen.'"
Art+Culture