Out of the Oven
With bright design and streamlined Italianate fare built around a live fire — not to mention the fun, bustling bar — Rosie is riveting.
Julie Soefer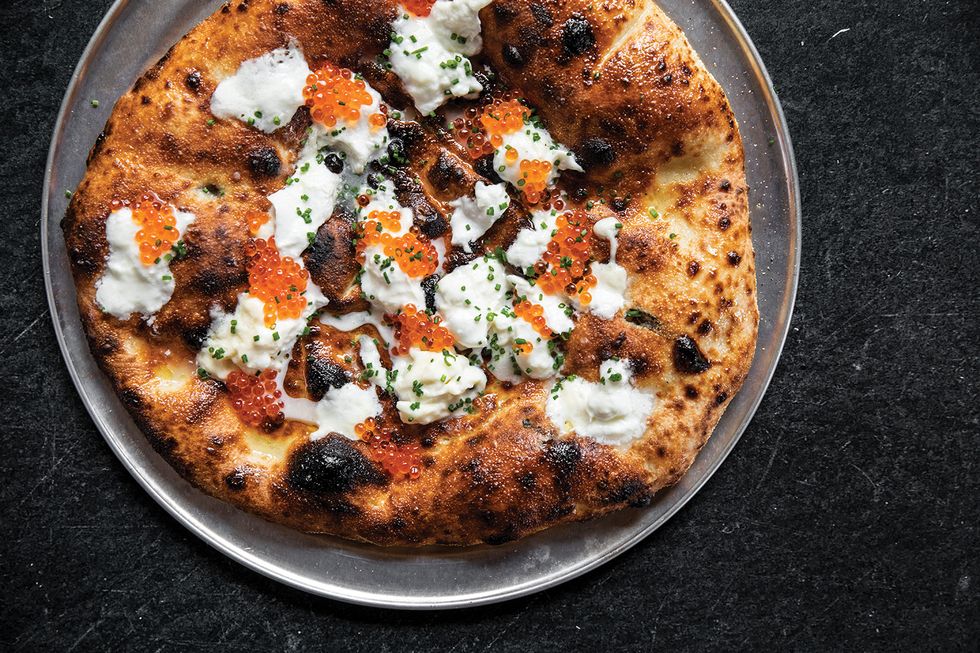 For denizens of Montrose, or even those who have happened along the Westheimer Curve occasionally over the past couple years, it'd be impossible not to notice the methodical evolution of a swath of prime real estate on the north side of the street on the 1600 block. Here, impresario-turned-restaurateur David Keck of the nearby Goodnight Charlie's nouveau honky-tonk and his partners at Goodnight Hospitality have been building a new 10,000-square-foot space with the look of a stately old commercial building in a posh small city's downtown area; Greenwich, Conn. maybe.
---
Now, finally — with the recent opening of not one but two of the three foodie concepts that will ultimately reside in the building, the Euro-style Rosie Cannonball restaurant and Montrose Cheese & Wine gourmet shop — Keck and Co. are offering a look inside. And, more to the point, a taste.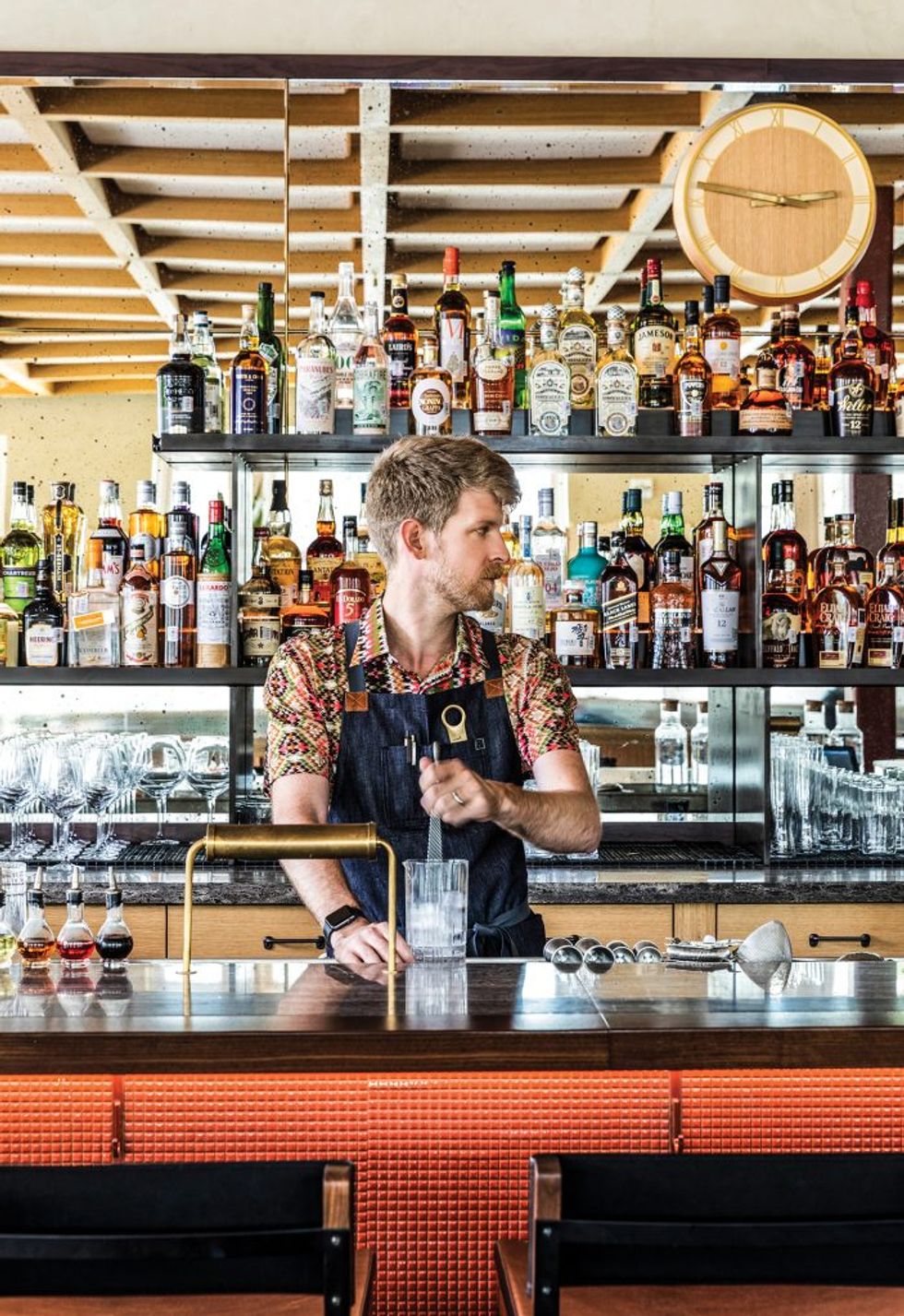 The colorful bar
For its part, Rosie Cannonball — despite its entertaining, intriguing name that seems to have no specific relevance other than it was thought up by one of Keck's partner's cute kids — is a breath of fresh air. Clean and easy and at times salty-sweet.
The space, with salmon and sandy hues calling to mind a desert sunset, has accents of white oak and raw-edged travertine. Groupings of potted cacti add an additional arid touch. The red tiles of the large bar area (from which emanates a bright array of artisan drinks and, naturally, a smart little wine list) were inspired by 1960s-era cafeterias in Italy, the designers say. Natural light splashes in generously from the southwest; your early dinner will be warmed with the Magic Hour's golden rays.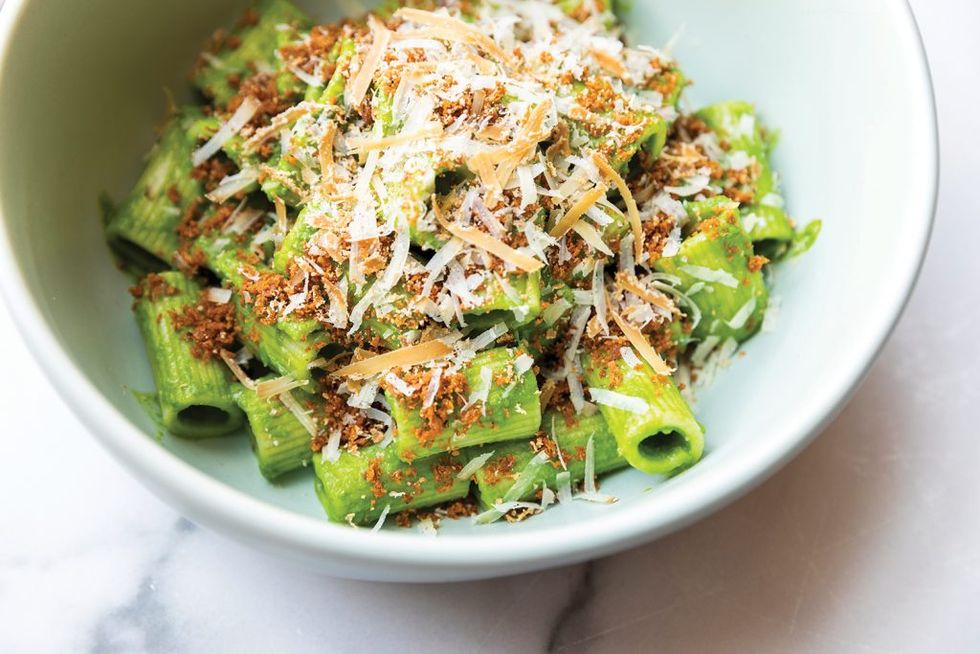 The Rigatoni di Mancini has pesto, smoked ricotta and bread crumbs.
Keck, his chef-partner Felipe Riccio and Chef de Cuisine Adam Garcia, the latter two both seasoned cooks with impressive international résumés, have concocted a notably simple, limited menu that impresses you without seeming to try too hard to impress you. It leans on vegetables sourced from the restaurant's farm between here and Austin, and on a big live-fire grill and wood oven custom-created by chef Felipe's industrial-designer wife Hayley. (Extra points for keeping it in the family!) The food is said to be pan-European, but the prevalence of pasta and pizzas, not to mention the fun Fellini quote on the menu — "Life is a combination of magic and pasta" — suggests Italy holds sway.
The standout starter is a cousin of Rosie's softly blistered pizzas: Focaccia di Recco. This is two insanely thin layers of flatbread sandwiching an equally thin layer of mortadella and locally sourced soft-ripened robiola. The result is a can't-stop-eating-it situation that oozes tangy bright-white cheese and hot juicy meat fat.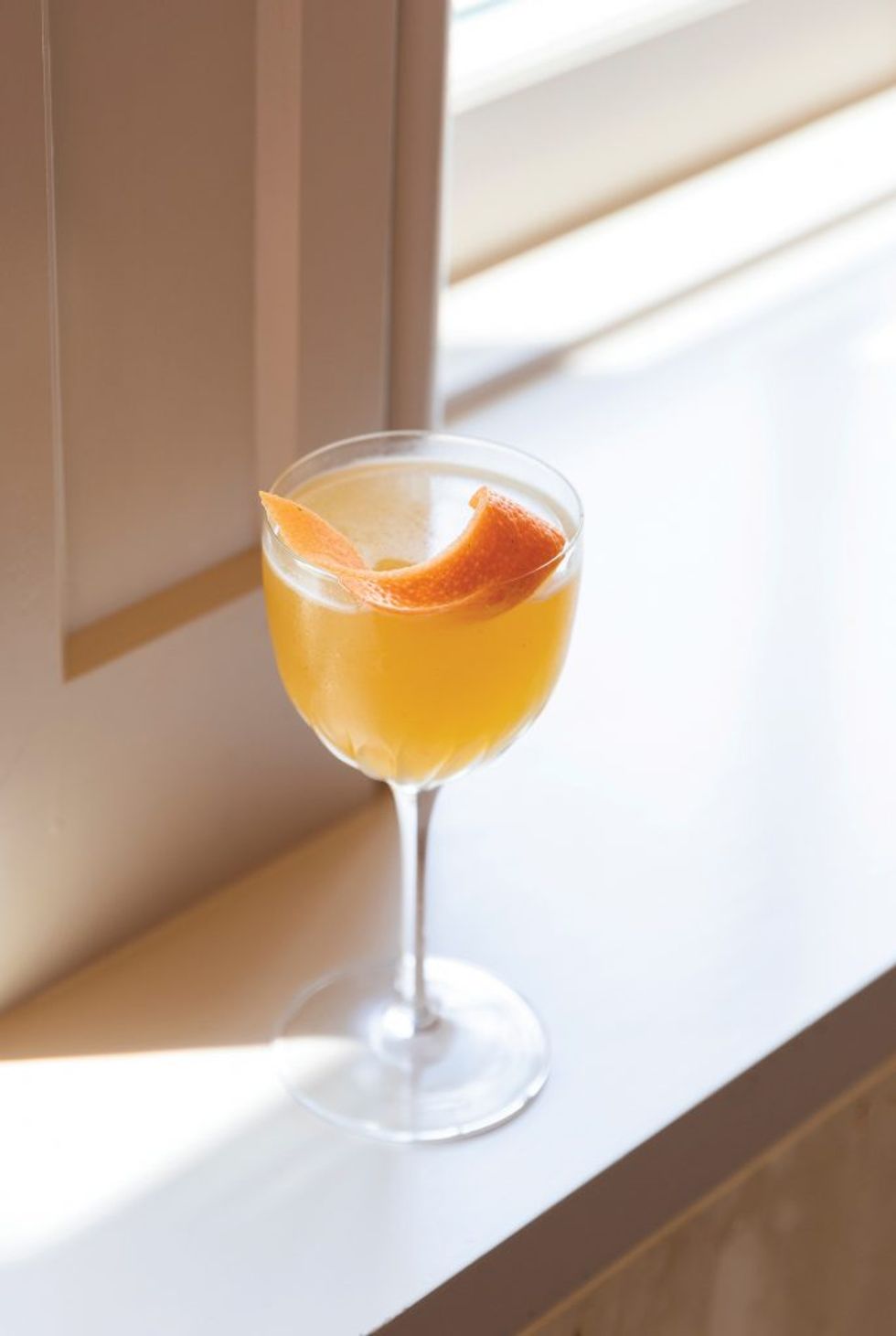 The Safe Harbor Sour cocktail with charred grapefruit
Among the five pizza options, the straight-up pepperoni number, and the novel one with chives that's finished off with smoked trout roe, are emerging as fan favorites. Another good nibble is the "Matrimonio," which, ahem, marries two different varieties of anchovies with flourishes of raw green apple and crispy fried garlic bits. The pasta selection of three highlights a spin on a rarely seen classic, Tortellini in Brodo; dense little chewy tortellini stuffed with prosciutto come emerged a bold chicken broth floating with salty melted Parmesan. 
Simple variations of steak, pork and fish make their way through Rosie's grill, and vegetables get a starring role in many of the best gets here. In fact, no dish exemplifies the chefs' fearlessness when it comes to salt and smoke more than the Blistered Green Bean Salad. A beautiful little thing, the barely roasted medley of beans, shoots, peppers and olives packs an unexpectedly potent punch of both; it gets dusted with some finely chopped nuts as it leaves the kitchen. And the grilled hen of the woods mushrooms — they have rows of delicate wavy folds rather than caps — are doused in an eggy, lemony straightforward sauce.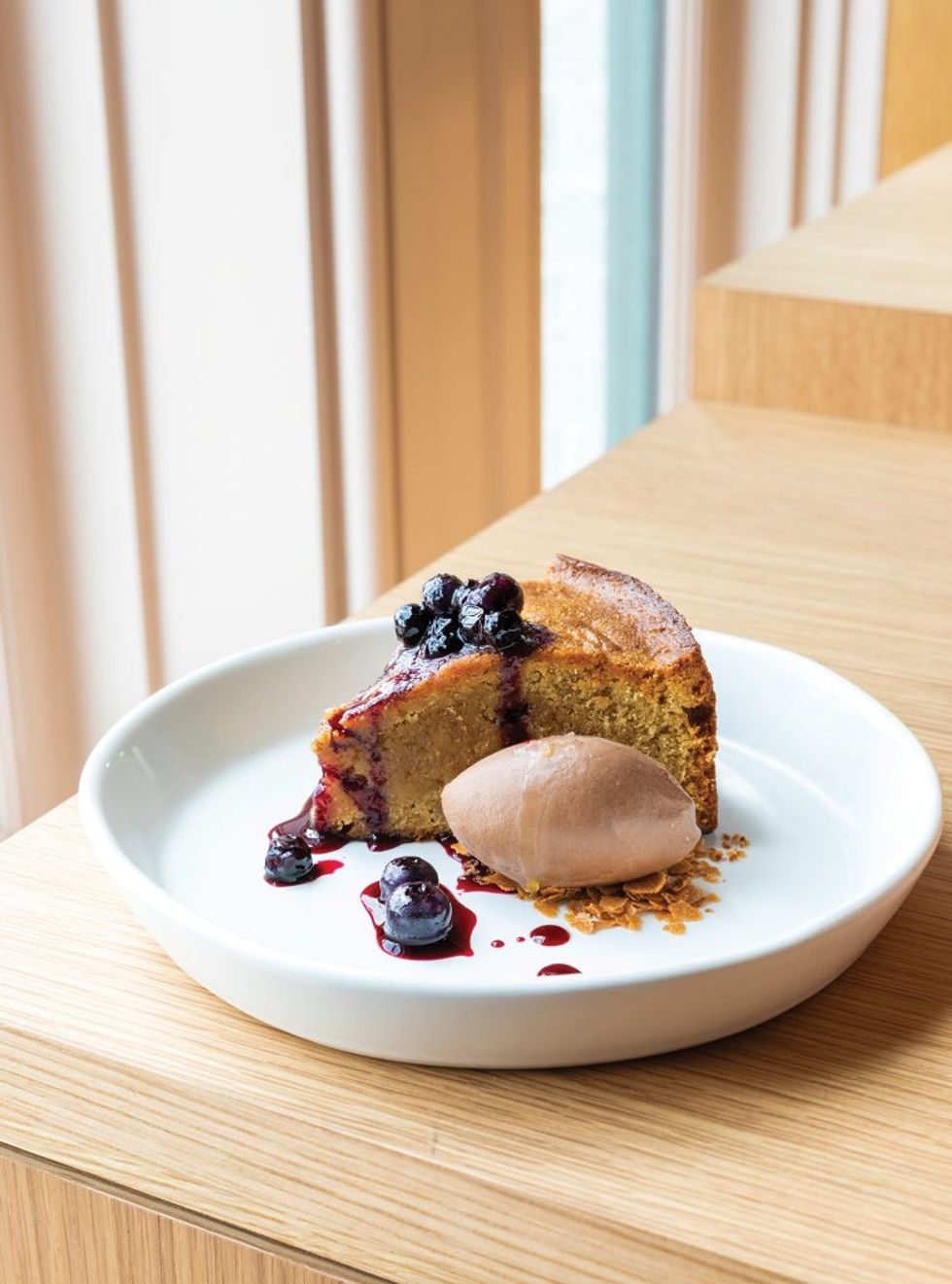 Hazelnut cake with Lambrusco-soaked blueberries and chocolate sorbet
Desserts echo the ethos of the menu. Chocolate mint gelato utilizes multiple types of fresh mint from the farm. The unusually light and fluffy "cheesecake" comes warm and crustless, in an oven-scorched bowl fashioned of parchment.
Both Rosie and the new shop — it's actually accidentally becoming more of a mini-wine-bar, with a lovely little alleyway courtyard that's sure to be besieged when the weather cools — seem to have become bustling overnight hits. And, in a few months, the third and final resident of the new building, an exclusive tasting-menu-only setup to be called March, will open upstairs. Keck and Goodnight's dream will have come fully to life.
AT TOP: A wood-fired pie with smoked trout roe at Rosie Cannonball
Food+Travel