Oxford Calling
In a posh Tanglewood bachelor pad, a developer channels college glory days with party savvy and good "Ole" Southern style.
Julie Soefer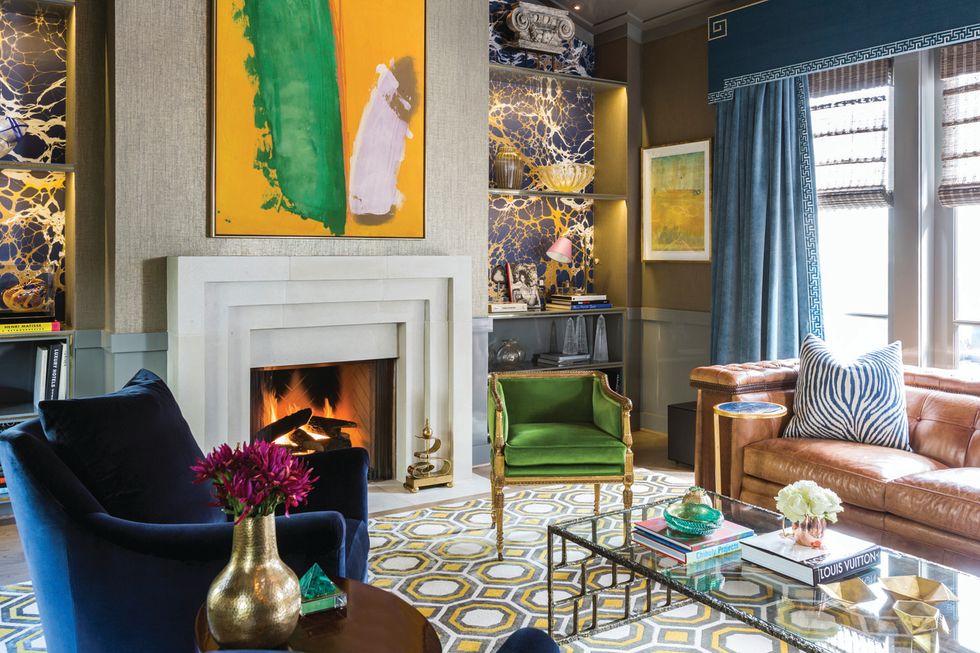 Blake Tartt III is always smiling. And why shouldn't he be? "I've never had a bad day in my life," declares the fourth-generation Houstonian and reputed host with the most. The exuberant Tartt, 55, is as well known for being a visionary commercial real estate developer and the president and CEO of New Regional Planning as he is for throwing a great party.
---
And so, not surprisingly, when it comes to his 5,400-square-foot, two-story white-brick Tanglewood home, put together beautifully by his designer sister Courtnay Tarrt Elias, he says it's "one-hundred percent about entertaining … with a feeling of New South." (Elias' home is featured in "Family Style" in this issue.)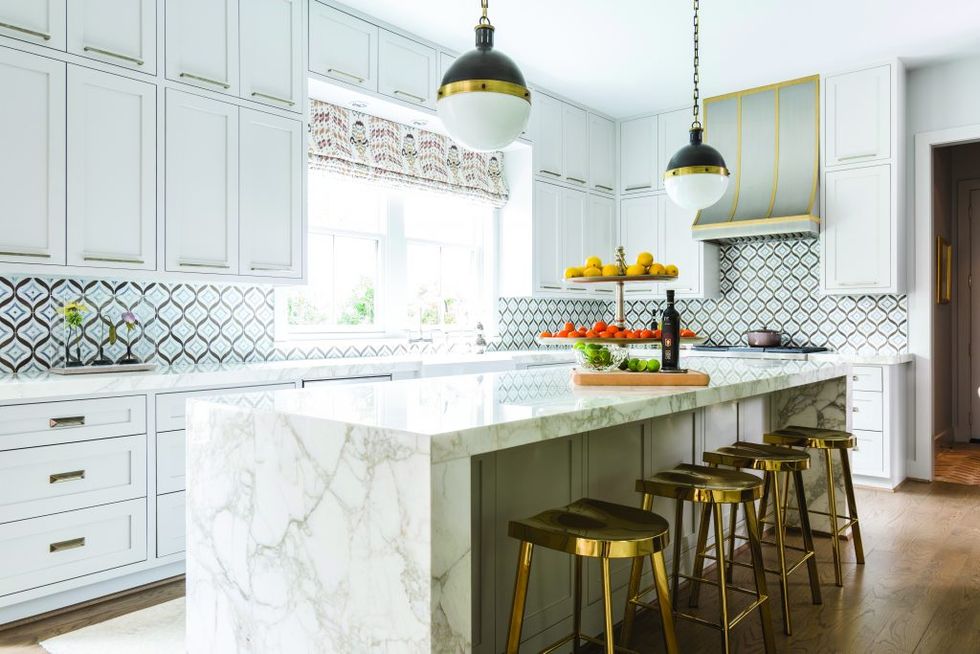 The Kitchen, where Tartt does a lot of entertaining, boasts four brass bar-stools and backsplash patterned tiles that extends all the way to the ceiling.
Tartt's always loved a good party, and the South. He grew up in River Oaks, but when it came time for college, he headed to the University of Mississippi. "When I was a senior in high school, my father took me to Ole Miss for the Sigma Chi Derby Day, and that was it for me!" The young man fell in love with the Southern charm of Oxford, where he now owns a second home, and made a name for himself on campus in the '80s for organizing phenomenal theme parties — "I built go-go cages and recreated Animal House," he muses—that, to this day, are annual traditions.
Floor-length teal curtains add a pop of color to an otherwise light, bright dining room.
"The stories about Blake are legendary," says Buckner Corso, a newly minted Ole Miss graduate and Sigma Chi brother. "One time he filled the whole Sigma Chi house with sand for a beach party. The housemother almost killed him because it took about 10 years to get all of the sand out!" And a couple of years ago, Tartt threw what the Oxford Press dubbed as "the biggest tailgate party in Mississippi." On the evening before the Ole Miss vs. UT football game, Tartt put on an extravaganza that included a live band, Ole Miss cheerleaders leading a private pep rally, lots of local cuisine and plenty of booze.
Naturally, when it came time to design his own home, creating a great space for entertaining was a priority. So the self-described "bachelor who hasn't finished dating" turned to his younger sister to spearhead the design. And Courtnay Tarrt Elias of Creative Tonic delivered.
Tartt and his designer sister created an area made for entertaining, with a pool table, big-screen TV and wine-tasting alcove.
The spacious living room interprets Southern comfort as a deep, beige leather Chesterfield sofa. A colorful abstract painting by the late abstract master Dan Christensen, with his vibrant, fun-loving colors of yellow and green, hangs over the fireplace, echoed in a custom rug. Bookshelves on either side of the fireplace are backed with evocative blue and gold wallpaper that resembles the marbleized paper found on the pages of antique books. Elias also designed a setup for Tartt's vinyl record collection so that Tartt and his guests can get into the party mood with a heavy dose of vintage soul, blues and, naturally, Elvis.
The nearby powder room is pure Oxford. Tartt commissioned Houston muralist Leslie Segreto to create a dream-like Mississippi collage with a riverboat, azaleas and the woods leading up to the home of Oxford-reared author William Faulkner, who once famously noted, "If Oxford were ever taken away, the universe itself would collapse."
The dining room, the scene for formal affairs, sports a sleek brass-inlayed dining table—and an antique gilded mirror that belonged to Tartt's grandmother set rather glamorously upon a mirrored wall. Louis XI chairs and framed family portraits hanging on the walls project a sense of old-school Southern gentility and family heritage. And yet glimpses of Tartt's fun-loving, modern lifestyle are close, as well: The dining room overlooks a brick-paved courtyard with a swimming pool, where a row of flames dramatically dances atop the length of a water wall. There's also an outdoor cigar lounge and dining area, along with a flat-screen TV and barbecue. "I like having my friends over for cookouts," he says. "I'm pretty good at grilling steaks." For more entertainment, Tartt and his guests sometimes go up to the second floor, where there is an elegant combination billiard-media-wine room. There are custom jade mohair sofas, a pool table and a huge, purple-fringed ottoman, and Elias designed a brick barrel-vaulted wine area with New Orleans-style gas lamps and a mahogany wine-tasting table. An amethyst Murano glass chandelier hangs overhead.
His brick-paved courtyard includes a fire-topped cascading waterfall.
Not that Tartt is all-play-and-no-work. Far from it. His commercial real estate portfolio includes properties such as Post Oak Plaza, Memorial City Mall and Northline Commons. He's director of the Houston Police Foundation, and is an avid supporter of MFAH and Houston Livestock Show & Rodeo. He also has several projects in Oxford, and serves as president of the Ole Miss School of Business Real Estate.
For all his parties and business interests, though, he finds time for family. He says that often, late at night, after a long day at work capped by an impromptu social gathering at his place, when he's alone at last, he texts his sister the same simple message: "I love my house."
Fashion+Home