Perfect Setting
Jeweler Richard van der Dys brings a polished pedigree and personal touch to his newly expanded Woodlands showroom.
Jack Thompson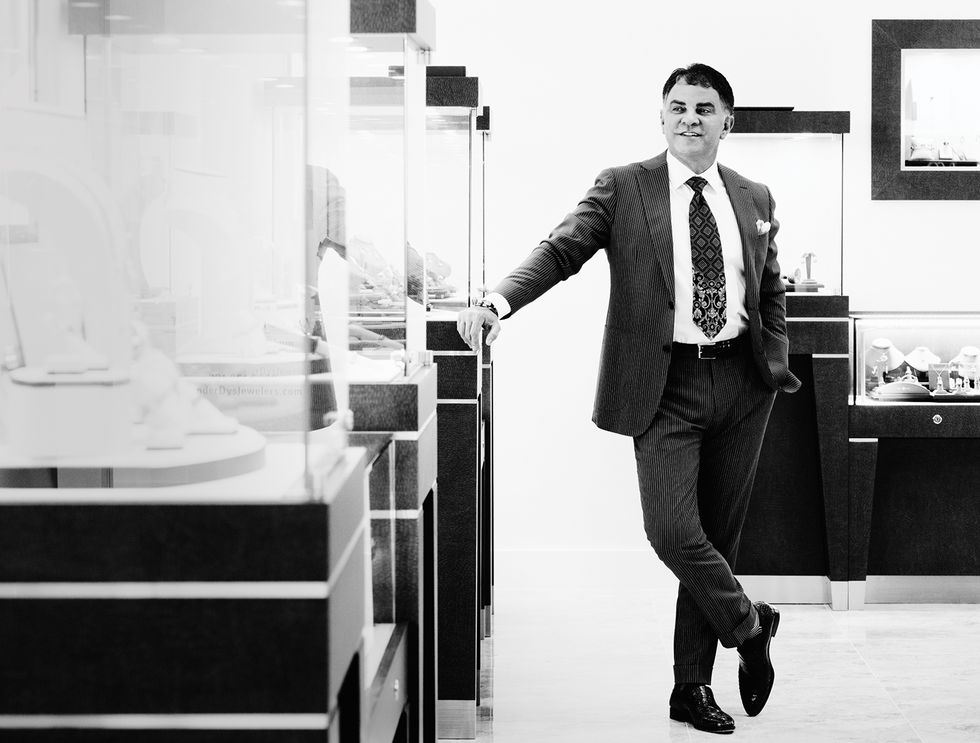 Richard van der Dys fulfilled a lifelong dream when he opened his independent jewelry boutique in The Woodlands Waterway Square back in 2018. The sparkly shop quickly drew attention, both from new visitors and from longtime customers who knew Vander Dys — a 30-year industry veteran — during his days as manager of the area's now-shuttered Donoho's Jewellery. After a year in biz, Vander Dys Fine Jewelers doubled its footprint, taking over the art gallery downstairs. And with new designer acquisitions and one-of-a-kind custom pieces in the works, 2020 is shaping up to be an equally dazzling year.
---
Born into a Venezuelan oil-and-gas family, van der Dys grew up in Tennessee and always saw himself going into the mineral and mining business — but precious metals and gems weren't part of that initial plan. After graduating from college, he worked in oil and gas briefly before becoming a successful restaurateur in central Texas. It wasn't until a casual stop at a family friend's jewelry shop in College Station that his longtime interest in the watch and bijoux business finally took hold. His friend inquired, "Have you ever thought of getting into the industry?"
Before he knew it, van der Dys was climbing the ranks to the top of the field. He worked several years in commercial retail, then landed a coveted spot working for luxury Brazilian design house H.Stern in New York. Before long, Texas drew him back, and he arrived in the Houston area to manage Donoho's. He spent a decade becoming a beloved fixture in the regional fine-jewelry scene, perfecting not only his gemology skills, but also cultivating a loyal clientele. He stepped out on his own just a few months before Donoho's closed its doors forever. 
"Opening my own shop has been truly awesome and fun from the very beginning," says van der Dys, who partnered with his sister Carolina Ingram and close friend Vince Cuellar, who combined have more than 65 years' experience in the trade, to launch the boutique. The team offers watch and jewelry repair, resetting, restringing, cleaning and engraving, and sells exclusive designer jewels, unique timepieces and estate collection finds. Van der Dys was the first in the country to carry Italian designer Piero Milano, known for elegantly simple lines and celestial clusters of white diamonds, and recently added Charles Krypell, whose modern and colorful statement rings make bold fashion statements, to its designer list. This Valentine's Day, they're flying in the mother-daughter design duo behind L.A.-based Sloan Street. "We really have a range," van der Dys says of both the boutique's offerings and price points. "Believe it or not, you can start at $500, or quickly rise to $10,000." 
Of all the treasures in the shop, however, Vander Dys is most proud of his own custom-designed pieces. For him, nothing is more inspiring than rare gems and colorful stones. "I love emeralds," says Vander Dys, who travels the world to work with dealers and procure precious jewels, with excitement. "It's my birthstone, and in Colombia you find the finest in the world." At the moment, his favorite custom pieces are a 2-carat green diamond necklace and matching 2.5-carat ring. The clarity and the intensity of color make them extremely rare. "You can mine thousands of ores and never see a green diamond."
AT TOP: Richard van der Dys designs many of the showstopping jewels he sells in his Woodlands boutique
Style+Culture