Posh on the Peninsula
In the dry forests of northwestern Costa Rica, on a cliff above turquoise seas, a former private mansion becomes a luxurious getaway resort.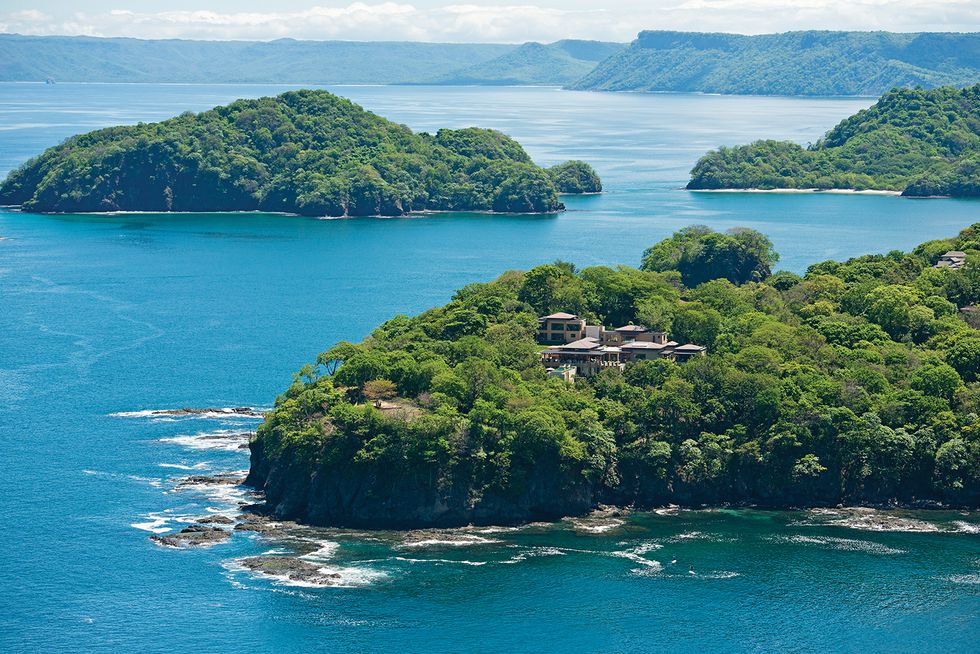 At first, it's not clear exactly where the watery sounds — crashing, falling, churning — are coming from. After all, here on the terrace of Villa Manzu on Peninsula Papagayo in northwestern Costa Rica's dry forests — not the rainforests the rest of the Latin American country is famous for — it could be coming from anywhere.
---
Is it the water spilling off the rectangular, jade-tiled pool, infinity-style on three edges, jutting over the edge of the cliff on which sits the Villa, built as a private home a few years back but converted into a luxury rental property before the owners got situated? Or it coming from halfway down the steep mountainside, where the open-air spa is located amid the misty spray of two waterfalls?
Or is it the sexy splash of the other pool, a cocktail pool if there ever was one, literally one step off a lavish bar, backlit and glowing. Or maybe it's the lumbering tide of the Pacific far below to one side, or, to the other, the gentler waves of overlapping bays, delineated by volcanic mountains, the largest and nearest of which is Culebra, or Snake, Bay. (Locals might tell a little white lie, that the bay is so-named because of its serpentine shape. But it's actually because a breed of tiny yellow sea snakes appear by the millions certain times of year, to the delight of snorkelers who don't seem to mind that they're venomous.)
Truth is, of course, it's a symphony of all the above, mingling with a soundtrack of edgy-lite mellow pop. Such a nice moment to soak up, while sipping cold fresh coconut water from its own shell, spiked with Malibu by a butler named Luis.
Villa Manzu, whose name translates to friends' house, is available as a full-property rental, starting at $16,500 a night for the eight suites and full staff. It's at the end of a gated community affixed to a remote peninsula, surrounded by luxury. There's a Four Seasons nearby, an Arnold Palmer golf course, too. And Villa guests have full access to a beach club for lounging, and the labyrinth of challenging hiking trails punctuated with Instagram views for not lounging. (For the latter, Luis can meet you halfway with cold water and damp cloths. Cool off a minute and look for monkeys in the trees.) The Villa can also provide surfboards, stand-up paddleboards, kayaks and mountain bikes.
A bit further afield is no shortage of storybook excursions. You can tour a mangrove river that's only accessible at high tide, or arrange for a barbecue at a private little black-sand beach a quick boat ride away. Touring the area by helicopter is a thrill. So is the zipline adventure park, which features one of the longest zips on earth.
But it's hard to leave Manzu — just ask the Kardashians and Zac Efron, both of whom visited within a couple weeks of each other in the summer. Just stewing around the sprawling house, designed in a sort of Balinese-meets-classic-Hollywood-glam style, could fill hours. In fact, you may never leave the bathroom if you're in the suite with the shower open to the ocean on two sides, or the one with a tub set palatially at the end of a corridor lined with intricately carved arches.
And then there's the food. The open kitchen just off the main lobby is manned by talented chefs all day, starting a sunrise, when pitchers of fresh-squeezed tropical fruit juices are set on a buffet with scratch-made pastries; eggs are made to order. Lunch may be a healthy affair, with jerk chicken laid over roast sweet potatoes.
Dinner can be family-style casual or fine-dining decadent, but best served on the terrace in any case. Doesn't watermelon and goat cheese with citrus dressing and toasted pistachios sound good? Grilled octopus? Steaks with kale, fennel and caramelized-onion relish? Chocolate and olive oil sponge cake with lemon cream?
But the most delicious treat at Villa Manzu is the sunset. Several perches around the grounds, some with hammocks, are designed with the daily event in mind. As the skies and seas ignite in fiery orange shine, the green cliffs of Costa Rica fall quiet, save the sound of the many waters.
AT TOP: Villa Manzu — it translates to friends' house — is a mod-minded luxury resort on the edge of Peninsula Papagayo.
Food+Travel