UH's Robust Public-Art Program Names New Curator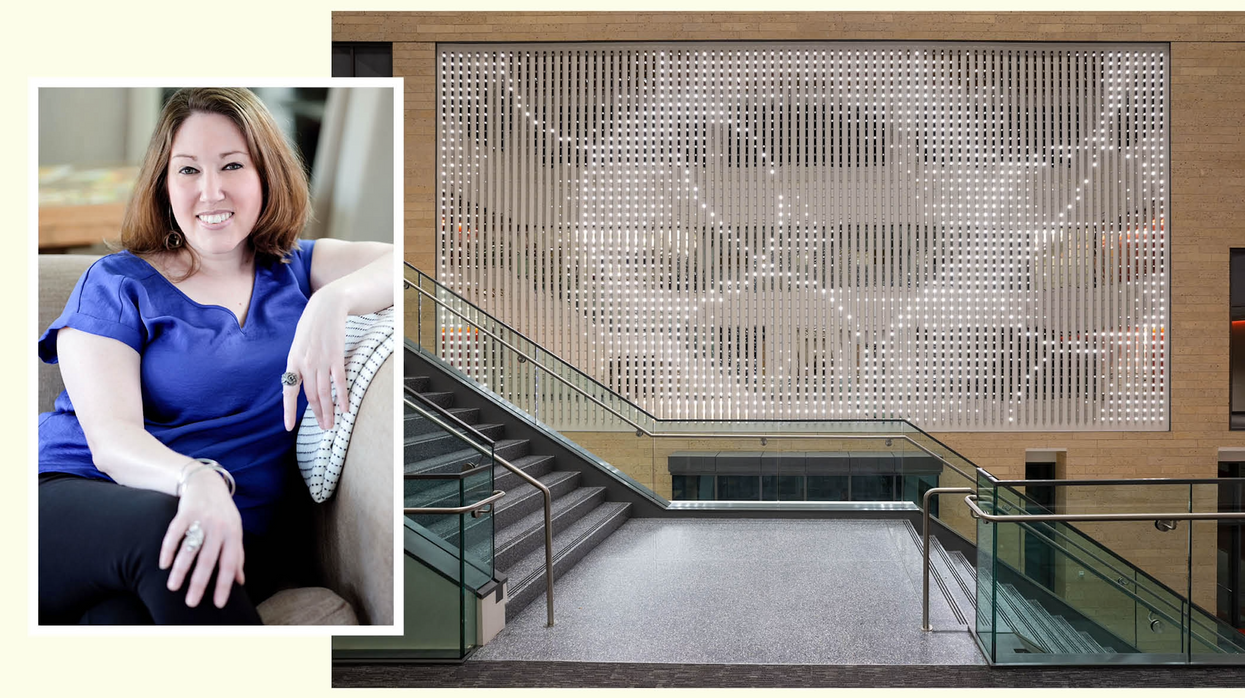 FOR RACHEL MOHL, recently named the new Executive Director and Chief Curator of Public Art of the University of Houston System (Public Art UHS), the power of public art is its ability to engage large audiences. "It's anything that's exhibited in public spaces and meant to engage people in their everyday life," says Rohr. "It's combining art and life on a large scale." Mohl also believes art can reveal untold histories, explore cultural exchanges, and engender a social awareness. "Public art is a really great stage in which to do that, because it's so front and center in our communities," she says.
---
Born in San Antonio and raised in Dallas, Mohl first encountered the power of art as a little girl hoisted up on her father's shoulders inside the atrium of the Museum of Fine Arts, Houston so as to better see the suspended aluminum sheets, rods, and wires of an Alexander Calder mobile.
Mohl would go on to study Latin American art as an undergrad at Washington University, and felt compelled to begin advocating for art that had been left out of the overarching art historical narrative. In her previous position as the Assistant Curator of Latin American and Latino Art for the MFAH, Mohl curated several large-scale, site-specific exhibitions and installations, and assisted in the installation of and programming for the MFAH's acclaimed Latin American collection in the new Nancy and Rich Kinder Building.
In contrast to the MFAH, the four universities of the UH system and additional campus in Sugar Land, Pearland and Katy offer Mohl and her team "a museum without walls." "Our gallery space is the campus," says Mohl. "I am always looking for ways to install new artwork."
Established in 1969, Public Art UHS is the oldest and only collecting arts organization within the University of Houston System, the fourth-largest university system in Texas. UH is the first public university in Texas to formally adopt a percent-for-art program, where one percent of all new construction budgets, and half a percent of all renovation budgets go to public art, and over the years, those percentages have accrued and helped UHS to build one of the most significant and long-standing public collections in the country.
While most of the art in the collection was commissioned by the university, the collection includes significant donations, the most recent being 19 works on paper from The Shirley and Donald Rose Collection. Six works from that collection — which includes photography, silkscreens, lithographs, collage, and original drawings — are already slated for a building on one of the campuses and will be available for object-based learning initiatives.
Looking ahead, Mohl is excited about the upcoming Spring 2024 exhibition by Pakistan-born artist Shahzia Sikander, which will include Witness, a large outdoor sculpture, and Reckoning, a video with animation by Patrick O'Rourke and music by Du Yun. In addition to creating a five-year plan of what's ahead for Public Art UHS, Mohl hopes to bolster the organization's public programming and bring even more attention to the collection.
"We want our public art collection to dialogue globally," says Mohl. "It reflects the diverse audiences that are here at the university and in the surrounding communities."
Art + Entertainment