Remaking History
With the bold reimagining of The Annie and Benjy's, two of Houston's most revered classics are not just up to date. They're better than ever!
Jenn Duncan, Kirsten Gilliam and Shannon O'Hara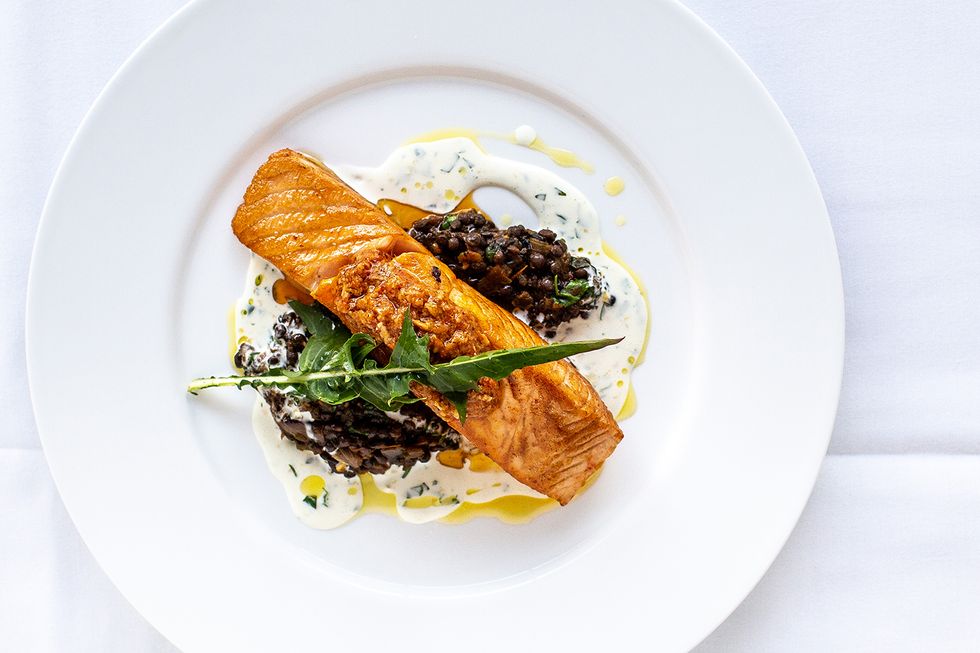 At a moment when new restaurants named after women — Rosalie, Rosie Cannonball — are intriguing the foodie set, the O.G. lady-named hotspot has Houston enamored all over again. James Beard-lauded chef Robert Del Grande's former Café Annie, a Galleria area star that's no stranger to reinvention, had been refashioned as The Annie Café & Bar, now with new owner Ben Berg of B&B Butchers and a growing slew of other notable eateries; Emmaline co-owner and ever-smiling front-of-house guy Sam Governale is also attached. At the same time, another old-school favorite — this one the male-monikered Benjy's of Rice Village — has also been remade and reintroduced.
---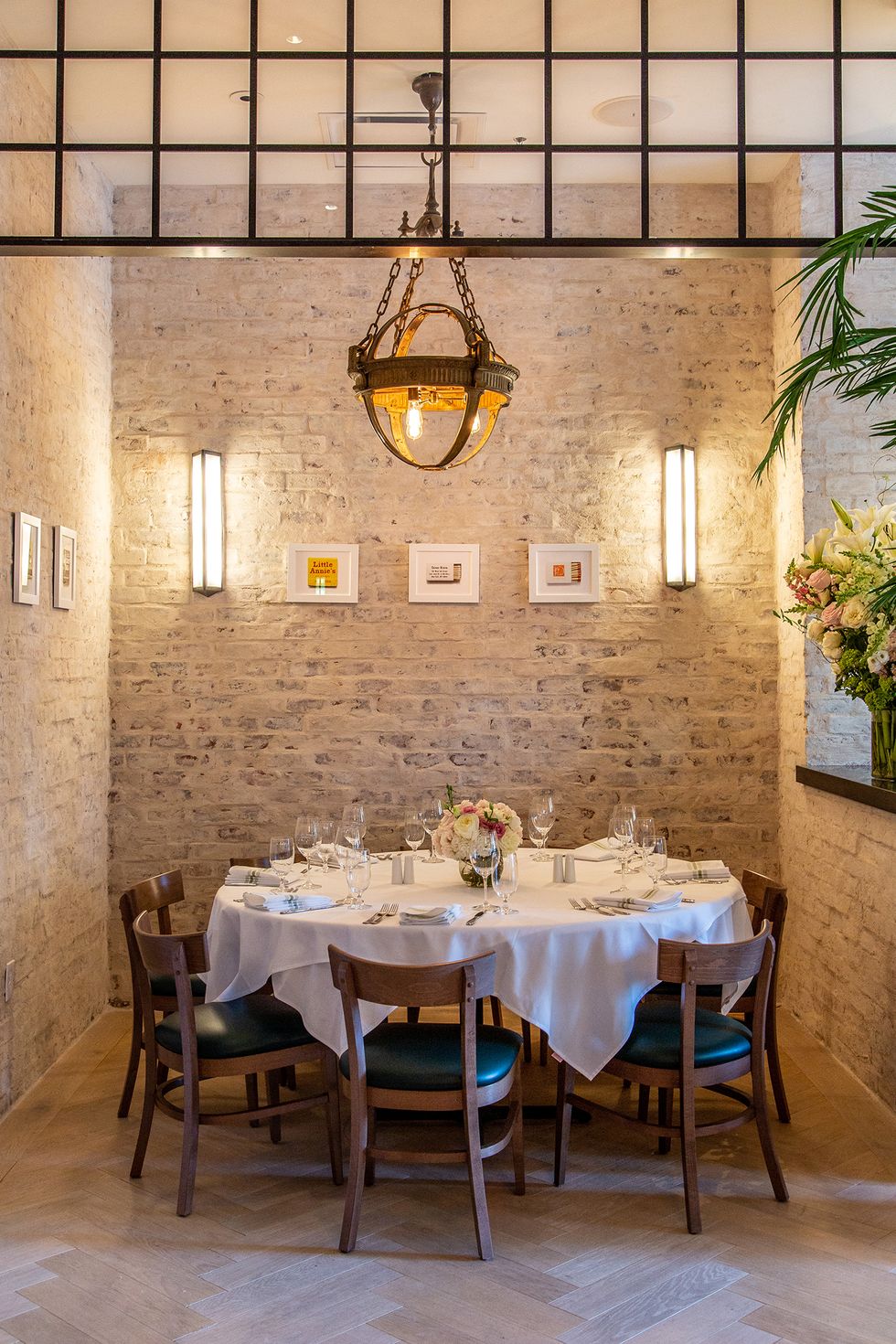 A white-washed dining nook in the urbanely redesigned space
For its part, given Berg's famous New York state of mind, the massively renovated upstairs Annie now touts an urbane sensibility, flush with white-washed exposed brick and walls of steel-framed glass that at night frame a twinkling mini-skyline. Unique touches such as potted palms and, above, brass light fixtures sourced from Grand Central Station, lend a festively '40s kind of retro vibe.
Clearly intending to draw top-tier tipplers, the bar area has become an enormous oval-shaped situation, and a new downstairs space created by Berg's rethinking of the stairwell will be a cozy, clubby little number said to be inspired by New York's Polo Bar. (In another update, the bathrooms have been relocated upstairs, on the same floor as the dining room.) The whole affair has a schmoozy, glad-handing feeling, as much of a cocktail party as a gourmet restaurant. Helpfully, the drinks menu is superb, as in the house's rich, lush spin on an Old Fashioned, which has a splash of coffee liqueur.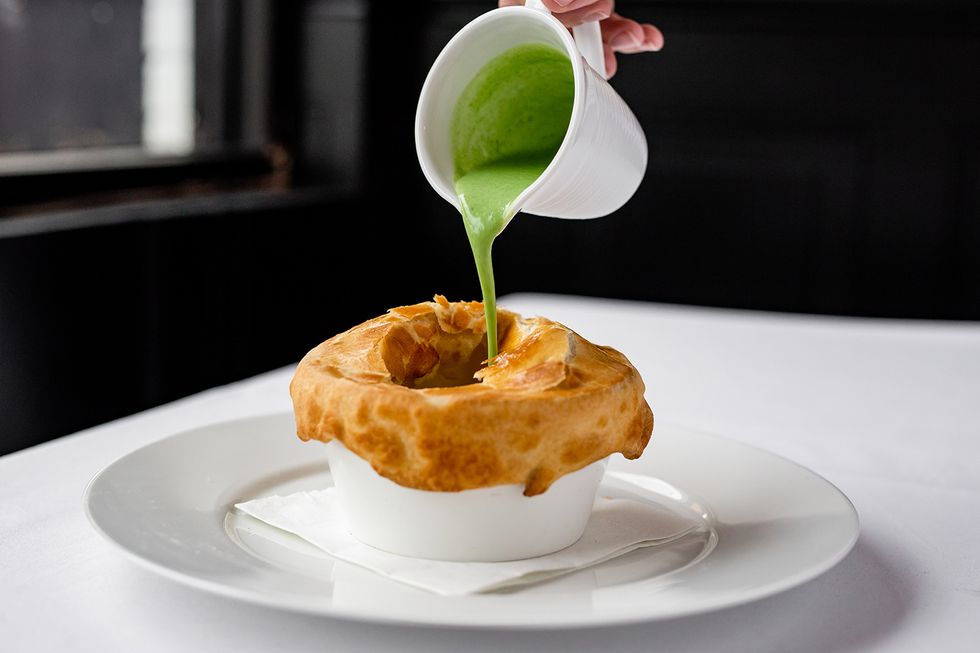 Rabbit pot pie at The Annie Café
Food and drink here is an impressive balancing act — with enough of the old Annie, à la coffee-crusted filet mignon, tostadas piled high with lump crab meat, and multiple preparations of rabbit — to satisfy the old guard's sense of nostalgia. And there are lots of new, smartly pared-down classics. Ahi tuna crudo is wonderfully zippy with its accents of cucumber, avocado, grapefruit and chilis. Steak tartare has an earthy green peppercorn sauce and a quail egg topping. A large sliced roasted duck breast comes with molé sauce and a crepe filled with dark-meat duck confit.
Meanwhile, another fabled master of the local culinary scene, restaurateur Benjy Levit of Local Foods and The Classic, has reconceived his flagship Benjy's as a foray into his 25th anniversary year in 2020. Thanks to local design whiz Aaron Rambo, the space is all-new, and, with an assist from the Pass & Provisions' all-star chef Seth Siegel Gardner, the menu totally overhauled. As you'll be told more than once if you're curious about the extent of the redo, the only thing on the menu that hasn't been touched is Benjy's mom's hulking Texas-style chocolate sheet cake.
As Berg went Back East, Levit went West Coast, with a bright, understated L.A. aura. In the décor that translates to natural-hued birch wood on the walls, and deep tufted banquettes of buttercream leather. Notes of celadon and mossy green, especially in the neighborhoody-feeling new bar at back, mellow things out, as does the female-heavy soundtrack of smooth, easy pop. A vintage Maison Jansen brass and copper hostess stand and some bulbous, mod chandeliers complete the look.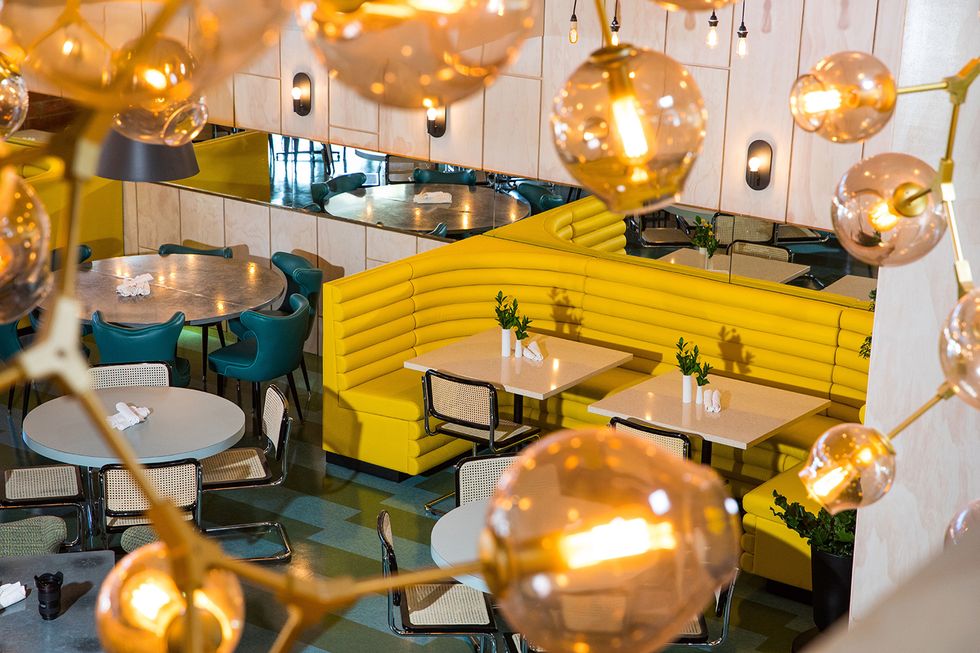 The reimagined Benjy's in Rice Village boasts bright new interiors by Aaron Rambo
And the menu — now divided into small, medium and large share plates rather than apps and entrees and such — is now billed as "social food." Indeed it is fun, and delicious. Standouts include the sea urchin "carbonara" — just mildly flavored with bold-tasting sea-critter essence — with thick squid ink bucatini and a topping of grated cured egg yolk. And the "Chicken 2 Ways" is a revelation of a dish: A big slab of flattened breast gets breaded and schnitzeled and served on an inventive sauce of loose chicken-liver "foie gras," with extra-crispy fried thighs and wings tossed in Tennessee-style hot oil on the side. Charred broccoli on a bed of lemon ricotta is nice green complement.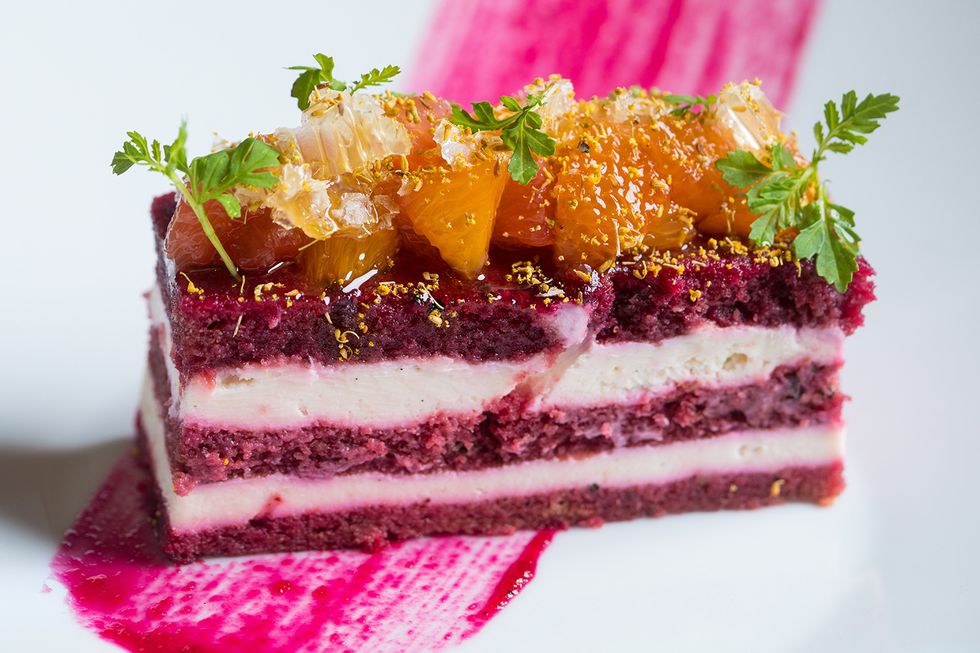 The restaurant's unique beet-and-goat-cheese 'cheese cake'
Houston's old favorites, dramatically made new, are among the hottest stars of the dining scene now!
AT TOP: Scottish salmon atop lentil stew with romesco sauce at The Annie Café & Bar
Food+Travel