Remaking Main Street
Dan Zimmerman, a former Rice football star whose family is known for creative redevelopment in Montrose, is tackling a forgotten corner of Downtown. Will his Main & Co. restoration project, planned as a co-working space, 'activate' the area, as he says?
Phoebe Rourke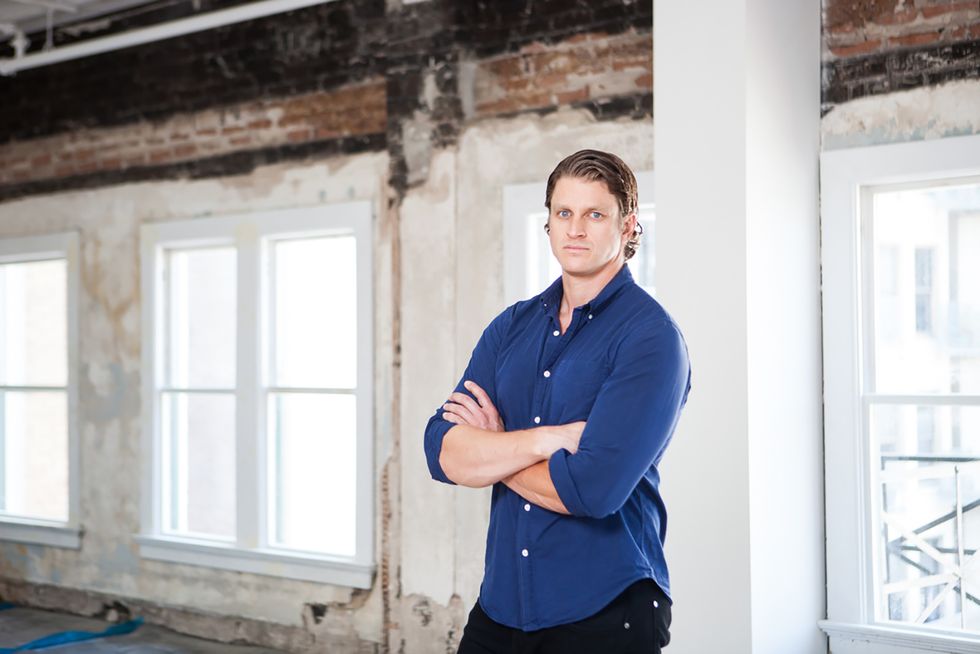 Dan Zimmerman kicks up sawdust as he strolls over a sunlit, century-old, herringbone-patterned hardwood floor. Tall, tan and strapping, his longish hair tucked beneath a Patagonia baseball cap, he exudes the chill, California vibe of a pro surfer. It's only Zimmerman's calm, measured directives to a construction crew in hard hats, as he juggles phone calls over the shrieks of power saws, that reveal him to be a seasoned commercial real estate veteran, and a rising star of Houston's development scene.
---
"This is the corner of Main Street and Commerce Street. It doesn't get more ground zero for Houston," says Zimmerman as he overlooks his under-construction, Downtown passion project, Main & Co, a group of four buildings at the 100 block of Main he hopes will be open for business by the end of the year. The name plays on locale — it's where Main and Commerce meet — and "company," which harks to the area's origins as a commercial hub. Allen's Landing, where the Allen Brothers settled in 1836, and developed what would become Greater Houston, is nearby. Here, Buffalo and White Oak bayous converge, University of Houston Downtown buildings anchor opposite corners, and Metro rail cars zip through the block.
Zimmerman, 33, is betting on this forgotten corner and its historic buildings, which date back to 1876 and fell into neglect and disrepair. When he approached two major architecture firms, he was advised to tear the buildings down, and start over. "That would've been a tragedy," says Zimmerman, who champions restoration and adaptive reuse in development.
"Look at the history of this building," he says, gesturing to the exposed-brick walls, the panels of windows and the original terrazzo flooring and hand-cut wainscoting in the lobby, a hallmark of Houston's Art Deco period. "There's even a story in that skylight. I could've put in skylights from Home Depot, but people used to sort cotton under this skylight. That's a story relevant to this building, to the history of this block, and the history of this city."
The next big workplace story could cement success for Main & Co. Zimmerman has partnered with the Texas-based Foundry Club to create a multi-floor co-working space. Barry Capece, CEO of Foundry, an entrepreneurs club that offers shared workspace, networking and conference facilities, estimates there are 14,000 collaborative workspaces nationwide. "The workplace is changing," Capece says. "Even Fortune 500 companies are looking to cut space, and spend less to house staff. Co-working is more attractive than long-term leases and expensive build-outs." To prove the point, national co-working giant WeWork will open an 80,000-square-foot facility just down the street, at 708 Main, and another was just announced for the Galleria area. The East End may be shaping up as a capital of co-working sites in H-Town, with a smattering of them popping up or proposed.
As other co-working players also eye Downtown for space, Zimmerman sees it not only as a trend, but as a win-win for professionals. "You're sitting there in an incubator for what's happening in the city," he says. "There are designers, architects, people trading cryptocurrency, sitting side-by-side — it's all very synergistic." Main & Co's anchor building will boast eight co-working suites, and the top floor will be an art gallery and event space.
Imagining new life for overlooked spaces is a Zimmerman family value. Zimmerman's father, Stephen, saw value in Montrose when others scoffed, and launched arguably Houston's first boutique hotel, La Colombe d'Or, in the '70s, in a repurposed 1923 private mansion. He also founded Zimm's, which is "Houston's first sidewalk bar," notes the elder Zimmerman. Just as his father foresaw Montrose's walkability, Dan foresees the same for this historic Downtown block.
"My goal is to activate the street, knit together these blocks, and build a sense of place," says Dan, who lives upstairs on the Main & Co site, and enjoys the Downtown life. He recaps his daily Downtown routine: a walk to the Honeymoon Café for coffee in the morning, outings to the Market Square dog park twice a day, and a run or bike ride on the Allen Parkway trail. "I walk every single day. And more Houstonians want that. People want to be around each other. Our generation wants an urban environment where they can live, work and play in a small area. People are raising kids in an 1,100-square-foot Downtown apartment. Four years ago, that was unheard of in Houston."
When he's not overseeing development for his company, NewForm, Zimmerman checks in on the popular farm-to-table restaurant Pax Americana, which he co-owns. He was also instrumental in engineering a partnership between the Zimmerman family and real estate giant, Hines. The partnership was formed to launch the Residences at La Colombe d'Or, a 34-story, 285-unit luxury apartment tower to be built just behind the boutique hotel.
For now, Zimmerman, a former Rice football player whose conversations jump from renewable energy to urban-planning author Jane Jacobs and Patagonia founder Yvon Chouinard, is focused on Main & Co's unveiling. "I went to school on these buildings," he says, adding that he pored over city records, building documents and old photos of Main's 100 block. "Every possible corner presented a challenge. My construction guys joke that there's a ghost that doesn't want us to finish. But I want to build something that will add to the neighborhood. This block has been dead for years. My goal is to preserve — for the space, for the city and for the planet."
Business+Innovation