Riel World
At glowing new Montrose bistro Riel, at once neighborhoody and global, a rising-star chef comes into his own.
Shannon O'Hara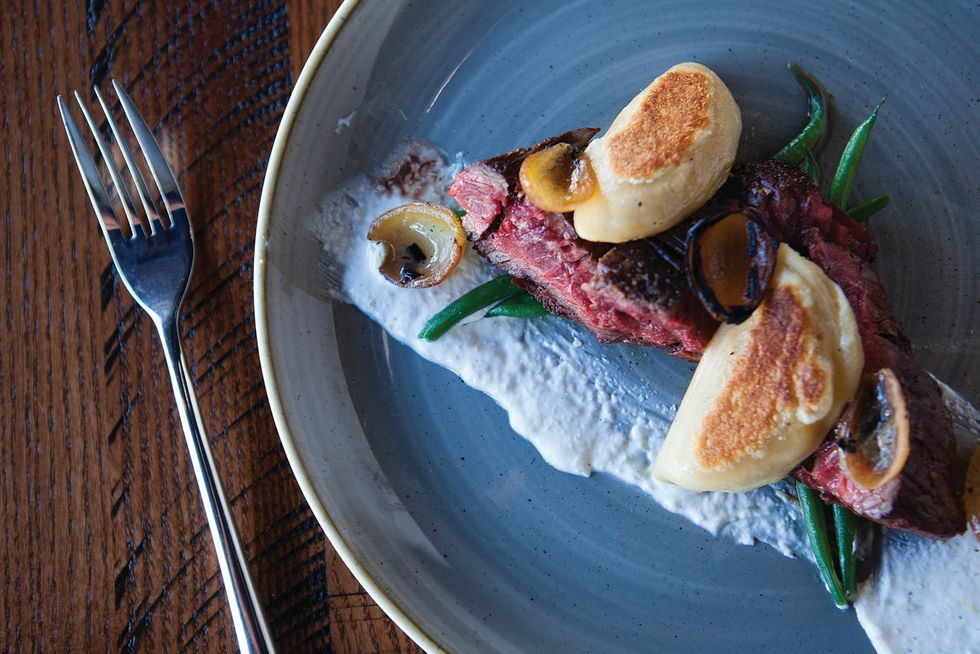 "I am able to cook my own food, and make the food I want to make," says chef Ryan Lachaine, 41. With his new restaurant Riel (1927 Fairview St., 832.831.9109), Lachaine — who worked with the several of the city's most celebrated chefs in the kitchens of Gravitas, Stella Sola, Reef and Underbelly — now has a place he can call his own. It's a place where he can prepare the food that has inspired him throughout his life: the French-Canadian food of his childhood, the Ukrainian food prepared by his mother and grandmother, and the food of the Texas Gulf Coast he's made his home.
---
Lachaine named the space after Louis Riel — a Canadian folk hero who championed the rights of native Americans, and who also appears in a mural in the restaurant's men's room — to represent his Canadian heritage, and to symbolize the bringing together of cultures and flavors in his menu.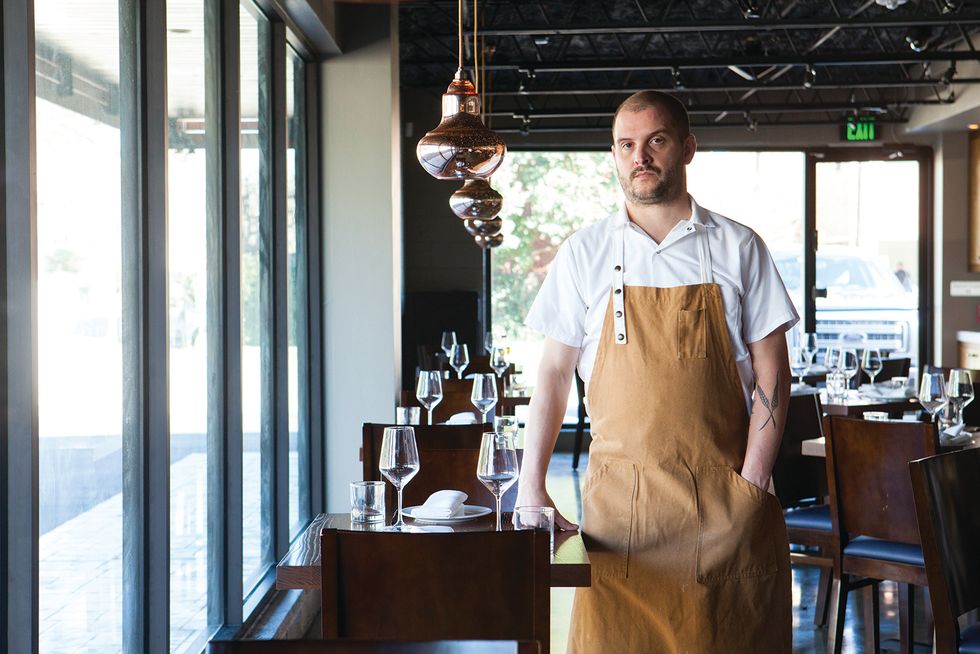 Chef Ryan Lachaine
The restaurant itself is located in the former Té House of Tea, under a previous owner's large address-shouting 1927 sign, its glowing all-glass exterior dotted with the silhouettes of happy diners teasing passersby in its neighborhoody Montrose environs — tells guests, "You're going to want to eat here." Walking in, you'll notice the understated décor, as in the comfortable wooden tables and mod-simple chairs, and a welcoming bar at the right end of the room with a well-honed wine list and signature cocktails. The shiny new open kitchen boasts nine seats at the counter for a front-row view of the action.
The menu, which changes frequently, is not one of those multi-page, multi-volume homages to the chef's wide-ranging "genius." Instead, there are just 15 savory dishes, all designed to be shared, and two desserts. It's a compact menu designed by a chef who knows what he's doing and what he wants his restaurant to be. And it packs a punch.
Every table seems to enjoy the Tempura Cauliflower with a kimchi hot sauce, and with good reason: The dish is spectacular. And what makes it so is the delicate crust surrounding nice-sized pieces of cauliflower not cooked to death, but just enough to remove the raw edge while still maintaining its full integrity. The house-made kimchi hot sauce accentuates the flavors without overwhelming them. It's a must-have.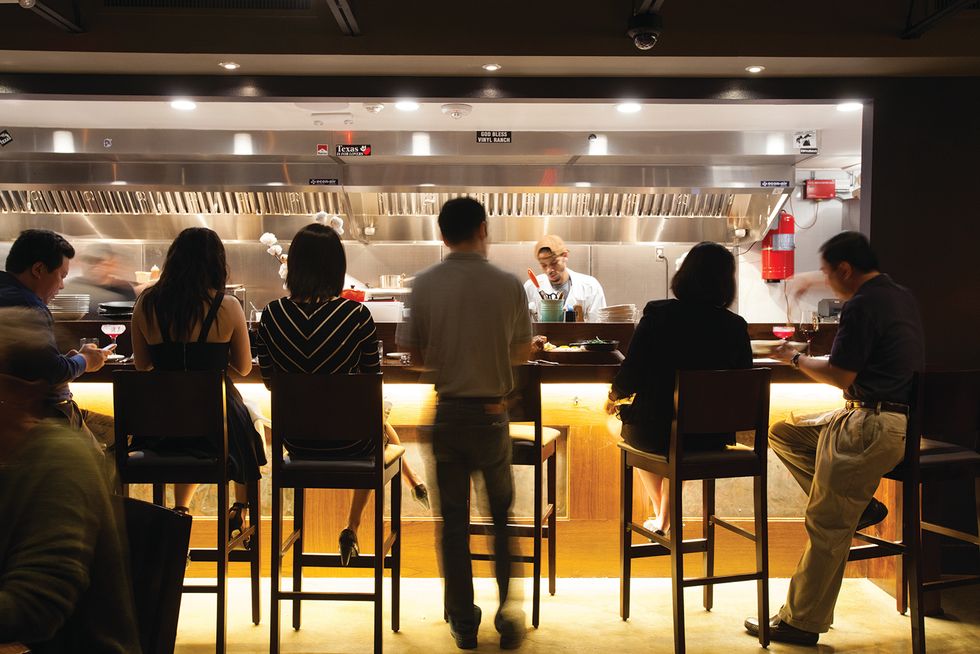 Riel's open kitchen
On the other end of the spectrum, the raw-prepared Red Snapper Crudo, with hints of Texas citrus and fennel soubise with a splash of Prosecco, is as light and refreshing as one could wish for; the sprinkling of large flakes of salt gives the dish a needed salinity and crunch that brings it all together.
Among the larger, more "entrée" type dishes, the Tourtierre, a classic French-Canadian pork pie, seems emblematic of what makes Riel such a standout. When you break through the flaky-crispy crust, your hunger is immediately whetted by the aroma of braised meat seasoned with cinnamon and clove. Small dishes of house-made strawberry mustard, pickled cauliflower florets, and chow-chow come on the side, each adding a different and distinctive element to the dish. Sweet and heat, tang, and just plain crunch. Try eating a bite of the Tourtierre with each side one at a time, or bring it over the proverbial top by going for all three at once.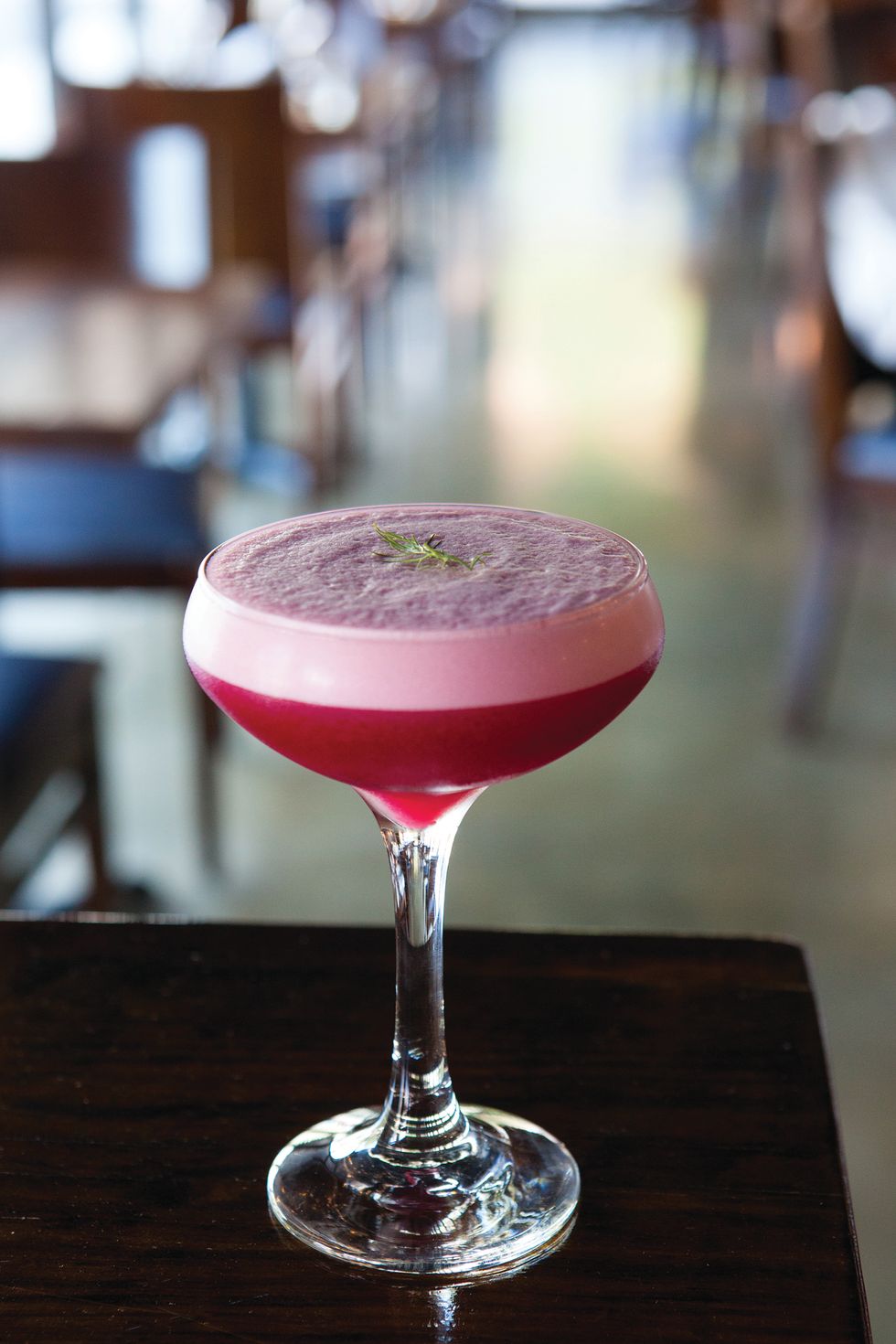 The Jalisco Holiday tequila-cranberry cocktail, garnished with mint.
Or, if you're in the mood for something more straightforward, Chef Ryan channels his Ukrainian side with a perfectly grilled, slightly toothsome, deeply flavored hangar steak, served with — yes! — potato and cheddar pierogi, green beans and a smear of horseradish cream. And if you're interested in exploring the menu's Texas Gulf side, the Amberjack served in a ham brodo with black-eyed peas and topped with dandelion greens has been a hit at the restaurant.
For dessert, who can say no to sticky toffee pudding? Especially one as satisfying as this one, which is topped with a fois gras torchon and served in a blood-toffee sauce. Yes. Blood. A wee bit of pig blood to be precise, which adds a slight mineral tang and a velvety richness.
And that's what an unchained Ryan Lachaine is offering diners at Riel. Food that is distinctly his — restrained yet over-the-top, sophisticated and yet utterly approachable. If you enjoyed his work before, wait until you get to see what he can do when he's cooking without borders.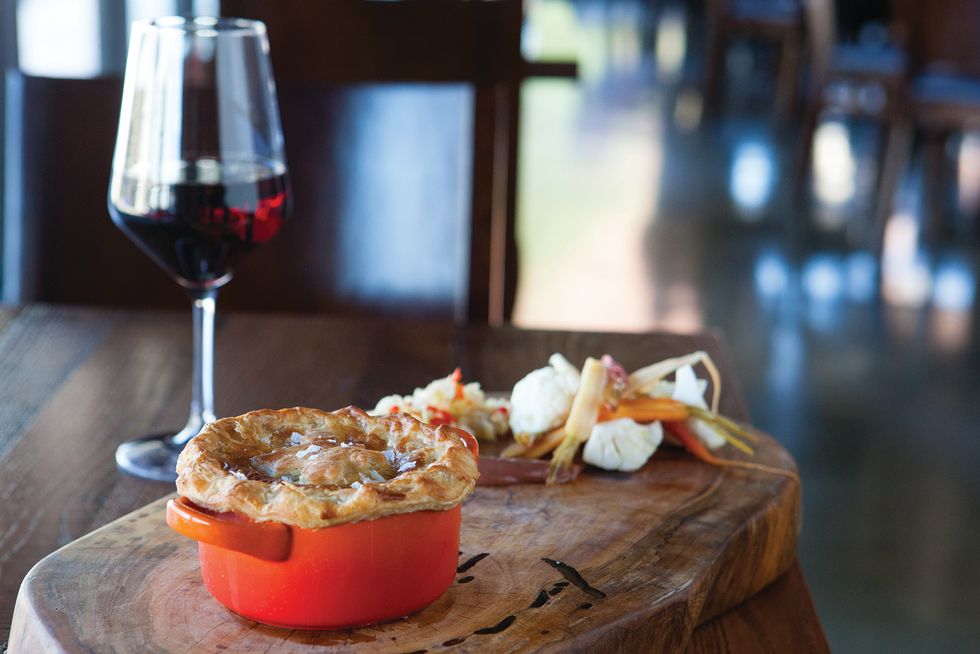 The Tourtierre, a Canadian-style pork pie
Uncategorized