Rosé All Day
With the help of interior design doyenne Laura Umansky, a stylish young professional finds herself right at home in the new River Oaks tower.
Kerry Kirk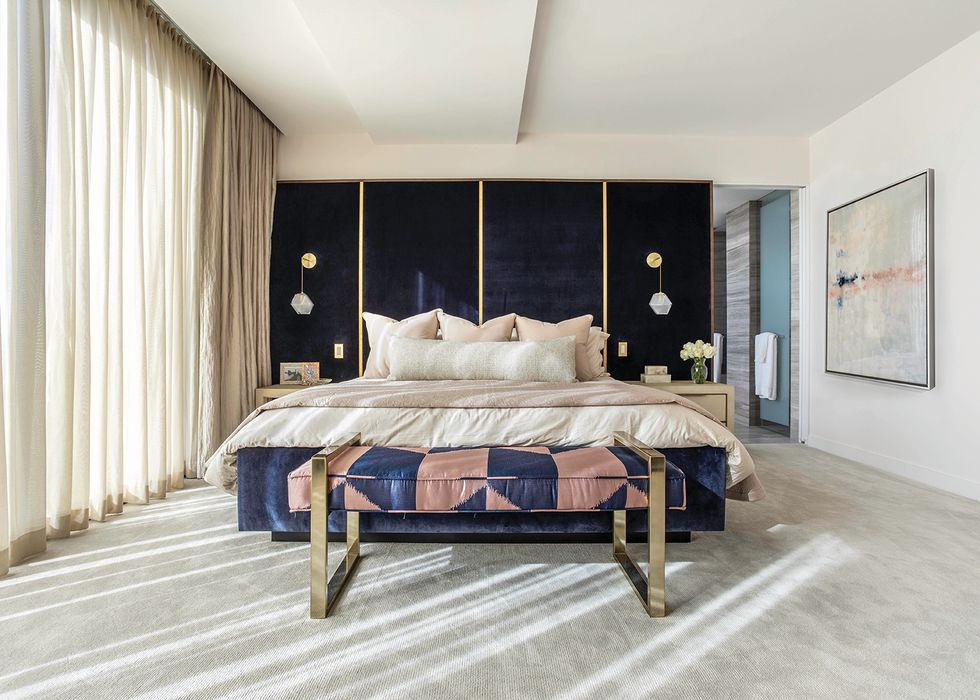 What do you get when you marry an impeccable sense of style with an atmosphere of entertainment? Perhaps a cocktail party — or perhaps a sensationally fun new project by interior designer Laura Umansky at The River Oaks luxury highrise. 
---
Umansky, whose work has been featured in myriad national publications such as Veranda, Architectural Digest and Domino, prides herself in creating luxurious spaces that scream boldly of her clients' personalities and passions. Which is why she got pinged by a fashionable single finance professional who had just purchased a 2,200-square-foot, two-bedroom condo in the newly renovated Westheimer building designed by EDI International and Rottet Studio.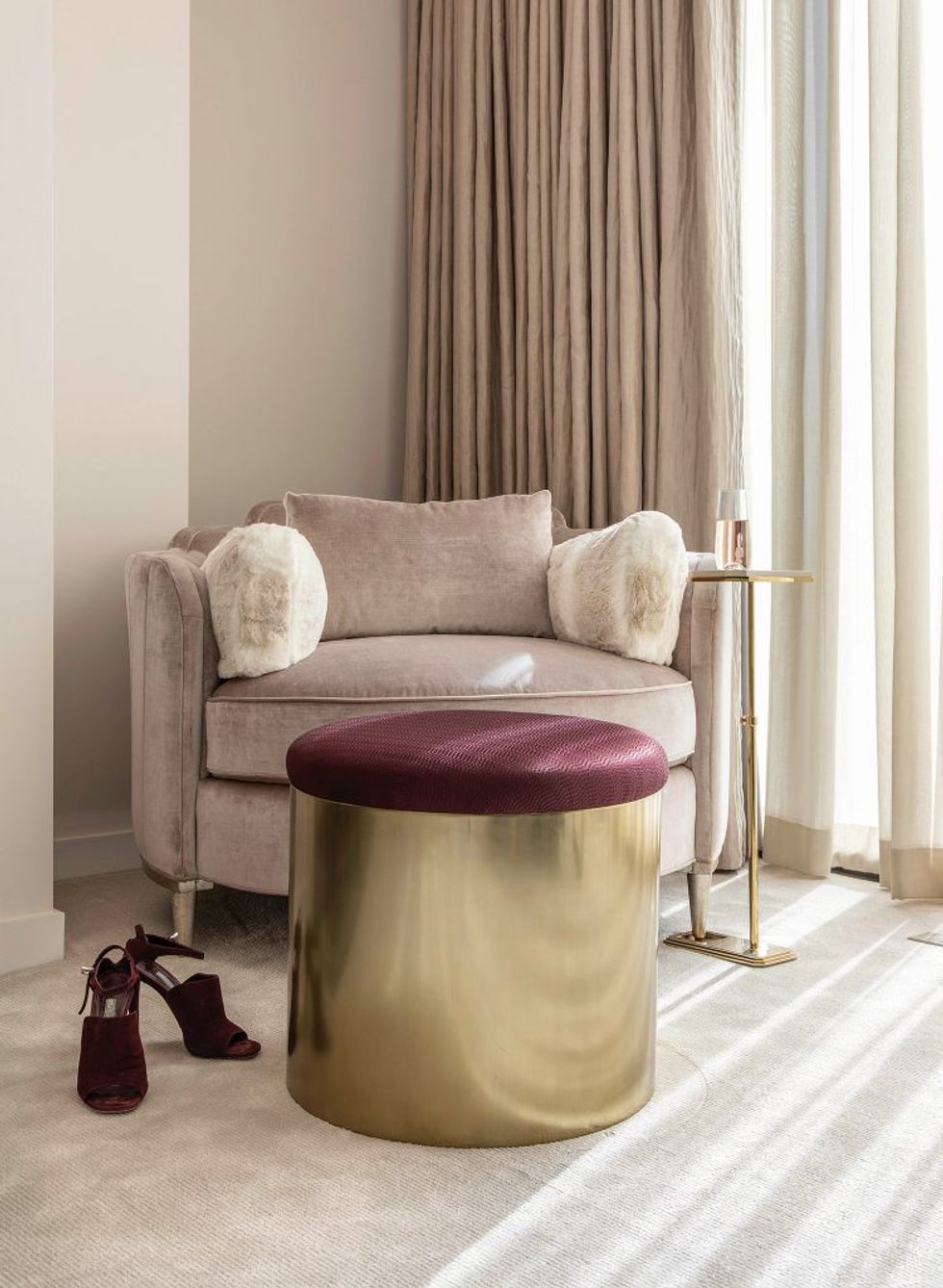 Designer Laura Umansky's favorite touch — a rounded chair by Caracole near the window.
"She entertains quite a bit, so it needed to be comfortable, a place where people could come and relax for a very long time," says Umansky, whose team members Letecia Ellis Haywood and Shannon Smith also designed the space. Thanks to Rottet Studio's chic selection of contemporary architectural materials, there were great bones. The Laura U team opened up the living and dining area to be more "conversational." It became the true centerpiece of the home, a sophisticated space with bold pops of color, all framed by floor-to-ceiling windows with stunning views of Downtown. Custom pieces here include jewel-tone swivel chairs in a dark aubergine Trikes fabric; the ivory Adriana Hoyos sofa was accented by Laura U custom pillows and flanked by Bernhardt accent chairs. "There really wasn't a place to put the television without turning her back to the view," says Umansky, "so we ended up floating a console and having the TV float in the window."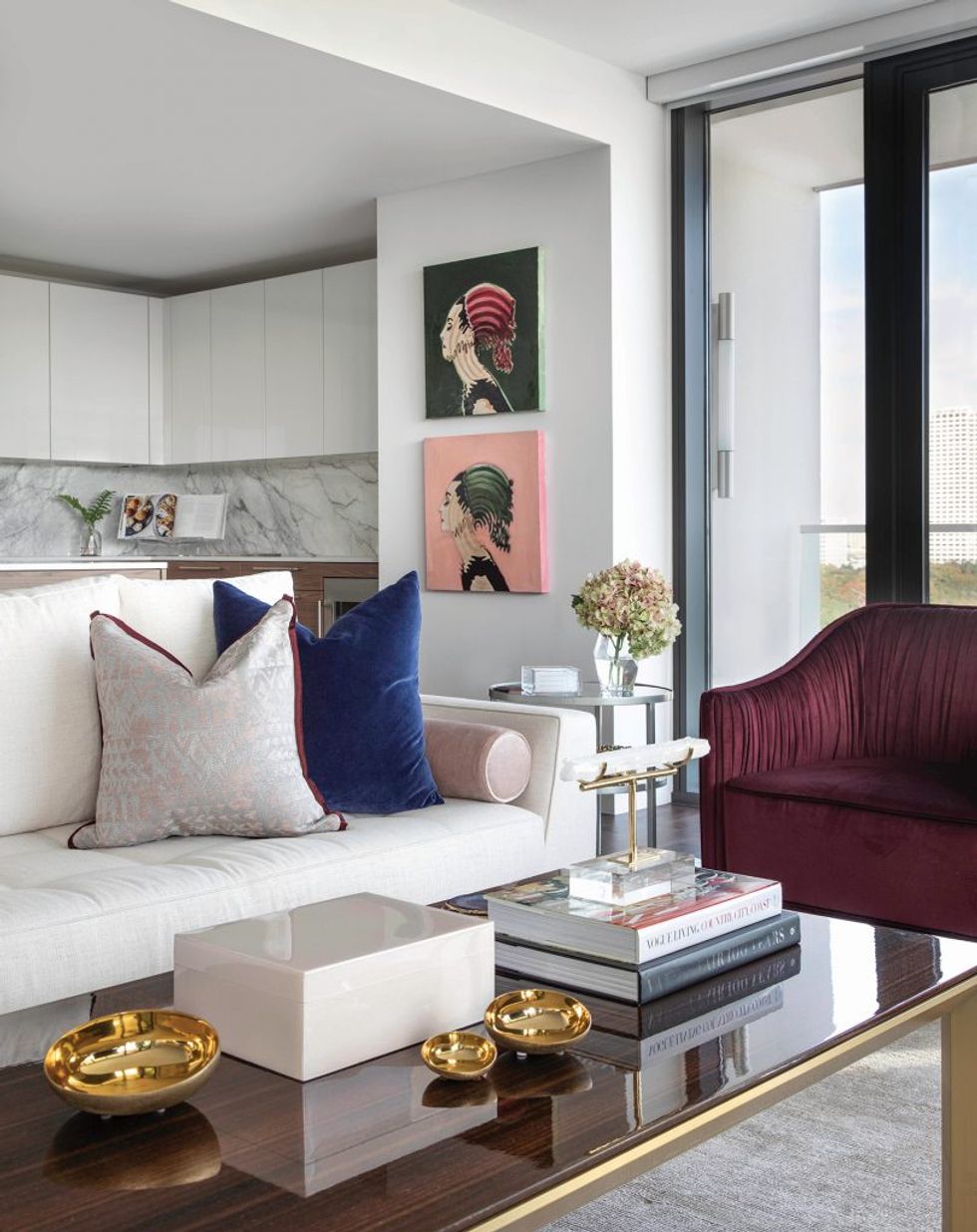 Laura U designed the living room with entertaining in mind
The team built the dining room around a custom table with a walnut base by El Dorado Woodworks, topped with marble by Aria Stone. The chairs, made to the homeowner's specifications of comfort and scale, are upholstered in Holly Hunt and Kravet fabrics in a combination of metallic blush and Champagne to balance out the cobalt and navy palette from the living room.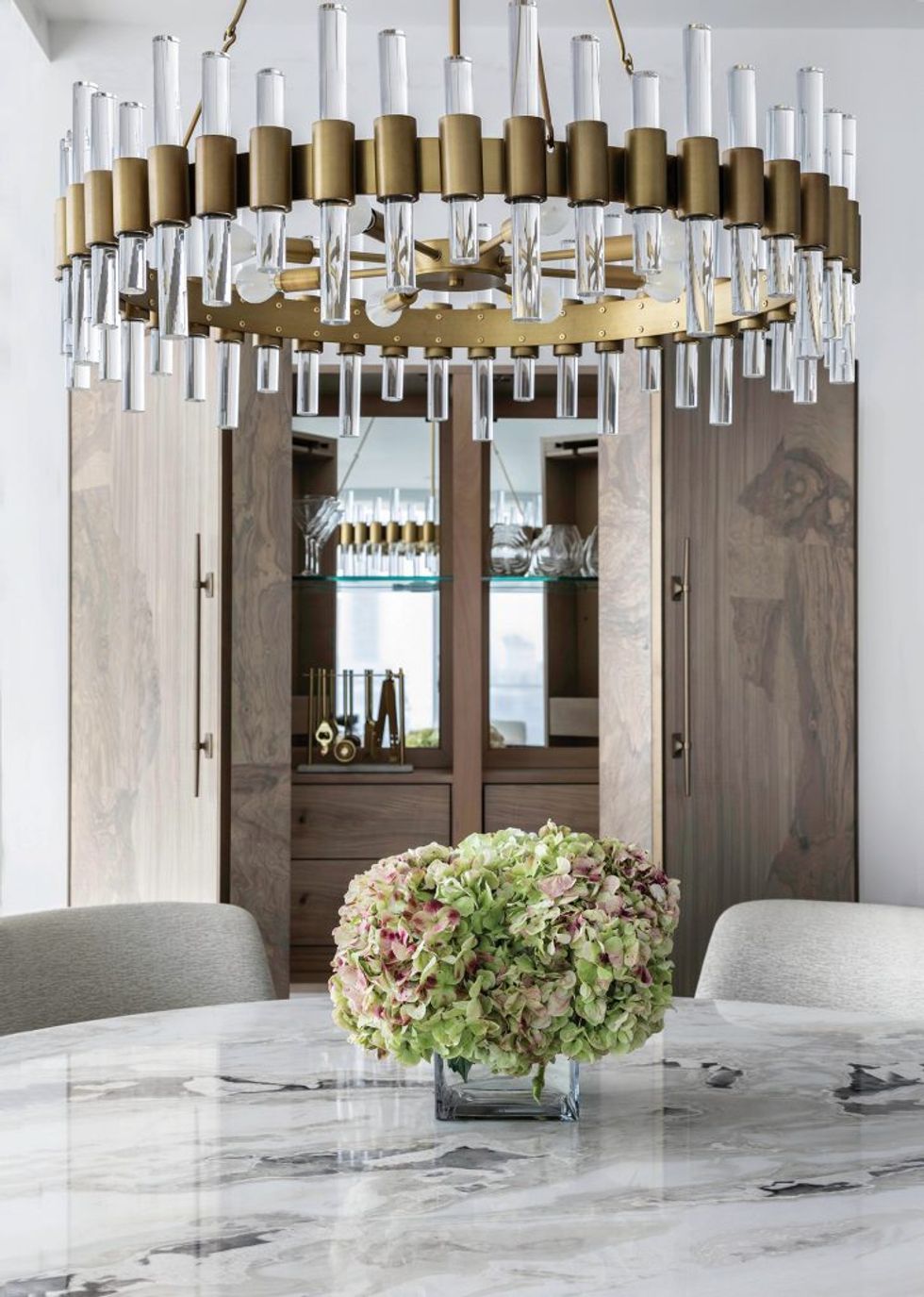 The dining room features an Aria Stone marble-topped table and custom oversize chairs
In the master bedroom, "she wanted something more hotel-style, really luxurious," says Smith. So the team designed the bed — outfitted in custom linens by Plush Home — with an upholstered headboard wall in velvet fabric from Schumacher. Wall sconces by Gabriel Scott add a touch of feminine drama. But Umansky's favorite touch is a large rounded chair by Caracole and custom ottoman, situated near the window.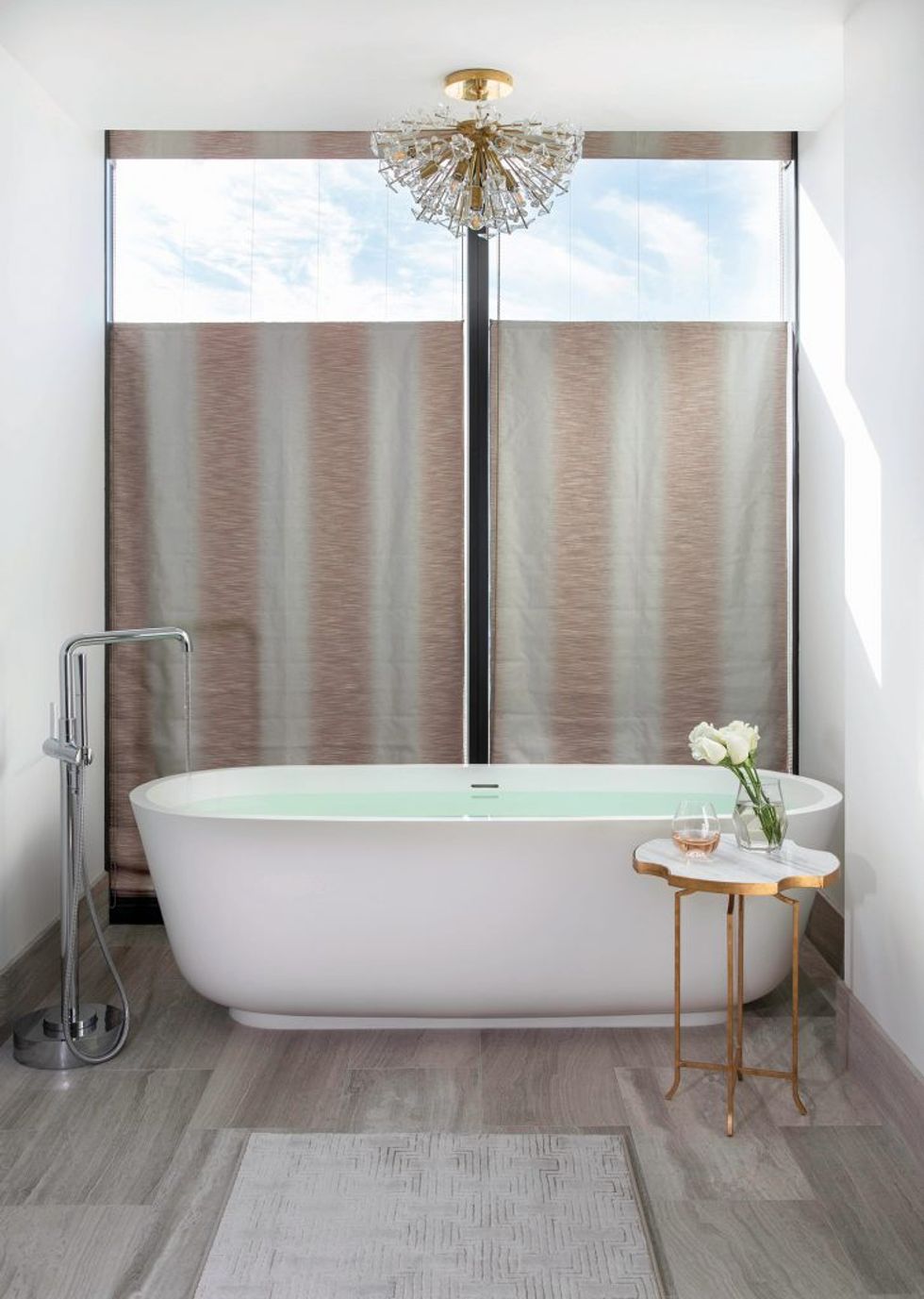 In the master bathroom, a top-down shade in Jane Churchill fabric lets in natural light while offering privacy
For the master bath, the team had a different goal: a spa-like ambiance to serve as a retreat from the high-drama elsewhere in the home. But a Kate Spade light fixture above the tub adds a hint of glam, a necessary component for this homeowner. "The client loves fashion and her clothing is remarkable," says Umansky. "The day we revealed the house together, she walked in and her dress was the perfect color tone to match the entire interiors. The space looked very much like her."
AT TOP: The master bedroom features a custom upholstered headboard wall in blue velvet
Home + Real Estate