Sax Appeal
Blues-singing, sax-playing Latina Evelyn Rubio is breaking barriers.
Todd Spoth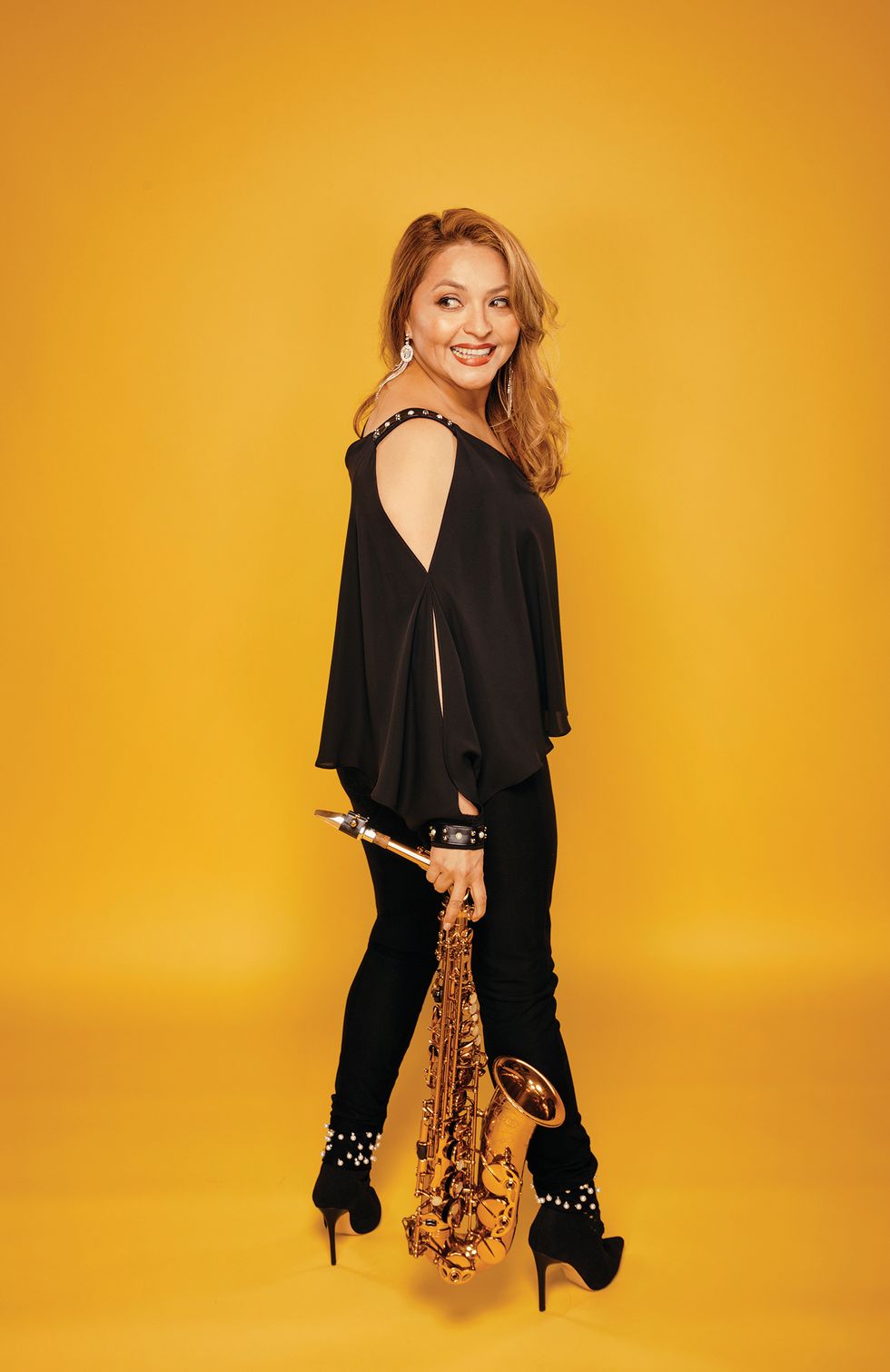 It's a sticky September afternoon, and inside Salento Bistro in Rice Village, patrons are enjoying the cafe's air-conditioned ambience, many conversing in both Spanish and English. Seated on a vintage couch, ignoring her espresso and croissant, singer-saxophonist Evelyn Rubio leans forward, describing the first time she heard Aretha Franklin.
---
"I was like, wait a minute. What's that?" says Rubio, who was raised in Ciudad Nezahualcóyotl, a densely populated and dangerous slum of Mexico City. Given her surroundings, the teenage Rubio understood all too well the feeling inside Franklin's voice. "She's like my Virgin de Guadalupe of singing," says Rubio, who was also inspired by Etta James and Big Mama Thornton.
Years before she heard the Queen of Soul, Rubio was cast in the children's variety television show Mi Pequeña Estrella ("My Little Star"). By age 15, Rubio was supporting her mother and siblings as one of four singers in a hard-working "show band," performing elaborately staged medleys of American and Latin pop songs. "My mother always told me, 'What you see around you, is not all there is,'" says Rubio. "She is the reason why I am where I am in this business."
One day, inspired by the blues and jazz records her bandmates shared with her, Rubio borrowed an alto saxophone and taught herself to play the Duke Ellington standard "Satin Doll." "Once I fell in love with the blues and started to play the sax, I just wanted to do more of that," says Rubio.
Shortly after relocating to Houston in 2006, Rubio caught the ear of bandleader and trumpeter Calvin Owens, who signed her to his label Sawdust Alley Records. On her first album with Owens, La Mujer Que Canta Blues, Rubio sang the blues en Española, and their second collaboration, completed after Owens' untimely passing in 2008, went to No. 1 on the Billboard Latin Pop Albums chart, and No. 6 on the Blues chart.
Despite these successes, there are still those who don't believe a Latina should sing the blues. "Before, they kept quiet," says Rubio, referring to those empowered by the current political climate. "It has happened to me while performing. Someone will scream from the back, 'Speak English right!' I tell the people, 'Don't call La Migra! I'm a citizen!"
Unfazed, Rubio is currently mixing a new album, and performs regularly across Texas. She also occasionally sits in with Pink Floyd tribute band Pigs On the Wall to belt out the psychedelic soul number, "The Great Gig in the Sky."
"I have a special relationship with the blues, but I'm capable of doing other things," says Rubio, who like Owens and the singers she grew up listening to, understands that the blues have no borders. "Even if it's harder for me as a Latina, this is who I am, and I'm going to keep doing my thing."
Art+Culture