Turkish Delight
Houstonians have unique access to the tradition and cosmopolitan spectacle of inimitable Istanbul.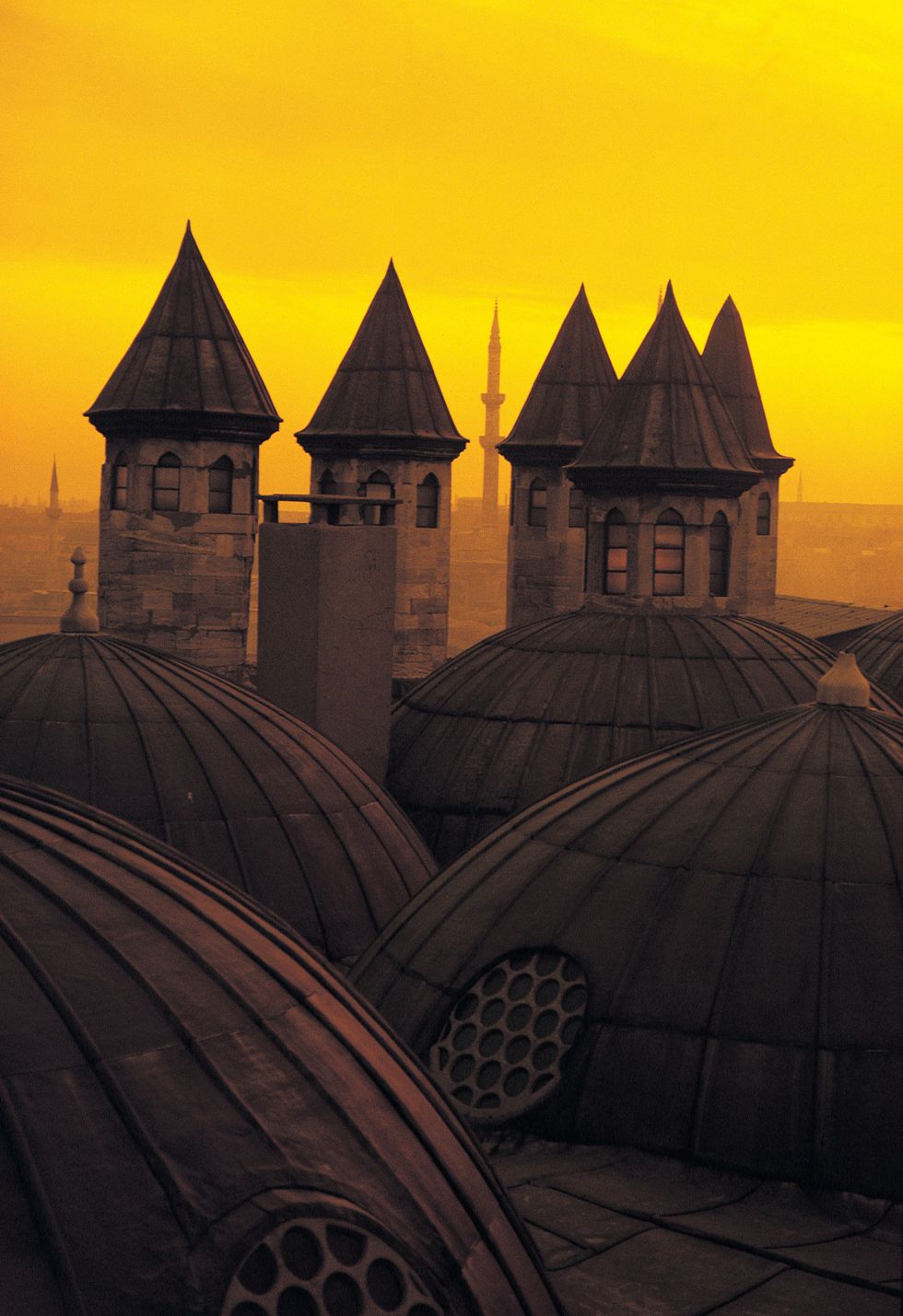 In describing Istanbul, uniquely accessible by Houstonians thanks to Turkish Airlines' direct flights, it might seem clichéd to call it a city of contradictions. This is an ancient place, dense with conservative religious influence, and yet large swaths of it also sparkle with modern energy. It's contemplated with some trepidation in some quarters, given its complex place in geopolitical affairs, even though its people are hospitable and easy to befriend. Its very geography is a duality, as it straddles both Europe and Asia, an intersection of the Silk Road. So let it be said, with apologies to the cliché-averse, that Istanbul is indeed, stirringly, a dichotomy of a city.
---
In the heart of the Old City, or the Sultanahmet district, bounded by a great wall to the west, and on the other sides by bodies of water salinized with lore — the Golden Horn, the Bosphorus River and the Sea of Marmara — hordes of tourists dip in and out of a mind-blowing concentration of heritage sites, some almost millennia-old. Dating to 203 AD, the Hippodrome, a chariot-racing arena once enjoyed by Constantine the Great in the city's former life as Constantinople, is now a park dotted with ruins. The immense Hagia Sophia, erected in 537 and recognized as the world's largest Christian cathedral for nearly a thousand years before its conversion to a mosque by the Ottomans in 1453, is now a museum. By comparison, the similarly colossal Blue Mosque of 1616 next door, with its 13 domes, is practically new.
Five times a day, sightseeing in the area gets an extraordinary soundtrack. The calls to prayer by muezzins with microphones in the balconies of the slender minarets, or towers, of the Blue Mosque echo those of Hagia Sophia. The quavering duet — it fills the district, and touches everyone in it, as much as the air — is penetrating and humbling. The alternating azans go on for about 10 minutes each time.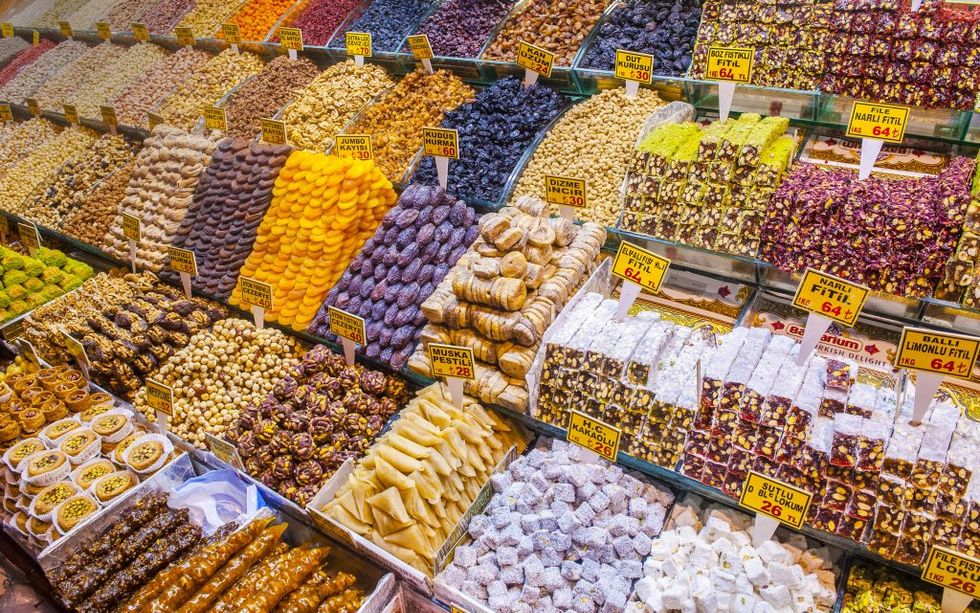 The Spice Market
Other unique activities in the area might include a visit to a madrasa for a lesson in the ancient, addictive art form of ebru. You make marbleized images by floating drops of paint into a pan of oily water and then manipulating them with animal bile and reeds, and then pressing paper against the water's surface. Sipping hot tea while you work is pretty much mandatory — from a clear, hourglass-esque glass, of the sort everyone uses everywhere here. These shapely Turkish teacups are almost as ubiquitous and cutely exotic as Istanbul's 100,000 famous feral cats.  
The food-cart vendors of Sultanahmet mostly stick to tame-for-tourist staples such as simits — thin bagels crusted with sesame seeds — and roasted chestnuts and corn, washed down with pomegranate juice squeezed to order. And there are pistachio ice cream cones, which get playfully snatched back from you several times by their scoopers, in a funny bit of showmanship. Further out from the Old City's core, more daring street-food options like kokorec — spicy lamb intestine, compressed and spit-roasted in the style of gyros — are popular. At a notable restaurant in the area, Fivat Tarifesi, classic comfort foods are on offer. Here, in a dining room up two flights of winding, creaking stairs, find dishes like kofta fried meatballs and velvety pureed lentil soup with a spritz of lemon. For dessert: a simple pudding cake called semolina halvah.   
You'd be forgiven for spending most of your trip exploring the sprawling Old City. After all, it's also home to the Grand Bazaar — the world's oldest and largest (and haggling-est) shopping mall — and the waterfront spice market, the best place to score the colorful candy known as Turkish delight, whose variations flavored with rose petals are lovely. But you must also see a bit of modern Istanbul. Take a dinner cruise on the river, and get a selfie floating between two continents, perhaps with the Four Seasons — built in the 1800s as the pink-hued palace of a pasha, and now set aglow every night with soft lighting — in the background. 
Or taxi north, passing through 4th-century aqueducts, to the increasingly cool Karakoy district, home to the Istanbul Modern art museum, carved from an old shipping warehouse. Here, Ottoman-era buildings get brightened with colorful street art, and bakery cafés serve up thick Turkish coffee, 100 versions of baklava, and lahmacun "pizza" with minced beef or lamb, which you roll up and eat like a burrito.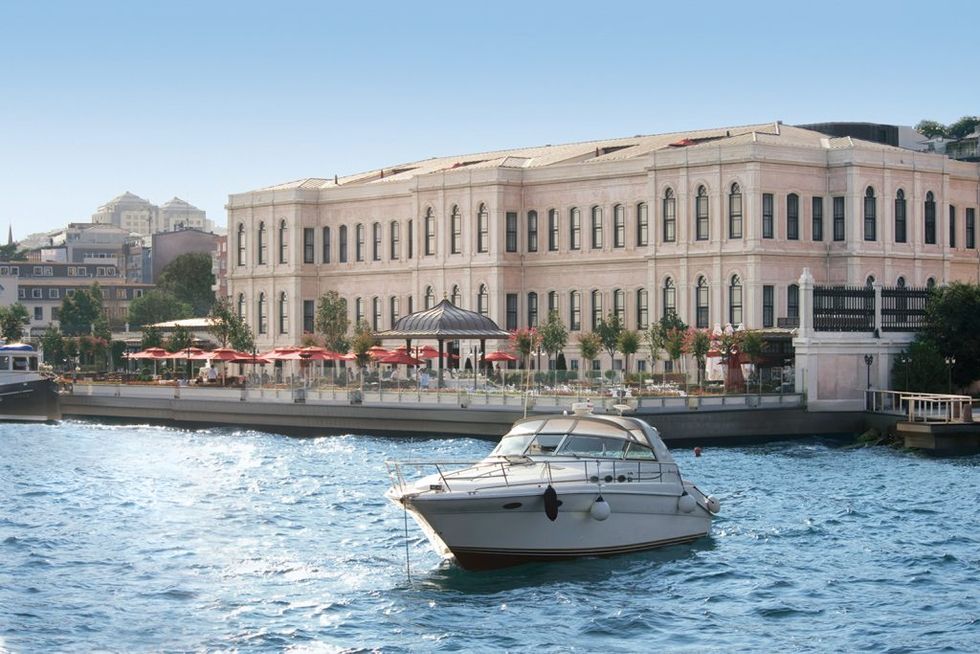 The Four Season on the Bosphorus
The next neighborhood up is the Galata. The main thoroughfare here is Istiklal (translates as Independence) Avenue, teaming with young pedestrians. It's along this road you find a restaurant atop a skyscraper that's called 360 because of its views in all directions.
Late at night, 360, one of those places too hip to have a sign out front, transitions from eatery to club. The beautiful sax player who dons a red gown to serenade diners changes into hot pants and sequins to accompany a go-go dancer who in turns gyrates on tabletops and literally climbs the wall. The model-hot DJ dances along from his booth. A crowd gathers around the fire pit out on the terrace, taking in the twinkling city lights — the many mosques in the skyline silhouetted against the moonlit sky in the distance, on the far side of the Bosphorus' banks  — and voyeuristically peering into the penthouses of nearby buildings, all of which seem to have parties raging.
Although leaving Istanbul is hard, those flying business on Turkish Airlines will find some consolation in the remarkable two-level airport lounge. It's mod-minded with winding glass staircases, and generous with a dozen food stations. (Visitors can expect even more from the city, and the airline, moving forward. By 2023, Istanbul's vast new airport — it'll be the size of Manhattan — is set to open.) So you can enjoy one last lahmacun before boarding, and travel home in comfort, sipping a nice cup of tea, in a funny little glass.
AT TOP: The half-millennium-old Topkapi Palace
Food+Travel