Upping the Game
Donnette Hansen celebrates the 40th anny of her field-and-stream-savvy Rainbow Lodge with holiday fare, while working a new angle in the Rio Grande Valley.
Kirsten Gilliam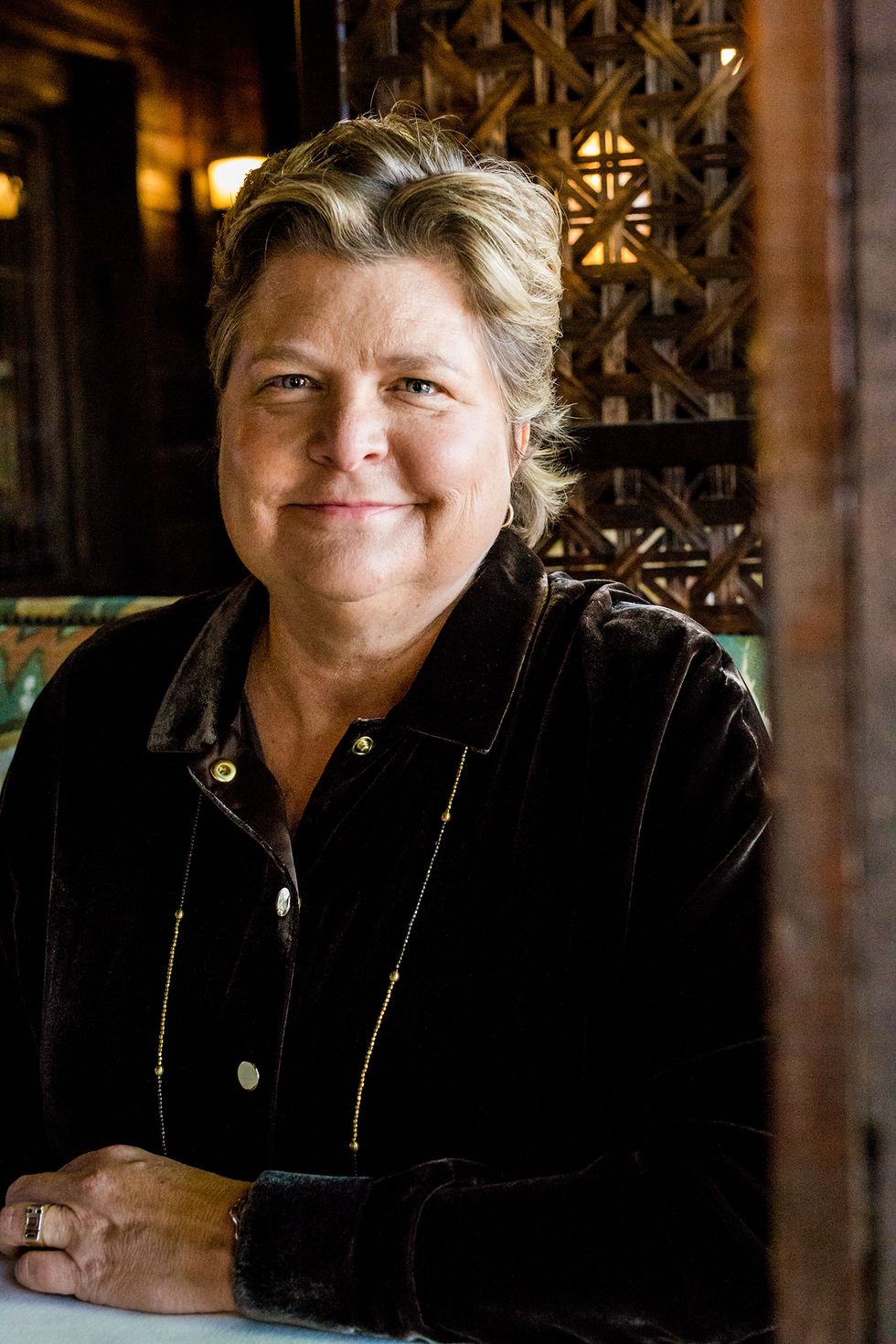 It was not yet snowing on Raton last month when Donnette Hansen made a quick dash into the mountains of New Mexico to chase late-season trout on a hidden members-only stream. As the bright sunlight shone, the Houston-based restaurateur expertly worked her fly rod between the 10-and-2 positions, sending a tuft of feather secured to a hook down a line of riffles, where a brown trout sipped the fly.
---
It might not have been the namesake trout of the Rainbow Lodge, Hansen's popular eatery just steps from the banks of White Oak Bayou, but landing the 16-inch brown brought a smile to the avid angler's face just the same. Hansen, 55, is a businesswoman who approaches fly-fishing with the same élan as her chosen career. Anybody who has enjoyed a drink or sampled the signature smoked duck gumbo at the lodge's Tied Fly Bar — formed around a glass-topped 20-foot timber sculpture that features mounted trout replicas suspended in a carved stream — can attest to her flair. And with the lodge celebrating its 40th anniversary, Hansen is flourishing. "You know, the restaurant business is a burnout business," she beams. "But after 40 years, I still enjoy it."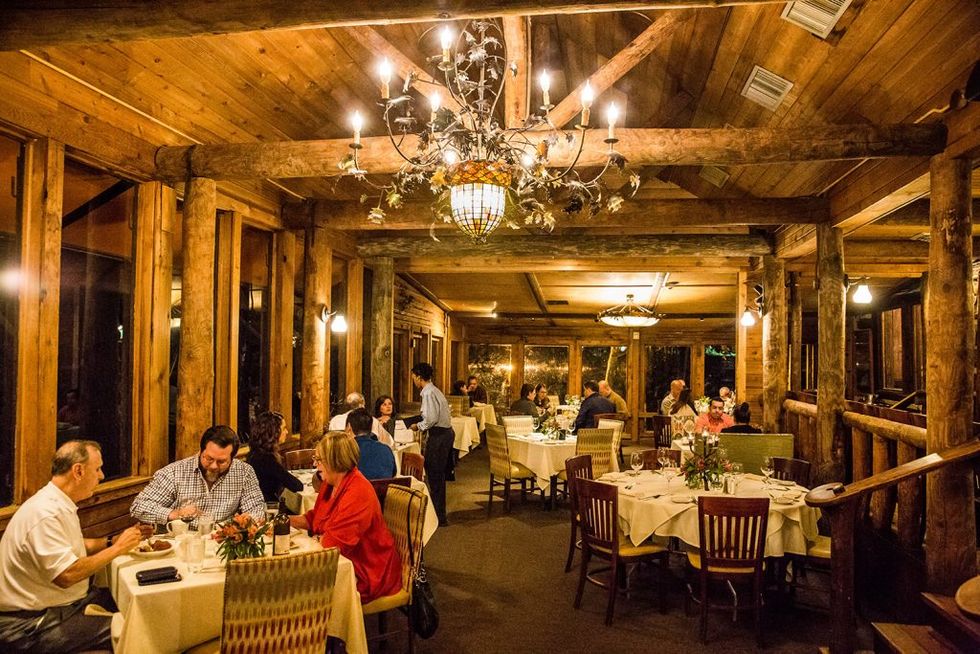 The restaurant's warmly rustic dining room
This month, the restaurant ties a bow on four decades with holiday-themed food and wine events meant to underscore the "sophisticated, not stuffy" legacy Hansen and her team have nurtured all the years. The return of all-star chef Mark Schmidt to the kitchen in 2015 after a hiatus he spent in Austin has shifted the celebration into high gear, while under longtime beverage director Marc Borel plans are afoot to uncork a specially branded 40th-anniversary Rainbow Lodge barrel-aged batch of Whistlepig Rye from Vermont. "Donnette doesn't give us a lot of time to twiddle our thumbs," adds General Manager Tim Neely, who started at Rainbow Lodge as a busboy 25 years ago. "We are constantly reenvisioning and reimagining what we are doing here, and that keeps us trying our best every day."
Her reinvention extends to a project she's undertaking in the Rio Grande Valley with her brother Douglas Dunkin, a veteran hunting and fishing outfitter. The siblings have taken over the Casa Arroyo Sporting Lodge, an old-time fish camp inland of South Padre, where Duncan will handle guiding duties, including the pursuit of trophy-length speckled trout and redfish on the peaceful bays not far from the 100,000-acre Laguna Atascosa National Wildlife Refuge. Hansen expects updating the Casa Arroyo will take a couple of years, and for the time being she expects to champion sport over food. "I don't plan on opening another restaurant," she explains. "It's all about setting people up with a guide."
Growing up in South Texas, Hansen learned to shoot and fish early. She burst onto the Houston scene in 1988 when she purchased the original Rainbow Lodge from her uncle Max. At the time, the restaurant sat where today a storm-damaged Brenner's overlooks Buffalo Bayou. Meanwhile, Houston had yet to emerge as a culinary destination, and female chefs — much less, gay female chefs (Hansen has been married to her longtime partner Sheila Shell since 2014) — were virtually unheard of in the city. Still, armed with a diploma from the now-defunct New York Restaurant School, which she attended after getting a business degree at Trinity University, Hansen had a vision for a new type of Gulf Coast kitchen.
"At first, I expected to find a job in a hotel," Hansen says. "There were not a lot of women chefs or restaurant owners, but when the opportunity came up to buy the Rainbow Lodge from my uncle, I decided to go for it. I immediately focused on the game and seafood dishes, which are the perfect combination of my passions."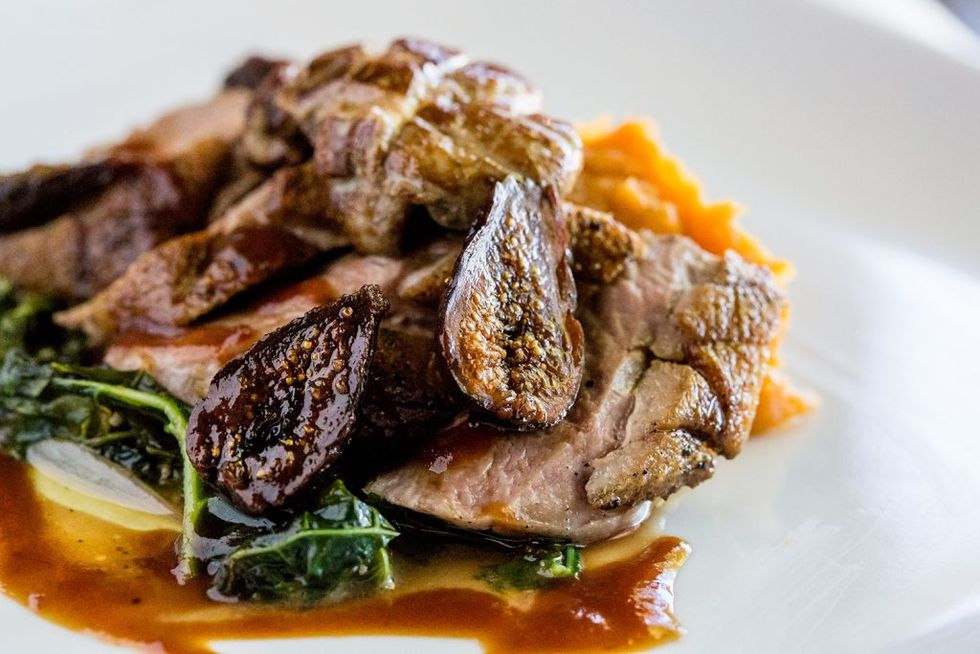 Seared duck breast and foie gras with figs
At the end of 2006, the Rainbow Lodge moved to its current digs, a century-old log cabin on the eastern fringe of the Heights. With outdoor seating and a citrus grove tucked into a small, one-acre grotto, the setting is more like something that would be found in a national park than in the heart of the city. And yet, the vibe remains resolutely laidback with the Tied Fly Bar just one of the tipoffs to the owner's proclivity for hook-and-bullet hobbies. Down the hall toward the washrooms stands a collection of vintage outdoor motors, brought to Texas from lakes in the Midwest. Mounted trophies decorate the walls, along with a cornucopia of rods and reels and antique duck decoys — curated with help from her wife Shell, who styles the tables as well.
The lodge décor finds its match in the seafood and wild game sourced largely from Texas purveyors that populate the menu. Venison and elk, exotic nilgai antelope, and wild boar are prepared with Latin and Southwest accents, while Gulf of Mexico specialties include seared red snapper, fried flounder fish and chips, and crab cakes — all fresh and flavorful. And naturally, there's rainbow trout on the menu for those wanting a taste of the Rockies.
"I catch-and-release," says Hansen, taking a rare moment to distinguish her pastimes from her profession. "If I need to eat trout, I have the restaurant."
Food+Travel