Year of Houston
Beginning and ending with epic sporting events played out on a global stage, Houston's year has been a study in highs and lows. Houstonians overcame one of the worst storms in American history and, resolute and resilient and determined to rebuild, inspired the Astros to World Series glory and emerged themselves as champions. Nodding to 2017, we invited 17 city notables to share personal reflections on the wildly exciting and emotional year.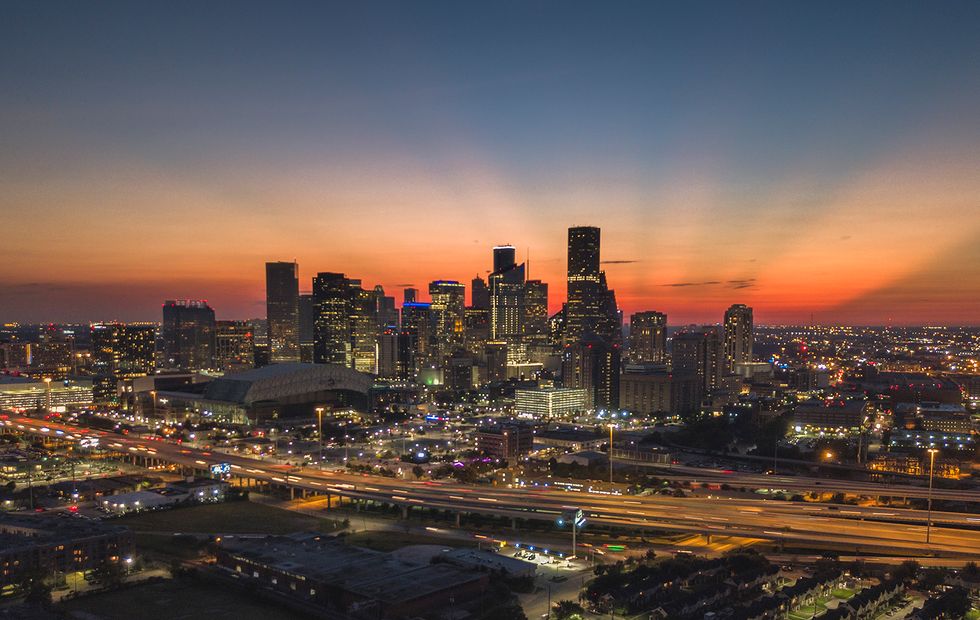 Editors' Note: This isn't the first time Houston has been tested by acts of God. In 2017, after we endured Hurricane Harvey and, just a few months later, celebrated the Astros' winning the World Series, we asked luminaries — including some since passed, like George H.W. Bush and Bob McNair — to comment on the city's strength, resolve and hopefulness. More than ever, their wise words inspire us.
---
President George H.W. Bush
From where Barbara and I sit, 2017 has been one heckuva roller coaster ride for our beloved Houston, starting with the most exciting — and successful — Super Bowl in history. Then there was both exciting and bittersweet news involving the Rockets, with a big player acquisition and an ownership change after 25 years. Late August brought Hurricane Harvey with its devastating rains that horrified the nation — followed by the heroic actions of neighbors and first responders that inspired us all. And of course, we truly reached the pinnacle of community pride and unity when the Astros brought home their first World Series championship in franchise history. Let's hope 2018 brings continued healing and recovery for fellow Texans affected by Harvey — and if I am being honest, another NBA or World Series championship wouldn't hurt either!
Joe Musgrove
Winning Astros pitcher for the World Series' multi-record-setting Game 5 at Minute Maid Park
This city has been dying for a championship-caliber team for many years now. We finally have that for them. To see the way the city pulled together as a family to help the others in need during the hurricane was one of the most inspiring things I've ever seen. I couldn't be more proud to tell people I represent the city of Houston.
Many players wait their entire career for an opportunity to play in a World Series, and I was fortunate enough to win one in my first full season in the Big Leagues. I feel very blessed to have been surrounded by such an incredible group of men, and by an even more incredible city.
Forever in history, we will always be known as world champions, and we will always be Houston strong.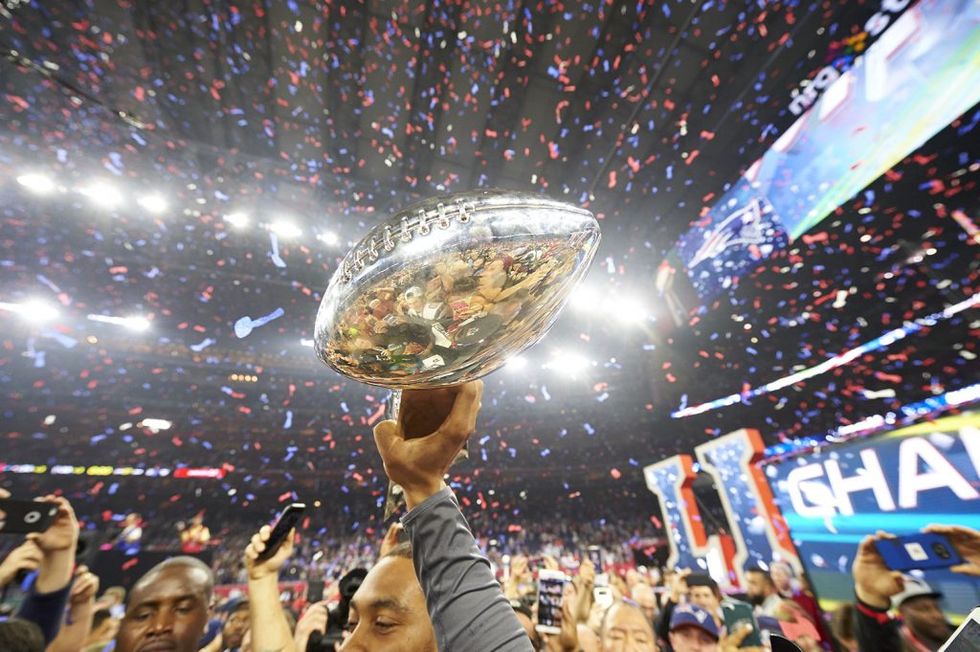 The Vince Lombardi Trophy is hoisted in NRG Stadium after the New England Patriots' dramatic come-from-behind victory in Super Bowl 51
Chris Seay
Pastor of Ecclesia church, which dispatched supplies and volunteers during Harvey
I've always believed that being a native Houstonian was like winning the lottery. How was I so blessed to have deep roots in the city I believe to be the greatest on the planet? This city never made me rich. My family never owned the land in the Heights where they grew up surrounded by cows. But Houston made me who I am — someone who appreciates all cultures and lives with an innate sense that good people get through hard times together.
When Harvey collectively punched our city in the gut, we did exactly what we always do: We locked arms and started putting the broken pieces back together with plans to make things better than before, not merely a faded version of what we once knew.
With two outs in the bottom of the ninth, my money is not just on Jose Altuve and the Houston Astros. I'll be betting all I've got on Houston, Texas.
Renu Khator
UH chancellor and president 
Houston embodies what it means to be resilient. As I reflect on the past year, I'm inspired by the strength of all the people who got knocked down, but refused to stay down, following Hurricane Harvey. "Houston Strong" is more than a hashtag. It's who we are as a city, and as a university community. After the havoc, we saw the best of human spirit among Houstonians and Cougars alike.
At the University of Houston, where enrollment is higher than ever, we are building a comprehensive culture of support and care. Our number-one goal is for our students to succeed. When they succeed, the city as a whole succeeds. This takes boundless energy and endless optimism, but together it is happening.
Success and attitude are contagious. The Astros' relentless run to their first World Series championship reminds us all that with hard work, anything can be accomplished, no matter the obstacles. Consider history earned! The world is taking notice that Houston and its university are on the rise. This was evident during another terrific week of Super Bowl festivities. We were pleased to host the New England Patriots at our practice facilities.
Together we have overcome a lot this year, but we must do even more because average is not good enough for Houston or the University of Houston. Culture is nothing but an aggregate reflection of individually held values. Let's celebrate our past triumphs while making even bigger plans for next year.
Bob McNair
Houston Texans owner 
2017 has reminded me of what makes Houston special: Our city comes together for the good of others. In February, we hosted a spectacular Super Bowl LI and made our guests from across the country feel at home while watching great football. We did not realize that we would come together again in August to aid our fellow Houstonians by boat, truck and foot during Hurricane Harvey. While rebuilding this great city is far from over, and there is much work to do, the Astros gave us something to smile about and to rally for as a community. I am proud to be a Houstonian and I am proud of Houston for showing me, and the world, the power of people coming together. I know Houstonians will continue to amaze us in 2018.
Lynn Wyatt
Philanthropist and society icon 
I think that the lower one has to go, the more appreciative the high becomes. We still would have been ecstatic with the Astros winning their first World Series no matter what. However, the fact that we did have such a low in the form of Hurricane Harvey so soon before winning the World Series exponentially accentuated that ecstatic feeling.
Harvey was a huge setback for Houston Ballet, Houston Grand Opera and Alley Theatre because of the flooding, but if there is a silver lining in any of this, it would be the unwavering resilience of this city. More money is raised in Houston for more causes than anywhere else — be it for the arts, education or health — and I feel grateful that I keep my schedule full supporting the things that make Houston, Houston.
I've had quite a few high points over the course of the year, but I guess if I were to think of just one it would be taking Elton John to the Super Bowl in my hometown and sitting in [Patriots owner] Robert Kraft's box for what would become the most exciting game in Super Bowl history. That was a win for Houston without the Texans even playing in the game.
Harvey's flood waters rise
[rebelmouse-image 24534044 alt="Volunteer disaster relief organization, "All Hands" clean the flooded home of Minh Chau Nguyen in the Breaswood area." original_size="1024x683" expand=1]The effort to rebuild goes on. Photo by Shannon O'Hara
Bill White
Former mayor who famously opened Houston to Hurricane Katrina evacuees in 2005
Half a century ago, Houston rarely made the national, much less international news, outside of stories emanating from the Johnson Space Center. This year, the fourth largest city in the world's leading nation was often the center of national attention.
Houston is proud of record-setting periods of economic growth for a major urban area, even if those records pose traffic and other challenges. In 2017, we set a record of another sort — 50 inches of rain within five days. But we should take pride as Hurricane Harvey also highlighted local heroism, endurance and generosity.
I will never forget and never want to repeat the experience of wading through water in the first floor of my home. But, like tens of thousands of others, my wife and I are rebuilding and never considered moving to any other city.
Triumph arising from adversity was also a theme in an Astros season that climaxed with a hard-fought World Series victory. As a longtime season ticket holder, I kept the faith as the club endured 100-loss seasons while rebuilding around a talented young nucleus. The team depended on spectacular contributions from players from Venezuela, Cuba and Puerto Rico. Let's hope that we never forget that Houston's past and future success will be fueled by folks who move here from somewhere else, including those who have come from afar, looking for opportunity. Just witness how strongly we rely on so many residents whose first language is Spanish to rebuild homes and other buildings damaged by Harvey.
Patrick Summers
Houston Grand Opera artistic and music director 
At the climax of one of the towering monuments of western art, Richard Wagner's 14-hour set of operas, The Ring of the Nibelungen, the Rhine river overflows, douses the immolation of the world, and life begins anew, forever changed.
When last May we completed Wagner's four epics for the first time in Houston Grand Opera's history, we could not have imagined that just a few months later Mother Nature would take its grand poetic metaphors quite so seriously. Hurricane Harvey so devastated our treasured theatrical home, the Wortham Theater Center, that it soon became clear that we were going to have to produce our opera season elsewhere. But where? We looked at venues all over our city and were, most gratefully, welcomed by our Wortham landlords, Houston First, into another of their Downtown properties, the George R. Brown Convention Center.
Through the energetic diligence and brilliance of our managing director Perryn Leech, with whom I jointly run HGO, we built the HGO Resilience Theater inside one of the large exhibit halls. That we were able to make a temporary artistic home in the very place that had sheltered 12,000 of our fellow citizens in the weeks after the unprecedented storm remains the most special part of this unforgettable experience.
"The Show Must Go On!" is not only an old show-biz adage; it describes the very spirit of this great city, and we are so proud to play a role in its recovery.
Gerald Hines
Founder and chairman of Hines real estate development firm
I have been a resident of Houston since 1948, and have many proud moments here. But in those 69 years, I have never been prouder to call it home. It has been a year of tremendous ups and downs, but we have come through it with great strength. The floods and devastation left behind by Hurricane Harvey affected so many people. Yet we witnessed the resilience of Houstonians. From public servants and city leaders, to the life-saving efforts of everyday citizens, to those who generously opened their pocketbooks, our city banded together with a conquering spirit.
In June, I accompanied the students from the Gerald D. Hines College of Architecture and Design to Berlin where they, supervised by architect Thom Mayne, presented a prescient exhibition in a major architecture gallery titled Houston: Genetic City. All of their futuristic plans considered long-term ideas to mitigate flooding in the Bayou City. This is an issue that must be addressed.
Our city and the victims of Harvey still have a long way to go, but Houston will continue to rally until we are greater than ever before. And speaking of greatness, how about those Astros? They brought us a gift with their determination and sportsmanship. The 'Stros are world champions, and Houston is a world-class city!
Jim "Mattress Mack" McIngvale
Opened his furniture stores as shelters for flood victims, and flew Harvey first responders and military vets to World Series games in L.A. 
My best memory of 2017 was watching Houstonians band together during a time of incredible devastation. They showed amazing resiliency and kindness during a time of extreme stress. Everyone pitched in and helped where they could. Texans support each other. Our city is brave and kind, and I am honored to be a part of such a great place.
The Houston Astros winning the World Series was an incredible motivational boost for us. All of Houston was involved, excited and proud — it was a much-needed lift after such a traumatic time in our history. Houston is a city that can overcome. We're on our way to a Texas-sized comeback.
Martha Turner
Founder and chairman emeritus of Martha Turner Sotheby's International Realty 
The year 2017 has been remarkable in many ways. First, our city performed a masterful execution of one of the greatest Super Bowls of all time. This set the stage for Houston to be recognized as an extraordinary choice for the event for many more in years to come. In late summer, I was blessed with my first great-grandchild. Then came Harvey!
It became apparent that the devastation of this horrific storm was going to challenge our city as never before. As I observed the compassionate, generous spirit cross all lines of ethnicity, I realized the fiber of my fellow Houstonians was unequalled. Watching countless residents as they were rescued by boat from their homes across the city was heartbreaking, but it was evident that the surging floodwaters weren't going to prevent Houstonians from uniting in a natural disaster of historic proportions.
Through the real estate lens, I see Houston as an outstanding choice for anyone who is looking to relocate. It seems unprecedented that one city can be dealt the ebb and flow that we've experienced in recent months and still be imbued with a stronger spirit than ever. The ecstatic victory of the World Series by the Houston Astros cemented one of the most uplifting, joyous periods in our city's history.
Alvin LeBlanc, AKA Kool B
Poet
Clutch city, diamond of the Gulf Coast, where the can-do attitude still thrives amid a crisscross of railroad tracks and sprawling bayous, shows her Southern resiliency once more this year. Harvey hammered local rooftops until the sky broke open and took us all for a wet and inhospitable ride. More than 50 inches of water fell in some areas. Day and night, I watched neighbors rescue neighbors, friends save friends, and strangers give to strangers.
Thirty to forty thousand people flooded, 500,000 cars washed out, and billions of dollars gone down the drain with all the trash and debris. Boomtown had turned into a huge, waterlogged refugee camp, with displaced Houstonians scurrying back and forth to find a sense normalcy anywhere.
Getting back to schedule was a task for the entire city, rich and poor alike. An army of volunteers turned out to aid in the cleanup and repair. It is awesome to know that I live in a place where people value each other. It was such a sight to behold, humanity united.
Lee Ellis
Restaurateur of Pi Pizza, State Fare, StarFish and Lee's Fried Chicken & Donuts 
This year in Houston has been nothing short of inspirational. The city's unmatched hospitality was lauded by a global audience during Super Bowl LI. Then Hurricane Harvey hit, and Houston captivated the nation once again, this time with our diversity and resilience. As the waters subsided, the Astros brought our city some much-need sunshine. In true H-Town fashion, the city was a role model for all, as we didn't destroy property, an act routinely seen after monumental sports victories in other places. And patrons showed tremendous support for our local bars and restaurants, injecting a much-needed jolt of energy after the Harvey lag. It's clearer now than ever before that, come hell or high water, we are forever #HoustonStrong.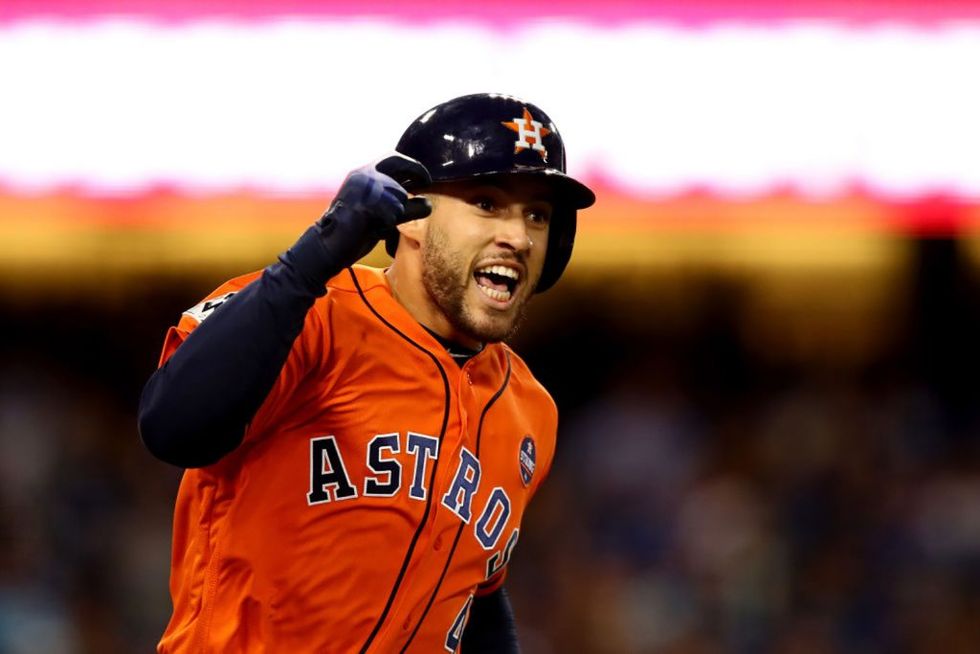 World Series MVP George Springer reacts after hitting a two-run homer in the second inning of Game 7 in L.A., tying a Series homerun record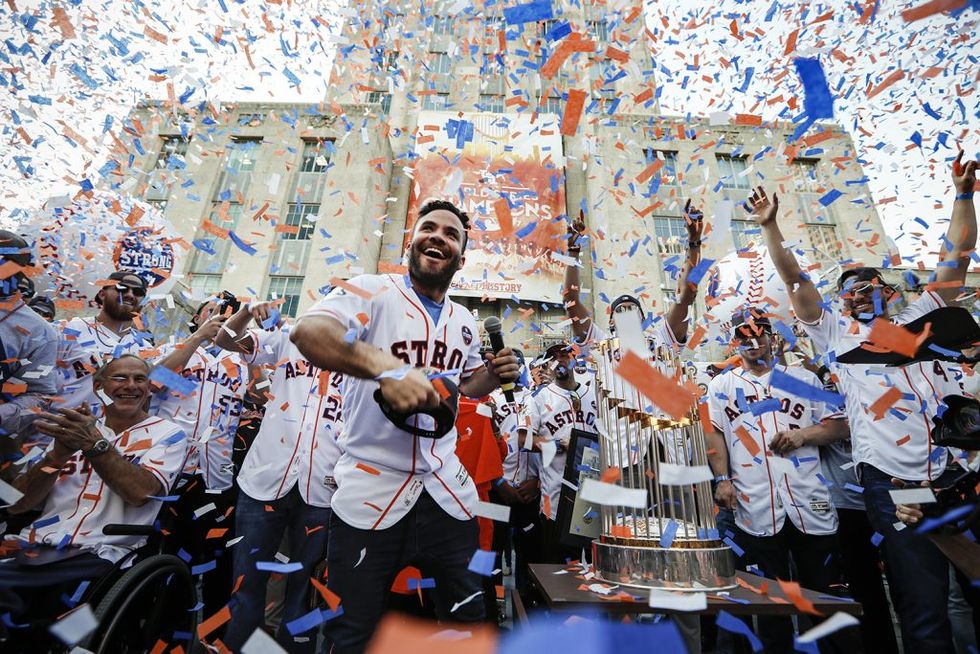 Jose Altuve and the team bask in championship glory outside City Hall on parade day
ELAINE TURNER
Fashion designer
I think what impacted me the most was how much the Astros brought our family together. I needed to be reminded of the magical moments that sometimes get lost in the shuffle of such a momentous event. Seeing my son, his grandfather, and my husband witnessing history together gave me the kind of goose bumps that stop you in your tracks. My heart swelled with pride for my city and my family.
We all get caught up in life and forget to stop and realize the magnitude of the moments we are creating. Memories that will last forever, memories that help define your life. Every city wants a World Series victory; Houston, post-Harvey, needed one. They brought us hope. Their post-season run was the perfect symbol to inspire us that we can and will recover. It's as if they were modeling for all Houstonians how to heal and continue on with our heads held high.
We never give up. We fight back when we are down. We support one another through thick and thin. They created a belief in all of us — if they can do it, we can too. And for sure, my favorite memory of 2017 is most definitely the Astros winning The World Series. It was bigger than baseball. The win brought us all together as family and community believing in a better tomorrow!
Page Parkes
President of the Page Parkes modeling agency 
Houston, our model city, has come through this year with flying, World-Series-winning colors! We started off the year with the high honor of hosting Super Bowl 51, a wonderful economic boost for our city. The world's eyes turned to us again as Hurricane Harvey ripped through. We awed the world with our unity, as our city came together to rebuild from the wreckage. I could not have been more proud of Houston as a whole. TEAM: Together Everyone Accomplishes More. That's been our city's motto that brought us through this year, from the devastation and losses to World Series champions.
Tommy Tenzo 
Rising-star aerial photographer who shot the photo at top
If I could summarize this year for Houston, I would simply say, "Wow." This city has had so many amazing things happen within the year that it makes me feel as though I'm part of history in the making. There are many talented designers and architects, and new structures and parks being built. To this day, I'm still finding new places within Houston. It means new opportunities for me to show the world that Houston is world-class city begging to be photographed.
Hugo Ortega
James Beard-winning chef of Xochi, Hugo's, Caracol and Backstreeet Café 
This has been an incredible year, both for the city of Houston and for me personally. To be honest, some days I have to pinch myself to make sure it's really happening! I have so many wonderful things to be thankful for, but winning the James Beard Award was definitely a high point.  When they called my name, I jumped up and ran to the stage because I was so excited!
To be able to represent Houston on the stage in front of the biggest players in the hospitality industry was my honor and pleasure. I was wearing a "Houston" pin from Visit Houston when I accepted the award. I think it was my good luck charm.
This city has definitely been a place of good luck and fortune for me and I will always be grateful, and I'm so glad that Houston is "having a moment," one it really deserves. It is the result of a lot of groundwork laid out over many years and hard work by our city, local businesses and citizens. It seems it is all coming to fruition at once, and I hope it continues. I love that the rest of the country and the world is now appreciating what an amazing city we are!
Art+Culture