Beginning and ending with epic sporting events played out on a global stage, Houston's year has been a study in highs and lows. Houstonians overcame one of the worst storms in American history and, resolute and resilient and determined to rebuild, inspired the Astros to World Series glory and emerged themselves as champions. Nodding to 2017, we invited 17 city notables to share personal reflections on the wildly exciting and emotional year.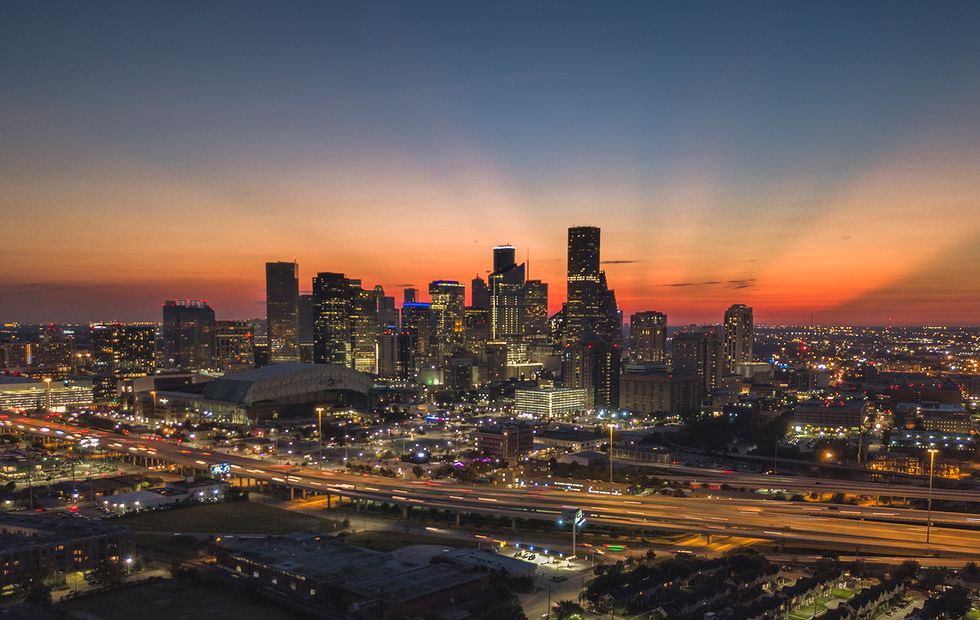 Editors' Note: This isn't the first time Houston has been tested by acts of God. In 2017, after we endured Hurricane Harvey and, just a few months later, celebrated the Astros' winning the World Series, we asked luminaries — including some since passed, like George H.W. Bush and Bob McNair — to comment on the city's strength, resolve and hopefulness. More than ever, their wise words inspire us.
---
President George H.W. Bush
From where Barbara and I sit, 2017 has been one heckuva roller coaster ride for our beloved Houston, starting with the most exciting — and successful — Super Bowl in history. Then there was both exciting and bittersweet news involving the Rockets, with a big player acquisition and an ownership change after 25 years. Late August brought Hurricane Harvey with its devastating rains that horrified the nation — followed by the heroic actions of neighbors and first responders that inspired us all. And of course, we truly reached the pinnacle of community pride and unity when the Astros brought home their first World Series championship in franchise history. Let's hope 2018 brings continued healing and recovery for fellow Texans affected by Harvey — and if I am being honest, another NBA or World Series championship wouldn't hurt either!
Joe Musgrove
Winning Astros pitcher for the World Series' multi-record-setting Game 5 at Minute Maid Park
This city has been dying for a championship-caliber team for many years now. We finally have that for them. To see the way the city pulled together as a family to help the others in need during the hurricane was one of the most inspiring things I've ever seen. I couldn't be more proud to tell people I represent the city of Houston.
Many players wait their entire career for an opportunity to play in a World Series, and I was fortunate enough to win one in my first full season in the Big Leagues. I feel very blessed to have been surrounded by such an incredible group of men, and by an even more incredible city.
Forever in history, we will always be known as world champions, and we will always be Houston strong.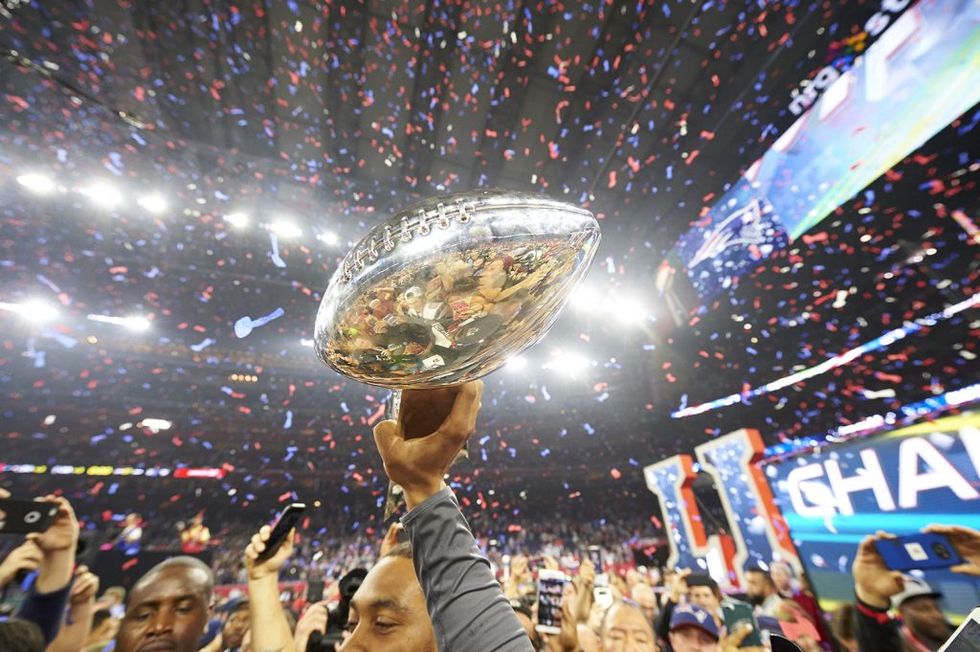 The Vince Lombardi Trophy is hoisted in NRG Stadium after the New England Patriots' dramatic come-from-behind victory in Super Bowl 51
Chris Seay
Pastor of Ecclesia church, which dispatched supplies and volunteers during Harvey
I've always believed that being a native Houstonian was like winning the lottery. How was I so blessed to have deep roots in the city I believe to be the greatest on the planet? This city never made me rich. My family never owned the land in the Heights where they grew up surrounded by cows. But Houston made me who I am — someone who appreciates all cultures and lives with an innate sense that good people get through hard times together.
When Harvey collectively punched our city in the gut, we did exactly what we always do: We locked arms and started putting the broken pieces back together with plans to make things better than before, not merely a faded version of what we once knew.
With two outs in the bottom of the ninth, my money is not just on Jose Altuve and the Houston Astros. I'll be betting all I've got on Houston, Texas.
Renu Khator
UH chancellor and president 
Houston embodies what it means to be resilient. As I reflect on the past year, I'm inspired by the strength of all the people who got knocked down, but refused to stay down, following Hurricane Harvey. "Houston Strong" is more than a hashtag. It's who we are as a city, and as a university community. After the havoc, we saw the best of human spirit among Houstonians and Cougars alike.
At the University of Houston, where enrollment is higher than ever, we are building a comprehensive culture of support and care. Our number-one goal is for our students to succeed. When they succeed, the city as a whole succeeds. This takes boundless energy and endless optimism, but together it is happening.
Success and attitude are contagious. The Astros' relentless run to their first World Series championship reminds us all that with hard work, anything can be accomplished, no matter the obstacles. Consider history earned! The world is taking notice that Houston and its university are on the rise. This was evident during another terrific week of Super Bowl festivities. We were pleased to host the New England Patriots at our practice facilities.
Together we have overcome a lot this year, but we must do even more because average is not good enough for Houston or the University of Houston. Culture is nothing but an aggregate reflection of individually held values. Let's celebrate our past triumphs while making even bigger plans for next year.
Bob McNair
Houston Texans owner 
2017 has reminded me of what makes Houston special: Our city comes together for the good of others. In February, we hosted a spectacular Super Bowl LI and made our guests from across the country feel at home while watching great football. We did not realize that we would come together again in August to aid our fellow Houstonians by boat, truck and foot during Hurricane Harvey. While rebuilding this great city is far from over, and there is much work to do, the Astros gave us something to smile about and to rally for as a community. I am proud to be a Houstonian and I am proud of Houston for showing me, and the world, the power of people coming together. I know Houstonians will continue to amaze us in 2018.
Lynn Wyatt
Philanthropist and society icon 
I think that the lower one has to go, the more appreciative the high becomes. We still would have been ecstatic with the Astros winning their first World Series no matter what. However, the fact that we did have such a low in the form of Hurricane Harvey so soon before winning the World Series exponentially accentuated that ecstatic feeling.
Harvey was a huge setback for Houston Ballet, Houston Grand Opera and Alley Theatre because of the flooding, but if there is a silver lining in any of this, it would be the unwavering resilience of this city. More money is raised in Houston for more causes than anywhere else — be it for the arts, education or health — and I feel grateful that I keep my schedule full supporting the things that make Houston, Houston.
I've had quite a few high points over the course of the year, but I guess if I were to think of just one it would be taking Elton John to the Super Bowl in my hometown and sitting in [Patriots owner] Robert Kraft's box for what would become the most exciting game in Super Bowl history. That was a win for Houston without the Texans even playing in the game.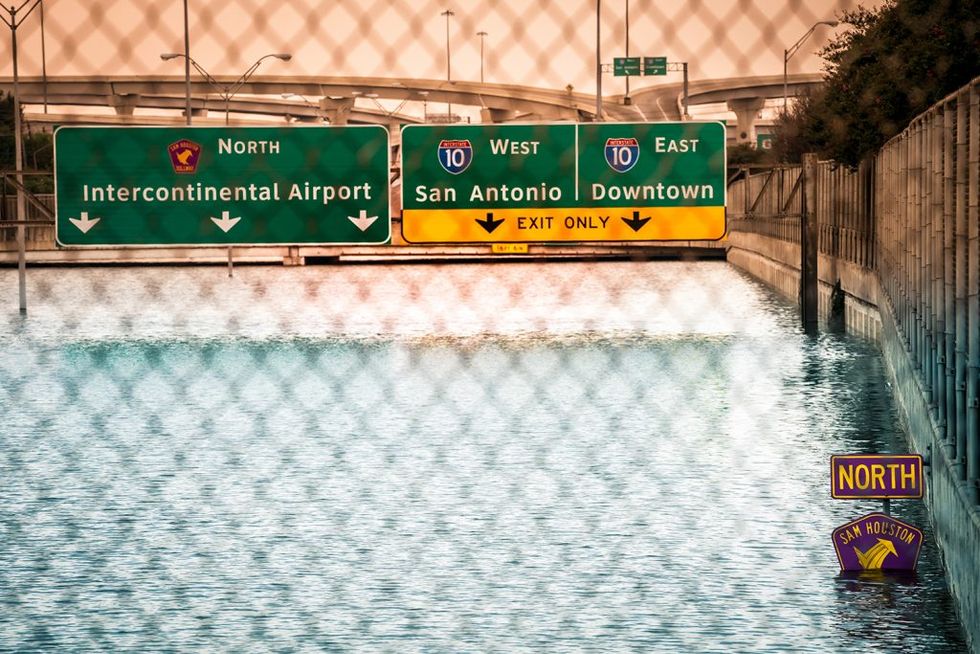 Harvey's flood waters rise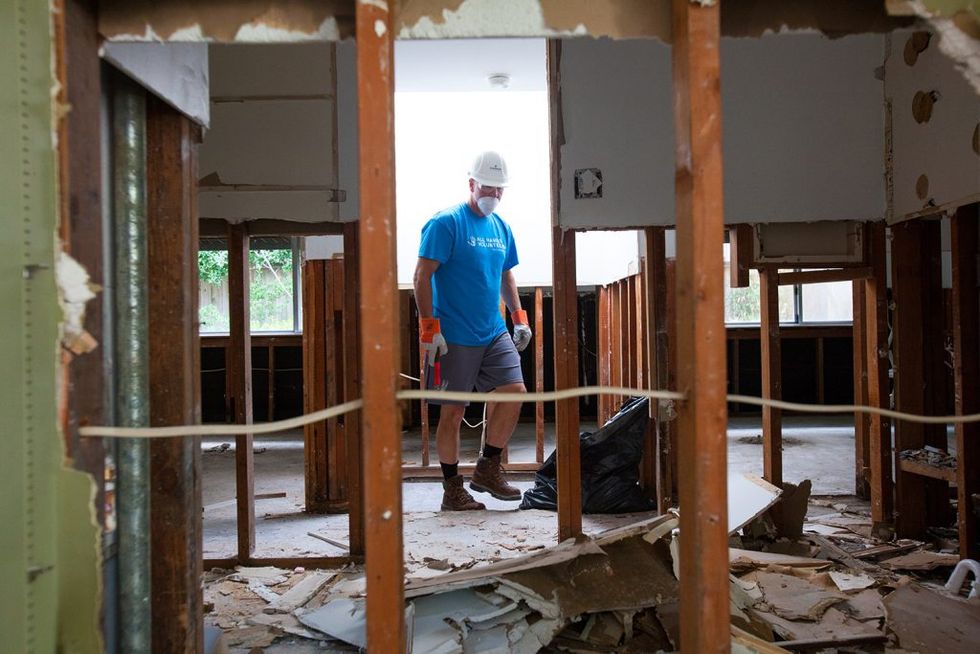 Jose Altuve and the team bask in championship glory outside City Hall on parade day
ELAINE TURNER
Fashion designer
I think what impacted me the most was how much the Astros brought our family together. I needed to be reminded of the magical moments that sometimes get lost in the shuffle of such a momentous event. Seeing my son, his grandfather, and my husband witnessing history together gave me the kind of goose bumps that stop you in your tracks. My heart swelled with pride for my city and my family.
We all get caught up in life and forget to stop and realize the magnitude of the moments we are creating. Memories that will last forever, memories that help define your life. Every city wants a World Series victory; Houston, post-Harvey, needed one. They brought us hope. Their post-season run was the perfect symbol to inspire us that we can and will recover. It's as if they were modeling for all Houstonians how to heal and continue on with our heads held high.
We never give up. We fight back when we are down. We support one another through thick and thin. They created a belief in all of us — if they can do it, we can too. And for sure, my favorite memory of 2017 is most definitely the Astros winning The World Series. It was bigger than baseball. The win brought us all together as family and community believing in a better tomorrow!
Page Parkes
President of the Page Parkes modeling agency 
Houston, our model city, has come through this year with flying, World-Series-winning colors! We started off the year with the high honor of hosting Super Bowl 51, a wonderful economic boost for our city. The world's eyes turned to us again as Hurricane Harvey ripped through. We awed the world with our unity, as our city came together to rebuild from the wreckage. I could not have been more proud of Houston as a whole. TEAM: Together Everyone Accomplishes More. That's been our city's motto that brought us through this year, from the devastation and losses to World Series champions.
Tommy Tenzo 
Rising-star aerial photographer who shot the photo at top
If I could summarize this year for Houston, I would simply say, "Wow." This city has had so many amazing things happen within the year that it makes me feel as though I'm part of history in the making. There are many talented designers and architects, and new structures and parks being built. To this day, I'm still finding new places within Houston. It means new opportunities for me to show the world that Houston is world-class city begging to be photographed.
Hugo Ortega
James Beard-winning chef of Xochi, Hugo's, Caracol and Backstreeet Café 
This has been an incredible year, both for the city of Houston and for me personally. To be honest, some days I have to pinch myself to make sure it's really happening! I have so many wonderful things to be thankful for, but winning the James Beard Award was definitely a high point.  When they called my name, I jumped up and ran to the stage because I was so excited!
To be able to represent Houston on the stage in front of the biggest players in the hospitality industry was my honor and pleasure. I was wearing a "Houston" pin from Visit Houston when I accepted the award. I think it was my good luck charm.
This city has definitely been a place of good luck and fortune for me and I will always be grateful, and I'm so glad that Houston is "having a moment," one it really deserves. It is the result of a lot of groundwork laid out over many years and hard work by our city, local businesses and citizens. It seems it is all coming to fruition at once, and I hope it continues. I love that the rest of the country and the world is now appreciating what an amazing city we are!
Art+Culture