Back in Black
Prolific artist Robert Hodge returns, with a new body of work exploring the spectrum and subtext of the color black.
Daniel Ortiz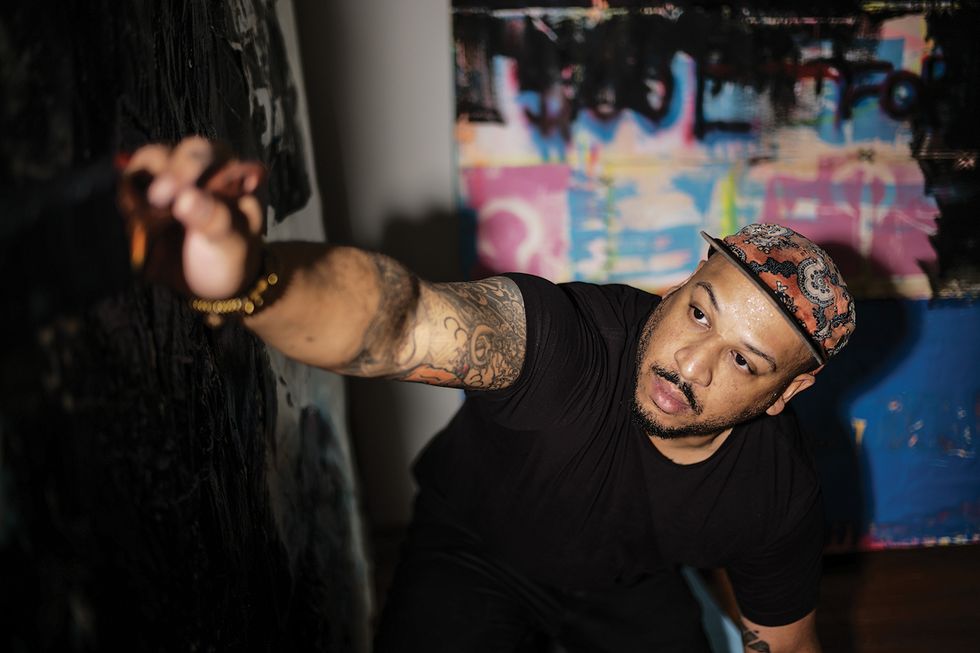 In the biopic Basquiat, based on the life of Haitian-Puerto Rican painter Jean-Michael Basquiat, a pasty-complexioned interviewer asks the artist: "Do you consider yourself a painter or a 'black' painter?" Basquiat replies, "Oh, I use a lot of colors. Not just black." 
---
The film is a favorite of Third Ward-reared artist Robert Hodge, whose new show The Low End Theory, Jan. 11-Feb. 9 at David Shelton Gallery, explores the expressive spectrum of the color black. Hodge, 39, was inspired by Stephanie Rosenthal's book Black Paintings, which compiles monochromatic dark works by abstract expressionists like Robert Rauschenberg and Mark Rothko. The show's title comes from A Tribe Called Quest's 1992 jazz-hip-hop album. 
"This show is my investigation into the color black," says Hodge. "They were just investigating the color. But I get to play around with social and political issues." And while "low end" refers to both bass and booty, it also signifies the struggle of those at "the bottom of the totem pole," says Hodge, who seek a way up. 
Every inch of his studio seems to reference the culture he explores across several mediums, including painting and silk-screening. Perched atop a stereo is a vintage battery-operated Ray Charles doll; makeshift shelving is crammed with vinyls and books about his "invisible mentors," including Rauschenberg. 
On a desk is a MIDI controller with drum pads, as music production is yet another means of creative expression for Hodge. "It can be any kind of vehicle," says Hodge of his prolific output, "but the mission statement will be the same."
How struggle and resilience is manifest across decades of African American music and art is a big part of that statement. One new painting,  "Too Legit to Quit," has sat outdoors and endured the elements — including Hurricane Harvey — for five years. "I don't know how it's going to look in the clean space," says Hodge with a laugh. "But it feels like something you can't recreate in the studio."
The happily married father of a 6-year-old girl who draws, makes videos and aspires to write a book, Hodge typically works late at night, when he experiences the feeling of transcendence creative work brings. "That's why we do it," says Hodge. "And then you know you're connected to something higher than you."
Art+Culture