Band Together
For the members of dream-pop trio Astragal, friendship comes first.
Jhane Hoang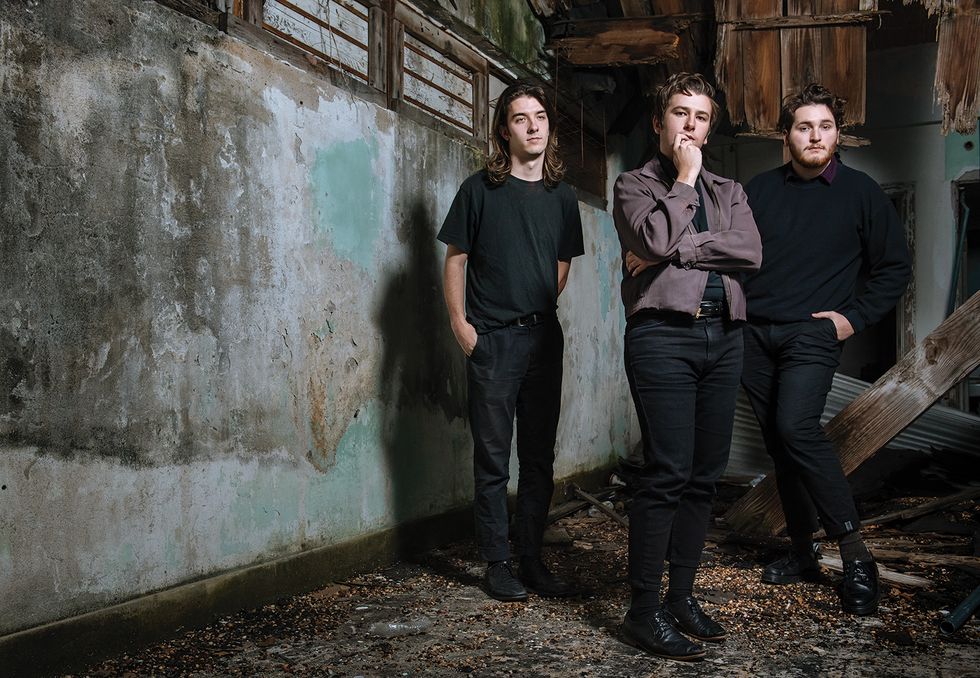 Spend an hour with friendly dream-pop band Astragal — named after a 1960s French novel about an escaped prisoner — and it would be impossible to guess its three members were strangers less than three years ago. Singer Jimmy Bent, 22, and drummer Sam Enkelmann, 23, met at a house-music party in 2016, where their only exchange was complimenting each other's shirts (Bent wore a disco-era button-down; Enkelmann donned an Animal Collective T-shirt). When they bumped into each other weeks later, they made a spontaneous plan to jam at Enkelmann's parents' house, and used Craigslist to recruit bassist David Sosa, 21. Astragal was born.
---
"Starting a creative project that's so personal but with people you don't know is all upside," says Bent, who led the vision for Astragal after participating in a string of unfulfilling emo bands. "We had a lot less baggage and less expectations of each other." The group — which just released EP 2 through Wallflower Records and plays Satellite Bar on March 22 — exudes an affable, lived-in vibe. "We try to take care of each other," says Bent. "We don't just play music; we talk about things." Sosa adds with a grin, "'I love you' is said a lot." 
Their chemistry owes as much to the band members' marked differences as it does their shared love for Astragal's atmospheric, post-punk aesthetic. Sosa brings a goofy, lighthearted presence to the trio; he first started performing in a Radiohead-inspired jazz-psych band in Houston at age 17, notably wearing nipple tassels ("We have pictures," Bent teases). In contrast, Enkelmann, who grew up in Kansas City, handles himself with cool confidence. He drums for multiple Houston outfits, a tidbit offered enthusiastically by his band members.
And then there's Bent, a quiet intellectual with a disarming smile. While his immediate family lives in The Woodlands, he comes from a line of North Carolinian bluegrass musicians and learned to play the violin at a young age. He pens Astragal's lyrics, and drew on his own recent experiences — such as witnessing substance abuse in his family and struggling with the gravity of adulthood — for EP 2. Caught my cologne on the overpass / asking myself will this last, he sings in the single "Bloomer," recalling a moment that forced him to stop drifting and reckon with his existence. 
Earlier this year, Astragal pressed a vinyl of pre-EP 2 songs and wrapped a seven-city regional tour, which they describe as frenetic and high-energy. No two shows are the same; the guys have been known to regularly shapeshift recorded songs based on the mood of the day, and often throw in covers like Drake's "Hotline Bling" or The Knack's "My Sharona," a band favorite. On the road, the trio keeps it PG, swapping trendy bars for craft coffee and record stores, and catching up with other local bands that avoid heavy drinking or drugs. At a recent stop in San Antonio, for example, they spent a morning riding lime-green scooters through the city with Texas band Goth Death.
Looking forward, Astragal plans to spend the summer months finalizing an upcoming full-length album and eventually getting back on the road. And, of course, growing the friendship they've cultivated. Says Enkelmann, "Friendship before band any day."
Art+Culture