Big Fish
Subtly lavish in its industrial-hip environs, and astoundingly accomplished, new sushi star Kukuri rises on the Washington Corridor.
Kirsten Gilliam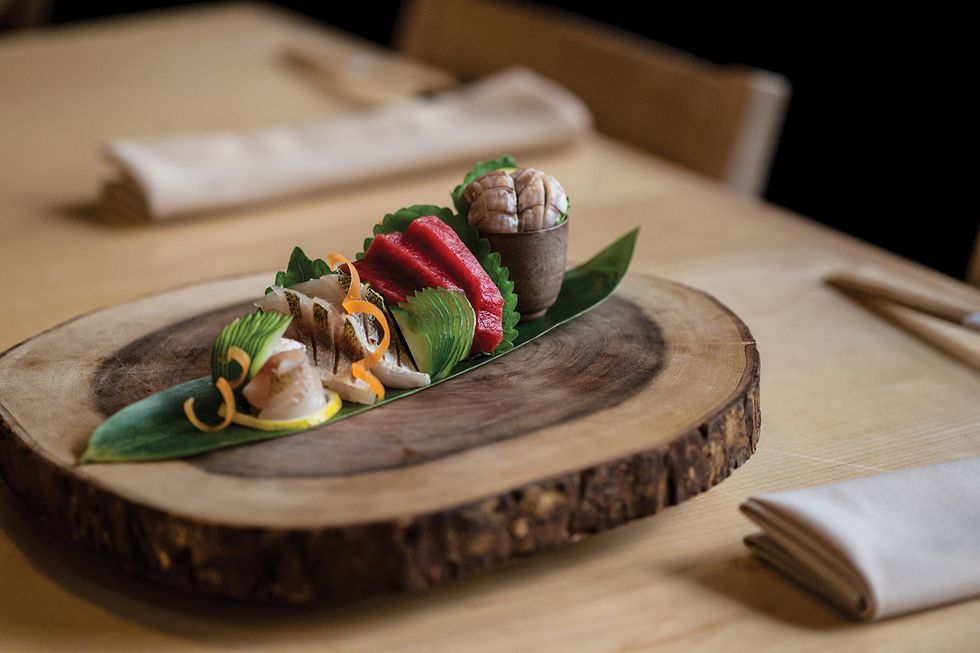 Kon'nichiwa.
---
The soft-spoken greeting from Chef Shimao Ishikawa, almost a whisper, is accompanied by a subtle bow. He has a silent but commanding stance from his perch behind the 10-seat sushi counter where he keeps a watchful eye over the room. With the background noise from the kitchen to his left and the clinks of glass and faint murmurs from the bar to his right, he stands in the center of it all, prepared to present his omakase menu.
Since Kukuri's (1902 Washington Ave.) low-key opening in an intimate industrial-chic space on Washington in mid-August, the sushi house has had Houstonians buzzing. News spread that an expert Japanese-born chef with a celebrated culinary past of more than 40 years — including a 13-year stint at the Michelin-starred Jewel Bako in New York's East Village — was attached. First-time diners have been more than apt to put their trust in the restaurant during the coveted omakase seating which, for a cool $170 per person (sans booze), combines a chef's-choice sampling of the freshest fish flown in from Japan's Tsukji Market and signature recipes implemented by Chef Ishikawa.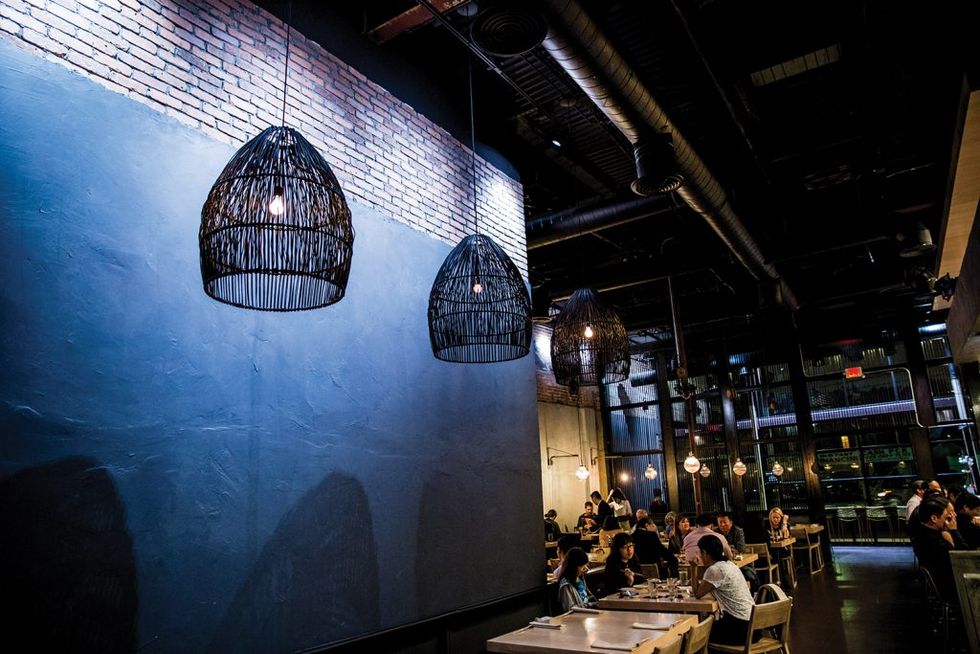 The industrial-chic dining room
Its hip locale is tucked in a development with Tacodeli and Platypus Brewing. The restaurant itself is unassuming and dimly lit, rather inconspicuous from the street. Inside, works by Japanese artist Miyuki Ueda with traditional black-ink brush strokes appear both on the custom porcelain dishware used for food service and the scrolls hanging on the wall.
The menu — also artfully created, a collaboration between Ueda and Japanese artist Koetsu Kishimoto, incorporating Washi paper dyed with persimmon varnish — changes based on the seafood flown in that day and lists items simply as "Today's Dish" and "Today's Recommended."
Itadakimasu.
This is a message from the dinner guests to the chef meaning, "I gratefully accept this food." The concept Omotenashi, a form of Japanese hospitality in which one entertains wholly and with an open heart, is supremely present here. Unlike its trendy-fabulous sushi-house counterparts, Kukuri offers an extra layer of warmth and courtesy with its respectful vibes — a notion both the staff and the guests abide by.
During the omakase experience, guests indulge in a wide range of exotic fish while interacting with the chefs. And it is here where the spirit of Kukuri shines. Forego the use of chopsticks and pick up each decadent piece by hand, as recommended by your sushi chef — from ruby-colored pieces of toro (fatty tuna) and Hokkaido uni (sea urchin), to pinkish aji (horse mackerel) with silvery skin. The squishy jellyfish, translucent and subtle in flavor, comes in a small bowl, looking not unlike a spoonful of jelly.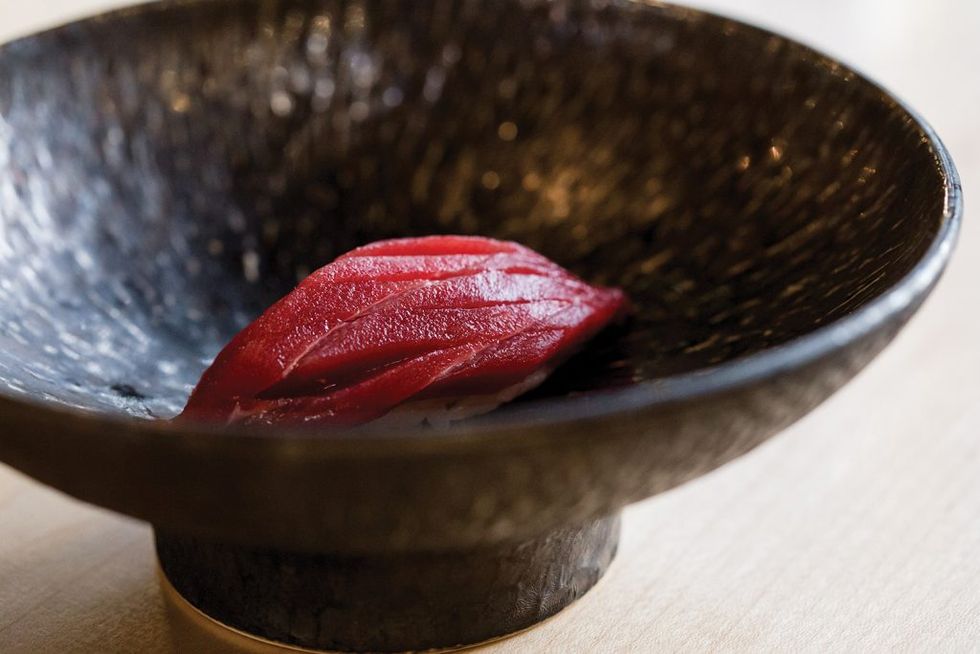 The chutoro (fatty tuna) on seasoned white rice
While some of these morsels may sound familiar to sushi fans, they become something wonderfully new here, drawing you in with next-level sheen and color and texture.
Cooked courses are just as interesting. The marinated wagyu and cod, wrapped in magnolia leaves and served with pickled carrot, is almost too pretty to eat. Almost. Vegetables flown in daily from Japan, like the Tokyo green onion, are unique.
Arigatou.
Met with a polite bow, this is an expression of gratitude, and not an uncommon way to end a meal at Kukuri. Kukuri's charm spans beyond its exotic menu to its deep-rooted tradition, the Omotenashi, implemented within the restaurant by its master chef.
Food+Travel