Blu Period
After giving up a career as a psychotherapy Ph.D., rapper Genesis Blu uses music as a means of healing — and protest.
Todd Spoth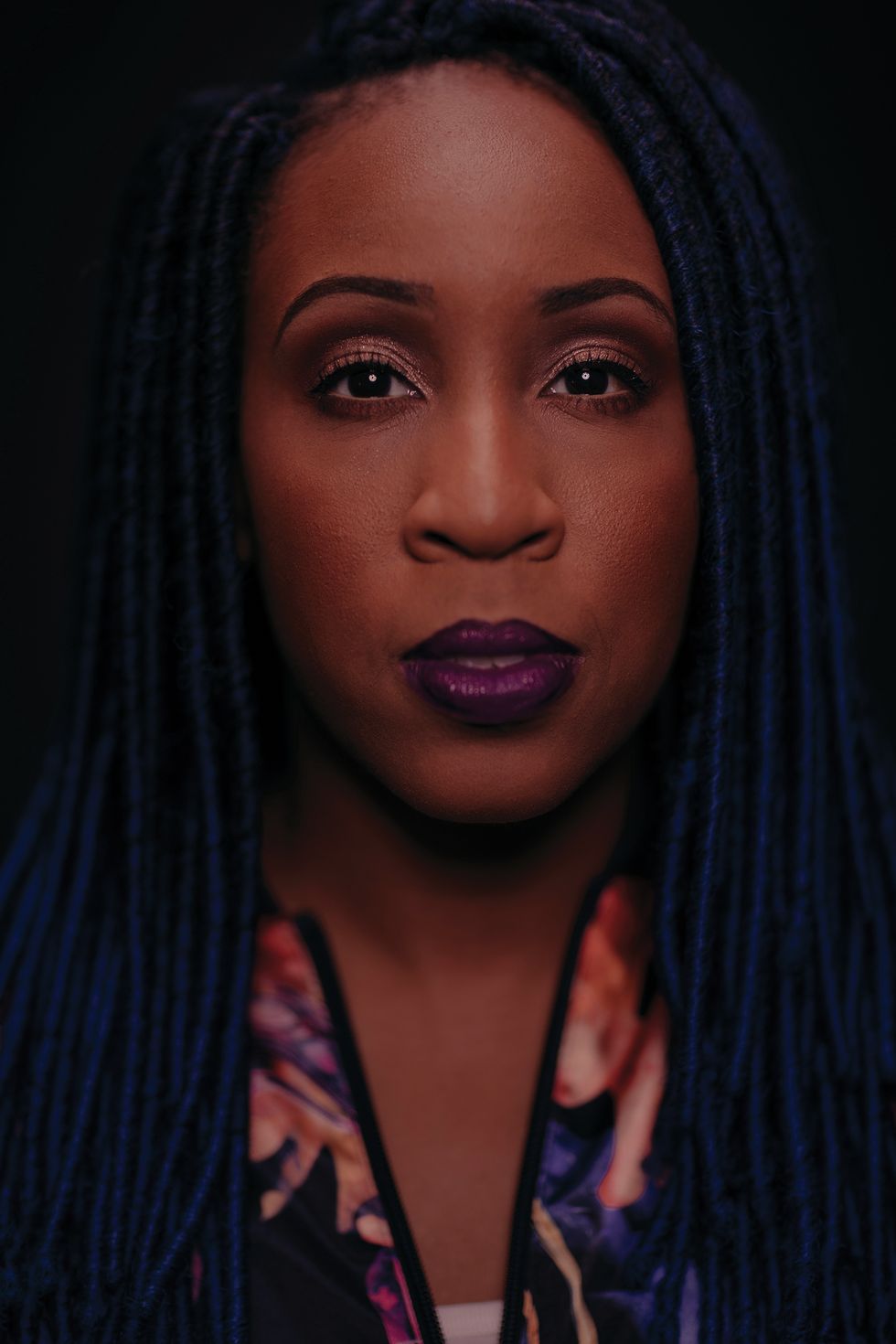 It might've been Dr. Blu to you. But Yvette Cornish, better known to some as Houston rapper Genesis Blu, set aside her doctoral dissertation in a psychotherapy program, steering away from a life in academia and instead pursuing a dual career in hands-on counseling and music.
---
"I wanted to research residential treatment centers and how they can actually have a negative effect on children instead of a positive effect," says the Greenspoint native, who boasts a head full of spiraling royal-blue hair, of her decision to end her advanced studies. "They didn't want me to do that." She changed course and revisited the idea of a music career, which had started in middle school, when she performed at places like AstroWorld under the stage name Jus-E.
Shortly after returning to her musical roots, Blu (the name doubles as an acronym for "Best Lyricist Undiscovered") blossomed. In 2016, the Houston Press named her best rapper, and earlier this year, Houston-based Roologic Records released her debut EP Bluming Season. Last month, she dropped the video for the title track, which packs a potent message inside of a jamming beat. "It's about … knowing that troubling times are going to come but you really have to hold on and stay very focused on what you're trying to do," says Blu, who uses her passion for and knowledge of psychotherapy to inform her music.
A licensed psychotherapist who counsels parents and teens at the Harris Center for Mental Health, the poetic musician is also a clinical director at a Baytown residential treatment center, runs her own private psychotherapy practice, and performs contract work for Child Protective Services. "I figured out that I'm an artist, intellect and a philanthropist, and that I can be all of those things," says Blu, who also just launched a self-help podcast called Bluming Season TV.
"I can use my skills in mental health to make music that's healing, but also fun and not lame," she says. "It's good music, but it has a message behind it, like hip-hop used to be."
An example of one of her deeper, supportive messages can be heard on the song "Keep On," which features the hook, "When the road gets long/You know you gotta stay strong/And when you're lost at sea/Know you're not alone."
In addition to a new mix tape and some touring in 2018, Genesis Blu, whose absolute favorite thing to do outside of work and music is go to the movies, will continue to stick with the richly blue hair, which she says represents royalty and strength as a woman. She'll also continue to break down people's fears, via her socially conscious hip-hop, tackling the once-taboo issue of mental illness.
"Music," she says, "is our best form of protest, through telling the truth and being very direct and reaching a mass of people."
Art+Culture