With Cliff Jumping, Salt Pyramids and Flocks of Flamingos, the Caribbean's Bonaire a Hidden Gem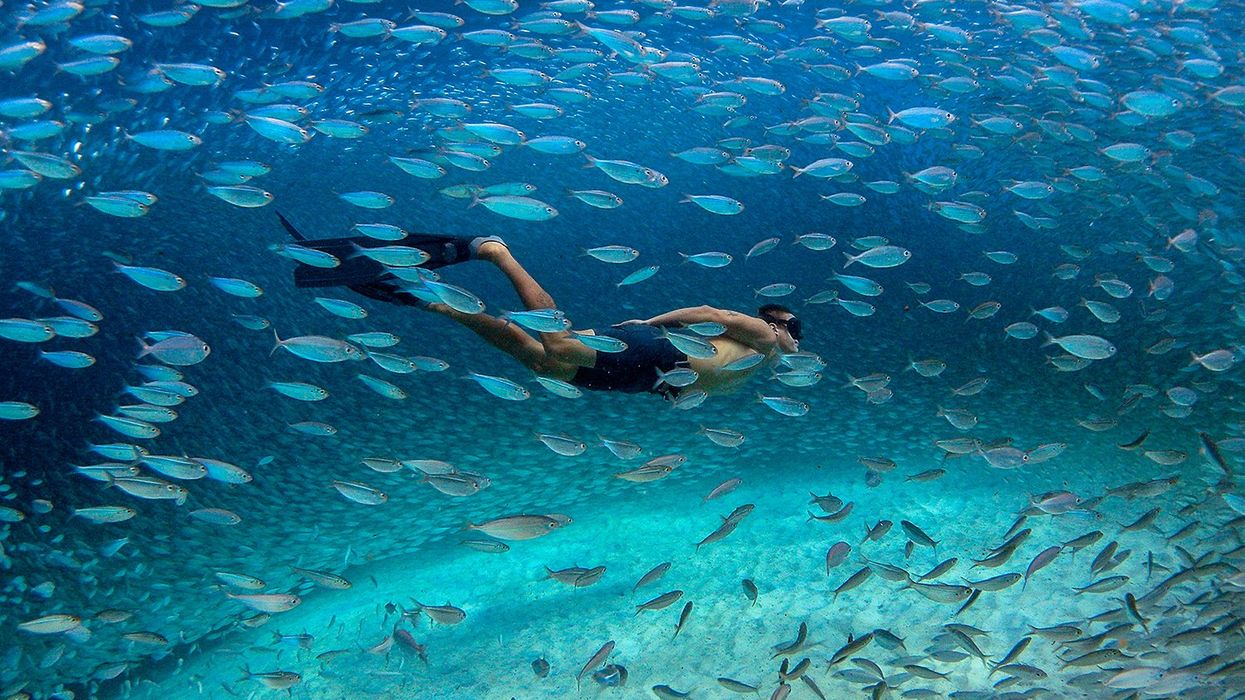 PLANNING A VACATION to the Caribbean usually involves daydreaming about lush, tropical scenes — white-sand beaches, cloud forests, endless relaxation. But on the tucked-away island of Bonaire, a different sort of paradise exists.
---
The "B" in the Dutch Caribbean's ABC islands, Bonaire is an amalgamation of ecosystems and cultures (not unlike its native language Papiamentu, which borrows from Portuguese, French, Spanish and Dutch). Amenities here don't always cater to American visitors — but that's by design. Bonaire's economy is built around sustainability efforts; the island is the world's first certified Blue Destination, meaning habitats are to remain unspoiled and ocean conservation is top priority.
As a result, Bonaire, built entirely atop coral, has gained a reputation as a diver's paradise, with the "fishiest" reefs in the world. But tourists need not be scuba aficionados to enjoy all the island has to offer — beginning at Flamingo Airport, where direct, four-hour flights from Houston land and depart every Saturday. The café here boasts the best pastechi on the island: Think cheese-stuffed empanadas, but doughy rather than flaky. It's the perfect welcome treat — or parting gift.
Places to stay range from boutique (check out Bamboo, with an exclusive chef's table that must be booked months in advance) to spacious, as in Harbour Village, situated on a 60-slip marina.
But with Dutch-apartment-style accommodations suitable for singles, couples or families — and an expansive, hammock-laden beach overlooking impossibly clear water filled with coral reefs — Delfins Beach Resort is a go-to. In the past, Bonaire has not been considered a foodie destination. But Delfins' Michelin-starred Brass Boer will exceed any expectations, even those of the most well traveled foodies.
Other standouts include Number 10, a colorful, chef-driven restaurant in the small but funky downtown area. And longtime local hangout Posada Para Mira serves traditional Caribbean fare to a soundtrack of live cuatro music and children delightfully playing on the slides and swings.
Residents and tourists, who are most often blonde and beautiful and Dutch, are likely to enjoy their meals al fresco: A common sight to behold is families pulling foldable chairs and tables — and even a pop-up grill — out of their car, and situating themselves on a beach. It's hot, yes, but there's usually a strong wind to keep cool (in fact, world-class windsurfers train at Bonaire's Jibe City beach). Food trucks tout local delicacies like lionfish, and fresh-squeezed passionfruit juice served in repurposed beer bottles.
To get around the island, which is a bit smaller than Galveston, renting a car or scooter is recommended. The latter costs around $20 per day, and can be booked through your hotel. But a car is necessary to tour Washington-Slagbaai National Park, where one could easily spend an entire day observing iridescent lizards, hanging with donkeys, and hiking up dusty paths weaving through red rocks to score epic, 360-degree views.
After that, the water is calling: Dive sites are marked with yellow stones, and a snorkel mask is all that's needed. Walk straight off the rocky beach and into the turquoise waters, where parrot fish, barracuda, turtles and more await. Boats of all sorts can be chartered for a couple hours or a whole day, depending on how adventurous the group is.
Another only-in-Bonaire activity is caving, or exploring the naturally formed caverns in the coral. Certified guides like Dirk with Cave Tours Bonaire help patrons lower themselves into a literal hole in the ground, then discover the incredible formations down under. Some are wet caves, in which snorkeling is welcome.
Dirk volunteers his time to bat-conservation efforts, as do a lot of Bonaire residents to various sustainability and stewardship organizations. It's one of many reasons that this Dutch island is an incomparable haven — for ocean life and humankind alike.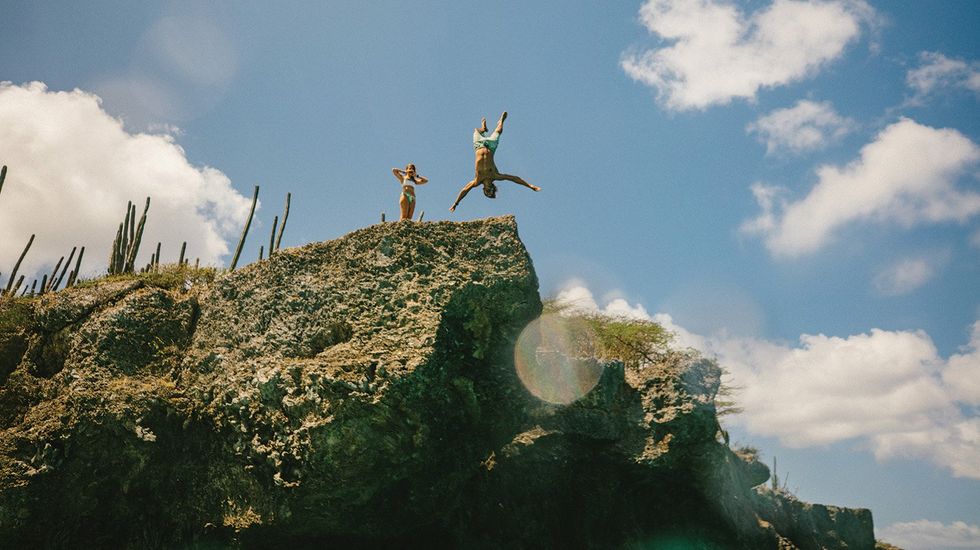 Climb up through the cacti to jump off of cliffs in Bonaire's Washington-Slagbaai National Park.
Flamingos in Bonaire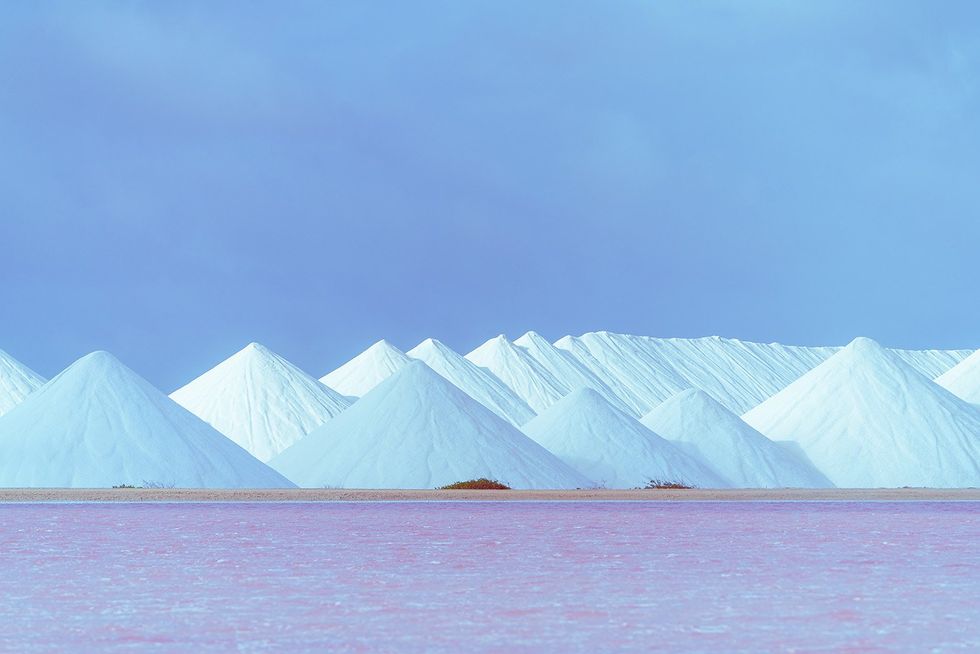 The sale pyramids in Bonaire
People + Places