Cabo Calling
Houston's favorite Mexican getaway has never been hotter.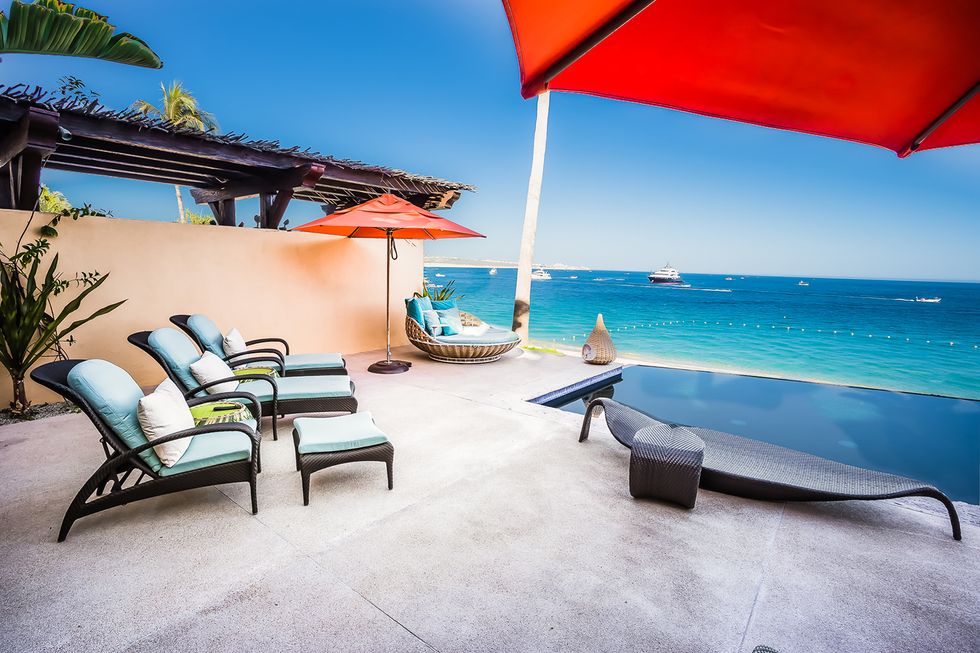 Houston, like L.A., has long had a love affair with Cabo, widely known to be experiencing a renaissance as the Four Seasons, Ritz-Carlton and other luxury resort lines prime to open in the area soon. 
---
At the tip of the Baja Peninsula, Cabo San Lucas and its adjacent communities are as beloved for their tequila-spritzed nightlife scene as for their dramatic natural mash-up of cliffs and desert canyons that give way to golden beaches and clear cobalt seas. All manner of water-based activities are practiced here. Jet skiing, paddle boarding and parasailing are big draws, as is sipping an adult beverage while watching the jet skiers, paddle boarders and parasailors from the edge of an infinity-style pool.
Vacation- and investment-home ownership in Cabo is common among Houstonians, and now two developments — Hacienda Beach Club & Residences and Querencia — are hoping to attract would-be owners and visitors from here.
The gated Hacienda is in the center of the action, near Downtown in Cabo San Lucas. Regulars from Houston adore the area, including Sur restaurant, which favors a private beach house and deck and has killer views; Thompson's brightly contemporary Cape hotel; and, just south of Hacienda, on the other side of the Marina, where the Cabo Wabo nightclub gets rowdy, the secluded Resort at Pedregal. The latter is accessed via Mexico's only privately owned tunnel.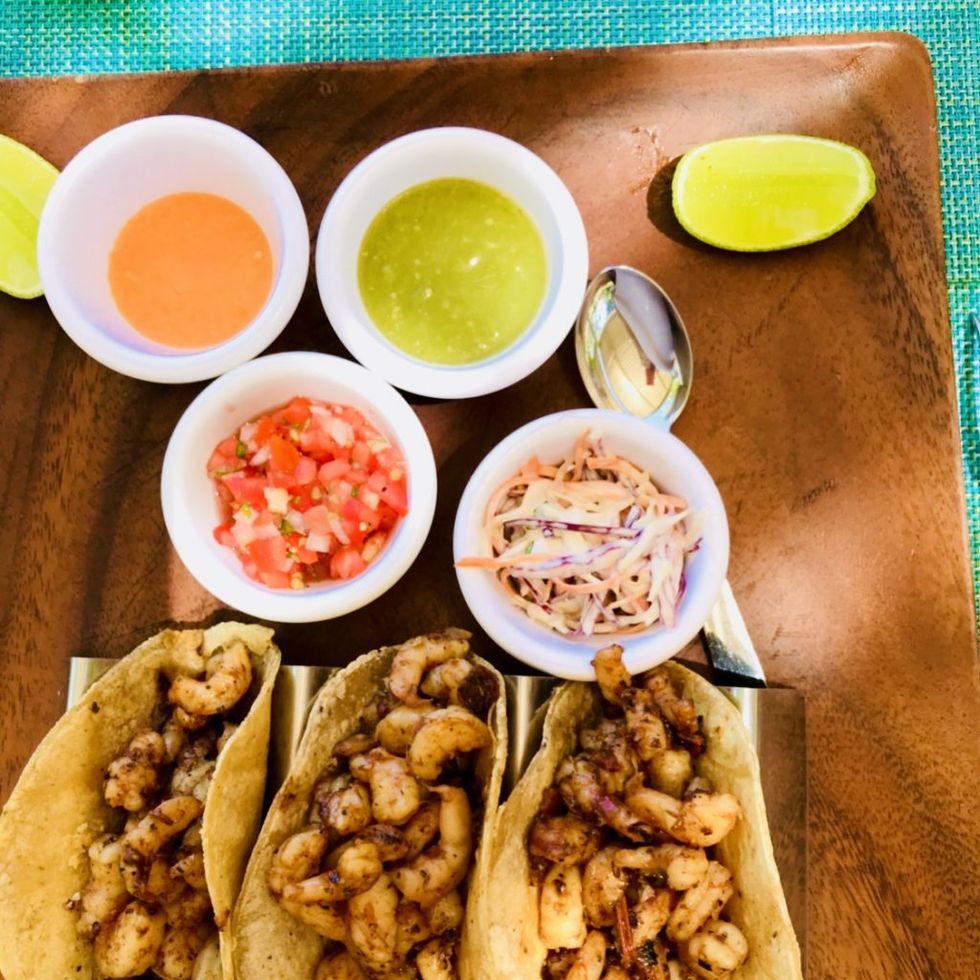 Querencia's seaside shrimp tacos
Hacienda boasts views of El Arco, the famous arch-shaped rock formation at Lands End, where the Pacific Ocean meets the Sea of Cortez. On the same masterplan site as Hacienda, another notable development company in the area — it's known as 1 Hotel & Homes Cabo — is adding 55 new residences and villas in one-to-seven-bedroom setups (along with a new hotel). The various properties currently range in price from about $1.2 million to $7 million, per real estate listings in the area. 
Hacienda delivers an exceptional Cabo experience, with as much to offer sexy singles and young couples as families. Just ask Sayid, the handsome young man from L.A. here celebrating a friend's 30th birthday. He's spotted near one of the vast pools, squeezed into designer trunks only slightly less revealing than his model-hot girlfriend's bikini. They're taking turns hurling ice cubes from the pool deck at a bell about 20 feet away, out on the beach; if you hit it, you get a free Patrón shot. After he misses, a few times, she rings it like a champ. They purchase a round of shots anyhow, with tamarind margarita chasers, giving their freebie prize to a stranger.
Like the property's large spa, the restaurant at Hacienda is semi-outdoor and works hard to achieve its laidback vibe. Cocina y Cantina, from whose gazebo-like ceilings dangle chandeliers shaped like dolphins, spills onto a patio. Dinner at this accomplished seaside eatery, set to the live stylings of a guitarist who puts Latin spins on pop tunes like "Every Breath You Take," is magical. First courses — after guacamole that incorporates both raw and sautéed onions, a neat twist — might include a garlicky stew of tender octopus and calamari, heightened with diced zucchini and a drizzle of chili oil. 
A standout entrée is a slab of grilled sea bass over a mixture of rice and caramelized plantains topped with cojita cheese and a relish of tomato, pineapple and mint. Although a dessert of cuatro leches cake is lovely, the most delicious ending to the meal might be observing the pretty people on the tricked-out yachts out on sea watching you watching them as the moon rises in the distance.
The vibe is a bit different a few miles north in San José del Cabo, where the Querencia development is making its pitch. 
In San José, where the most famous resort might be the One & Only Palmilla, the tequila flows as much as in Cabo San Lucas, but it's often accompanied by a chic farm-to-table meal. The restaurant at the Acre compound — Condé Nast Traveler swooned over its recently added treehouse-style overnight accommodations — makes the point, serving up whole-roasted hen in lush, rustic environs where a donkey and a peacock roam about as VIPs. 
It's a similar story at Flora Farms, at the end of a path that cuts through an herb garden that grows at the end of a dirt road, high in the foothills of the Sierra de la Laguna Mountains. As an acoustic band posted up under a palm tree covers the Grateful Dead, diners sip cocktails garnished with homegrown baby carrots and await their Italianate fare á la wood-fire pizza with fennel sausage.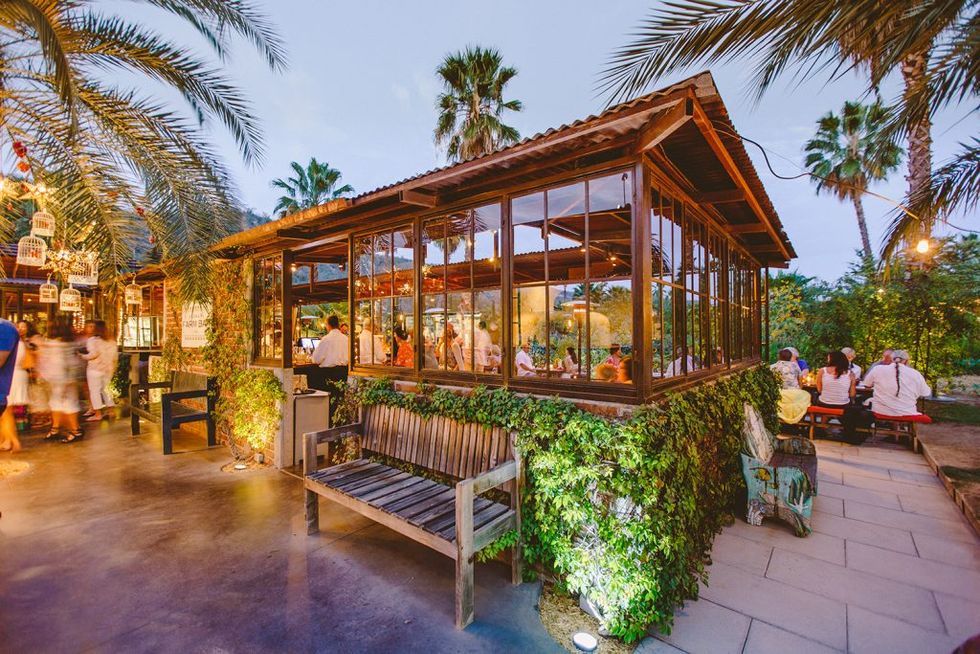 Flora Farms
For its part, Querencia boasts several eateries around its 1,800 acres, including a couple at the clubhouse, the grounds of which are dotted with fountains. But the best meal here — possibly the best meal on the peninsula — is the shrimp tacos at the cliff-top open-air grill near where you can take surf lessons. But tacos memorable even by Tex-Mex-savvy Houston standards and easy surfing — they call the wave action "retirement rights," because of the gentle breaks even older dudes can handle — are the tip of the Querencia iceberg.  
Properties on the market at Querencia — where a spa, a Tom Fazio golf course and 10 miles of bike trails are among the amenities — range from a three-bedroom condo for just under a million, to a five-bedroom mod-style setup that stair-steps down a mountainside for $5.5 million, according to public listings. Empty lots for building custom homes start at about half a mil. Rentals are available only through individual owners, although the development may host visitors interested in buying. In any case, the infinity pools, like the tequila, will be cool and inviting.
AT TOP: A villa at Hacienda Beach Club & Residences
Food+Travel