Cajun-Country Cool
At Eunice, chef Drake Leonards channels the charm and flavors of his Louisiana hometown — and adds a hip Houston touch.
Kirsten Gilliam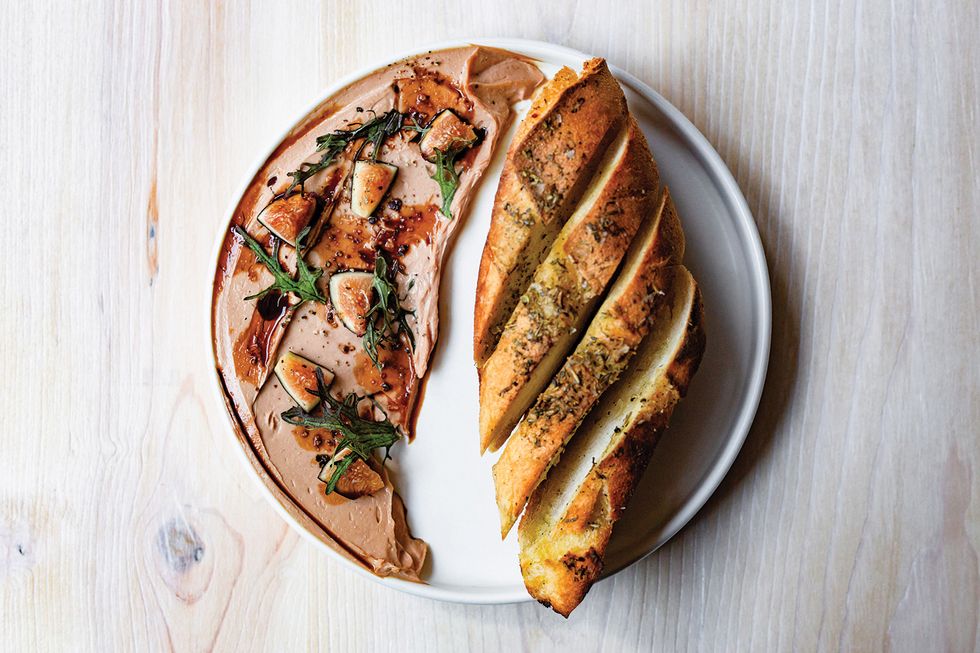 Blink and you may miss it. 
---
Eunice, Louisiana. The no-frills Cajun town, tucked between Lafayette and Lake Charles, is the birthplace of chef Drake Leonards, 33, and the namesake of his glam new Upper Kirby brasserie located on the lobby level of the sky-high mixed-use development at 3737 Buffalo Speedway — not so easy to miss.
"Agriculture, cooking and food were very important things to us in the community," Leonards recalls of his hometown, population 5,500. "On weekends, we gathered together over a big pot of gumbo. There were ducks to be cooked, or maybe a deer someone hunted; weddings or funerals to attend. We celebrated with food, and we mourned with food."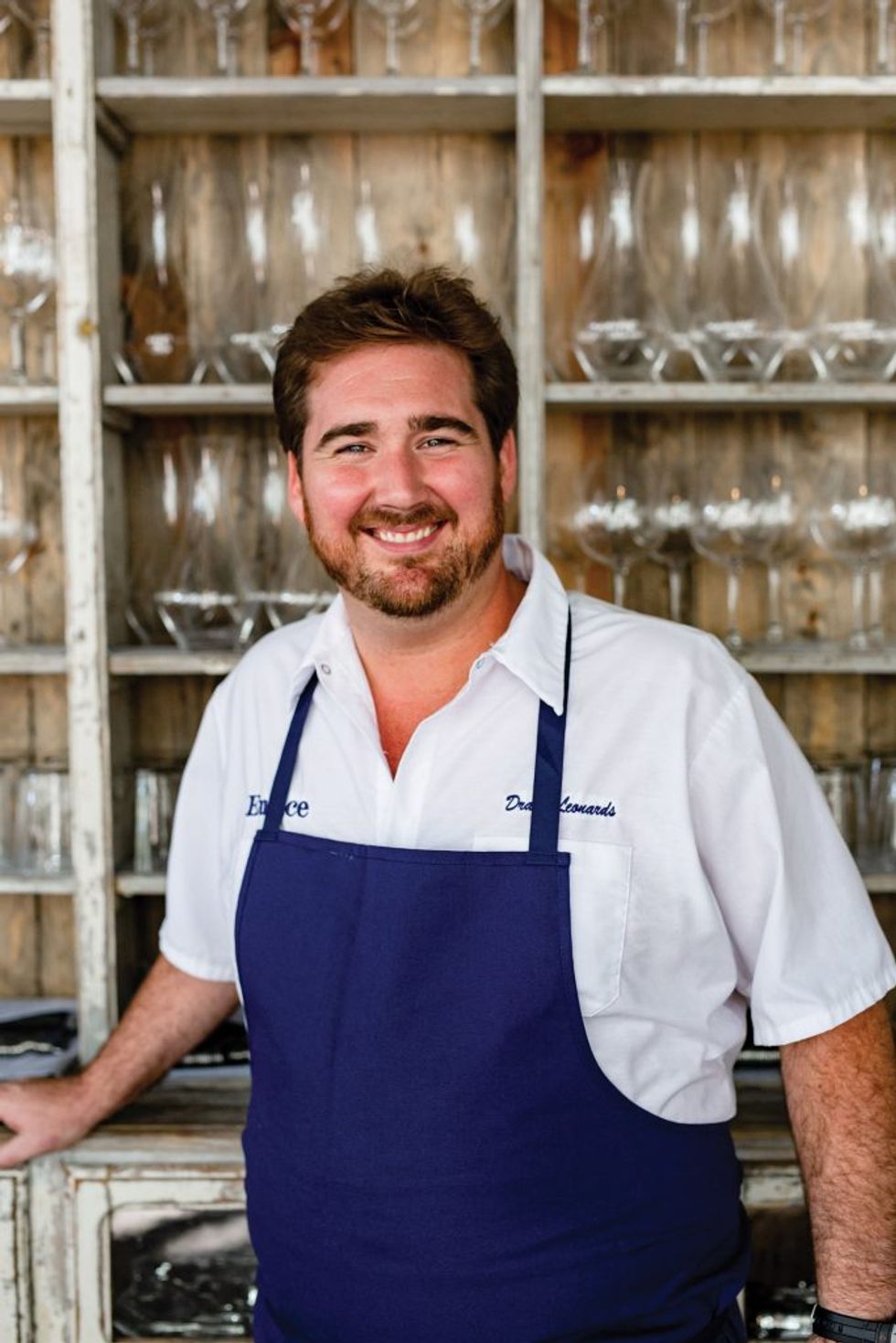 Chef-owner Drake Leonards
With an infectious smile and distinct Southern drawl, the chef's jovial aura is just one of the many components of Eunice's collective charm. Given its corporate-ish Greenway address, the power-lunch crowd packs the pristine dining room during the day; happy hour, dinner and weekend brunch reveal a lively scene, during which the property's pretty patio, shaded by the natural canopy of 20 live oaks, is prime real estate when the weather allows.
And when Houston's weather is unpredictable, as it often is, dining inside is just as nice. Under the direction of Houston firm Gin Design Group, the interior channels Southern Louisiana in a stylish way — as in the ceiling, neatly painted in a shade of cool blue to represent the bayou water at sunrise — and adds thoughtful touches, like antiques from Leonards' own collection. The sun-kissed dining room, flooded with natural light from a 20-foot wall of windows lined with seating, boasts a 24-seat, quartz-topped wrap-around bar and raw bar, where the daily selection of fresh oysters from Shackleford Banks, N.C., or Shell Beach, La., can be found on ice; a title marquee reads "Fresh Shucked Daily."
While the restaurant no doubt delivers style and sophistication, Leonards says it is still a place where guests can come to throw down. "Share a table with your friends and family, maybe dive into some roasted oysters and shrimp with remoulade, or get your hands dirty with crispy quail and tabasco honey," he says. "All of these things are items you might have seen on a table in Eunice, La. This is how our menu was written."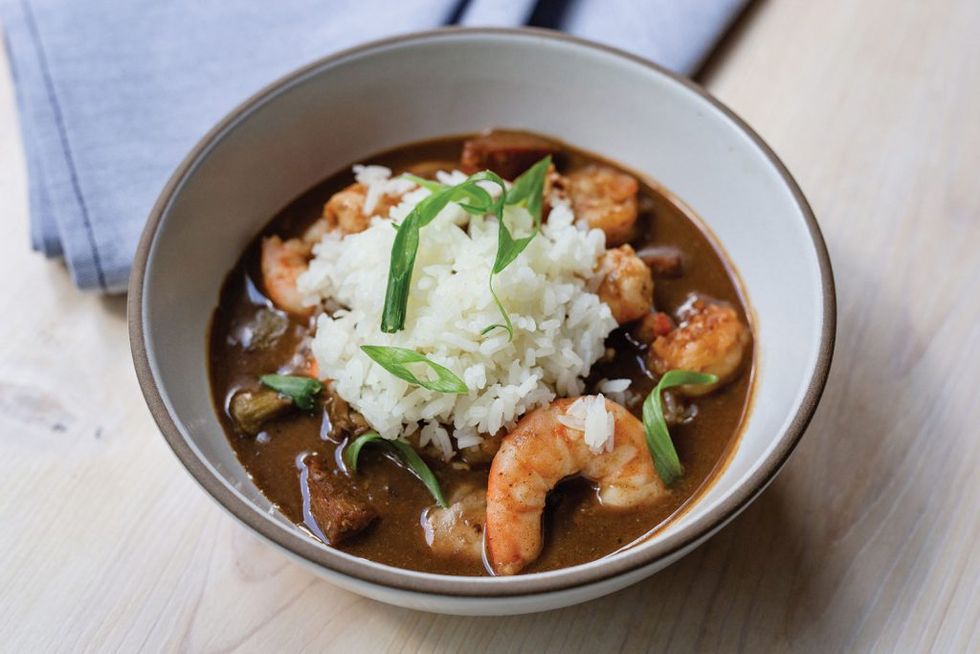 Eunice's hearty gumbo
 On a cold winter day, Leonards says his go-to is a piping-hot bowl of gumbo. And while there's much debate over the time-honored dish — dark roux, or light? with or without rice? seafood or sausage? — a bowl here is worth a try. Leonards' method is unique to a small part of Cajun country that boasts a German influence. He combines smoked chicken and sausage with okra, tasso and rice — with a dollop of creamy potato salad on the side. "I like to just plop the potato salad right in!"
Leonards, who sources ingredients from the Urban Harvest Farmers Market across the street from Eunice and from farmer friends in Louisiana, says his forward-thinking team of chefs — natives of Louisiana and Texas with experience cooking around the globe — are to thank for plates like the "most loved, but most questioned dish on the menu": blue crab etoufee. Traditionally served with rice and crawfish or shrimp, here it is presented with green noodles. "There's no roux in it, so it's really light and fresh. Some people are thrown off by it," he says.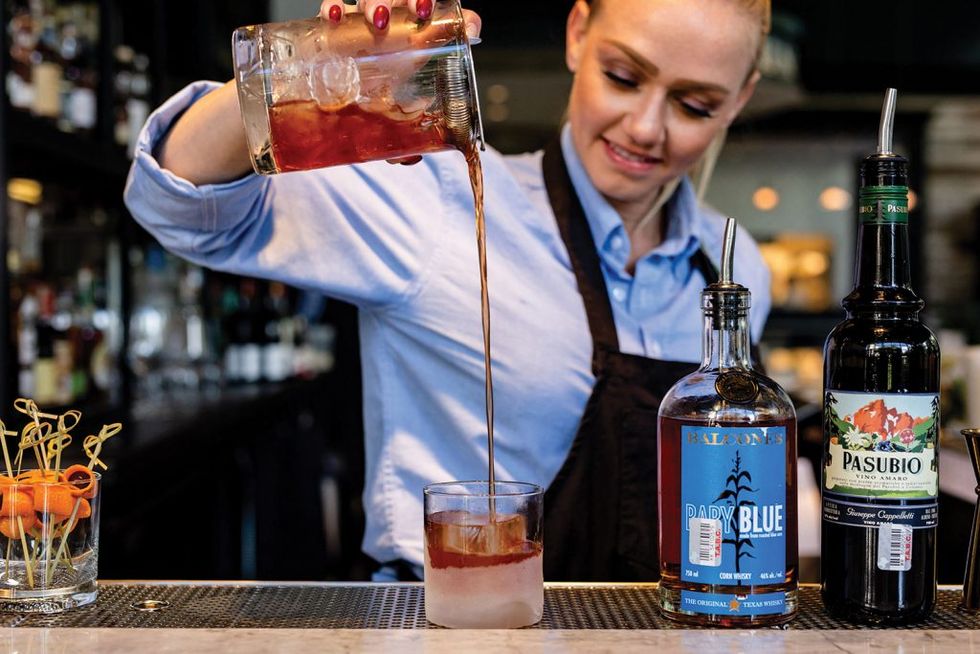 The whisky-based Teal Season cocktail
For now, cozying up to the winter menu at Eunice means finding plenty of wild game incorporated into substantial dishes, but come spring, Leonards says he'll lighten things up. "The beautiful crawfish will start to show up, the green peas, and all of the other produce we are able to get our hands on," he says.
It's safe to say the warmth and feels captured at a family meal in Eunice, La., are felt here at Eunice in Houston, thanks to Leonards. "We're doing things that have been done before, but in a different way," he says of his Cajun-Creole dishes. "It may not be traditional, but it is rooted in tradition. And it comes from our hearts."
AT TOP: Chicken liver mousse with figs and country bread
Food+Travel