Call It a Comeback
After changing course, even changing names, and later calling it quits, Micaiah Walker's VerseCity is rising up again.
GETTING THE BAND back together might sound like a cliché best left to post-grad party boys looking to reunite for a bender, or The Blues Brothers. But for Micaiah Walker, 26, it's quite real, and he's all in. His once renamed and later defunct band, VerseCity, is making a second run at commercial success. "If you don't have everything invested," says the handsome, lanky frontman, things start to fade."
---
Walker's journey back to the starting gate began on the high school basketball court, perhaps unsurprisingly, since he stands six-foot-four barefooted. Until 2008 he was set on pursuing a career in basketball. A standout with the state-playoffs-bound Clear Lake Falcons, he had an opportunity to walk on to the UH Cougars basketball team as a freshman. But a couple of chance meetings — on and off the court — diverted his path.
He linked up with Chase Gutierrez, an aspiring music manager he met while playing rec-league basketball, and Marcus Edwards III, who lived in Walker's dorm. Soon after, the trio formed VerseCity (pronounced "versity," like "diversity") and the band — influenced by Incubus, Maroon 5 and Jack Johnson — would share stages with such well known acts as Slim Thug and Lifehouse.
In 2010, VerseCity released a rock-bathed version of Ke$ha's "TiK ToK," and the cover tune climbed international radio charts. Eventually, the band signed with Austin-based Foundation Recordings, which coaxed them into changing their name, among other things. They became The Anthem.
Overall, it was quite an accomplishment, given that Walker is largely a self-taught singer and guitarist. He learned some guitar chords from his dad, a professional musician who traveled the country to make a living after Micaiah's mother died when Micaiah was a toddler. But Walker figured a lot of it out on his own. "Once I realized I wasn't going to make it to the NBA, that's when I got really into — falling in love with — music," remembers Walker, who plays a hybrid acoustic-electronic guitar while belting out vocals, recalling a less-emo and less-tortured Fall Out Boy.
However, the commercial breakthrough wasn't an entirely gratifying experience for Walker. "The label wanted us to sound more like a boy band," he says. "Although the record was well produced, it didn't sound like us. It didn't become a big radio success like they had hoped. Eventually, the fans went away, our morale was super low, and the band members jumped ship and got full-time jobs."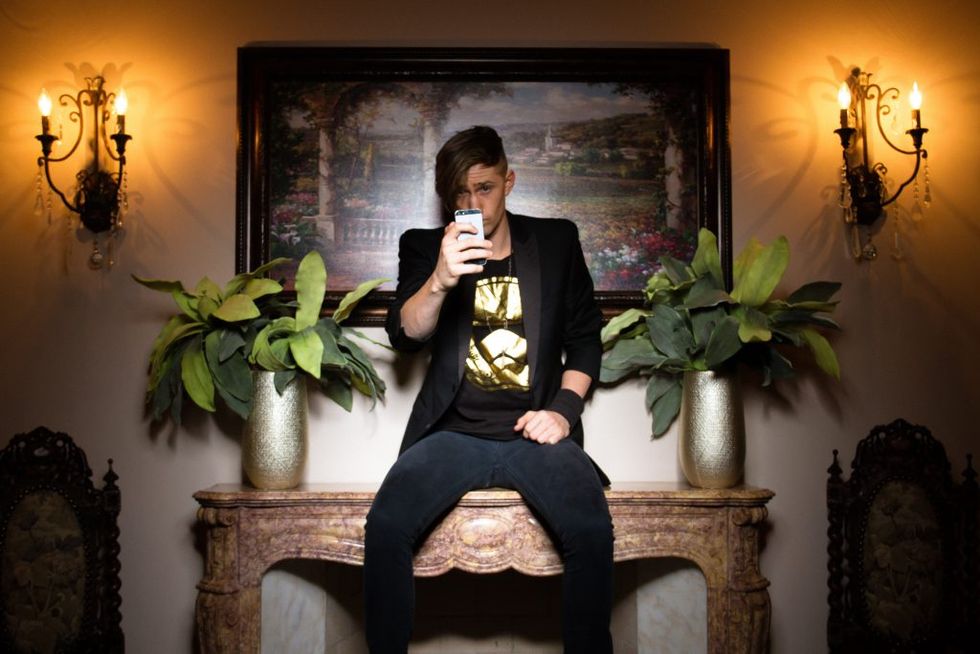 VerseCity lead singer Micaiah Walker
Now, four years later, Walker has revived the band — called VerseCity once again — and the new crew is playing shows at venues like House of Blues, and will release a 10-song album early next year. Walker is also making a splash as a solo artist, picking through songs he's written over the years and adding electronic-centric sounds, hip-hop beats and dubstep bass. In his spare moments, Walker enjoys playing pick-up basketball and watching NBA games. (He can still dunk, by the way.) He also spends his time with his wife of nearly five years, Suzie, a health expert, life coach and Page Parkes model.
One of VerseCity's newest tunes, "Rise Up Lights," which will be included on the new record, is a particular favorite of Walker's. It's also apropos of his journey, as Walker says his career is back on track after a blow that could have forever crushed the full time musician.
"When you've gotten knocked down a bunch of times and you've had a hard road and some hard times, you keep pushing," says Walker. "When your time comes, you have to rise and you have to shine. The idea is you keep working, and you rise up and you take people by surprise."
Art+Culture