Delicious Dozen: 12 Must-Try Dishes During HRW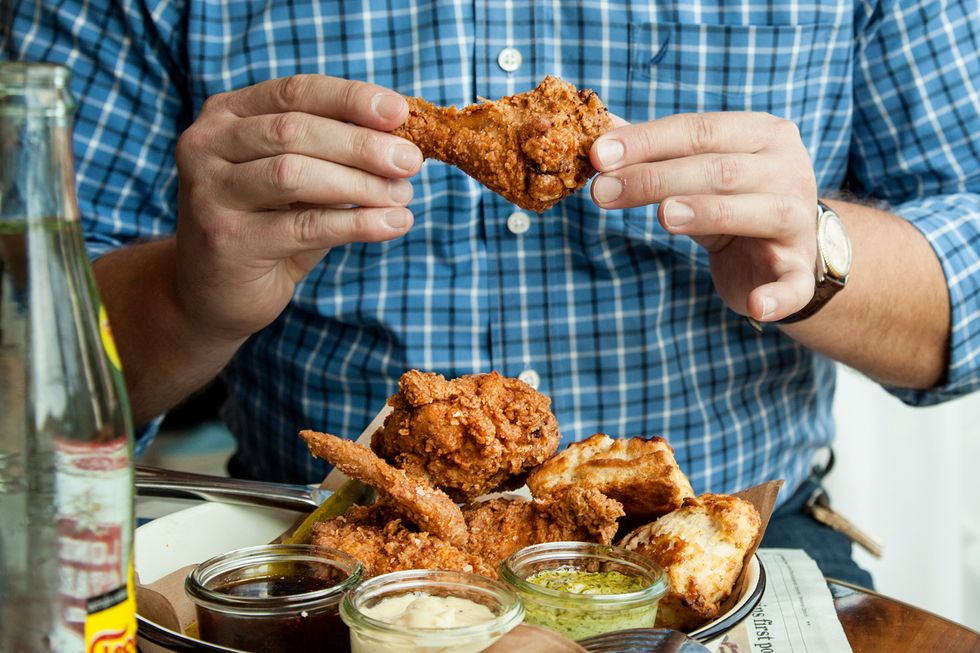 It's that time of year again: The 2019 Houston Restaurant Weeks begins tomorrow and runs through September 2, giving diners five weeks to support the largest food-bank fundraiser in the nation — plenty of time to work their way through much of the pre-fixe perfection dished out by nearly 300 local hot spots. Lunch, dinner and brunch menus range from $20 to $45 per person, and each meal purchased generates a donation to the Houston Food Bank of up to $7.
---
To help navigate the plethora of options, Houston CityBook and Kate McLean — former exec chef at fine-dining stalwart Tony's — have rounded up 12 must-try dishes that are sure to sizzle. Some are decadent deals you simply shouldn't pass up, some use the trendiest or freshest in-season ingredients — but they're all magnificently mouthwatering. And we absolutely recommend spending a little extra on supplemental items like Umbrian black summer truffles and Prime bone-in ribeye — all in the name of charity, of course!
Ready, set — eat.
1. A first course as simple as figs and prosciutto is best trusted to Coltivare Pizza & Garden (3320 White Oak Dr.), because those figs are destined to be plump and juicy after hitting a fire grill. Accompanied by award-winning Point Reyes blue cheese, translucent La Quercia prosciutto and syrupy Balsamic reduction, it's the best taste of Italy that Houston has to offer.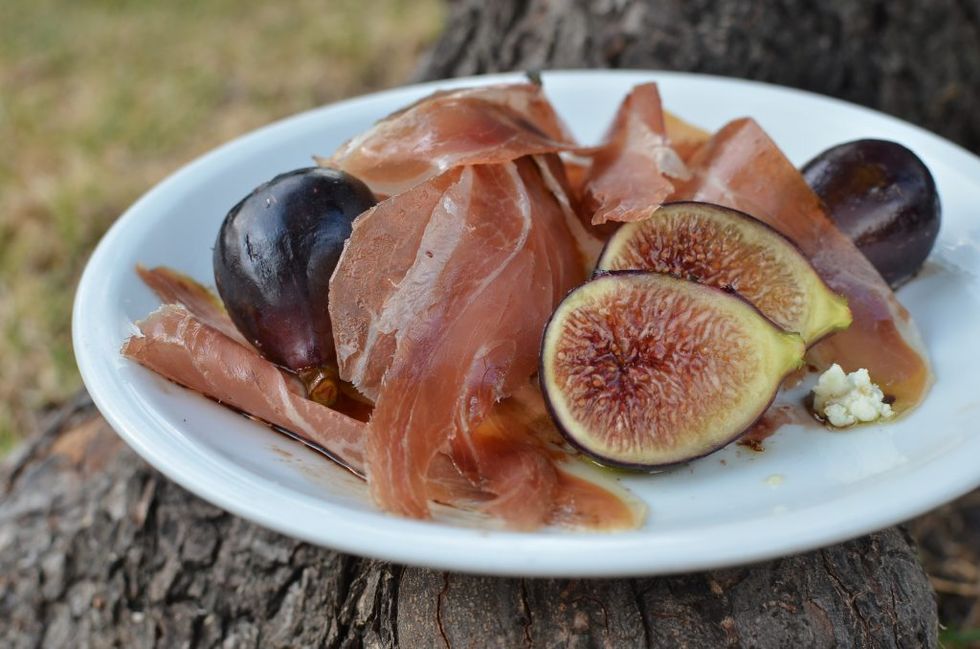 Figs & Prosciutto starter at Coltivare, photo by Carla Gomez
2. A quenelle of Osetra caviar cicchetti, served in chilled soubise cream with chives and a brioche crisp, sounds like a rather lush start to the four-course $45 dinner menu at Emmaline (3210 West Dallas St.). Take a seat in the romantic, sweeping dining room that's either sunlit or chandelier-kissed — and an accompanying glass of bubbles won't hurt either.
3. There's nothing like the aroma of truffles being folded into a piping hot plate of pasta in the dining room at Tony's (3755 Richmond Ave.). For a $19 supplement on the $45 dinner menu, Umbrian summer black truffles adorn housemade paglia e fieno pasta or aged Acquerello risotto. Alternatively, instead of offering the popular and more economical New Zealand lamb, Tony's ups the ante with a flavor-packed Colorado lamb porterhouse for just $12 more.
4 & 5. In the vein of decadence … bone marrow graces a few HRW menus this year, and should absolutely be taken advantage of. Poitín (2313 Edwards St.) serves it in the bone, saddled by baguette crisps and topped with crimini mushrooms and parsley peppercorn jus. Meanwhile, Museum District staple Lucille's (5512 La Branch St.) adds an oxtail marmalade to the equation, topping it all with an orange-zest gremolata. No bones about it — these two dishes can't be passed up.
6. Another popular ingredient to seek out this year is octopus, featured in many an appetizer across town. La Fisheria (213 Milam St.) walks it out as a main course on its $45 dinner menu. Billed as "tender," La Fisheria is an establishment that can be trusted to deliver it thus.  The pulpo a la parrilla is served with a garlic, lime "guajillo" sauce alongside vegetables and yucca.
7. Definitely get down on that classic Butcher Shop burger at B&B Butchers & Restaurant (1814 Washington Ave.), one of five sandwich options on the $20 lunch menu. Ground filet mignon and dry-aged sirloin — hand-packed and topped with white cheddar and thick-cut applewood smoked bacon — is plated with a generous portion of steak fries. This handful might just be the only HRW burger needed. Ron Swanson called, he wants to book a table for 50 — and one large bib.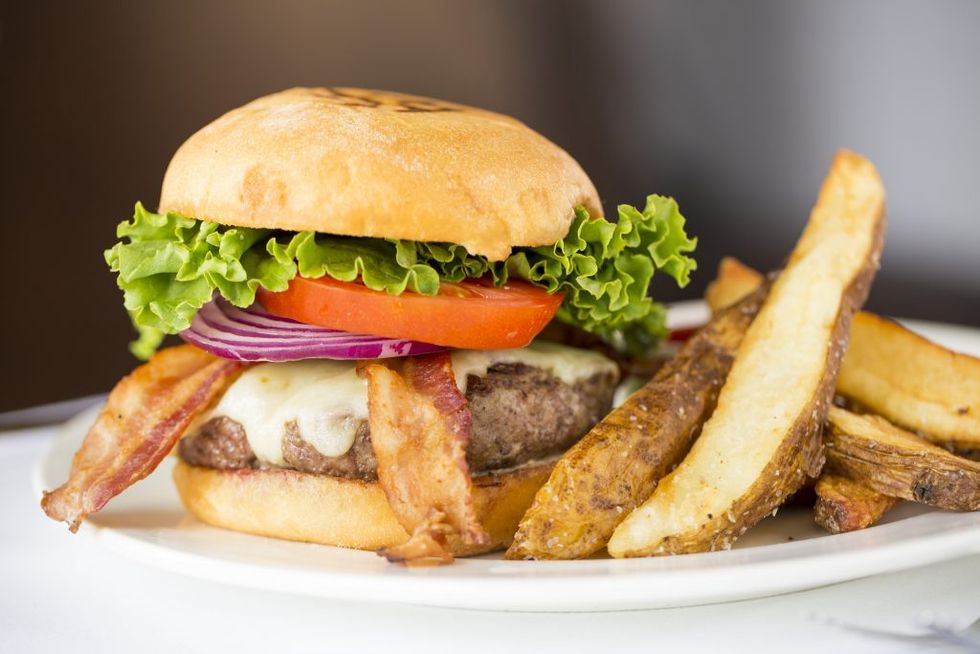 B&B Butcher Shop burger, photo by Felix Sanchez
8. Re-adjust the bifocals. What's this?! La Lucha (1801 N Shepherd Dr.) has entered its famous fried chicken into the HRW ring on its $35 dinner menu. Butter biscuits? Yep. Pickles? Yep. And a choice of sauces that can't help but steal the show, from green harissa to honey sambal to oyster mayonnaise. Still not enough? Add fried shrimp for $9.
9. Whole Maine lobster is going down for real at Fung's Kitchen (7320 Southwest Fwy.) on the $35 dinner menu. A Houston institution for almost 30 years, this Hong Kong-style seafood restaurant is the place in town for dim-sum and live (soon-to-be-not-live) fish on display.
10. H-Town has no shortage of incredible steakhouses — and most are participating in this year's HRW, offering plenty of quality upgrades in the beef department. Be sure to dabble in any menu item labeled Prime, the highest quality grade of USDA beef. This means lots of marbling, which translates to big flavor. Perry's Steakhouse & Grille — there are seven locations, including the sceney new one in the River Oaks Shopping Center — may the best bet, with a 22-ounce cowboy-cut bone-in ribeye, or 20-ounce bone-in New York strip, for a $15 supplement on the $45 dinner menu. That's a steal.
11. The restaurants helmed by James Beard-winning chef Hugo Ortega and longtime restaurateur Tracy Vaught are always well represented during HRW: Backstreet Café, Hugo's, Xochi, Caracol, Third Coast, and Prego are all in attendance. While flavors from any will certainly impress, the Ultimo Beso cocktail paired with the Mango Empanada at Caracol (2200 Post Oak Blvd) makes a tasty finish to the restaurant's Spirits of Mexico dinner (one of five $45 menus, each with an optional cocktail or wine pairing, offered by the restaurant). The Ultimate Beso dessert cocktail — made by blending Hacienda de Chihuahua Sotol, a Mexican spirit made from wild harvested agave plants in Chihuahua, with lychee brandy, raspberry, lemon and Moscato d'Asti — will no doubt march a bright, floral dance all over the palate. It is served alongside a crisp, hand-pressed Mango Empanada.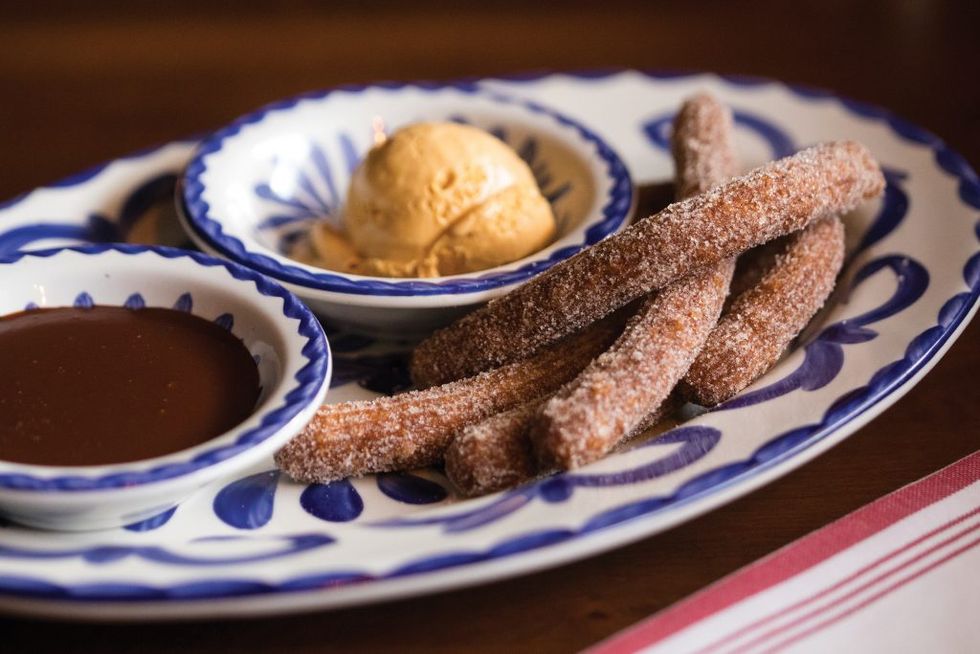 Churros at Killen's TMX, photo by Shannon O'Hara
12. And at Killen's TMX (9330 W Broadway St.), hold out for those homemade churros with dulce de leche ice cream and spiced chocolate on the $35 dinner menu. Crisp, hot, doughy and cinnamon sugar dusted, it's well worth the drive to Pearland. (And be sure to fill up on wood-grilled oysters or chicharron pork belly beforehand!)
AT TOP: Fried chicken at La Lucha, photo courtesy of La Lucha
Web Exclusive