Child's Play
At the heart of Space Kiddettes' new candy-coated pop music is a substantial lyrical message.
Jhane Hoang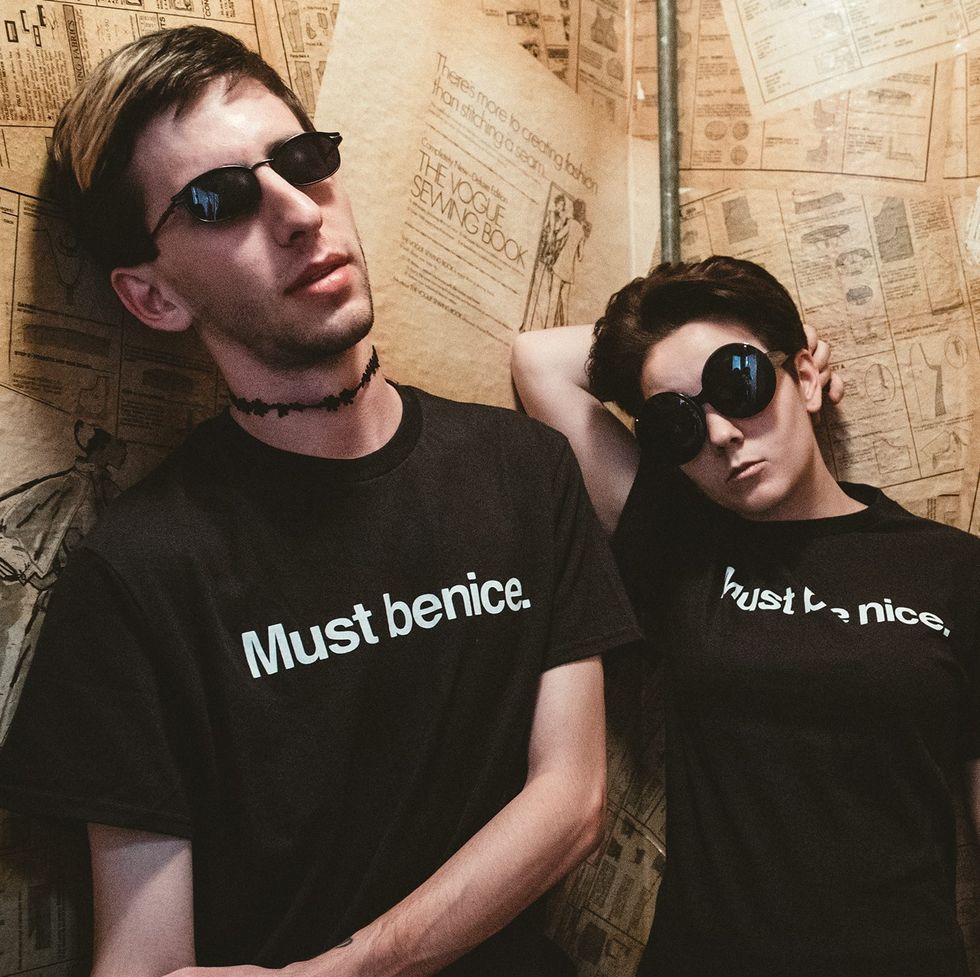 Two mismatched socks — one embellished with neon-hued tiger stripes, the other with bananas that are so bright they look like they were plucked from the pages of an agriculture-themed Lisa Frank coloring book — peek out from the criss-crossed legs of musician Devin Will's jeans. The 22-year-old Pearland native, and one half of the band Space Kiddettes, is posted up on the patio of a Montrose coffee shop, enjoying her sandwich. 
---
 "Now you're getting the full Space Kiddettes experience," laughs Will's pink-windbreaker-sporting bandmate Trent Lira, 26.  "I eat at every opportunity," explains Will.
Lira and Will met at UH, where they each had shows on Coog Radio. Their playful banter extends into Space Kiddettes' candy-coated yet angsty synth-pop tunes. And like Will's energetically patterned socks, the two each bring an equal shock of color to the band.  
Space Kiddettes released their six-track sophomore EP, Domestic Adventures, in early November, and it's a confetti-splattered delight. It was made over a breezy two days at Third Coast Recording by John Allen Stephens, who famously produced The Suffers' latest album and has worked with a slew of other Houston bands. "We're two losers who have nothing going on," jokes Will about how they managed to cram 16 hours of recording into one weekend. 
It's a bit of a fib though, because Space Kiddettes do more than just make music. They host a hilarious and ambiguously themed weekly podcast called "Space Case." And Lira, who's gay, and Will, who's bisexual, are the founders of controversial-in-some-quarters Drag Queen Storytime at the Freed-Montrose library, which invites drag queens to read to the kiddos. While it's meant to instill children with love and acceptance for themselves and others, it has also incited some to protest outside during the monthly event.
Although the tunes on their latest EP sound upbeat, they delve into meaty material through their lyrics, often sung in unison on the album. "I got to keep movin'… If I stop I know I'll go crazy… I'm gonna keep losin'… If I keep overthinking…" go the anxiety-ridden lyrics of the band's standout track, "Low Impact Aerobics." It's a sentiment to which many millennials can relate. 
"A lot of it is about being stuck in the suburbs," says Will of the lyrical protein of the album. "It's from the perspective of a young person wondering when their life is going to begin."
"Like Rapunzel," adds Lira, before they both break out into a choral cloudburst of song from Disney's latest movie version of the fairytale. 
"That song is so dope," Lira murmers, to which Will nods seriously in agreement. 
Art+Culture