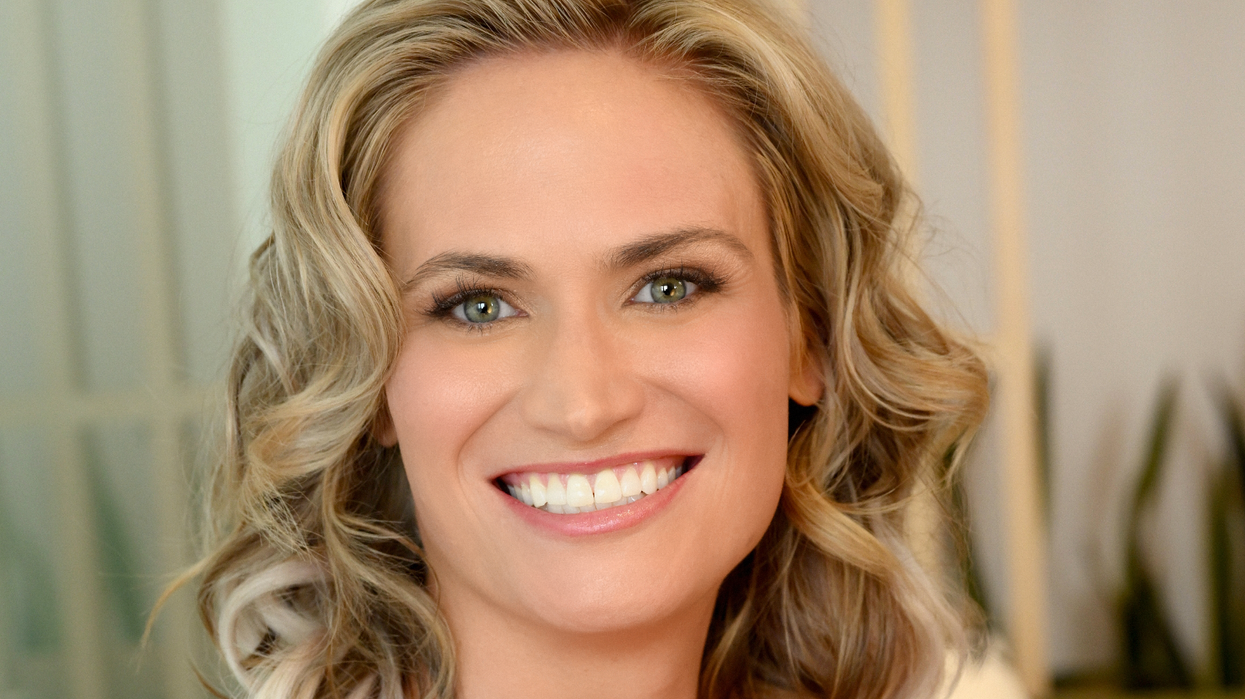 How did you get to where you are today? It takes a village. I was fortunate enough to have great mentors and individuals who instilled confidence in me. I think that when you face a challenge or an obstacle, you are able to overcome and make things happen. You can continue moving forward, more resilient over time.
Growing with great mentors, such as Travis Torrence, Global Litigation Bankruptcy & Credit Team Lead at Shell, has enabled me to have more confidence in myself, foster meaningful relationships in the community, and sharpen my business acumen. He recruited me to my original firm, Fulbright, and has stuck with me on my journey. He has helped me keep in touch with former colleagues, contacts and friends, which has helped me translate those connections into working opportunities. We both mutually support each other.
And… let's not forget hard work.
Whom do you credit? Mentors, business partners, my friends. I have a really close group of girlfriends who are in town. Women support women. We always lift each other up, provide contacts, share war stories, and encourage each other.
Also Judge Patricia Kerrigan, Texas State Judge of the Year, provided a lot of insight to me at a young stage in my career. She always encouraged me to stay the course and would continually affirm my natural skills in trial and in the courtroom.
What lessons have you learned that might enlighten and inspire others? Don't listen to the haters! No one can tell you that you can't do something. Where there is a will, there is a way; if you really want something, go for it! Don't let people make you afraid of taking the next step.
Relationships are really everything! Making the effort, staying in touch with former clients, colleagues, introductions, connections are always valuable. Even if they don't lead to business, you need network support in this industry. Even if that person can't give you work, they can introduce you to someone who can, write a letter of recommendation, or just provide you with guidance or additional resources.
What's new in your life or work that you're excited about? Opening the Houston office of Michelman & Robinson is a huge honor, it is such an amazing opportunity. I have a vision; I am one of those people. You are always vested better in yourself. It's not a risk because I have the support, and I am happy to charge the new generation of leaders as a "shaleinnelial."
IF YOU DON'T have a view of the many fireworks displays around town on July 4, these spots are celebrating Independence Day with dinner, brunch, live music, deals, drinks and a seat to Houston's spectacularly lit-up sky show.
Art + Entertainment
"IT LANDED RIGHT in it," says Houston artist and scientist Suzette Mouchaty.
She's talking about her show, Reckless Meditations, which opens this weekend at G Spot Gallery, just days after the Supreme Court announced its decision to overturn Roe v. Wade.
"I think we saw it coming," says the artist, who also holds a Ph.D. in genetics, of the reversal. Her reproductive-system-themed sculptures and drawings were created during the summer months of 2020, when she says she observed condemnable motives arising from some quarters. "Those issues really became urgent during the pandemic, when folks who want to reclaim some bygone era, [during which] things were very different for women and ethnic and racial minorities, saw an opening, while the rest of us were trying to survive Covid."
Mouchaty herself suffered "deep stress" during the pandemic, and, despite having taken all the prescribed precautions, become seriously ill with Covid-19. The trauma of those months of quarantine can be felt throughout Reckless Meditations — though there is also a sense of empowerment and plenty of dark humor throughout Mouchaty's art.
A series of untitled 24-by-18-inch drawings, each done with Prisma colored pencils, transform an illustration of the female reproductive system into a kaleidoscopic explosion of wild and psychedelic patterns, looking more like something you'd see in Heavy Metal than Harvard Medicine magazine. "It's also a power symbol," says Mouchaty of the image. Also included among her Reckless Meditations is a gaggle of steel, vaginal speculums, poised like a flock of birds with open beaks, and ignoring the saggy presence of an X-chromosome, a hand-stitched soft sculpture made from curtain fabric and stuffing from an old comforter.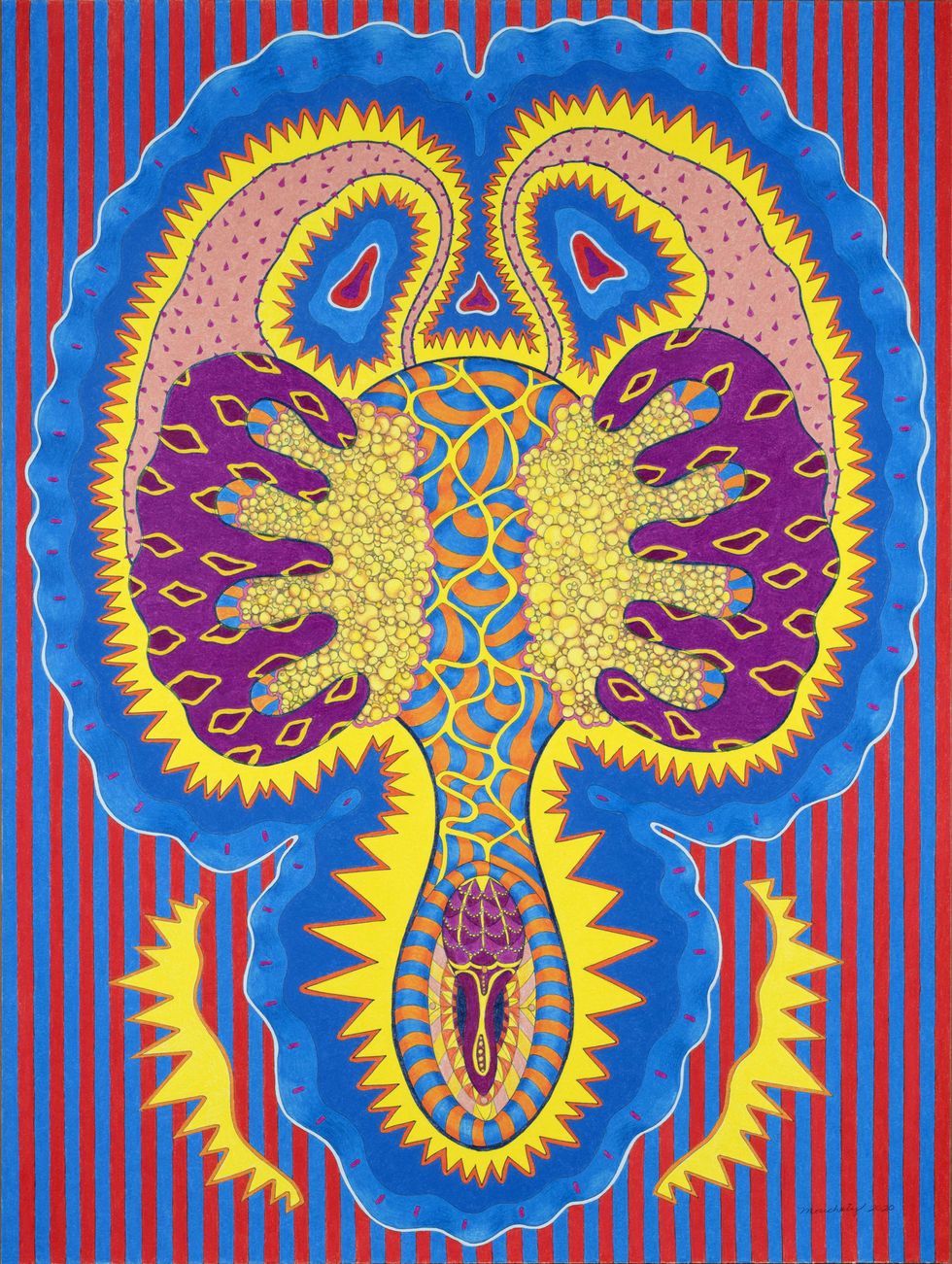 Untitled I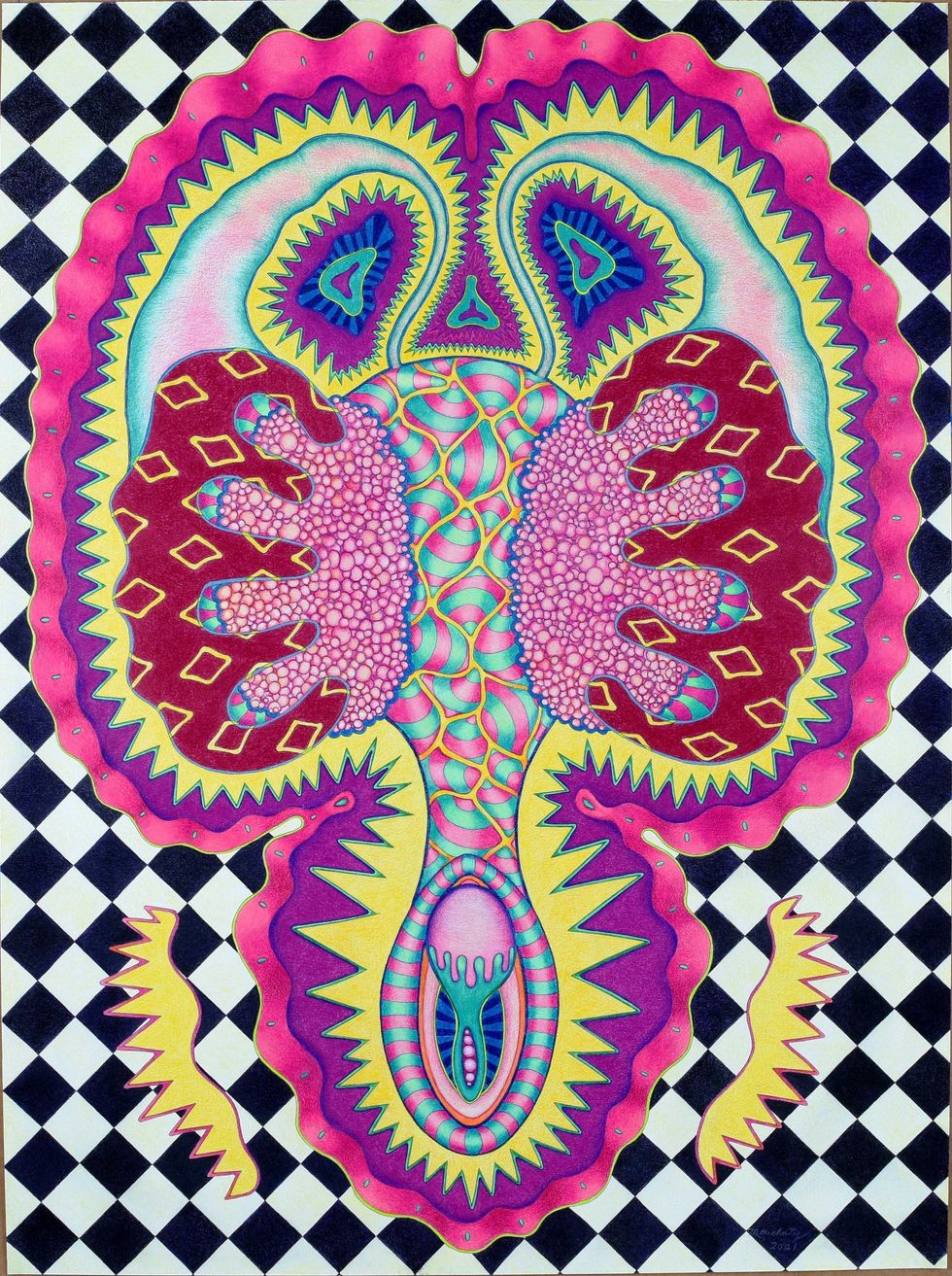 Untitled IV
Although she pursued art during high school, she stopped when she got to college, where she studied science; she got a Ph.D. in genetics from Lund University in Sweden and now teaches science classes at UH Downtown. But years later, the need to create art returned, and Mouchaty completed an MFA in 2018 at UH in interdisciplinary practices and emerging forms. In conversation, Mouchaty is quick to laugh, and exudes all the wonder and enthusiasm you would expect from someone who views the world both as an artist and a scientist.
And despite her feeling that world has gone off its rocker, the meditative process of making art provides her with a profound sense of calm. "When I'm making art, my preferred mode is to be operating in a way where my conscious thinking is pushed aside," says Mouchaty. "It's also a spectacularly fascinating to step back and go, 'Oh, my God. That's what I made?'"