Classics Reborn
Longtime favorites Uptown Sushi and Perry's Steakhouse renovate and rebuild, finding new flavors for spring.
Shannon O'Hara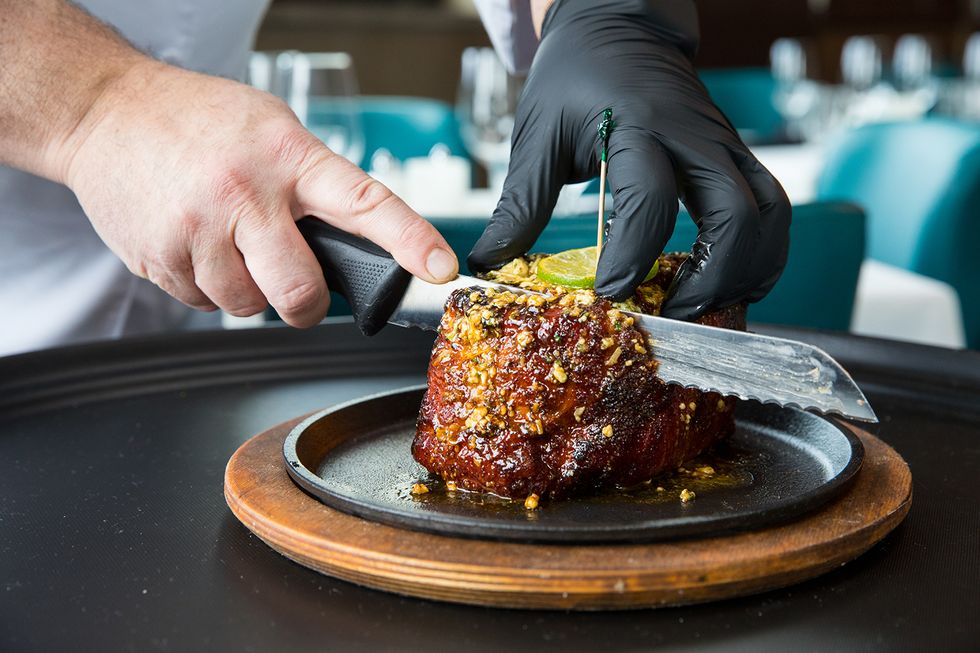 It could be said that Houston's rich culinary landscape is made up of equal parts restaurants that are tried-and-true, and those that are intriguing and new. Iconic establishments Perry's Steakhouse and Uptown Sushi — both household names for their thoughtfully prepared food and sexy spaces — are doing their part to maintain a level of consistency, while remaining fresh and imaginative at their newly open locations.
---
Coinciding with Uptown Park's much anticipated contemporary facelift, longtime hangout Uptown Sushi, helmed by brothers Daniel and Donald Chang, reopened with a revamped interior in February after a six-month hiatus. The menu is largely unchanged, remaining true to Uptown's loyal following of 15 years.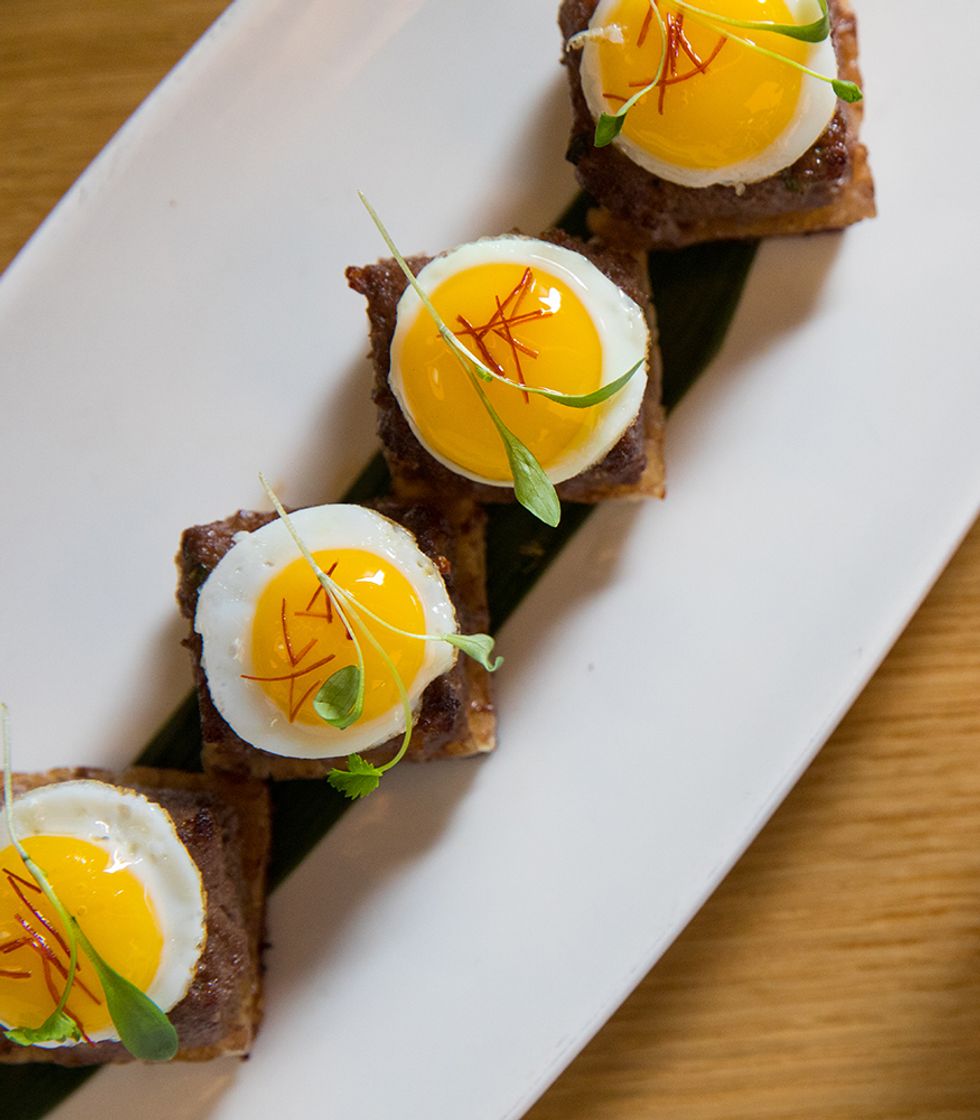 Uptown Sushi's kobe beef cubes, topped with sunny-side-up quail eggs
"What began as a trendy, club-like atmosphere back in 2004 soon turned into a different type of a restaurant," explains Peggy Chang, Daniel's wife. "People have business meetings here, families with young children dine here. We wanted to brighten up the restaurant and make it comfortable for everyone."
That update included gutting the original space, leaving the bones but allowing the Changs to be creative with their new vision — one they hoped would have "a more feminine feel." Uptown Sushi 2.0, with its brightly lit dining room and bar boasting cedar wood tiles and cushy, blush-toned seats, is a stark contrast from the dark, moody area with curtains draped about that it once was.
An extension to the ultra-popular lounge area includes added seating, while the addition of four skylights — encircled with LEDs and spanning the ceiling of the entire restaurant — provides plenty of sunlight during lunch service, and a sophisticated, unique look after dark.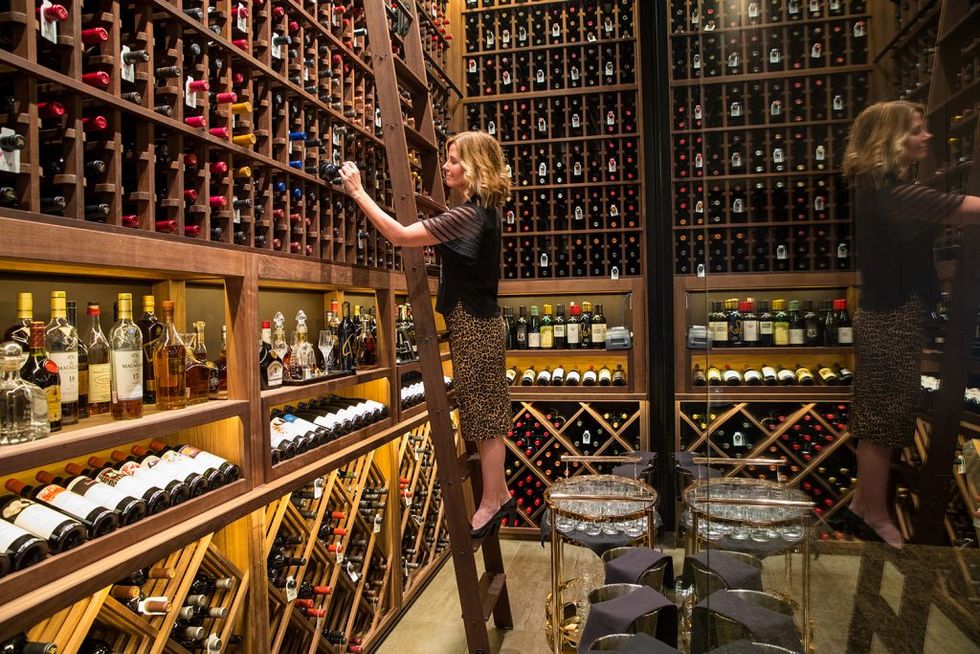 The impressive wine display at Perry's
The Changs say the project ultimately felt like they were "building an entirely new restaurant." But there was a commitment to deliver, within the beautiful and new space, dishes with which their customers had previously fallen in love. "We changed the restaurant so drastically that we wanted to maintain a good portion of our identity," Peggy says.
Uptown Sushi's menu today features all of the beloved favorites: the signature nigiri, each topped with a carefully paired garnish; the kobe cubes, sunny-side-up-quail-egg-topped pieces of tender beef, on a bed of crispy rice made moist with a sweet soy glaze; and the Japanese crudo, a delicate plate of raw whitefish sashimi seasoned with negi oil and ponzu. But there are also new additions, many of which originated as popular off-the-menu specials, like a chilled dish of tuna sashimi, fragrant with truffle oil and garlic chips.
While the menu may slightly vary with the seasons, the Changs' attitude can best be described as, "If it ain't broke, don't fix it."
That's a mantra that resonates with Houston staple Perry's Steakhouse, which is celebrating its 40th anniversary throughout 2019. From its roots as a Southeast Houston butcher shop and deli founded by Chris Perry, the brand has now grown to span several states with multiple locations — most recently, one that opened in the River Oaks Shopping Center in February.
Like its sister restaurants, the Perry's Steakhouse in River Oaks boasts a familiar aesthetic and color scheme, but it is the brand's first (and only) two-story design, making it the company's new flagship location. The expansive lower-level lounge is dubbed Bar 79 — coined affectionately after the year Perry's was founded — and a towering staircase, featuring a jaw-dropping custom light fixture, leads to a lavish dining room, wine tower and open kitchen.
"All of our restaurants have a similar look and feel," says Lesa Sorrentino, chief strategy officer of Perry's Restaurants. "But each location is unique, with its own personality." She says a sort of tag line they use is that, at Perry's, guests are promised a "rare and well done experience," as in dishes carved tableside, desserts set aflame before your eyes, cocktail flights and more. And at Perry's River Oaks, this experience is enhanced by the twinkling of lights from the tree-lined streets appearing through the windows.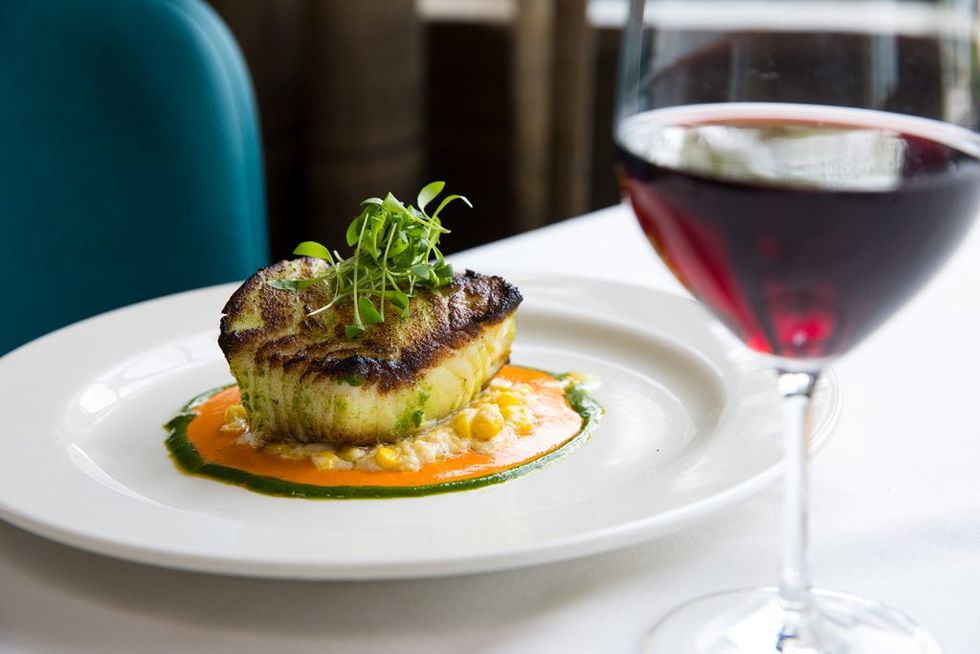 Pan-seared sea bass
with creamy corn and red pepper 'coulis' — and a generous pour — at Perry's River Oaks
 The proof, though, is in the prime cuts, wet-aged 28 days and presented juicy and tender and glistening with steak butter. The famed sky-high pork chop — prepared with a house-made seasoning, then roasted on pecan wood for up to six hours before it's carved tableside — is as swoon-worthy as ever before.
And keeping in line with what has become its signature signoff, Perry's presents yet another flaming dessert. This time, a baked Alaska for two — a hearty cake with tart lemon custard and meringue — is set on fire tableside.
With a balance of classic and current, what once was old is new yet again. And without deviating from their paths, two strong Houston institutions continue to go strong — unique enough to be captivating, but familiar enough to be comforting.
AT TOP: The pork chop at Perry's is cured, roasted, slow-smoked and caramelized
Food+Travel