Houston Should Just Buy Connecticut — and Other Hilarious Responses to Slam on City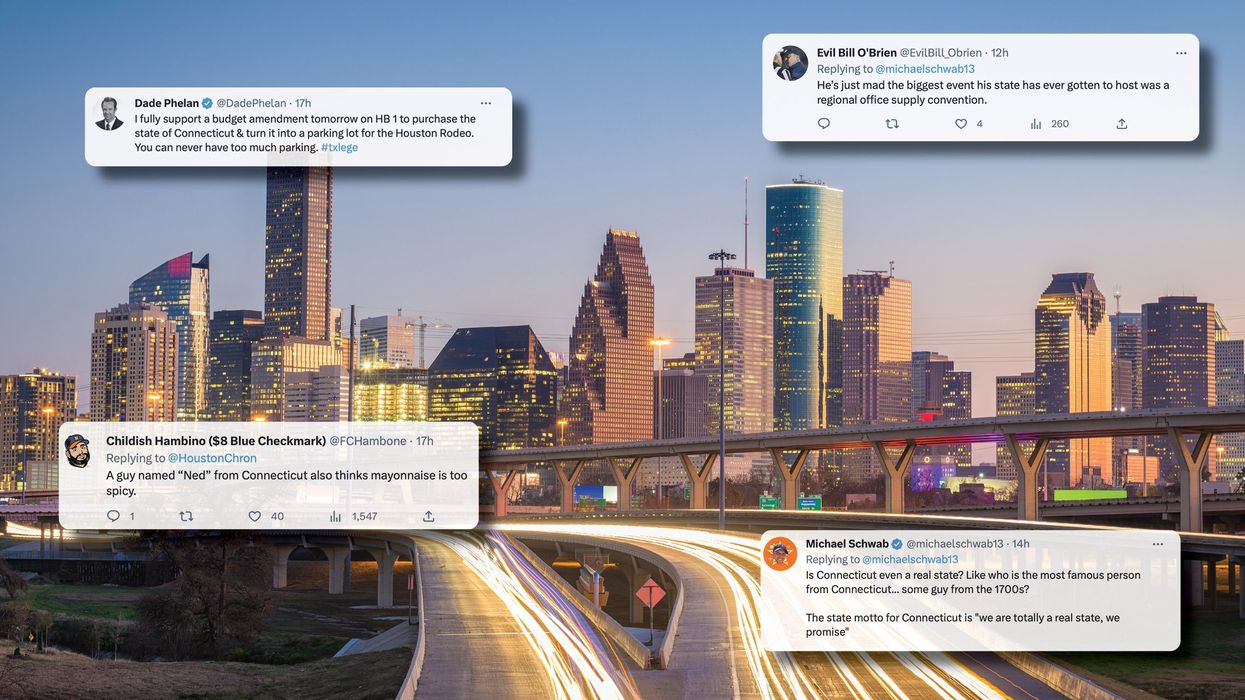 AFTER A LONG weekend of music, buzzy bars and, most importantly, basketball, more than 72,000 people attended the last game of the NCAA's men's basketball Final Four on Monday night at NRG. But, at least one attendee wasn't impressed by the host city.
---
After UConn clenched the championship on Monday, Connecticut Gov. Ned Lamont said in an interview on Wednesday, "You walk around downtown Houston, which is butt ugly, not much there." He doubled down later in the day saying in a second interview, "You're walking around downtown Houston, it's kind of godforsaken, not very pretty."
Perhaps Lamont, whose state has never hosted the Final Four, is just jealous? After all, the economy of the city of Houston is nearly double that of the state of Connecticut. But, truly, how does one even compare a city known for space exploration, oil tycoons, the world's largest medical center and urban cowboys with a state that's known for … being hard to spell?
Not to mention our world championship Astros. If only the state of Connecticut had a MLB or NFL team — maybe they could at least compete there.
Not surprisingly, Twitter is alight with responses to the Nutmeg State's governor. (Yeah, that really is their nickname.)
Dade Phelan, speaker of the Texas House, had one suggestion. (For comparison, 2.5 million people attended the rodeo this year while Connecticut's population is just 3.6 mil.)
\u201cI fully support a budget amendment tomorrow on HB 1 to purchase the state of Connecticut & turn it into a parking lot for the Houston Rodeo. You can never have too much parking. #txlege\u201d

— Dade Phelan (@Dade Phelan) 1680730334
Sportswriter Michael Schwab contemplated a motto change for the state.
\u201cIs Connecticut even a real state? Like who is the most famous person from Connecticut... some guy from the 1700s?\n\nThe state motto for Connecticut is "we are totally a real state, we promise"\u201d

— Michael Schwab (@Michael Schwab) 1680741065
And, @VailColin noted that size does matter in Texas.
\u201c@michaelschwab13 I mean, look at this, I\u2019d be mad too\u201d

— Michael Schwab (@Michael Schwab) 1680741065
And, lots of people sharing this Family Guy clip.
A couple more of our favorite responses…
\u201c@michaelschwab13 He\u2019s just mad the biggest event his state has ever gotten to host was a regional office supply convention.\u201d

— Michael Schwab (@Michael Schwab) 1680741065
\u201c@HoustonChron A guy named \u201cNed\u201d from Connecticut also thinks mayonnaise is too spicy.\u201d

— Houston Chronicle (@Houston Chronicle) 1680714011
Also on Wednesday, Lamont said the championship title "is enormous for UConn, and it's enormous for the state of Connecticut. For one brief and shining moment everyone was talking about the state of Connecticut." We're glad they had their moment in the sun, but we think people will be talking about Houston for years to come, as the city, which has hosted the Super Bowl three times, is hosting the NCAA college football championship in January of next year. And, will host the FIFA World Cup in 2026.
People + Places