Dining Darling
At his new restaurant Tris, named after his daughter, Austin Simmons brings global flavors — and serious steak — to the Woodlands Waterway.
Julie Soefer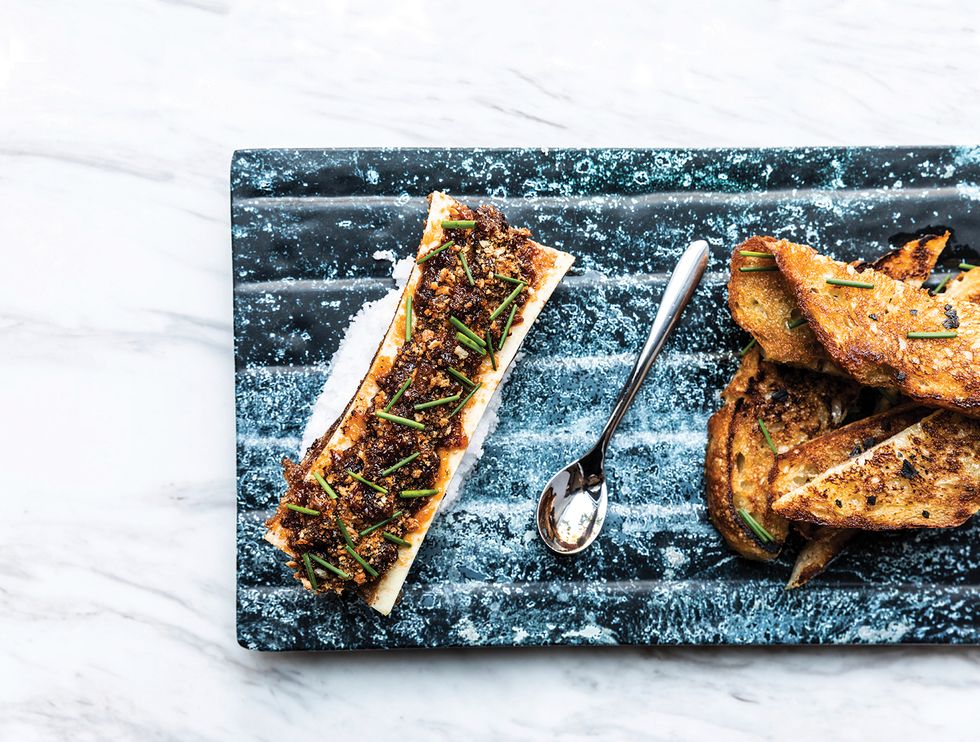 She is playful and curious, the apple of her dad's eye — as toddlers generally are. But unlike most of her peers, almost-two-year-old Tris is also the namesake of an acclaimed restaurant, the other apple of chef Austin Simmons' eye. Opened in 2009 as Hubbell & Hudson Bistro, when it was attached to a high-end market of the same name, Tris sits right on the Woodlands Waterway, prime real estate in the suburb that's an increasingly appetizing destination for big-city foodies.
---
Simmons, 31, has been at the restaurant since the Bistro days, and when the time came for a rebrand, the owners thought to ask Simmons for his input. He gladly obliged, first naming the new place after his precious daughter. 
The reimagined space, made over by Woodlands-based design firm Portfolio for Hospitality, is chic and uncomplicated. The bar, with faceted brass screens and warm-toned custom millwork, leads to the entrance of Cureight, Simmons' tasting-menu-only restaurant. It's a showcase of seasonal plates presented in an artistic way — prepared behind glass doors steps away from where guests dine. In the spacious main dining room, moody artwork, lots depicting The Woodlands' natural landscape, adorns the walls along with blown-up candid photos of the Tris team. 
"We always offered pretty damn good food, but the way our seating was laid out previously, it made it hard for us to offer the best service possible," says the chef, a graduate of Le Cordon Bleu in Austin who sharpened his chops under John Tesar at Dallas' Mansion at Turtle Creek. At Tris, Simmons has instilled a staunch work ethic among his staff, expecting servers to be swift, professional and well-versed on the restaurant's diverse offerings.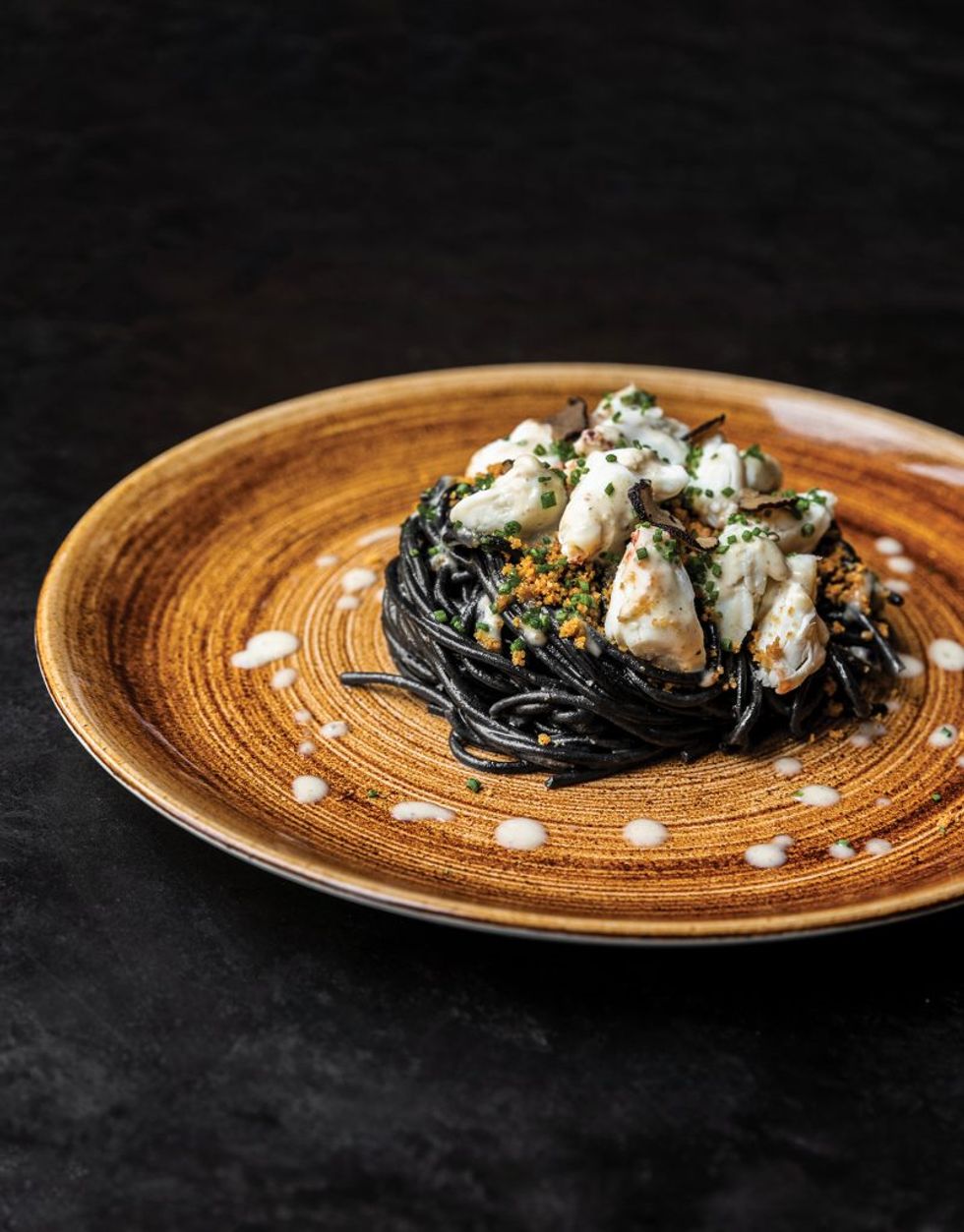 Tris' crab-and-truffle pasta with truffle emulsion
The entirely new menu reflects Simmons' travels across Europe and Asia, and while it is still labeled "globally approached," as Hubbell & Hudson was, he says his food philosophy has changed. "I traveled to France and Switzerland last year, but it was truly during my visit to Singapore in 2016 when my life changed the most," he says, noting he observed there that with each bite, food tells a story. "There is a beginning, a middle and an end — the flavor is on the plate and it has nowhere to hide. The food at Tris is that way."
Take the Korean butter-poached crab, a spin on a classic crab cake which he says will "never come off the menu": a savory kimchi pancake serves as a bed for crab and more kimchi, which is made vegetarian in-house and meant to subtly enhance the pure flavor of the crab. The shrimp tom yum, prepared with local purveyor Jimmy Evans' shellfish, offers a hot and perfectly sour broth which tickles the palate until only the meaty remains are left to savor. 
He uses French chocolate in the poblano mole that sauces his Spanish octopus a la plancha, a dish that pops off the plate with the colorful bell pepper escabeche. Equally vibrant is the hamachi tostado, an arrangement of flavors — buttery hamachi with slivers of onion and serrano dressed in a bright Thai vinaigrette — living in harmony on a single corn chip to create the perfect bite. 
And while elegant touches like these dot the menu, Simmons promises his approach is not too "out of the box." Expect solid juicy steaks, too.
"I stand behind Heartbrand Ranch Akaushi beef — pure Texas wagyu," he says, explaining that at Tris, they wet-age for 60 days and then dry-age for another 60. 
For some, a steak sampling by way of the indulgent Woodforest Board is the ultimate way to experience a culinary journey at Tris. The monstrous, ultra-shareable steak board boasts an artistic presentation of sauces and sides, including mushroom tarts and festive splashes of blood orange gastrique. A super prime bone-in, charcoal-roasted 1855 black angus rib-eye rests alongside an Akaushi 60-day dry-age strip, and cuts of A5 seared and pan-basted with rosemary-thyme butter in a cast-iron skillet. With Tris steak sauce, truffle butter and house-made salsa verde to experiment with bite after bite, the journey is never the same. For each board sold, Tris makes a donation to Meals-on-Wheels, so it is definitely worth the meat sweats.
On the dessert front, Simmons has decided to serve as his own pastry chef. "Desserts were my point of weakness," he says. "It was one part of my craft that I had not spent enough time perfecting." His recent travels to Switzerland and experience working in a Swiss chocolatier's workshop no doubt elevated his skill level, and he has "set out to make the best chocolate cake possible."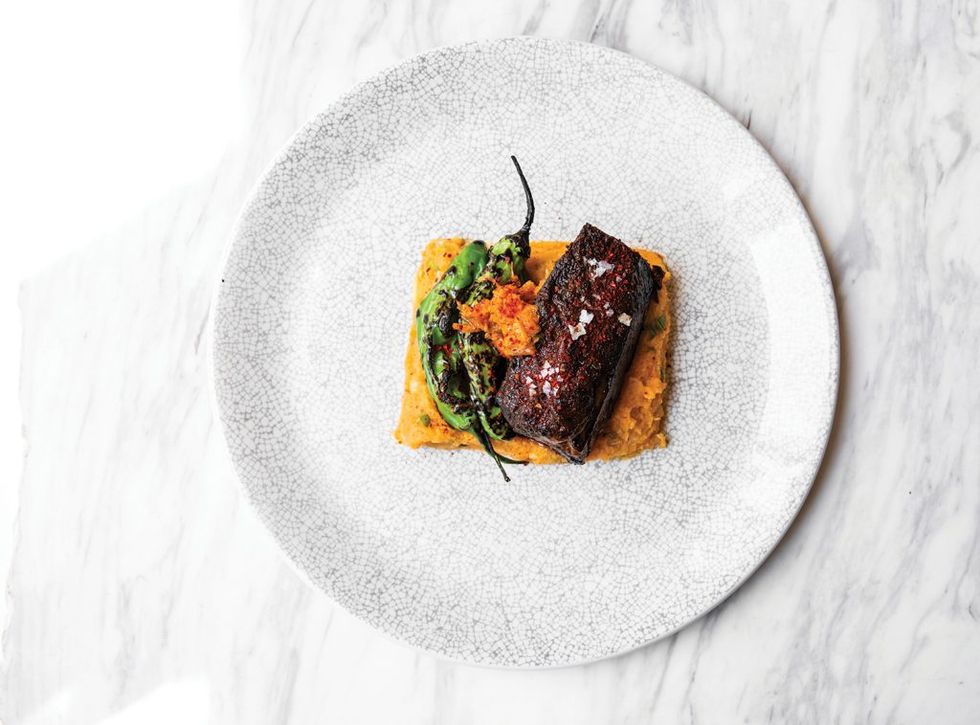 The short ribs with kimchi-potato mash and shishito pepper
Tris' chocolate cake is built with 53-percent French single-origin chocolate, layered with whipped sea-salt-buttercream, each finished slice dipped in chocolate glaze for a sinful dessert of epic proportions. 
 This is just the beginning of the story for Tris, but much remains to be told as Simmons says he plans to continue his travels, noting he will return to France in 2019. "I hope to work in the French Alps, and perhaps visit the South of France," he says. "In those parts, they highlight what they find in the earth — the vegetables, the herbs, the animals — and I am inspired most by being in that environment."
AT TOP: The bone marrow appetizer includes bacon jam and crispy bread
Food+Travel