Downtown Dazzle
In a spectacular contemporary space, boldly unique by city standards, worldly Guard and Grace does serious steak right.
Jack Thompson and Michael Anthony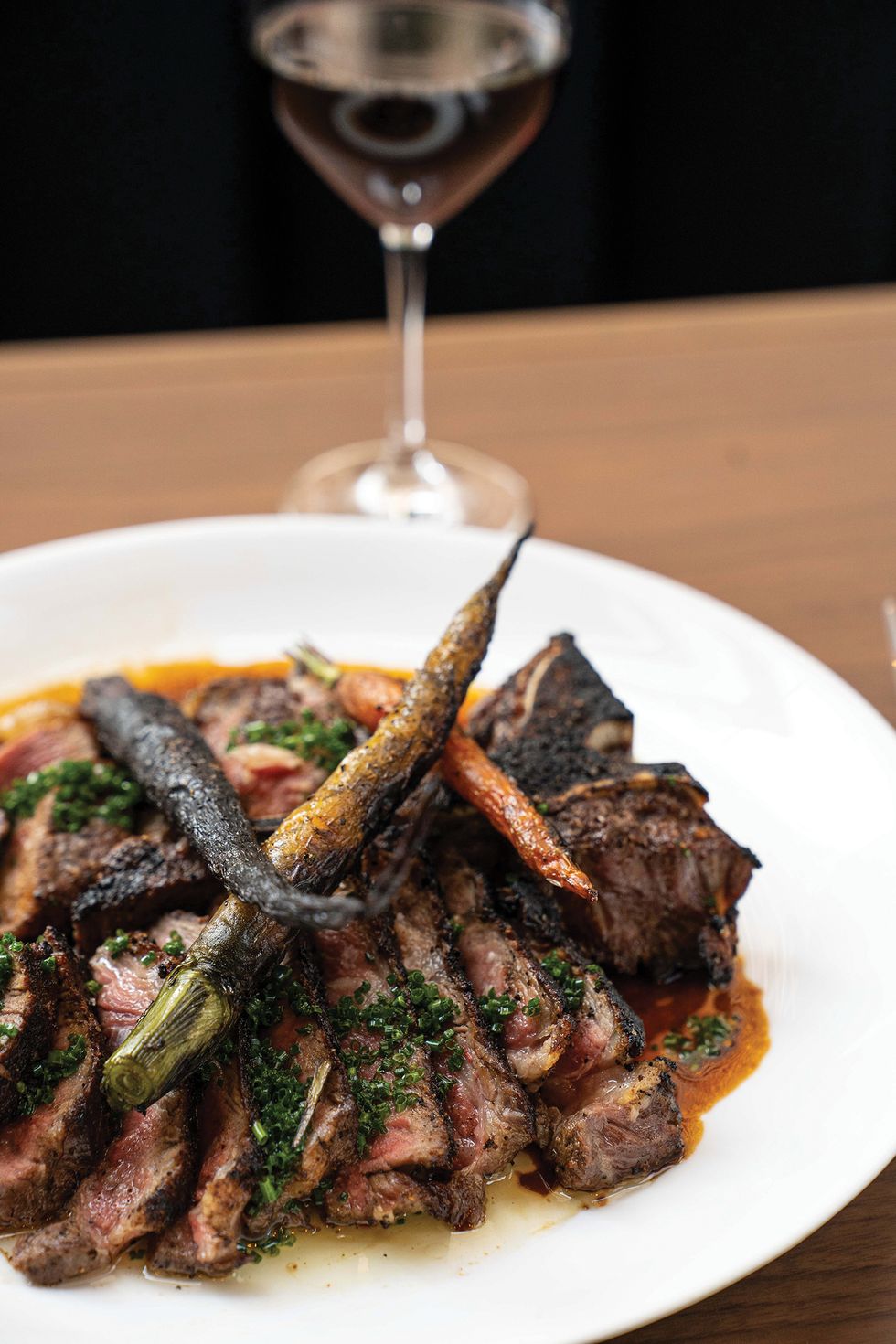 Downtown Houston has always struggled a bit to entice diners. Folks worry about parking, or getting turned around in the busy street grid, or just, vaguely, venturing into lesser known territory. 
---
The tide just might be turning. One supposes the rise of Uber has helped — let somebody else worry about getting there! And increasingly, there's the lure of truly unique dining experiences that are just too good to pass up. One such place is chef Chris Cosentino's new Rosalie in the C. Baldwin Hotel, where top-notch pastas and brick-oven pizza are served in a space designed to look like a 1970s middle-class home. Fun! And now, in the same One Allen Center that adjoins the hotel, has come another fab new foodie capitol: the ultra-modern Guard and Grace premium steakhouse, from prolific Colorado chef-restaurateur Troy Guard, who's kind of the Ryan Pera or Chris Shepherd of Denver.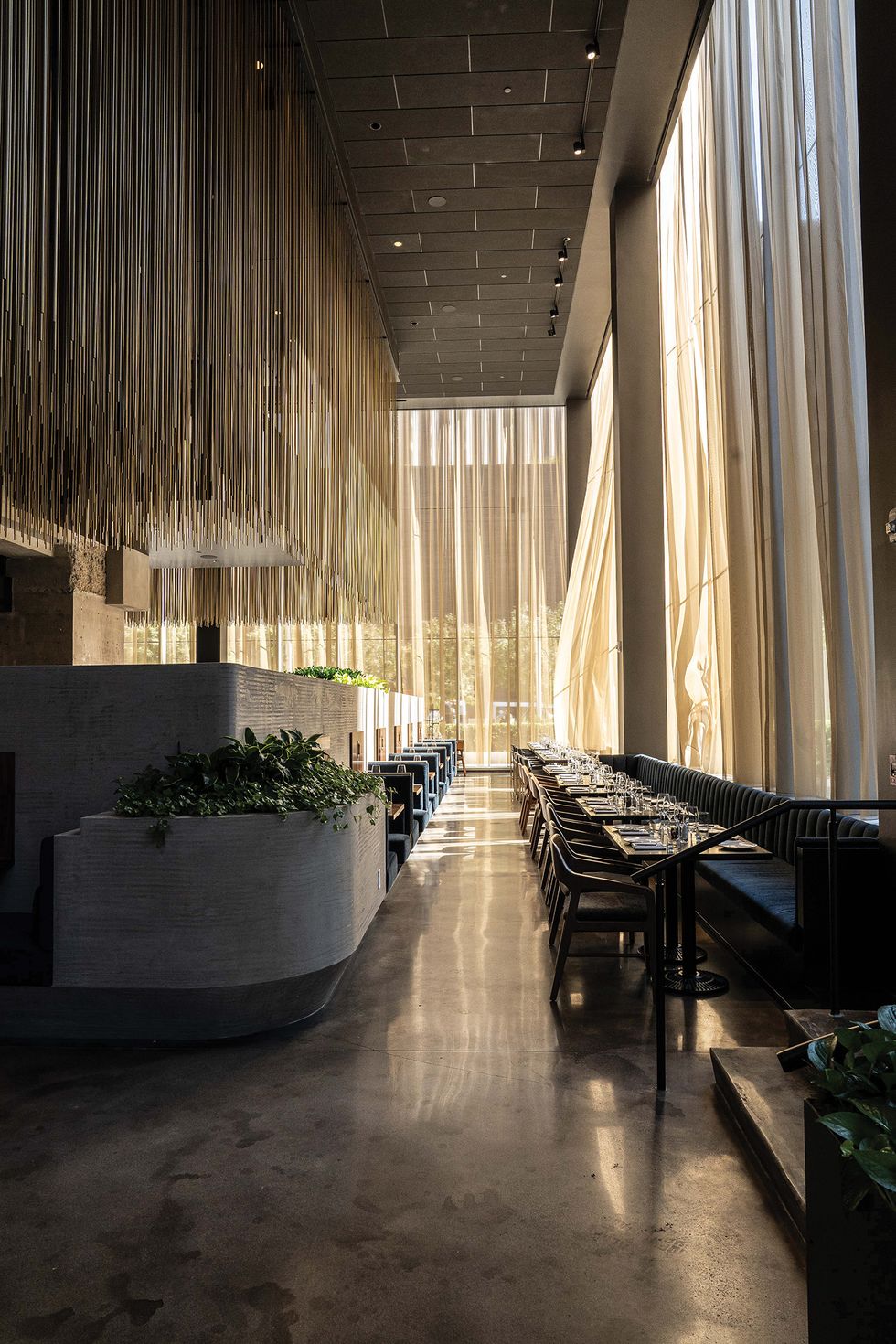 The new restaurant's dramatic mod environs
From your first steps into the space — Guard's first venture outside his home state, named after his young daughter Grace — it's apparent that this is a bold, rare kind of restaurant for Houston. The city has seen wild takes on modern before, certainly; the Cordúas' surrealistically tilting Américas comes to mind. But it's not often. Guard, working with Boss Architecture out of Denver, has truly gone there. 
Imagine stepping into a soaring, multi-level space of glass and concrete, with a 30-foot wall of windows framing the ground-floor vista of Smith Street, with a thoughtful alternative rock soundtrack à la Lana Del Rey and Sir Sly saturating the air. Throw in bending banisters of brutalist concrete, and overhead, an art installation of 4,600 individually hung bronze rods dripping from the ceiling. This is, oxymoronically enough, an old-school kind of modern. Sleek. Industrial-tinged. Post-Space-Age spacey, in the way perhaps of edgy 1980s sci-fi. You'd call it "raw" except that it's warmed up considerably by materials such as the deep blue velvet of the banquettes, which range from two-seaters up to deep, inviting six-seating versions.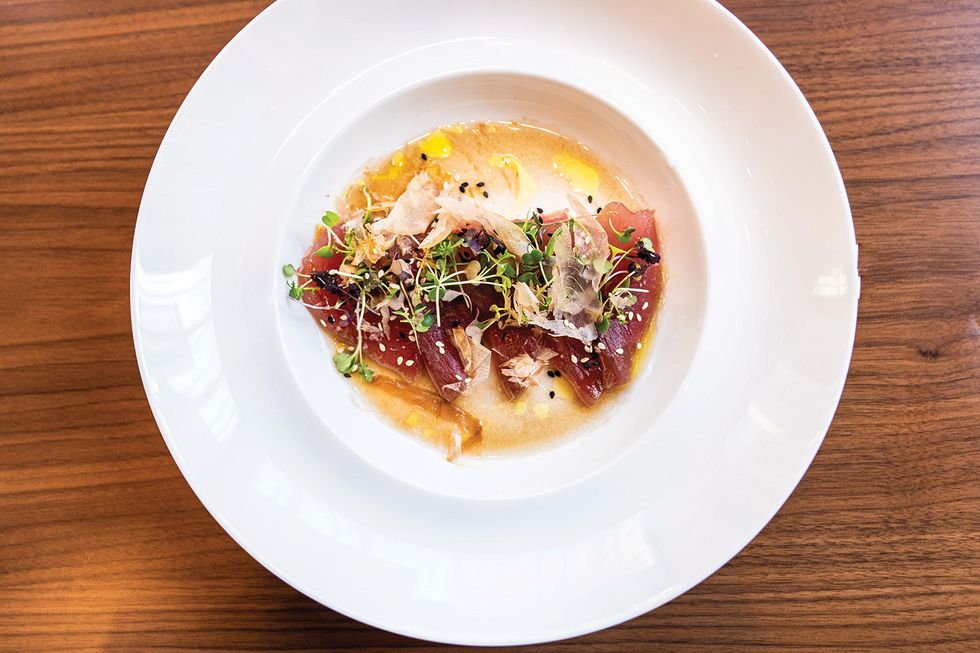 Tuna sashimi with jalapeño, ponzu and coarse salt
The best seats in the house are the four-person ones situated both to sidle up to the vast open kitchen and offer a wide take on the streetscape in the other direction. It's a huge kitchen, too, with two big grills ablaze, a complete charcuterie station and a raw bar that spills out onto a cool bar space in the back. (There's a larger eat-in lounge space up front, and another bar upstairs in the private dining area.)
Some banquettes peer into the open kitchen
The food here — inspired by Guard's travels throughout Asia and the Pacific Rim and his early days working in exotic kitchens around the world, like Roy Yamaguchi's splashy Tao in New York — is beautifully executed and artfully presented. The menu sources unique ingredients from local farms and from far away; the handsome, personable waiter brags, for example, that the creamy burrata cheese is made by family friends of chef Troy's in Italy and overnighted on the regular for the roasted beet salad with frisee, spiced honey and citrus vinaigrette in which it stars. Sashimi-esque starters are sexy and bright, as in tuna with jalapeño and ponzu — and the roasted carrots, a signature dish, are a striking mix of rustic heirlooms with herbed yogurt, pistachios and shaved fennel.
But the draw here is the steak, as it should be.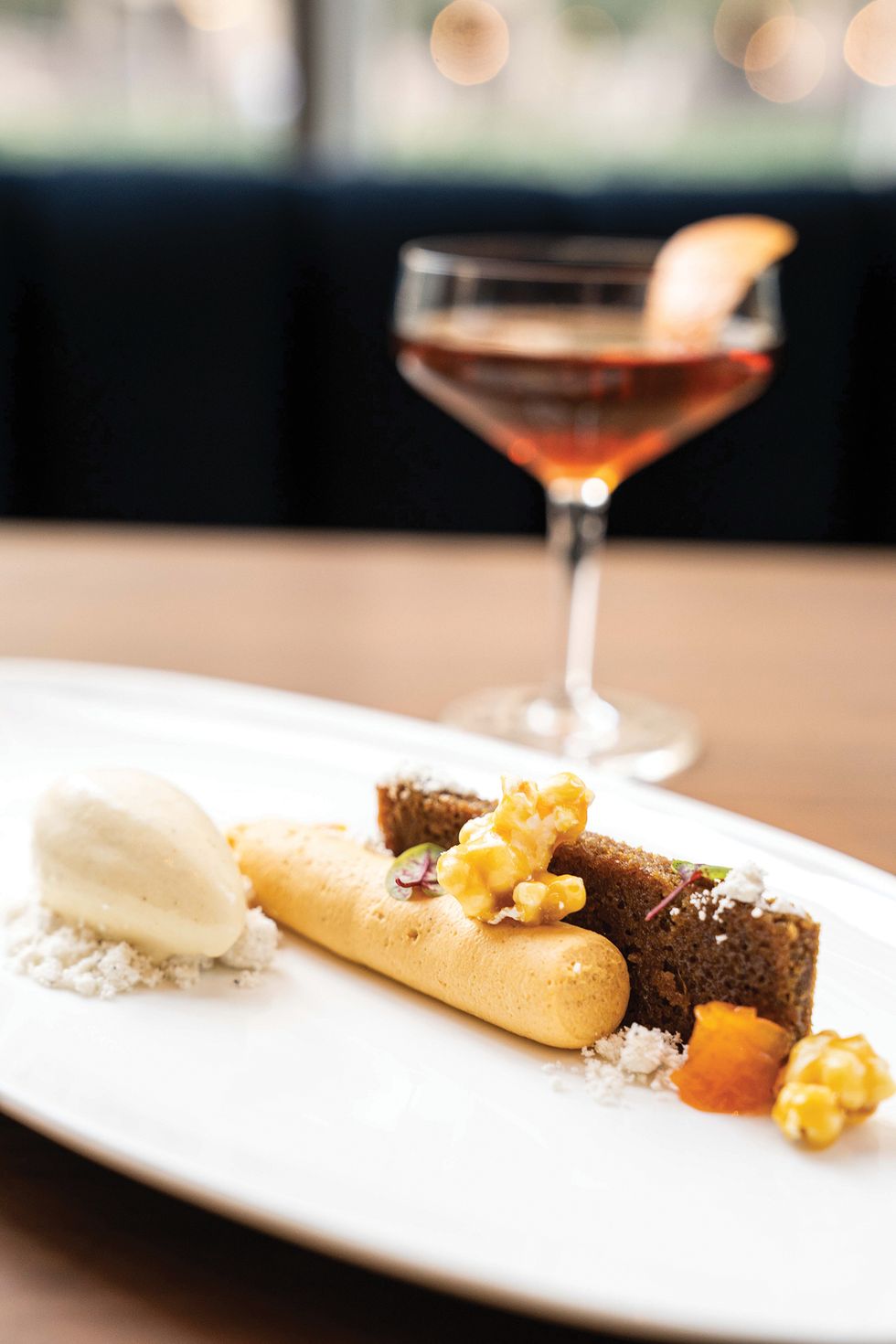 Pumpkin panna cotta with ginger snap cake, caramel popcorn, candied squash and brown butter ice cream
The menu dedicates much real estate to a variety of cuts, at price points reaching from $29 for a prime four-ounce filet mignon up to an exquisitely marbled Wagyu "A5" New York strip for $24 an ounce. All the meat gets dusted with Guard's zippy proprietary seasoning, which helps make a nice crust when seared over white-oak flames. Add-ons like a streamlined Oscar treatment — which here is a buttery pile of lump crabmeat on the side — are worth the trouble, and traditional steakhouse sides take a backseat to the revelation that is Chipotle Lime Smashed potatoes, crispy little addictive morsels of joy. 
Unique shareable options include the clever filet "flight" with small cuts of three different beef varieties, the dramatic bone-in "Brontosaurus" tomahawk that comes with a "butter" of foie gras and bone marrow, and the (soon to be available) Millionaire Fajitas that feature 24 ounces of Wagyu ribeye and such ritzy fixins as caviar, black garlic steak sauce and house-made tortillas flecked with actual gold.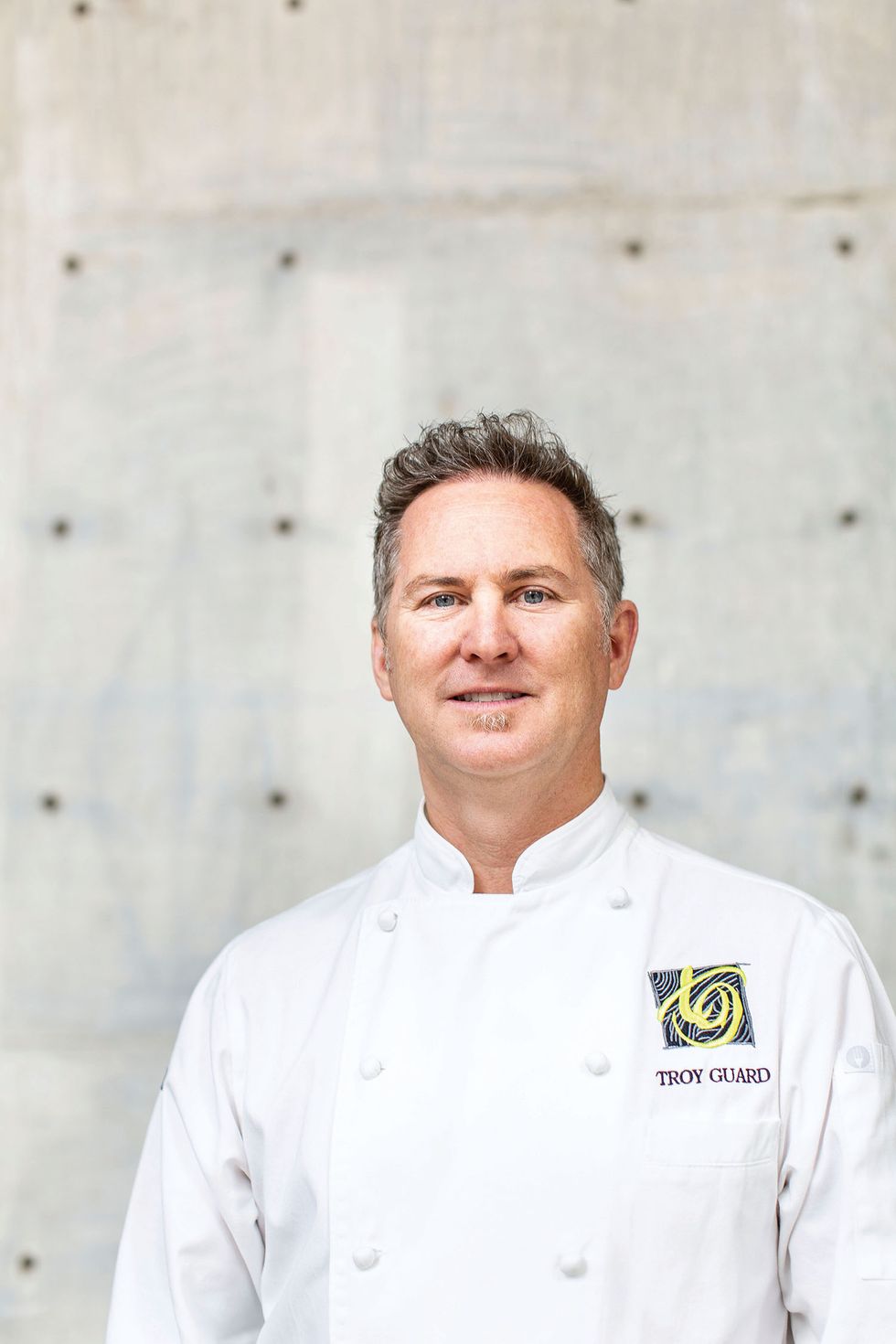 Troy Guard
For dessert, the spiced zucchini cake, which might sound more grandma's-mahjong-gang than big-city-chic, is a delicious choice. It's sexed up a bit with ginger ice cream, orange gel and a garnish of herbaceous baby borage leaves.
There's never been a better time to not be daunted by Downtown. Guard and Grace is a memorable must-do, and your Uber is waiting.
AT TOP: Guard and Grace's porterhouse, garnished with roasted heirloom carrots, a signature of the chef
Food+Travel