Gaming the System
As the Super Bowl bows, stars like Josh Brolin step out to celebrate, and step up to raise big bucks for charities.
Jeff Vespa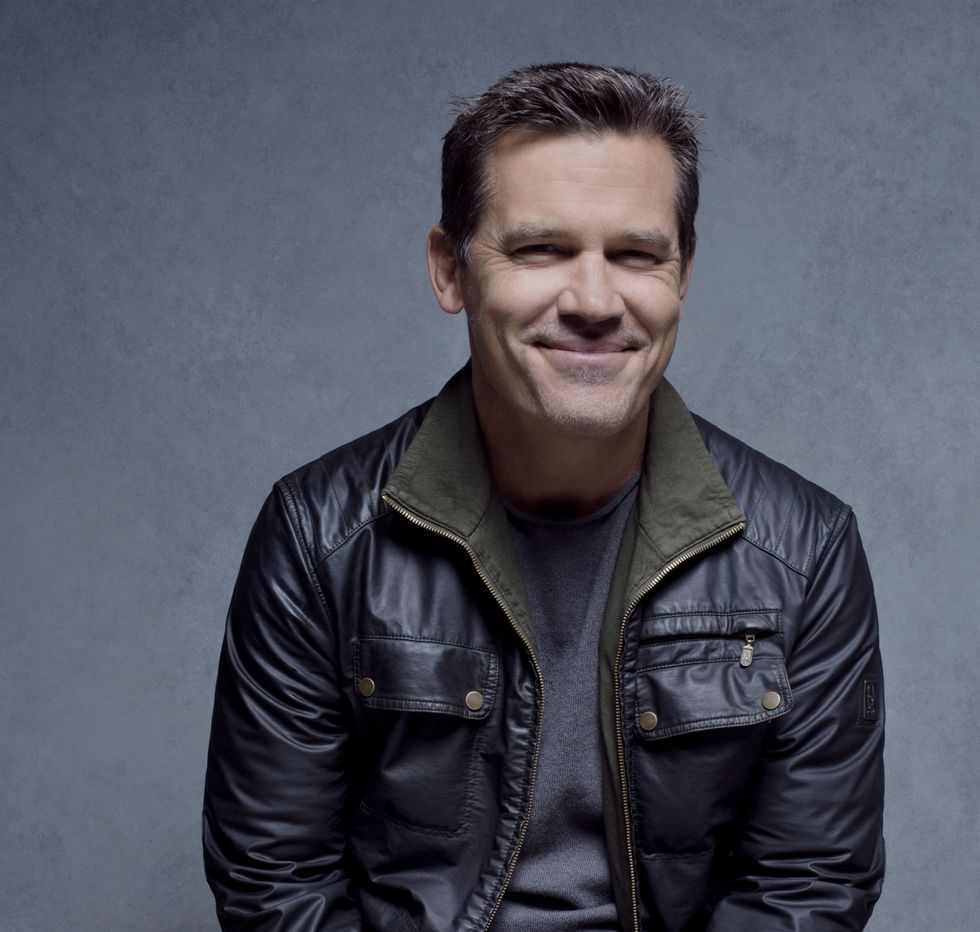 WITH STARRING ROLES IN Texas-tinged movies ranging from No Country for Old Men to True Grit and Sicario, and having even played "W" in Oliver Stone's biopic of the same name, it's no surprise that Josh Brolin is often mistaken for a native of the Lone Star State. "But I'm a Californian through and through," he says.
---
But Brolin, an Oscar nominee for 2008's Milk, does have few Texas roots. Despite being known as the scion of Hollywood star James Brolin — whose current wife is Barbara Streisand — James' first wife and Josh's mother was a Texan. "She was from Corpus Christie," says Brolin on the phone from his car, somewhere outside Albuquerque where he is filming Solado, the sequel to Siccario, in which he plays a CIA agent fighting Mexican drug cartels. "And she didn't fly, so, instead, she drove 50,000 or 60,000 miles a year. It seems like we were constantly driving through one part of Texas or another, from Dallas to Austin to El Paso."
Now Brolin, 49, is looking forward to spending time in another part of Texas — Houston — when he hosts "Big Game Big Give," a VIP-only, celeb-heavy pre-Super Bowl bash that hopes to raise at least $1 million for a variety of charities. Big Give is an annual fundraiser that's always set the night before the Super Bowl in the game's host city. Previous party hosts have included Ashton Kutcher, Demi Moore, Mark Wahlberg, Jay Leno, Hilary Swank and Alec Baldwin. This year's venue is the Memorial home of Houston CityBook Executive Publisher Lisa Holthouse and her entrepreneur husband Michael. Fun twists to this year's event include the addition of an after party and celebrity poker tournament cohosted by World Series of Poker champ Jamie Gold and Olympian Michael Phelps.
This year's charitable beneficiaries include Lemonade Day, a nonprofit founded in Houston by the Holthouses to teach kids nationwide the value of entrepreneurship and self-empowerment, and one especially dear to Brolin's heart, EBMRF — otherwise known as the Epidermolysis Bullosa Medical Research Foundation. "EB isn't something that a lot of people know about," says Brolin. "But it's a disease where people's skin is basically constantly peeling. The nerve endings are right below the surface and it's incredibly painful. I was close to a family whose child has it, and it made me really want to help."
And the Giving Back Fund, which organizes the event each year, will receive a chunk of the funds raised, as well. Giving Back's purpose is to serve as an umbrella organization for other foundations and philanthropic enterprises. "We work with hundreds of athletes and others to bring their charitable ideas to fruition," says Marc Pollick, president and founder. "Yao Ming is one of our clients, and we're the official philanthropy consultants for the NFL. With the Super Bowl event, our idea was to take philanthropy and put it on the world's biggest stage."
For his part, Brolin says that despite having spent more than three decades in front of a camera — his first movie was 1985's Goonies — he's still reticent to take the spotlight at such events. "The idea of coming out and giving a little wave to the crowd at a party has always felt a little too soap-boxy to me," he says, noting his intention to instead be a hands-on, involved host for Big Give, helping see to it that the million-dollar mark is met. "I spent a lot of years working almost anonymously, and I was okay with that," Brolin says. "But for the last few years the industry has been very kind to me, and it has humbled me.
"Before, the focus was on getting ahead," he adds, "and now it's on how I can give back."
Previously, says Brolin, his charity work was limited by the little time he could find away from his acting. "I was always on the move, and it was hard to settle into anything. I did a bit for Sean Penn's Haiti charity and some for the Surf Therapy Foundation in Malibu. But this is a different level of commitment for me."
Brolin admits that while he may be a "novice" at philanthropic work, he's excited by the opportunity to get involved. "I have seen a lot of people really impacted by charitable work, and I find inspiration in that," he says, citing the Stef "the Hammer" Hammerman, an adaptive CrossFit athlete with Cerebral Palsy, as an example of someone who has faced incredible challenges and done incredible things.
Speaking of superheroics, the other acting role consuming Brolin these days is that of Thanos, the super villain that he originated in Guardians of the Galaxy in 2014 and Avengers: Age of Ultron in 2015. He's now returning for next year's Avengers: Infinity War, and its untitled sequel in 2019. That character is entirely computer generated, with Brolin lending voice and movement to the creature, limiting how much his rugged handsomeness can shine through.
To see Brolin in the flesh on the big screen, we'll just have to wait for him to embody his next role, as the lead in a biopic of the late, famously troubled country singer George Jones. A Texan, naturally.
Business+Innovation