Getting Naked with Oprah Isn't Even Her Best Story! Amanda Mills Answers Our Influencer Questions.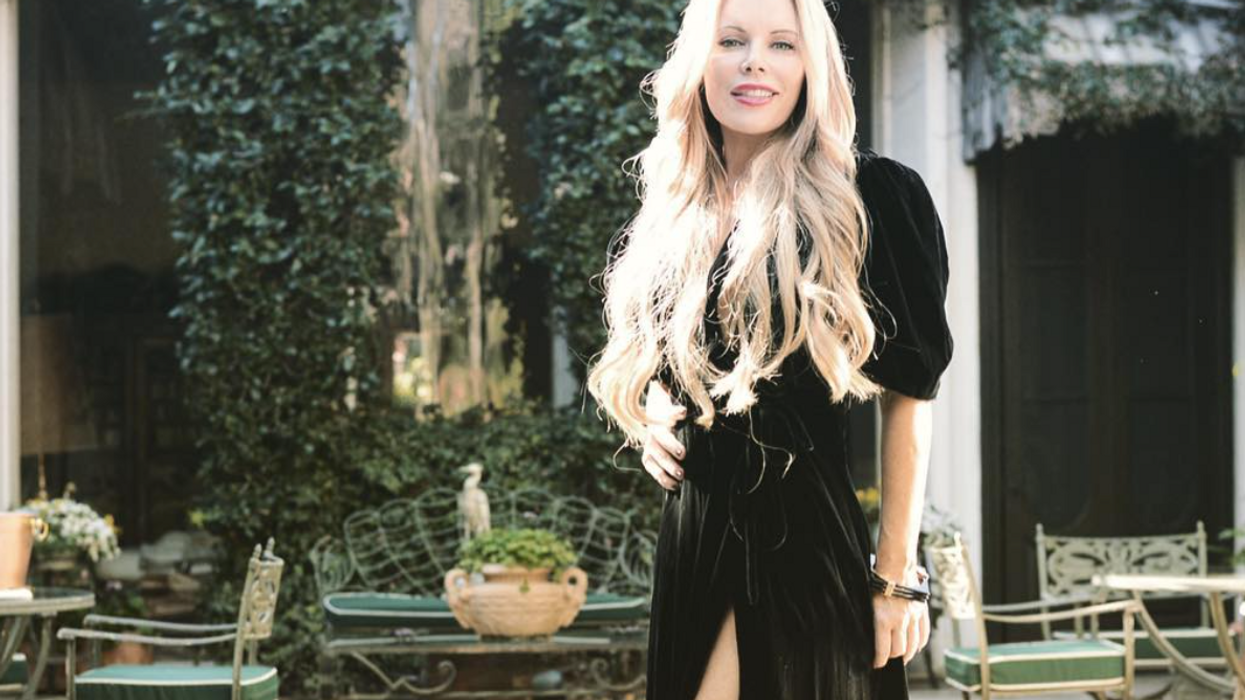 BEAUTIFUL, WORLDLY AMANDA Mills, who divides time between Houston, Aspen and adopted hometown L.A., is well known to the society set in each city. Describing herself as a "tightrope dancer atop a house of cards, muse, influencer, writer, fashionista, reluctant socialite, rainmaker, party tosser, world traveler, yogi and dog mama," she boasts nearly 80,000 followers on Instagram. Here's how she answered our quirky questionnaire.
---
What accomplishment are you most proud of? Founding Amanda Mills Los Angeles, my online retail store, that gave a portion of all sales to charity. Living through 2014, 2020 and 2021. Completing 2,000 hours of yoga-teacher training with the greatest teachers in the world.
When you were a child, what did you want to be when you grew up? Hollywood Mandy. Nailed it!
What's the best gift you've ever received? Is the IRS going to be reading this? This is a tough one. I have received some of the most incredible gifts in the world: cars, jewelry, homes, trips, bags, coats, ponies, art. But the absolute best? A first-edition copy of Breakfast at Tiffany's signed by Truman Capote. Not only was I gifted this treasure, but my ex, who has since passed away, read the entire book aloud to me. Priceless. He thought I was the modern-day Holly Golightly. Was he correct? Definitely maybe.
What's the best gift you've ever given? A trip to the World Series in Los Angeles, gifted to my precious nephew Thomas Mills. Also, a Jean-Michel Basquiat painting to an ex. Cartier watch for another ex. Wish I could get the last two back. Kidding! Kinda.
Favorite holiday tradition? Christmas Eve with my mother's huge side of the family keeping my precious grandmother Myrtle Stockton Martin's memories alive. My grandmother was the Coco Chanel of East Texas; they even looked identical. From her I got my love of fashion, impeccable eye for design and style. She used to say a dress should be as beautiful on the inside and it is on the outside, and that went for people also.
Santa already knows, so you might as well tell the truth. Were you naughty or nice this year? I think that the pandemic really softened my heart, placing a priority on peace, good health and patience for myself and others. I removed things and people that disturbed the peace I had cultivated while virtually being alone for about a year. So nice. With just enough naughty to keep it interesting!
Best way to warm up on a cold winter's night? A few guys named Glenlivet, Glenmorangie, Lagavulin, Macallan and Yamazaki. Yes, I'm a Scotch Whisky kinda girl!
Finish this sentence: I'm gonna get me some mistletoe and… Head to the set of Yellowstone. I'm the perfect age for John Dutton or Kayce Dutton. But Rip Wheeler is totally off limits, as Cole Hauser [the actor who plays him] has been married to my friend Cynthia Daniel for years. I have known Kevin and Christine [Kevin Costner, who stars as John Dutton on the show, and his wife Christine Baumgartner] for years from Aspen, but I am not above asking her if I could get a hall pass with Mr. Dutton!
Your elf stripper name — of course, that's a thing, duh — is a beloved childhood toy plus a dessert your grandmother used to make. Go! Barbie Fruitcake.
Where's the best place to find holiday cheer in Houston? Maybe a restaurant or a pub? Riva's Italian Restaurant Montrose. Michael, the owner, decorates the place from top to bottom with Christmas cheer. Know before you go. No children allowed!
Tell us about your closet. Something old you love, and something you hope gets stuffed in your stocking? I have amassed an amazing handbag collection. My favorite piece is my Tiffany-blue Hermès bag. For my stocking stuffer, how about $5 million? No bitcoin por favor!
Name-drop time: Who's the most famous person you've ever met (and how did that happen)? Girl, please. I lived in Malibu and Beverly Hills for about 10 years and New York for another two and have been in Aspen for about 30. I really have met everyone — and dated a few. Wink. Many I call friends who happen to be famous. But my best craziest encounter where I was speechless for like five minutes was when Oprah Winfrey was my spa partner at The Peaks resort in Telluride. So I am sitting in the indoor hot tub waiting for my services naked, and in walks Ms. O, also naked! After the "I'm sitting in a hot tub naked with Oprah" wore off, we ended up having great time. It was New Year's Eve, and we ended up at the same dinner party of about 25 people like Oliver Stone, Tom and Nicole. We stayed up till the wee hours of the morning talking about adoption, Daryl Hannah and JFK Jr. Lady O was gracious and tons of fun, as were the rest. Everyone in Telluride laughed at the Oprah-in-the-hot-tub story for years. And we ended up being neighbors.
Name three things on your bucket list. Norwegian fjords and Northern Lights. Vietnam, which I had to cancel because of the pandemic. Jeff Bezos, I'm rocket-ready!
What's your most useless talent? I can write full sentences with my toes. And I can fit inside a midsize piece of luggage… Don't ask.
If you were arrested without explanation, what would your friends and family think you had done? Been framed! They think I do no wrong!

What would you choose as your last meal? Caviar.
What's the closest thing in life to real magic? My dogs Atticus Finch and Chrissy Snow, of course!
What's the worst movie you love? Pretty much anything with Will Ferrell. Talladega Nights: The Ballad of Ricky Bobby, The Campaign, Step Brothers, Old School, Anchorman
Is there a charitable cause you support, and why that one? The Ubushobozi Cooperative in Musanze, Rwanda. After the loss of my fiancé in 2014, I traveled to Africa to heal while on holiday. I stayed at the Sabyinyo Silverback Lodge, part of Governors' Camp Collection visiting the mountain gorillas. One day I asked my driver-guard if there was a place I could take a yoga class. He immediately said I have the place for you! As luck or God would have it, his wife volunteered at the Ubushobozi Project.
With a population of about 12 million, Rwanda is the most densely populated country in Africa. Women in Rwanda are especially vulnerable when it comes to education. After the genocide 1994, 80 percent of the population — predominantly women — were left under the poverty line. Empowering women became an important issue throughout the country. The project provides a home for the women and offers vocational training. The girls produce crafts, clothing and bags, as well as teach yoga and dance.
I left a huge part of my heart in Rwanda. I shared with the girls my loss, and, as orphans of the genocide, loss was a feeling they knew all too well. I told them, I at one time was orphaned, as well placed for adoption when my young birth mother unselfishly wanted to give me a better life. There we sat, women from opposite sides of the world, with more in common than people who lived across the street from me in the United States. The girls and I embraced and cried. This was the first time I had given myself permission to cry.
At the end of our beautiful day, I purchased yoga bags to bring back to the states to sell and raise awareness for this amazing group of women. That's how I got the idea to start my website Amanda Mills LAto bring not only attention to women living on the margins at home and around the world, but to offer funding to them also. I encourage everyone to learn more visit and donate to this wonderful organization: ubushobozi.org
What's something about you people would find surprising? I have struggled with dyslexia my entire life. It has never defeated me, only made me stronger in other areas.
In five words or less, what's your advice for living a happy life? Fall in love with yourself.
People + Places