Gleaming Green
Singapore, an international shopping mecca with hip little pockets of funky charm, thrills with its slick, sustainable take on urbanism.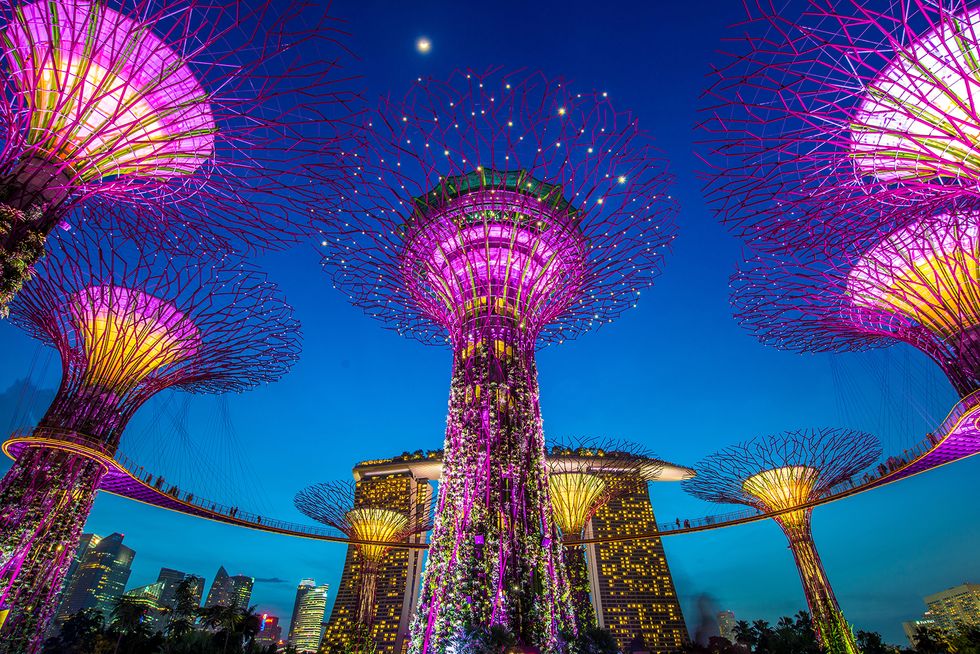 It's hard to pick up an airline magazine lately without stumbling across a gushing story on Singapore. And not just on Singapore Airlines, although the hyper-posh carrier with an impressive Houston presence does have unique bragging rights. But they're all on the bandwagon, hooking articles to the new expansion of Singapore Changi Airport, which was revered as the world's most beautiful and efficient airport even before Terminal 4 came along — it has a koi pond and an art gallery — and increased annual passenger capacity by 16 million.
---
And yet, as lovely as a flight on Singapore Airlines is (did you hear about the new first-class suites it's debuting on its Airbus A380s, with leather swivel chairs and fine duvets on the double beds and 32-inch TVs?), and the great airport notwithstanding, the gleaming island city-state itself is the real draw. It's a mix of cutting-edge, gloriously green, luxury-permeating urbanism with increasingly appreciated funky villages and side streets.
With the colonial-style Raffles hotel — birthplace of the Singapore Sling gin-and-pineapple cocktail — closed for renovations until the middle of next year, the reigning It Hotel is undisputedly the Shangri-La, a vast spectacle of art and opulence. Just months ago, the Shangri-La completed a major renovation of its Tower Wing. The new look, echoing the city's ethos of sustainability and love of nature, is grandly apparent just steps into the hotel, in the lobby.
To one end of the soaring, stadium-sized space punctuated with enormous columns is a dangling art installation comprised of thousands of swirling stylized metallic leaves; and to the other, above the Lobby Lounge, a living feature wall — at 30 feet tall, one of the largest on earth — with all varieties of ferns and purple Spanish mosses tumbling from a rock façade fashioned of Australian basalt stone. (Organic walls are rather a symbol of Singapore. From almost any vantage point, high or low, cityscapes inevitably include a patchwork of parks and tropical mini-forests and whimsically inventive architecture softened by the various arrangements of cascading greenery growing up it and down it and otherwise springing forth.)
The changes extend into the wing's 503 guestrooms — warmly contemporary in hues of cream and gold, with original abstract-landscape paintings and accents of reclaimed wood — and to the dining options. In addition to the revamped Line, where the colorful, Willy-Wonka-for-adults sprawl of food stations includes everything from spicy noodle Laksa soup to killer fried chicken (and, when in season, heaping cases of the stinky-but-custardy-sweet durian fruit the locals go crazy over), there's new Nami.
At Nami, on the 24th floor of the Tower Wing, old-school Japanese-style service — the impeccably tailored host meets you as you step out of the elevator and bows — merges with chic, modern style. The food is next-level surf and turf, with Wagyu beef and sushi, the latter presented with such attention to detail that its tiny momiji-leaf decoration sports even tinier, perfect little water droplets recalling dew. Yes, the garnishes have garnishes.
The approach to food service is less reverential, but no less charming, in districts like Dempsey Hill, a former British military barracks where gritty-cool Open Farm Community touts farm-to-table fare such as baked beets with raspberries and quinoa — and décor including garden tools wrapped with twinkle lights. The deco-esque Tiong Bahru neighborhood, once the public-housing sector and now an emerging center of youthful culture, also attracts foodies.
Trendy eateries like Tiong Bahru's Open Door Policy, all exposed brick and open kitchen serving up salads of spinach and potatoes with octopus and chunks of chorizo, coexist with street-food-savvy "hawker centers." In the centers, the smell of fried oysters and curry and sweetly sour spices waft about, the whole place a blur of chopsticks and oversized Asian spoons going 90 miles an hour. (Bookstores are almost as common as restaurants and hip little bakeries in the literate, cultured 'hood. You can even buy books from vending machines.)
But the best excursion of all, particularly at the holiday season, might just be to, of all places, the mall. While Orchard Road, near the Shangri-La, is famous for high-end retail therapy, The Shoppes at Marina Bay Sands is wonder-of-the-world cool. The label idolatry is off the charts, with not only all the major luxe brands represented but also, in one glam section, all the baby versions, as well — kids stores for Dolce & Gabbana, Dior, Gucci, Armani, Paul Smith and more.
The Shoppes also happen to be an easy stroll from some of the city's true wonders — the lotus-shaped ArtScience Museum, the Sands casino resort's main building which favors three matching skyscrapers with an ark on top, and, not too far away, the famous supertrees of Gardens by the Bay. The trees may be the perfect metaphor for Singapore — eco-friendly and endlessly well-meaning and yet unabashedly good-looking and fun.
Food+Travel