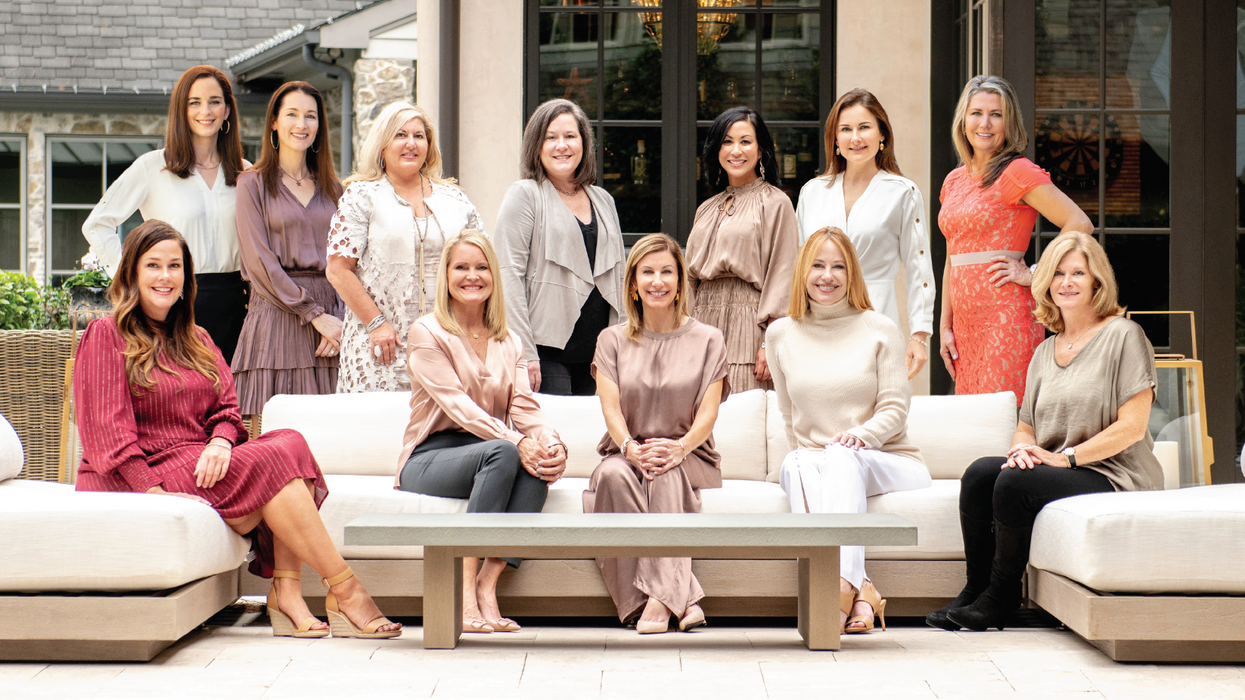 HOW DID YOUR team form? After ten years as a realtor for a top firm in Houston, Kim Perdomo established a boutique brokerage in 2011. The team grew organically and joined forces with Compass in 2019.
What is the relationship within the team? We have a very special relationship as a team. A lot of us have been friends for many years prior to working together in real estate. With that brings a camaraderie and loyalty to one another that is truly remarkable. We all work together to help everyone succeed, and that is a huge benefit to our clients.
What makes you unique? Our Brand Promise:
Maintaining Lifelong Relationships With Our Clients
Personal Service
Distinctive Marketing
Helping Our Clients Make the Right Move
How do you bring this promise to life? We specialize in presenting our listings to the market to achieve the best results. Our personalized, hands-on service includes coordinating staging services, repairs, inspections and through distinctive marketing we attract the largest group of buyers. A few metrics we use to define best results include sales price, contract terms offered, days on market and list price to sales price ratios. Since we are with our clients throughout the entire process, our business relationships typically evolve into true friendships. We have done this successfully in a seller's market and buyer's market. As a team, we have 140 years of experience. We have seen it all.
What's the secret to your success? Integrity. Doing what we say we are going to do and putting our clients' needs above ours.
What's next for the end of the year and 2023? We just returned from our top producer awards trip in Alys Beach, Fla., and we are beginning to set goals and prioritize on how we can continue to raise the bar as individuals and as a team. We are currently working with clients to help them evaluate their real estate needs and monitoring the luxury market while communicating exclusive listing opportunities to our buyer clients and fellow agents. Our team expertise and the Compass advantage provides the ultimate results for our clients.
IT'S ONLY THE first week of December and H-Town is already bubbling over with culinary news. Here's the latest taste of what's new and coming soon!
Food
ON VIEW THROUGH Jan. 21 at the Houston Museum of African American Culture is Negative Women: Four Photographers Questioning Boundaries, a thought-provoking exhibit of photographs, video and mixed media installed on both floors of the museum.
Curated by HMAAC's Chief Curator Christopher Blay, Negative Women brings together the works of four Texas artists: Ciara Elle Bryant, Jordanian-born Tanya Habjouqa, Mari Hernandez, and Letitia Huckaby, who was recently honored by the Art League of Houston as Texas Artist of the Year. The title of the exhibition refers to both a "negative" photograph, in which the light and darks are completely inverted, and "negative" as it is used pejoratively towards women who dare to challenge the accepted patriarchy of our culture and the museum world. ("Oh, you're just being negative!")
Upon entering the museum, with light on a sunny day pouring in from the upper level, you might overlook the darkened gallery to your left where Huckaby's photographs are on display. For this series, Huckaby traveled to Mobile, Ala., to photograph the historic community of Africatown, where in 2019, the wreckage of the slave ship Clotilda was discovered deep below the surface of the nearby Mobile River. Huckaby's photos of overgrown foliage, broken sculpture, and churning water, with titles taken from African American spirituals ("Amazing Grace," "Wade in the Water"), are beautiful, but eerie, even as they pay tribute to Africatown's residents, some of whom are descendants of those who survived the journey on the Clotilda.
Meanwhile, in a separate, even darker gallery at ground level is Bryant's mixed-media installation "Black Shines Like Gold," an assemblage of projected and mounted images the artist has mined from the impersonal, algorithmic experience of online surfing to create meditative and devotional space.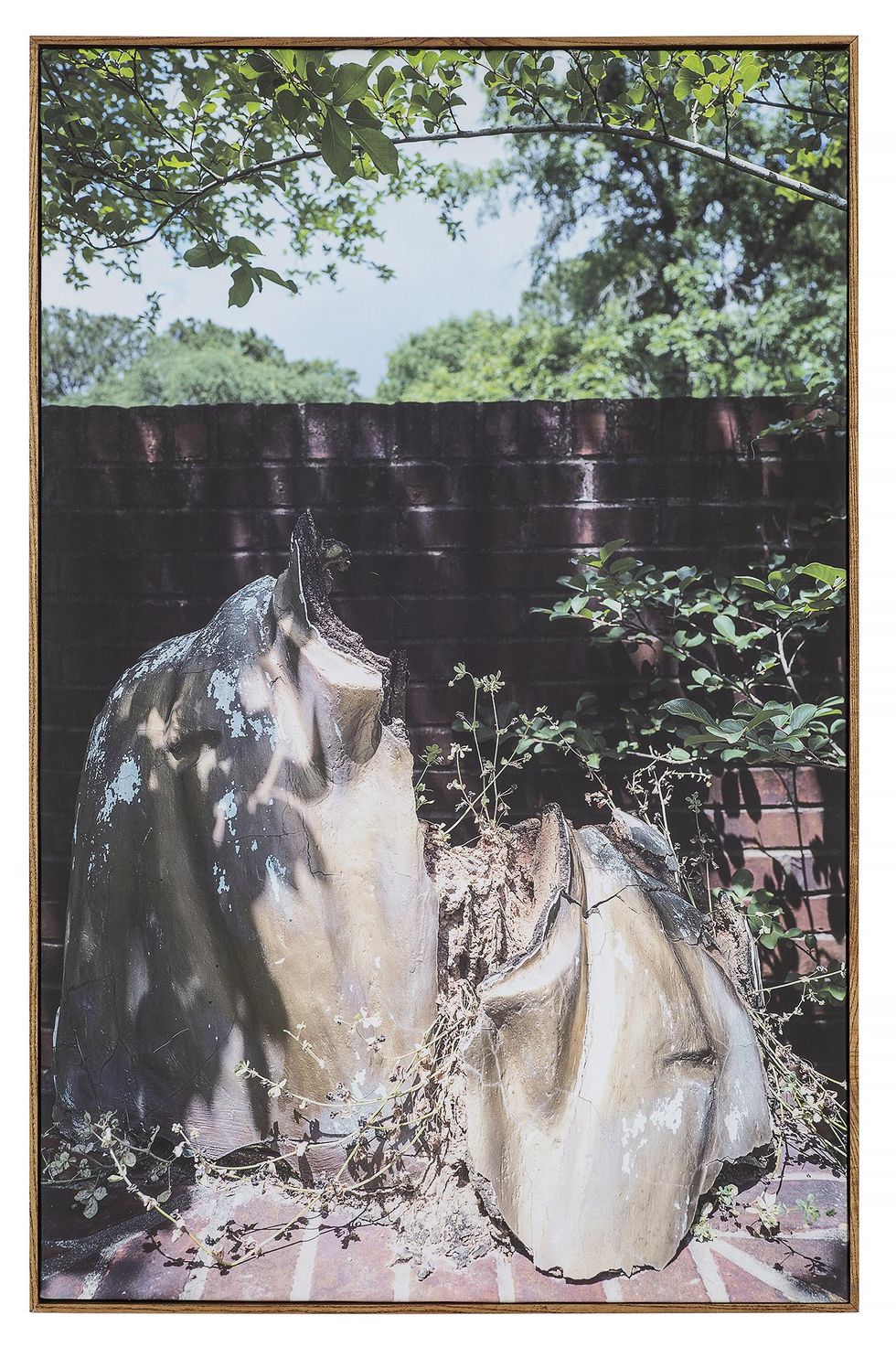 Letitia Huckaby's 'Cudjo Lewis Bust,' pigment print on fabric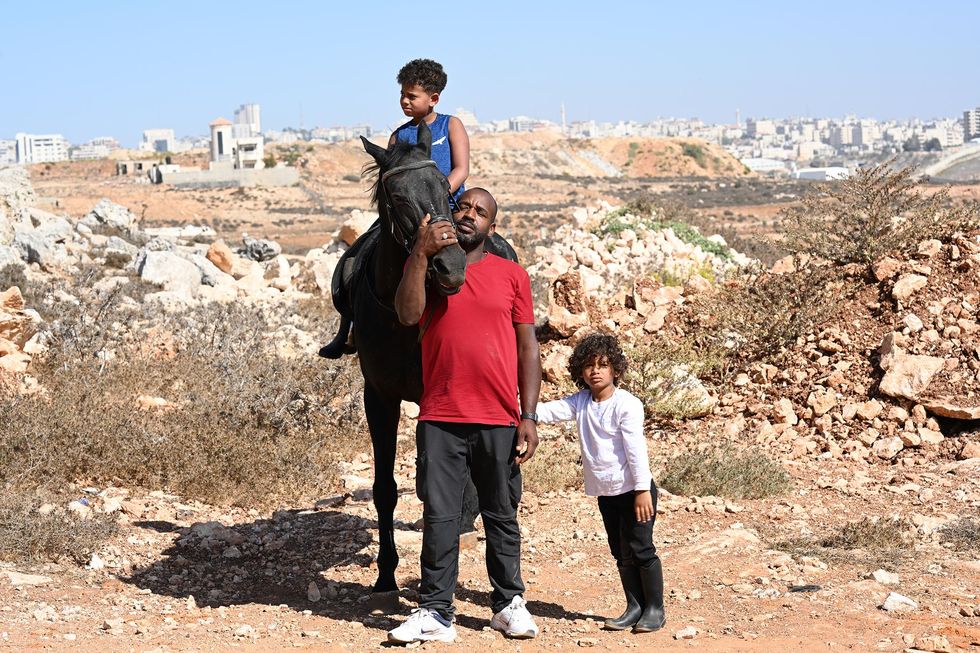 'Untitled,' by Tanya Habjouqa

'Pitted Brother Against Brother' by Mari Hernandez
Climb the stairs to the second floor, and you're greeted by an oversize, inkjet print on silk-like fabric of Hernandez marching in profile, dressed in a late 19th-century-styled long-sleeved blouse and skirt, holding a flag emblazoned with the word "RESIST" in all caps. The antiquated look of the photo makes you wonder if it was lifted from a dusty archive, but look again, and you see Hernandez is wearing a prosthetic nose, an accoutrement of the archetypical trickster, and perhaps a warning to the viewer to resist complacency and question dominant and often inaccurate historical narratives.
Several more photos-on-fabric of Hernandez in historical costumes and wearing other various facial prosthetics are suspended around the parameter of the gallery, like banners of a nomadic tribe, and surround an enclosed area constructed for Habjouqua's "Afro-Palestinians." The installation combines embedded reportage with a theatrical, performative approach to photography to explore the lives of "a persecuted community within a persecuted community." One of the first things that compels your eyes and ears is a looping video of students at the African Community Society in the Old City of Jerusalem learning Afro-Dabke, a hybrid-style of celebratory dancing, where the dancers hold hands and stamp their feet. A placard explains one of the girls in the video had just seen her older brother arrested by Israeli forces, giving the movement captured fleetingly on camera a layer of unexpected poignancy. It's another example of several small but significant historical details each artist in Negative Women is giving due attention to with the hope that change can come, as Gloria Steinem recently said, "from the bottom up, like a tree."
Art + Entertainment