Into the Flood
Late last summer Hurricane Harvey relentlessly terrorized Houston for days. Scores endured harrowing danger and loss, and thousands more rose to rescue them and help them recover. Nearly a year later, some untold stories come to the surface.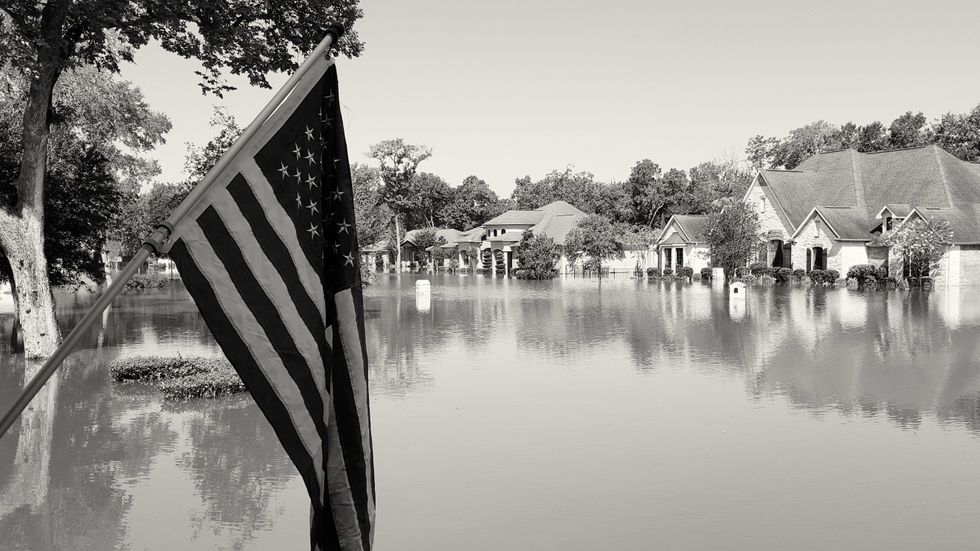 In an extraordinary new book, Hurricane Season, the Houston Chronicle's Joe Holley details the last months of 2017, when two unprecedented, epic courses of events gripped the region. Holley covers the onslaught of Harvey and the city's "Houston Strong" response — and the Astros' drive to World Series glory, which was inspired by the strength and resilience of Houstonians through the ordeal. Here, in an exclusive excerpt, the Pulitzer-nominated journalist goes back to the middle of the watery disaster, as Harvey's heroes meet their destiny.
---
The rain continued to fall and Houstonians were finding novel ways to help flood victims. Alan Rosen, the Harris County constable, started relying on social media, since 911 was overwhelmed. He soon realized that Facebook and Twitter were more reliable.
Keri Henry, a 36-year-old mother of two young daughters living in an upscale central Houston enclave, made the same discovery. She realized she could turn her Facebook addiction into a life-saving tool. Her family was safe and dry, but she still wanted to find a way to help. As she watched the flooding crisis unfold in Facebook postings, as she agonized at so many people begging for help, she grabbed a notebook and started jotting down names and addresses.
She quickly accumulated the names of dozens of flood victims from nearby neighborhoods and started seeking people with boats and sharing information. Messages starting pouring in. Each time she glanced at her phone, it seemed, someone else had tagged her with information about someone in trouble.
Within hours, she was working her own dispatch operation from her living room with an iPhone, a laptop, her notebook and her Facebook page. She worked frantically to connect a growing list of boat owners who wanted to help with families who desperately needed it. Her ad hoc rescue organization morphed over the next couple of days, involving friends near and far and people she didn't know and probably would never meet.
"I started to get into my own virtual world," she recalled.
Hers was a single rescue group in a sprawling city full of similar operations seeking to help those in need. Many of these informal groups started on neighborhood Facebook groups and message boards, others on Twitter. Some used the Austin-based app Zello, designed to work where cell phone signals are weak and useful in conflict zones around the world. During Harvey, as many as 7,000 people per minute were downloading the app, according to the company. It was a sign of the massive mobilization effort that was growing by the minute across southeast Texas.
Other sites, like houstonsheltermap.com, started as spreadsheets before launching as interactive maps offering people real-time information about the city's shelters, such as whether pets were accepted and what types of donations were needed. Some assisted in getting food to shelters as well.
"People just like me and my tiny little organization were forming everywhere," Henry said.
The rain continued and the online pleas for help kept coming. "Everything was dire, dire, dire for the first three days," she said.
There was the man with 10 teenagers. The elderly couple, one with a broken hip. A friend with a two-week-old baby who needed to be evacuated. People were stuck in homes, on roofs, in apartments.
Henry worked endless hours and hated to go to sleep for even a little while. "Wondering how many people I didn't save while trying to sleep," she wrote on her page. "Back at it. Please pray for clarity, organization, efficiency."
"I HAVE BOATS," Henry posted at 10:19pm Sunday. "I need people to private message me CURRENT people in need, SPECIFICALLY in Braeswood/Meyerland!!"
With water inexorably rising throughout the region in the early morning hours, the stream of desperate messages kept coming.
"Two elderly people trapped in a one-story on their kitchen counters since noon," one woman wrote, providing an address. "They are in desperate need of help."
"Seven people trapped in second floor," another posted. "They have been tapped for over 9 hours and running low on phone battery power."
As people continued to message and tag Henry on Facebook seeking help, two friends helped her transfer the names of boaters and victims to an Excel spreadsheet. At this point, she recalled, her name had spread online and she was receiving messages from people in nearby towns. Boaters arriving from as far away as Oklahoma, Arkansas and Florida found their way to her on Facebook. Where should we go? they wanted to know. Who can we help?
On Monday, three friends calling themselves "Houston Harvey Rescue" launched a dispatch website that rescuers and volunteers began using immediately. "We created houstonharveyrescue.com in under 3 hours, in a leaky office, with intermittent power … and had absolutely no idea it would lead to over 7,600 active rescues in thanks to over 8,000 brave rescuers, dispatchers and volunteers," the site says.
"I just felt so helpless," one of the site's founders, Matt Marchetti, told CBS affiliate KHOU.
An open-source model, the website allowed users to add a flood victim's name to a Google map if they needed rescuing. The location of the rescue was designated by a pin on the map, which changed color according to the urgency of the rescue. After the victim was rescued, the pin was removed, giving rescuers across the city a real-time view of needs around Houston.
"It was organized chaos," said Secunda Joseph, a Houston activist who joined strangers to compile spreadsheets with the names of flood victims in northeast Houston. Many of those on the list, she said, were older people who didn't have access to smartphones and were unable to reach rescuers while they were marooned on their roof or standing in waist-deep water. Without their younger relatives organizing to find them help online, they may have died, Joseph said.
***
Tales of bravery, heroism and kindness — of Houstonians trying to help any way they could — continued. They risked danger to themselves, not only drowning or electrocution but also potentially fatal illnesses. Sewers had backed up and those who stood in water tearing out drywall or ripping out soggy carpet risked infection. One woman died of flesh-eating bacteria (flood-related necrotizing fasciitis) that invaded her body through a small cut on her leg while she waded through fetid waters.
Jeremiah Richard and his six-year-old son climbed through a window of their apartment complex, clambered into a helicopter's dangling basket, and were ferried to safety. "We thank God. We thank God," Richard told a KTRK-TV reporter, as he and Jeremiah Jr. were set down on a deserted Houston freeway. They walked away with only backpacks stuffed with belongings. "This is all we got," Richard said.
With a riverboat captain's aplomb, 15-year-old Declan Connor, shirtless and wearing a brown baseball cap, piloted his family's fishing boat through the streets of his Meyerland neighborhood with his brother and a friend. They peered into the murky waters as they puttered through the neighborhood, on the lookout for submerged cars and downed trees. The teenagers rescued dozens of people.
One of Constable Rosen's deputies saw a man wading down the middle of a flooded street suddenly disappear. He had stepped into an open manhole. The deputy went in after him and managed to lift him out of the rushing underground stream before both were washed away.
Using tree branches, umbrellas and even tennis rackets, a group of people worked off and on for several days to rescue Mexican free-tailed bats after rising waters inundated their roost under a bridge over Buffalo Bayou. Some 250,000 live under the bridge, one of the largest urban colonies in Texas. Their mass ascensions at dusk have gained popularity over the years among residents who gather on the bridge or sit on the grassy slopes.
Alicia Plunkett, 21, was walking across the bridge on Saturday when she saw some of the furry little creatures floating by in the rising brown waters. She plucked one out of the fast-moving waters, then another and another. Others helped over the next few days.
"You could hear them in there," Plunkett told the Houston Chronicle. To her, their usual tweeting sounded like screams. "They couldn't get out."
Once roads were passable, Houstonians whose homes were unaffected by the flood took to driving through neighborhoods, along streets that had become canyons lined 10-feet-high with water-soaked and ruined belongings. Day after day, strangers stopped to help when they encountered residents hauling what had been their possessions out to the curb. The odor of backed-up sewage, mildew, mold and damp debris didn't deter them.
***
At the Downtown George R. Brown Convention Center, evacuees were streaming in, some 10,000 eventually. Many were large families carrying backpacks and rolling suitcases. Many arrived barefoot, bringing nothing but the clothes on their backs.
Christella Gomez told the Texas Tribune she packed up and left her Downtown area home with her two children at the insistence of a neighbor. Floodwaters from nearby Buffalo Bayou had overwhelmed her housing complex.
Across town, Virginia Hammond made her way to the GRB as floodwaters began to enter her northwest Houston home. She told the Tribune it had flooded three times in the past nine years. During another historic flood in the city last year, she found herself trapped inside with her two granddaughters as her home filled with nearly three feet of water.
"I kinda felt like it was gonna happen, so we left," she said in an interview Sunday afternoon. "The streets were flooding and the bayou was up to the top."
Longtime Houstonians Anne Whitlock and Michael Skelly were among hundreds of volunteers trying to help their fellow Houstonians at shelters. At the GRB, they met two families of Mexican immigrants (undocumented) who had fled their apartment because of rising water. The couple invited the evacuees, including two young girls, home with them — they live in a restored firehouse — and on social media encouraged their fellow Houstonians to do the same. A number did just that.
Ryan Slattery, a 34-year-old designer, hangs out with a group of about 20 pals, young men and women who primarily work in politics and public policy and spend a lot of their off-hours together. A day before the storm struck Texas, they got a group text from one of their number who worked on Mayor Sylvester Turner's staff. He wanted to know if they'd be ready to assist at the GRB if a shelter was activated there. The answer was a unanimous yes.
Slattery took on the task of setting up a shower area, one that could offer flood victims a modicum of normality in their traumatized lives.
"It was really an impressive undertaking done by a bunch of political hacks who didn't really understand the gravity of what they had to do," he said. "We were just there to lend a hand. … It was a great group of people working together during one of the most extreme situations anyone can imagine."
One of his unofficial chores was to keep National Guards he was working alongside supplied with "coffee and Copenhagen." The first day he worked with them, he called in ahead, asking what they might need.
"I had to stop at two corner stores just to get all of the energy drinks they wanted," he recalled, laughing. He found that with coffee and chewing tobacco, you can get just about anything done. "They did an incredible job," he said.
Slattery's motto was "Be polite, get sh*t done." He often started at six in the morning and was still working 15 hours later. He was helping his neighbors, fellow Houstonians who "had a good run of bad luck." They just wanted to go home, although Slattery remembers one of them, a young woman, who was able to go home after a couple of days and was back a few days later. Helping.
"I think Houston is more of a melded city than most," Slattery said. "There are longtime Houstonians and new residents who bring the best of where they came from."
Like Slattery's National Guard partners, rescue workers and other emergency personnel were running on adrenaline, caffeine, junk food and little sleep — some of them working to help others even as their own homes were flooded.
Cesar Temores, a native Houstonian, was ensconced in Harris County's Emergency Operations Center, trying to help frantic callers and tend to other duties when he got word that his Spring neighborhood north of Houston was taking on water. His wife, Dolores, and daughters, Isabella, 8, and Mia, 2, were safe at her mother's house, but Rascal, the family dog, had been left behind in the backyard. Their home had never flooded in the 13 years they had lived there.
Temores couldn't abandon his duties; he really didn't want to. He wanted to help — and was one of the few emergency personnel who was bilingual. He could hear the terror in the voices of callers, their tears. "Get to the roof," he had to tell a number of them, warning them not to go into an attic where they could be trapped. He did his best to assure them that help was on the way, but he knew he couldn't guarantee it.
He was on a break Sunday afternoon when his neighbors called again with the awful news that his home had flooded. "It hit me hard. You realize everything you have is gone," he recalled.
But Temores soon went back to work and remained at his post until Wednesday. He told only one colleague what had happened. They both cried.
"I took a second to reflect, then I got back to helping people worse off than me," he said. "I heard so many sad stories, tears, babies crying. Sunday was a very long day."
Temores left the command center Wednesday morning after his boss, Judge Ed Emmett, urged him to go home and be with his family. He returned to devastation — some 70 percent of the 240 homes in the neighborhood had flooded. Some, including his, took on three feet of water, while others had as much as six feet, almost to the ceiling.
As he stared at the devastation all around him, he heard a noise — a bark in the distance. "I thought, 'Oh God!'" Two houses down, atop a pile of debris inside a garage was Rascal, skinny and bedraggled after days of no food, but alive.
"I was so happy. It made things so much better," he said. "I was real emotional. It gave me hope."
Photo by Matt Diehl
Art+Culture