Jungle Fever
Say 'pura vida' to Nayara Springs, a wildlife-rich luxury resort in the heart of the Costa Rican rain forest.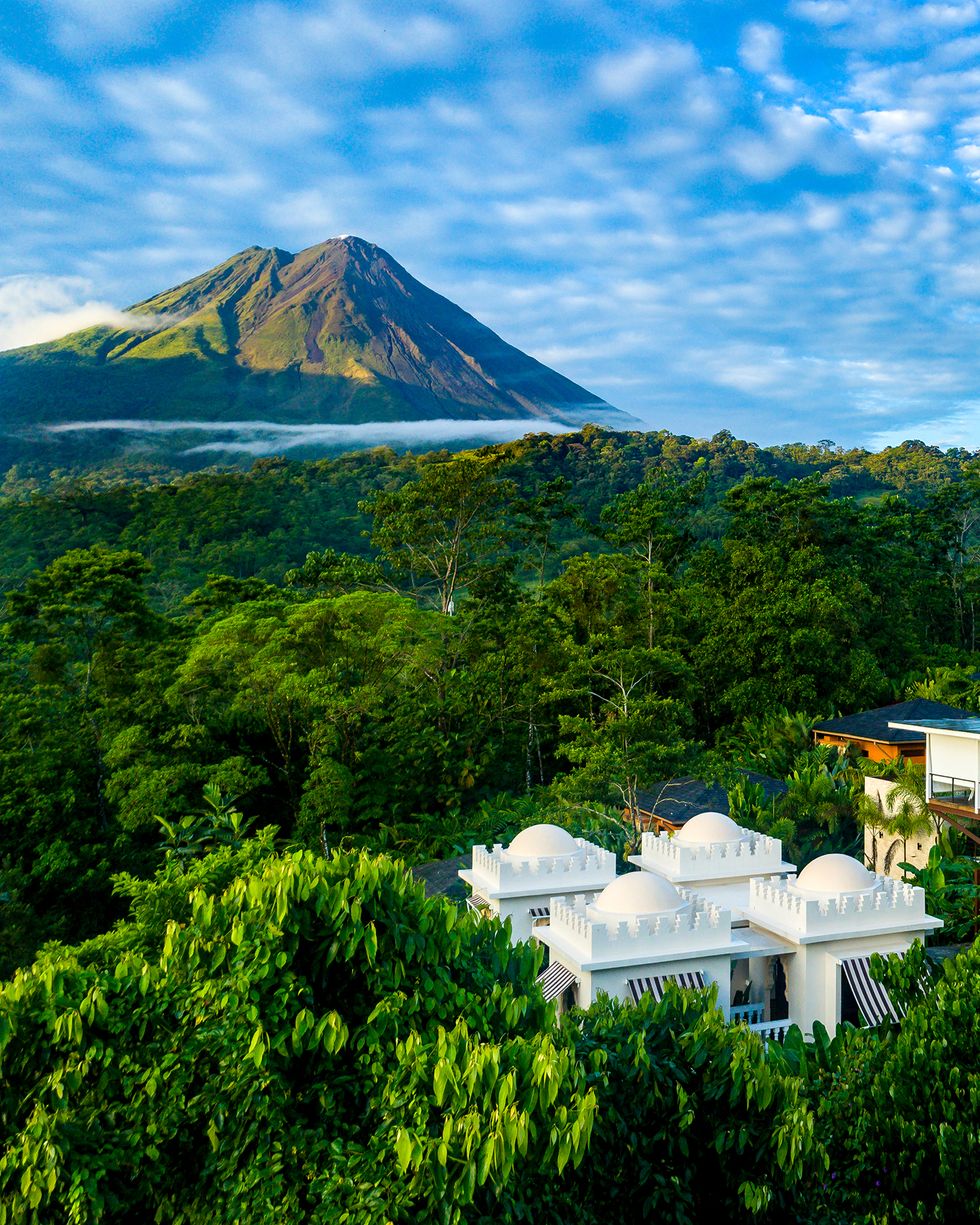 Those remotely familiar with Costa Rica are aware of the country's catchphrase, pura vida. It translates literally to "pure life," which is a nice thought, especially for busy-bee American tourists. But to those who inhabit the tropical land, it's more than a fleeting thought; it's a greeting, an attitude and a lifestyle. 
---
So while opining on pura vida is not an unheard-of way to begin a story about a visit to Costa Rica, it's truly the most appropriate — especially given how the folks at Nayara Springs, a top-tier resort in the heart of the Arenal Volcano National Park, apply the principles to every aspect of its amenities and services. 
Nayara Springs is accessible via direct Southwest flights from Houston to San Jose or Liberia, followed by an hours-long shuttle, which can be booked through the resort. Wind through green countryside, up and down hilly terrain, and finally deep into the lush and layered rain forest, where quiet and private — or, thanks to the hummingbirds and iguanas and frogs, not-so-quiet-or-private — accommodations await.
The property — which opened in 2013, doubled in size in 2017, and was ranked the number-one hotel in Central America by Travel + Leisure in 2018 — is filled with individual villas, each of which has a private hot-spring-fed infinity pool, a bathroom the size of the bedroom, and a shower the size of your car. Expect to get your steps in; a walk to breakfast in the al fresco Mis Amores restaurant, then to morning yoga also in an open-air pavilion, then to either of the pools and back to the villa somehow all seems uphill. (Pro tip: Keep your resort map with you at all times.)
The workout doesn't stop there. Befriend one of the five full-time tour guides employed by Nayara, and choose your own adventure: Explore the pristine and remote Caño Negro Wildlife Refuge, descend (then ascend) the 480 steps to the La Fortuna waterfall, or zipline high above the treetops. 
While venturing out into the Costa Rican wilderness is a must, so is spending ample time on property at Nayara. Guides can assist in daytime bird-watching and nighttime frog-watching. And Nayara's Armadillo Sanctuary is home to very few armadillos but a ton of beautiful and unique fruit trees — glimpse starfruit and pink bananas and cacao, and, if you're lucky, an ocelot or a jaguar.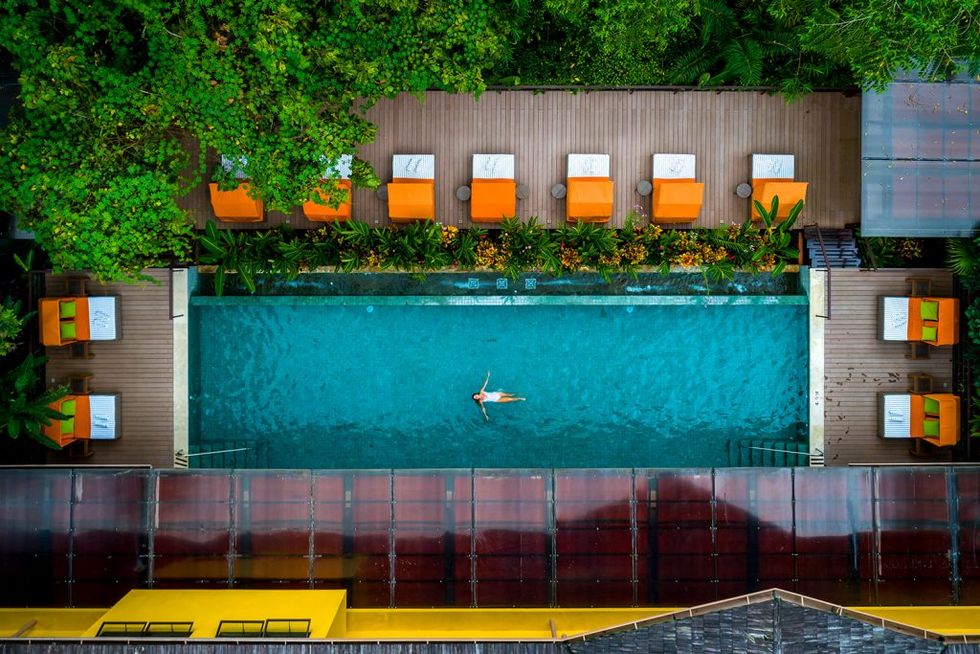 The tranquil 'quiet' pool at Nayara Springs; a second, presumably rowdier, pool is steps away.
There's also an onsite sloth sanctuary, which opened in 2017 and has gained immense popularity via social media. Congenial guide Juan Pablo whips out his binoculars and telescope and locates one of its 15-plus inhabitants in approximately two seconds. He doesn't seem bored by the redundancy of his job — he estimated during a tour of the famous Hanging Bridges national park that he'd walked that same route more than 1,000 times — or annoyed by the barrage of questions from guests. He lives pura vida, seeming genuinely thrilled to share his country with visitors, cracking jokes in perfect English. "Sloths," he says with a smile, "move so slow that by the time they find a girl, she has a headache already." 
As Costa Rica approaches its "rainy season," which runs May through November, natives gently remind visitors-to-be that this can be a misnomer. While it generally rains in the evenings, the mornings are beautiful and clear; a four-day trip in October indeed included just a couple hours of daytime rain. 
There's a coffee bar (don't skip a guided coffee-tasting session) and an impressively stocked wine bar to pass the time. But the best way to spend a rainy afternoon? Three words: at the spa. "Pura vida is all about relaxation," one staffer explains as she escorts a guest to her individual open-air treatment pavilion, "and the spa is the place to be for a truly relaxing Costa Rica experience." The volcanic mud massage is a must. It begins with a foot soak and a whiff of peppermint oil which, in combination with the patter of rain and the sounds of birds and frogs, induces a whole new level of relaxation. Inhale the deepest breath you've taken in what feels like years as a lightweight, restorative mud — not the least bit gritty — is slathered all over your body. Post-treatment, the therapist leads you like a zombie into the outdoor rain shower to rinse off.  
This next-level tranquility is part of the reason Nayara Springs recently launched a three- or five-day wellness-retreat program, which includes a curated and customizable itinerary filled with meditation, yoga, healthy mixology classes and daily spa treatments. The program is also offered at the next-door sister resort, Nayara Gardens, a family-friendly and equally lovely property currently undergoing major renovations. (The new Nayara Tented Camp concept is underway, too, expected to open by Christmas. Its target audience is families with kiddos who will learn the importance of preserving nature, all while glamping in safari-style luxury tents boasting million-dollar views of the Arenal Volcano and the neighboring town, La Fortuna.)
Fresh, colorful food is also an important part of the experience at Nayara Springs, which sends a truck two-and-a-half hours to the coast three times a week for fresh seafood, served at all six of its onsite restaurants. 
"Our culinary history is not like that of Mexico," says the resort's manager. "But it's just fresh and simple. Our way of life, we learn very young to take care of nature — but also to take advantage of nature." Pura vida, indeed.
AT TOP: Nayara Springs is in the heart of the Arenal Volcano National Park.
Food+Travel