Enormous in Size and Importance, In-Demand Artist Kehinde Wiley's Magnanimous Tour Lands at MFAH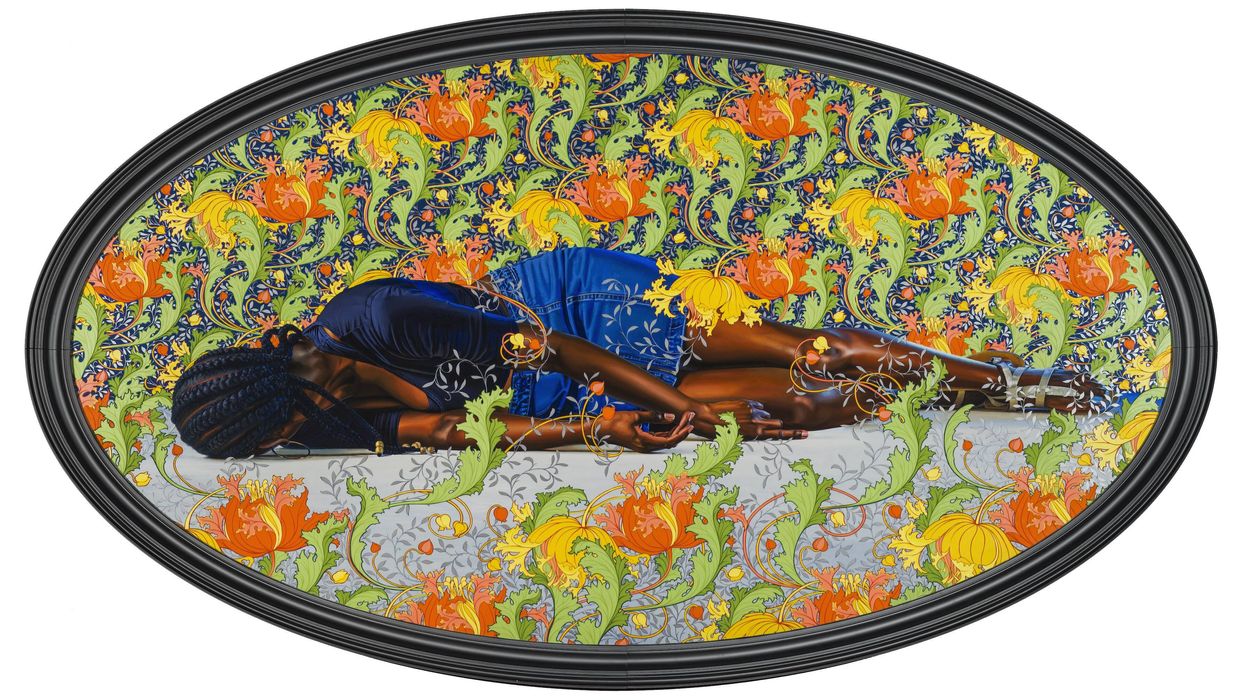 IT MIGHT SOUND like an exaggeration, but it's safe to say the Museum of Fine Arts, Houston has never hosted anything like Kehinde Wiley's An Archaeology of Silence. The sheer magnitude of the exhibit, on view now through May 27, 2024, in which every figure in every large-scale painting and bronze sculpture is young and Black, is a revelation.
---
Curated by the MFAH Associate Curator of Modern and Contemporary Art, Anita Bateman, and skillfully installed by the museum's team of preparators and lighting designers, An Archaeology of Silence gives Houstonians who lined up to see Wiley's portrait of President Barack Obama at the MFAH in 2022 the opportunity to experience a new, and very different, body of work. At the exhibit's media preview last Friday, MFAH director Gary Tinterow described the show as "one of the most moving exhibitions that I can recall in my last 11 years at the museum."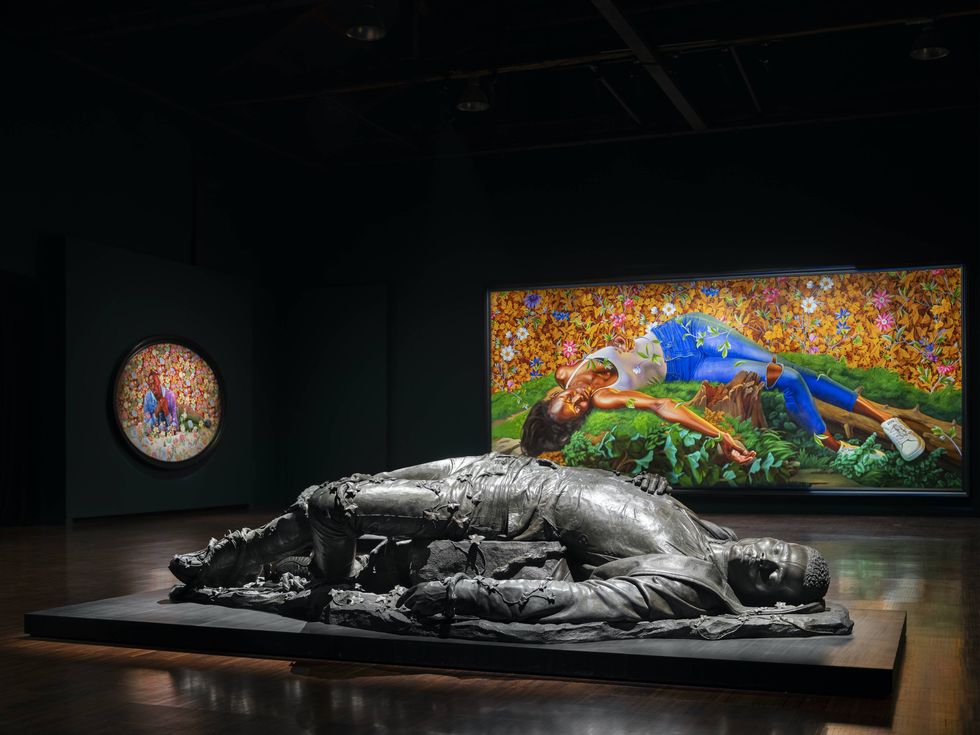 'The Young Tarentine (Mamadou Gueye),' after Aleandre Schoenewerk, 1871 (2021)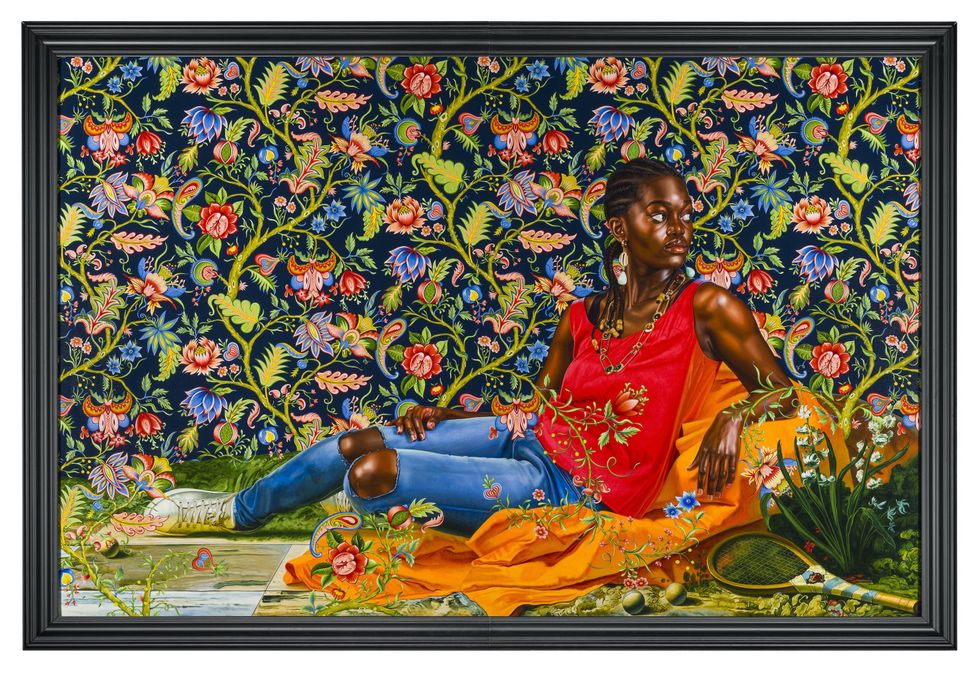 'The Death of Hyacinth (Ndey Buri Mboup),' 2022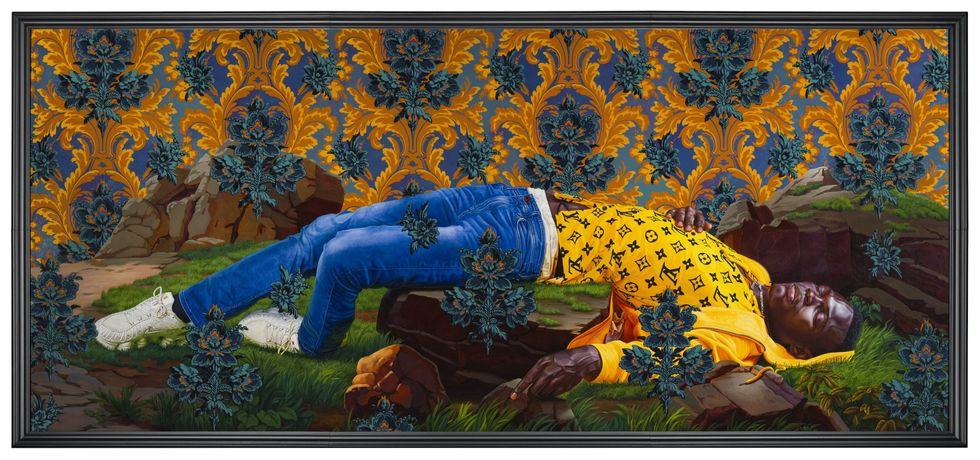 'Femme Piquée par un Serpent (Mamadou Gueye),' 2022
Conceived and created by Wiley at his Black Rock studio in Dakar, Senegal, during the coinciding months of the COVID-19 pandemic and the rise of the Black Lives Matter movement, the initial inspiration for An Archaeology of Silence and the MFAH's connection to Wiley dates back to the early aughts. While a curator at New York's Metropolitan Museum of Art, Tinterow convinced the museum to acquire Wiley's 2008 oil wash The Veiled Christ, which portrays a young African American male in repose as if in a tomb, his left hand over his heart, and draped head to toe in translucent cloth. Modeled after Giuseppe Sanmartino's 18th-century marble sculpture of the same name, the work is an especially good example of Wiley's trademark technique of switching out white figures from the Euro-Western canon for that of Black men and women — real folks he scouts on the street and recasts in some of the West's most treasured works of art. Wiley cites The Veiled Christ as the seed for this new series of paintings and sculptures of contemporized saints and martyrs, wearing hoodies and sneakers, clutching cell phones and crosses, their bodies contorted into expressions of grief, religious ecstasy, and finality and death.
In conversation with Wiley last Tuesday, Tinterow acknowledged An Archaeology of Silence had been installed and then "re-installed" with Wiley's guidance, to address the complexity of each object's placement, as well as sightlines and lighting. Unlike the typical "white cube" exhibition, this show is dark and dimly lit, like the inside of a chapel or a crypt. However, Wiley's opulent paintings — full of dense, intertwining foliage and design patterns suitable for wallpapering a palace — seem to radiate light throughout the galleries.
In contrast, Wiley's gray and black patinaed bronze sculptures pull you in not with light but with shadows, and reveal surprising, even incongruous details only upon close inspection.
At the center of the exhibit is a 17-and-half-foot-tall sculpture of a magisterial, muscular horse and its rider, a shirtless Black man in jeans and high-tops, hanging over the saddle like a rag doll. The initials "K.W." are engraved on a small heart on a necklace around the horse's neck, a peculiar but provocative detail, perhaps alluding to that hand over the heart in The Veiled Christ.
Wiley does have his detractors. A recent article on the Texas visual art website Glasstire described Wiley's paintings as "crisp, splendid billboards with no intimacy, no pleasure to be had up close." For some, it may be hard to critique Wiley's artistry without addressing the degree of fame and notoriety he enjoys and skillfully manipulates, not to mention several lucrative collaborations with luxury brands. (Attention holiday shoppers: You can purchase a Veiled Christ silk caftan from kehindewileyshop.com.) And to meet the high demand for product, product, product, Wiley collaborates with a team of assistants to create his paintings, providing detailed instructions for each stage of creation, and bringing his own hand to the work at the end of the process. The results can end up more illustrative than painterly, like mass-produced graphic design.
Not surprisingly, none of the above takes anything away from the impact of An Archaeology of Silence, which was first presented a year ago at the Venice Biennale, then Paris, and then the de Young Museum in San Francisco. Houston is the first stop in the exhibit's U.S. tour. At the de Young, more than 300,000 visitors came to see the exhibit in its first three months, and no doubt the MFAH will enjoy many first-time visitors as word spreads about Wiley's complex meditation on race, religiosity and silence — including the dangers of collective silence in the face of injustice, and the silence human beings need for respite, meditation and prayer.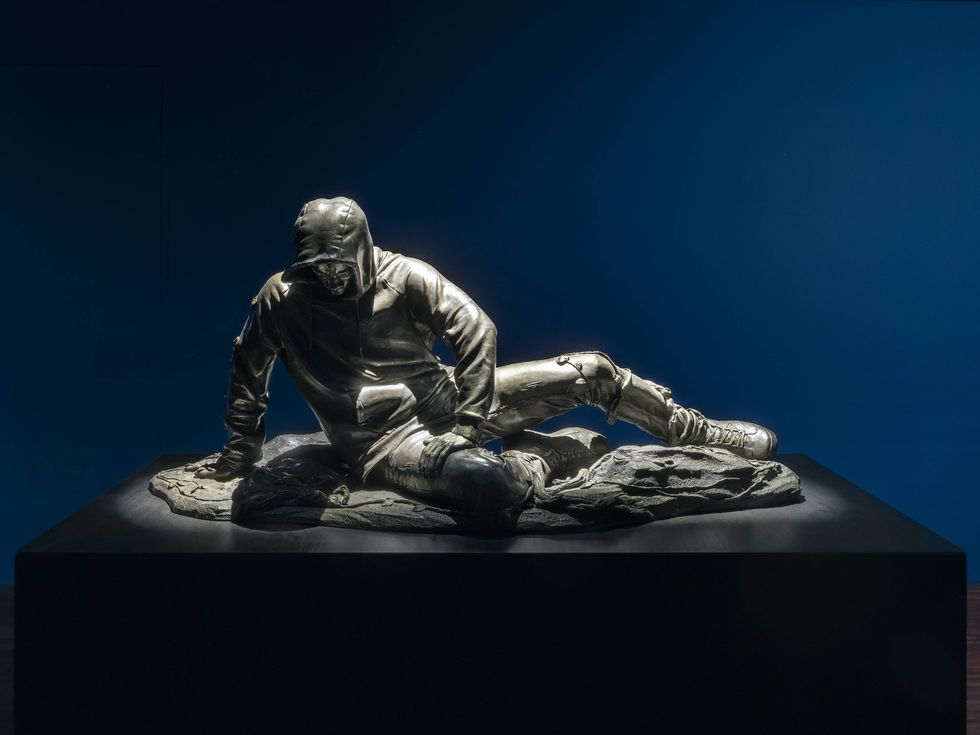 'Dying Gaul,' after a Roman Sculpture of the 1st Century, 2021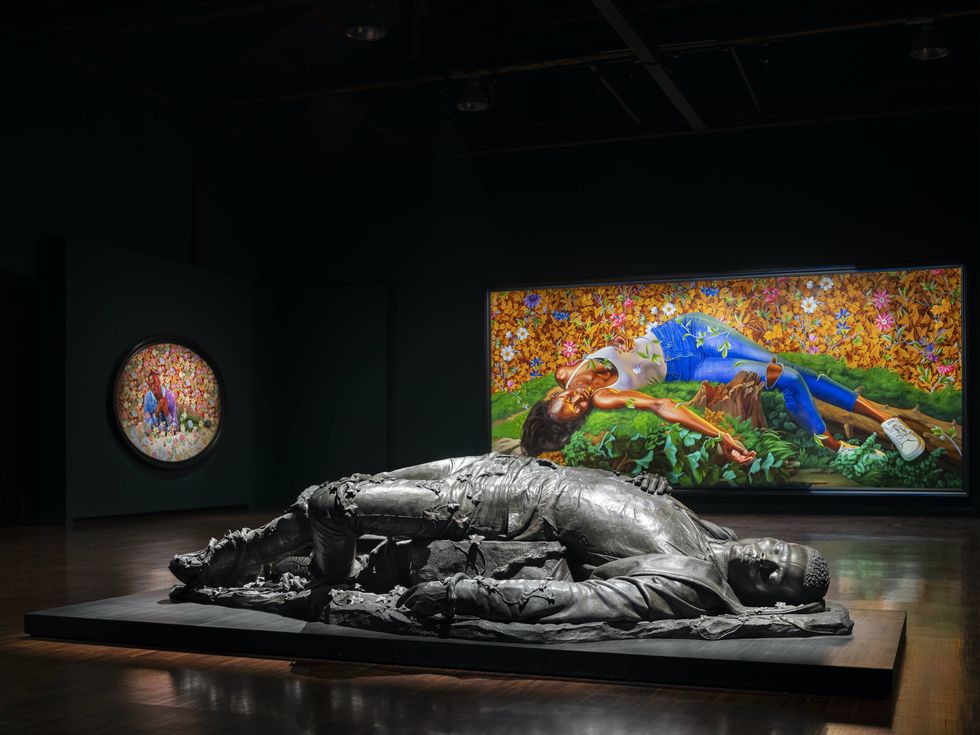 'The Young Tarentine (Mamadou Gueye),' after Aleandre Schoenewerk, 1871 (2021)
Art + Entertainment