Latest Dish
Houston's Best Food News, in Small Bites ...
Julie Soefer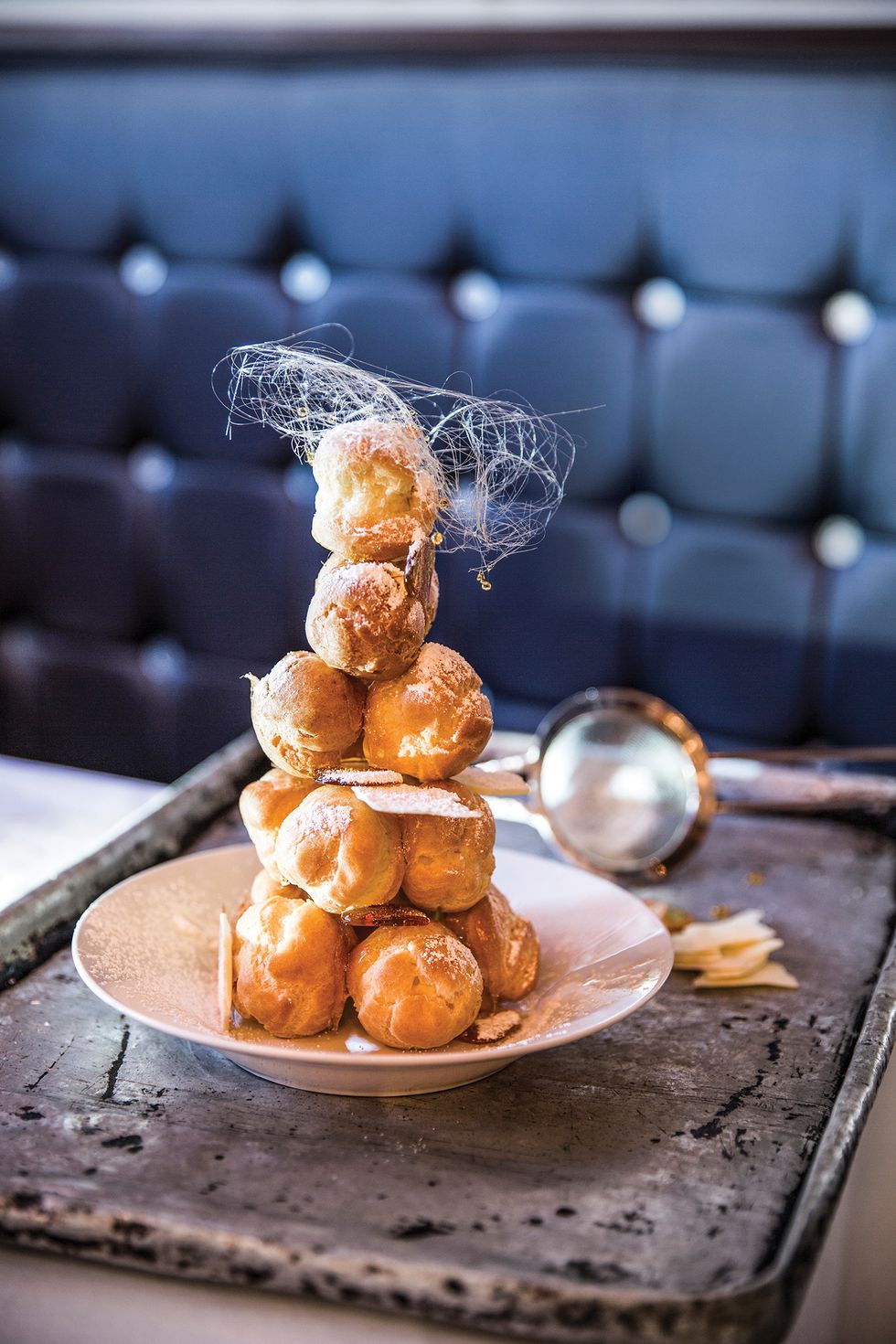 Following a brief hiatus to renovate and regroup after the closing of One Fifth Steak, Chris Shepherd officially opens One Fifth Romance Languages with a new menu, drawing inspiration from Spain, France and Italy. Courses include carbonara with house-made guanciale and duck heart Bolognese, and the croquembouche for dessert: a towering tree of cream puffs with orange anise cream. 1658 Westheimer Rd.
---
After a year's closure to make upgrades, Raven Tower has reopened at White Oak Music Hall offering visitors sweeping views of Downtown once again. On ground level, the La Macro food truck — a sporadic visitor to the Raven Tower parking lot serving up late-night tacos, tortas and burgers — has established a more consistent presence with a permanent home inside the patio fence from Tuesday-Saturday between 4pm and midnight.
Find festive fall flavors like sweet-potato-and-cinnamon and butternut-squash-and-amoretti-cookie on the menu this season at Heights gelato bar Dolce Neve. Made with organic, farm-fresh ingredients, the new flavors are best paired with handmade matcha or blue corn waffle cones. 4721 N. Main St.
Now open in Tanglewood: Healthy meets delicious at Merry Muffins Bakery, a one-stop shop for signature low-cal muffins in over 20 flavors including zucchini-chicken-sausage, black-bean-and-corn and orange-bran, alongside high-protein snacks like house-made peanut butter, granola and protein balls. 560 Chimney Rock Rd.
Award-winning restaurateur Ford Fry announced plans to open a third location of his lauded Atlanta-based Tex-Mex hotspot Superica in the Heights next year. Working with fellow native Texan chef Kevin Macey, the taco, fajita and enchilada haven will boast versions of each dish favored by the two, cooked over live, Texas mesquite. 1801 N. Shepherd Dr.
Weeks after launching Goode Company BBQ in The Woodlands, Goode Company Restaurants has doubled down with Goode Company Kitchen & Cantina (8865 Six Pines Dr.) next door. The bar, adorned with handcrafted Mexican pendant lights, boasts a menu of cocktails incorporating agave-based spirits and "Damn Goode Margaritas" while the no-nonsense Tex-Mex fare — including stuffed jalapeño rellenos and seafood campechana with signature classics like redfish served on the half-shell — is a nod to the Goode family's culinary heritage and traditional Texas lifestyle. Another location bows in the former Mason Jar location on I-10 later this year.
Acclaimed Houston chef Bryan Caswell (Reef, Jackson Street BBQ) has opened Oxbow 7 on the lobby level of Downtown's new Le Meridien hotel. With a menu described as "elevated bayou cuisine," the highly anticipated concept aims to raise the bar for hotel dining in the city. A team of leading industry experts have worked alongside Caswell to bring the restaurant — along with Hoggbirds, its rooftop bar counterpart — to fruition, including chef de cuisine Michael Hoffman (previously with Café Annie), sous chef Sarah Schnitzer (former Pax Americana pastry chef) and bar manager Judith Piotrowski. 1121 Walker St.
Coming this fall: The owners of Bosscat Kitchen & Libations have announced they will open BCK: Kitchen & Cocktail Adventures in the space formerly housed by Glass Wall. The Heights spot will feature nostalgic American fare inspired by "out of the box" dishes that the Bosscat owners would eat as children of the '80s and '90s. 933 Studewood St. 
Uncategorized