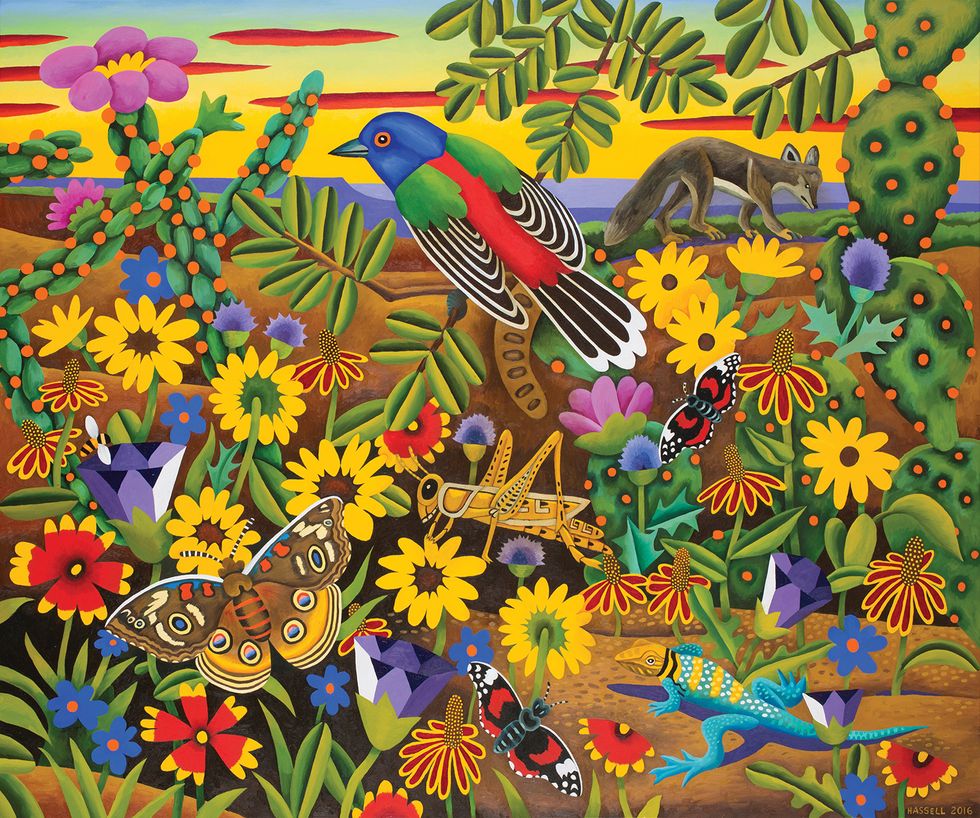 AS THE MERCURY RISES and the art scene slows down for the summer months, William Reaves Sarah Foltz Fine Art hangs its 11th end-of-season show, Texas Aesthetic, which this year includes works by more than 20 artists from across the state.
---
Colorful interpretations of Texas' natural beauty include paintings of the red-tipped peaks of the Chisos Mountains, a graphically punchy mockingbird spreading its wings among plump peaches, and a herd of white goats dotting a terracotta-colored landscape.
Houston's Robert McCoy infuses his oil paintings with the motifs and colors of his childhood, spent on ranches in Colorado and in Santa Fe. "Open Range," one mixed-media piece by McCoy, the former dean of faculty at the Glassell School, includes an old, sepia-toned photo of four cowboys mounted on horses in the background, and a more colorful depiction of a wooden table, covered in memorabilia like Southwestern textiles and a rifle, in the foreground.
With this annual show, the Upper Kirby-area art gallery — which typically highlights 20th-century Texan artists — further opens viewers' eyes to the great tradition of painting in the Lone Star State. 2143 Westheimer Rd., 713.521.7500, reavesart.com
Above: Billy Hassell's "In the Caprock Country" is one of several pieces on display in the 'Texas Aesthetic' show at William Reaves Sarah Foltz Fine Art.
Uncategorized