Made in Houston
Inventors. Artisans. Creators. Craftsmen. Whatever you call them, they're alive and well — and making some pretty great stuff. Here, our annual portfolio of the coolest and most curious creations in Houston now.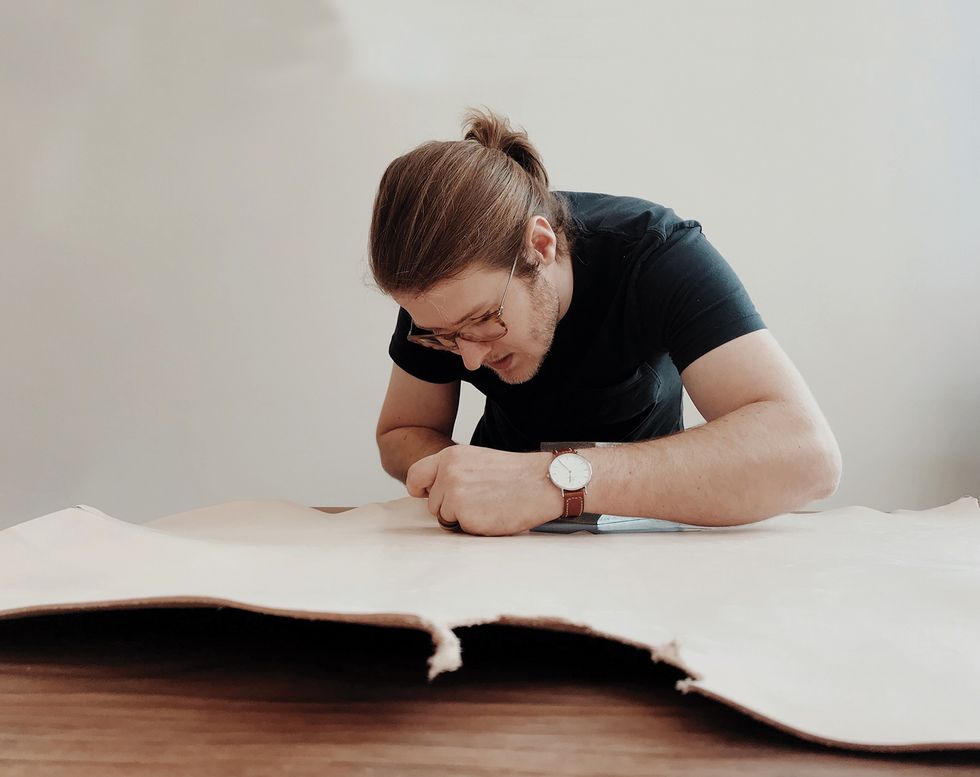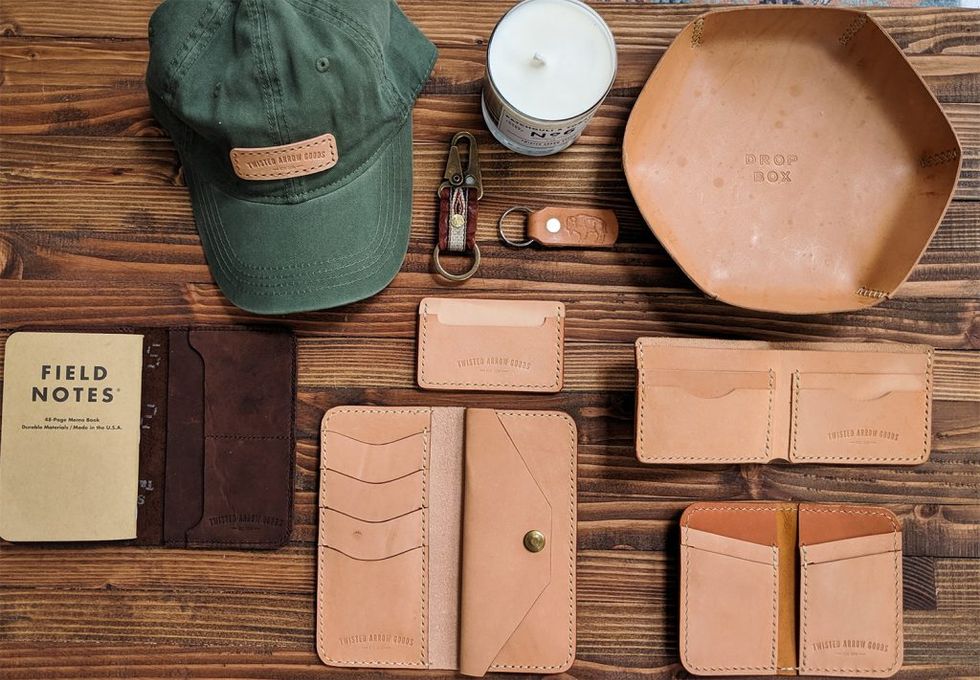 ---
Hip-Handmade Accessories
Clayton Harkey and Shane Spangler — founders of Twisted Arrow Goods, which recently popped up inside the new Forth and Nomad space in the Heights — handmake simple, useful items like coasters, wallets, belts, bowls and soaps that promote a lifestyle of "everyday adventure."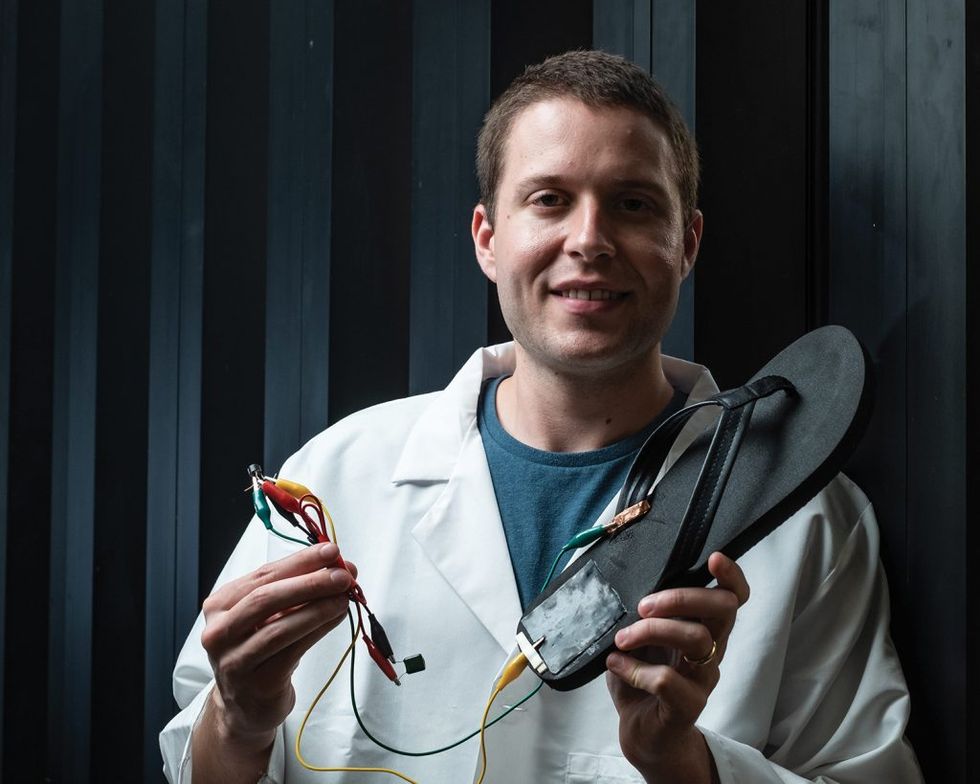 Nanogenerator Flip-Flops
The ability to harvest energy through movement is not a new concept — but chemists at Rice University have developed a new material that makes it easier and more practical. It's called laser-induced graphene, and when it's put into repeated contact with other surfaces — as in the recurring thump of a flip-flop against a heel — it produces static electricity that can be used to power devices. Michael Stanford, a researcher at Rice pictured here, successfully wired a device on a sandal to store energy on a capacitor.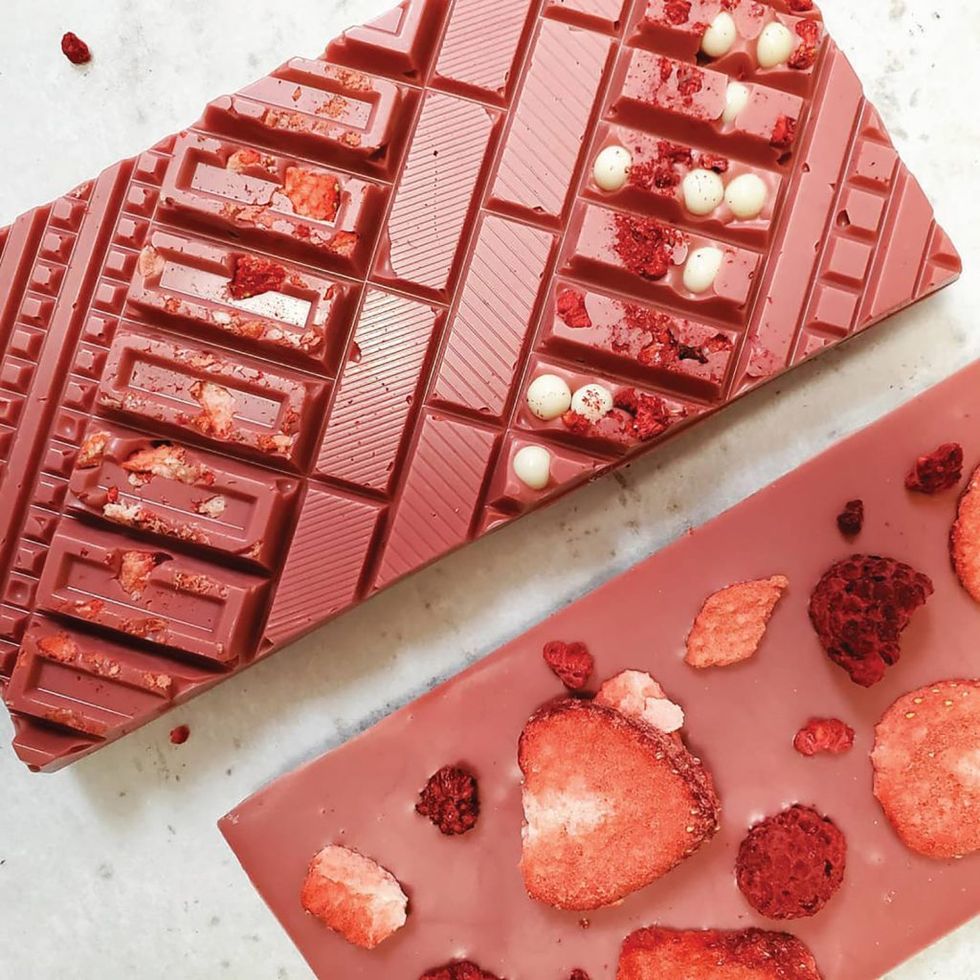 Ruby Chocolate
Milk, dark, white ... or ruby?! Invented by a Swiss chocolatier in 2017, ruby chocolate — made by under-fermenting the red cocoa beans harvested in parts of South America — did not receive FDA approval in the United States until this year. Cacao & Cardamom, owned by Annie Rupani and known for its gem-like, hand-painted bon-bons, is among the first chocolatiers in Houston to manufacture the product. A bar has freeze-dried berries and berries to complement the pink chocolate's natural acidity.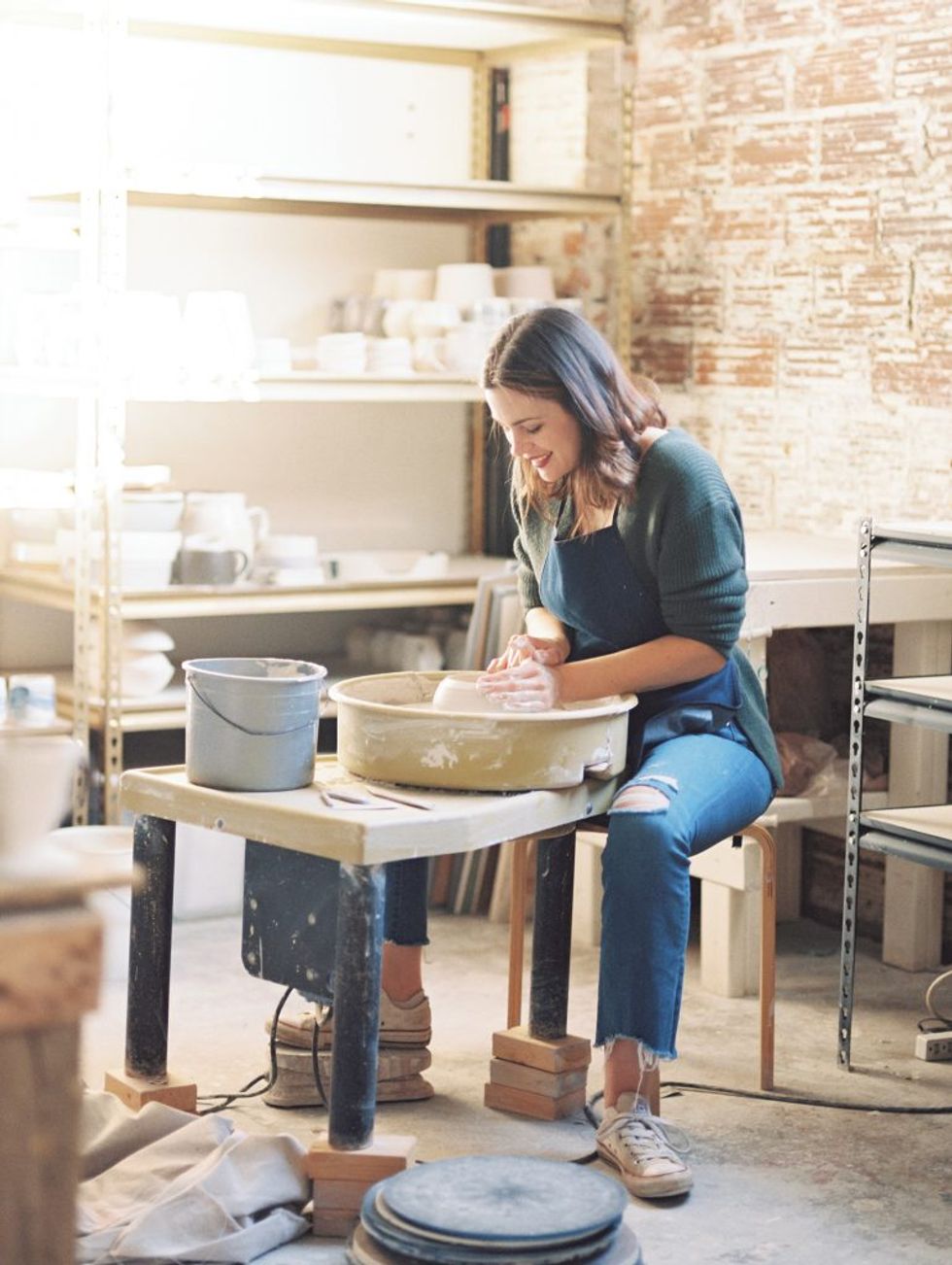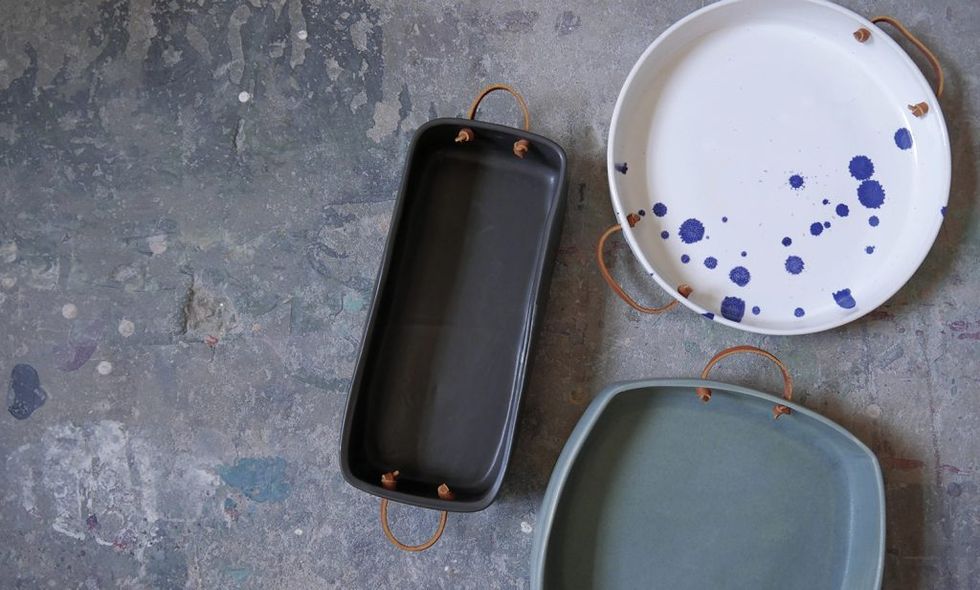 Everyday Clay
In 2012, Abbie Preston Edmonson, a newly minted art-school graduate, moved from her home state of Georgia to Houston to partner with the local chapter of The Art Project, a nonprofit that channels the power and process of art for healing and empowerment among the homeless. Her stint in Houston was supposed to last one year — but, inspired by how the city embraces creatives, Edmonson stayed, renting a space in the Hardy & Nance studios and working retail to make ends meet. 
Fast forward to 2019, and her Box Sparrow Studio ceramics collection is quite evidently a full-time endeavor: Hand-thrown tea cups, serving dishes, vases and vessels are simultaneously minimalist-chic and impossibly detail-oriented. Brush strokes of warm grays and golds sweep across smooth, pristinely formed pottery; a mid-century aesthetic is recurring, but a modern splatter of blue is not uncommon.
Edmonson also takes commissions for full custom dinnerware sets. She believes that, through her art form, she and her customers will be rewarded by an ability to resist society's demand for instant gratification.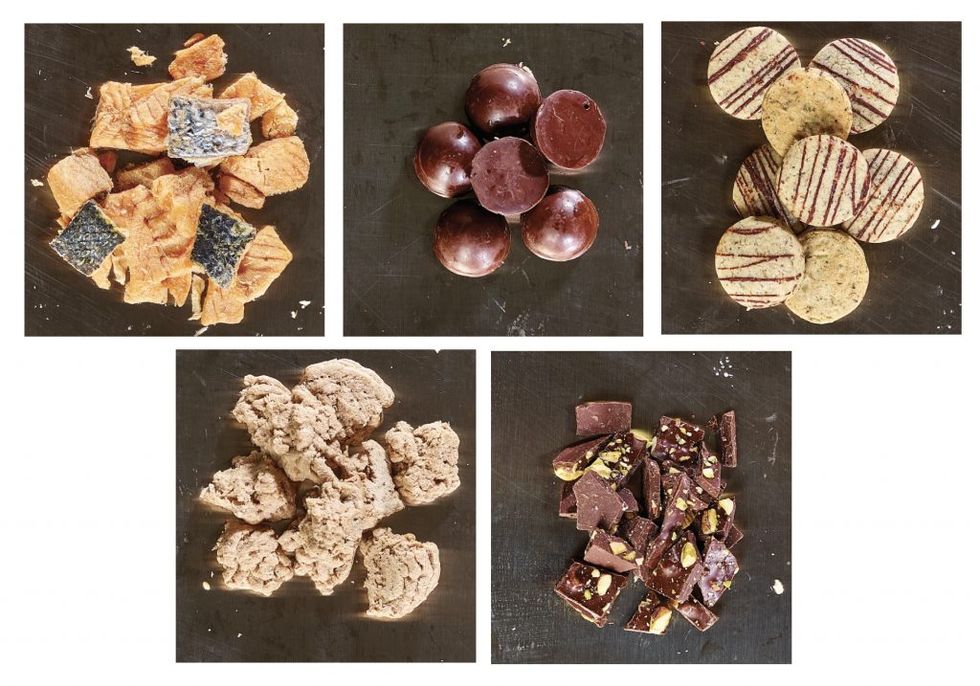 CBD Snacks (for Man & Beast)
It's everywhere — in coffee, cookies, dog treats and beyond. CBD is the non-psychoactive component derived from cannabis and hemp and, as Houstonians are discovering, it's pretty dang versatile.
Hip EaDo coffeeshop Tout Suite (2001 Commerce St.) currently puts the trendy ingredient — which is thought to help treat conditions like anxiety, insomnia and chronic pain — in juice and chocolate-chip cookies, and later this fall rolls out infused chocolate and brownies. Meanwhile, the new Smoking Pot coffee shop (8510 Long Point Rd.) serves CBD-laden coffee and pastries, and offers grounds for purchase.
And Stephanie Harris' Houston-based 4 Pet Sake company produces freeze-dried, preservative-free, CBD-infused dog treats.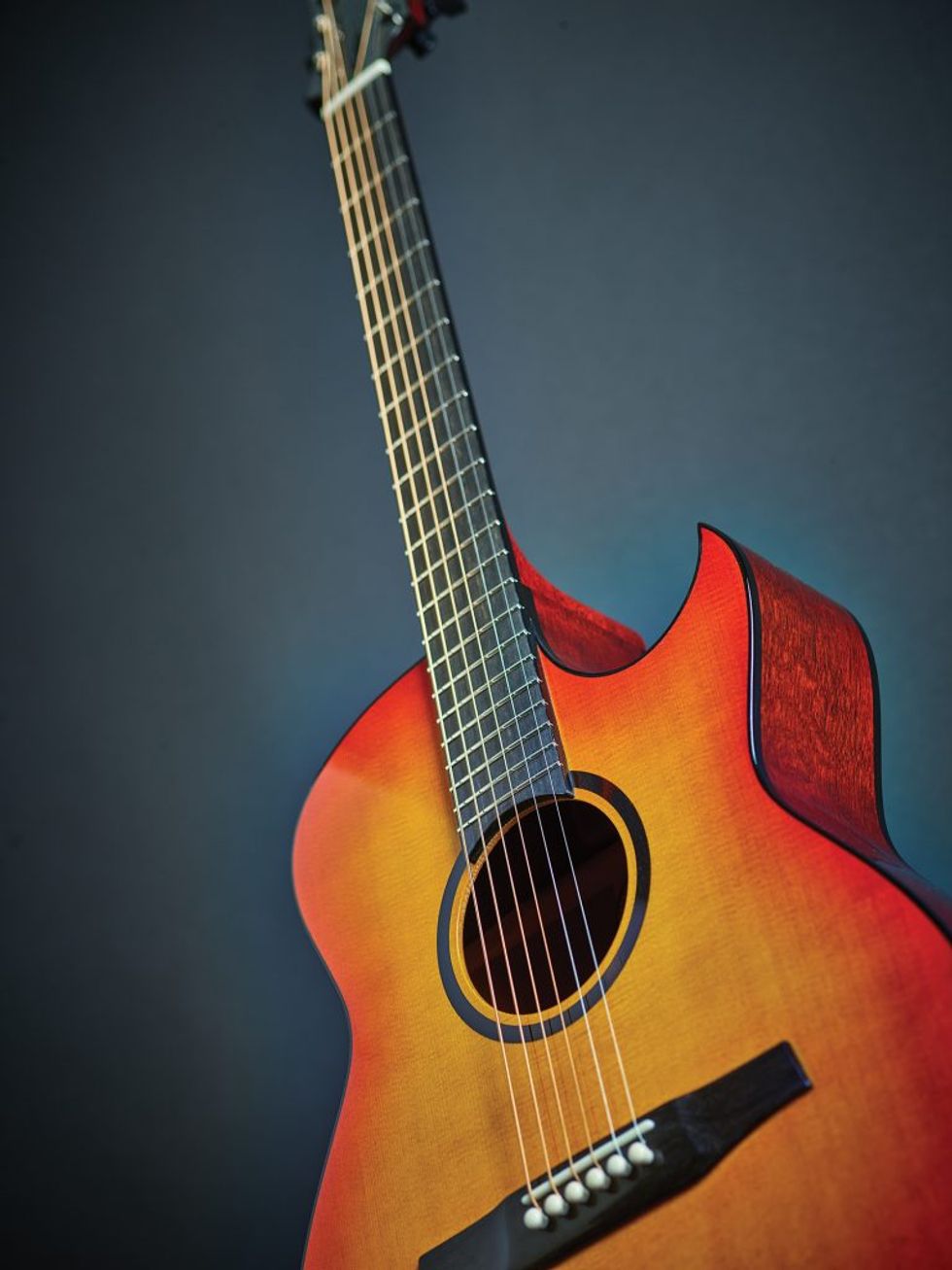 Deluxe Acoustic Guitar
In a studio space situated behind a nondescript Montrose bungalow, some of the most extolled instruments in the world are being painstakingly handmade. Stephen Marchione, whose last name has become synonymous with high-end guitars, and two apprentices spend an average of 300 hours crafting each instrument from solid wood. Marchione has made acoustic and electric guitars as well as violins for musicians including Paul Simon and Mark Knopfler; pieces, such as this orchestra model cutaway, sell for up to $40,000.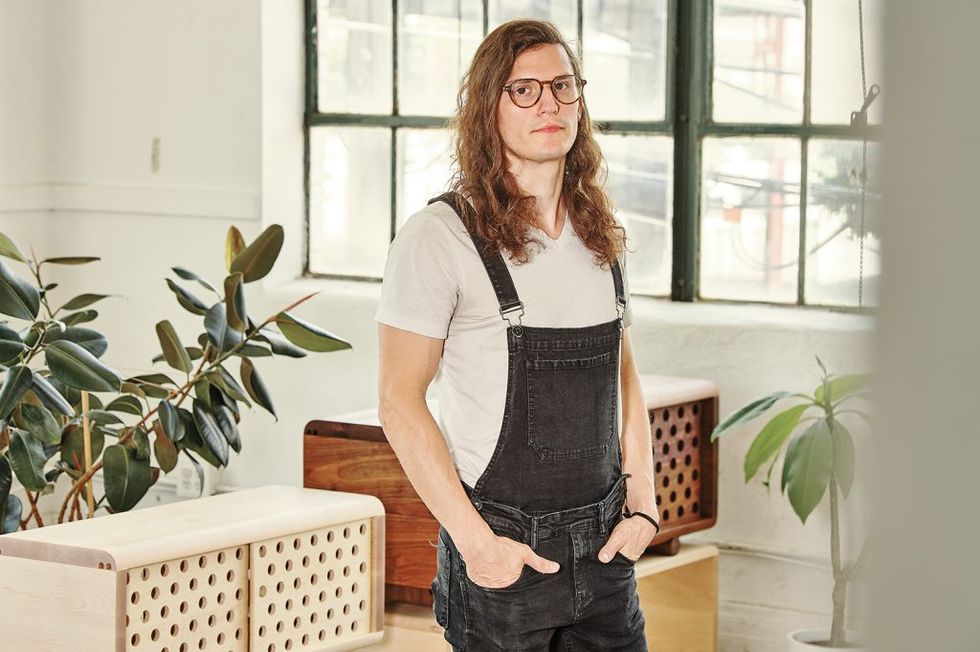 Functionalist Furniture
At one point, University of Houston biz grad Mikey Kendrick, 28, believed his career may go by way of oil and gas — not a surprising thought for a native Houstonian looking for an interesting, potentially lucrative job. But the woodworking hobbyist heeded a greater calling: to design and create furniture that is healthy and practical, for both his customers and for Mother Earth.  
Kendrick launched the one-man Year of None operation in 2015, based out of a studio space in EaDo's TXRX Labs.  His pieces — from media consoles and end tables to wall-size installations in commercial spaces — are made of domestically and sustainably sourced, chemical-free wood, finished with hypoallergenic oils and sealants. 
"I believe we borrow the planet from our succeeding generations," he says, "and we must own the ethical obligation to maintain and cultivate its flourishing for those to whom we'll ultimately turn it over to."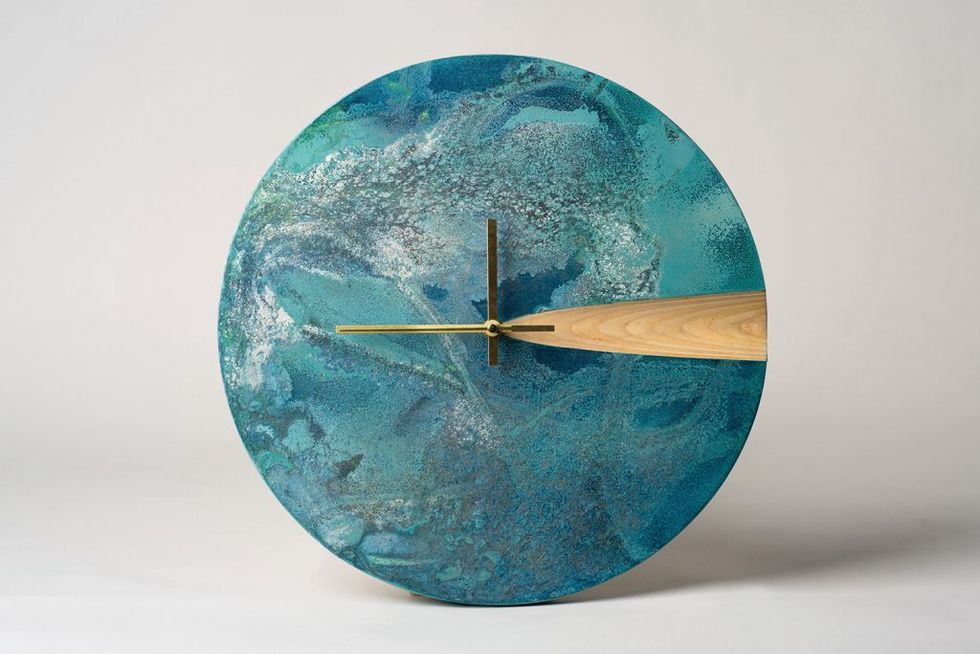 Hand-Painted Clock
These days, most use a smartphone or Apple Watch to tell time. But that doesn't stop Pretti.Cool — a collective founded in 2017 by seven artists, all self-proclaimed "'90s kids" — from making beautiful (if old-school) products, like hand-painted clocks ($125), for the home. The line also includes hand-crafted furniture, ceramics and jewelry, available online and at dozens of retailers around the world, including Forth & Nomad in Houston.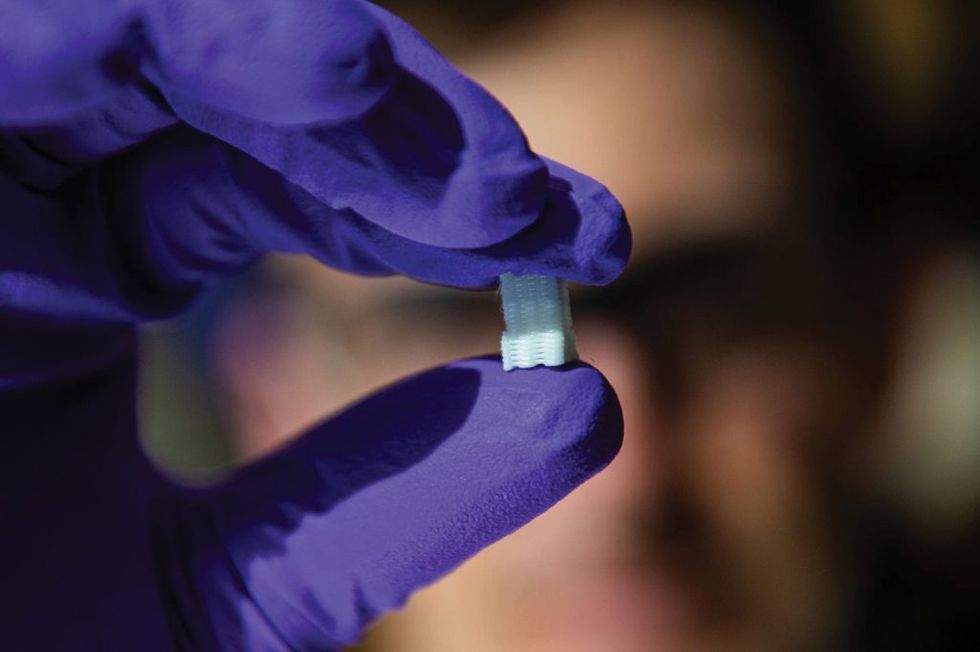 3-D Printed Human Tissue
The latest breakthrough in regenerative medicine took place earlier this year in a Rice lab. Scientists engineered 3D-printed scaffolds that mimic osteochondral tissue, which comprises the tips of long bones. Osteochondral injuries are common among athletes (at times, they're career-ending) and arthritis patients. This new manmade "tissue" would fully imbed, eventually connecting with existing cells and blood vessels.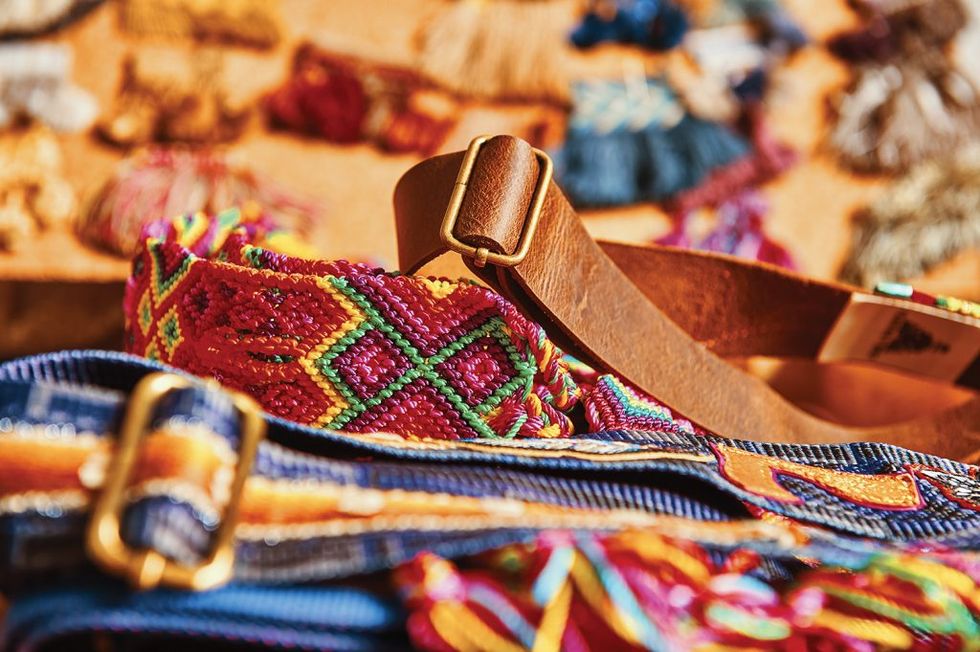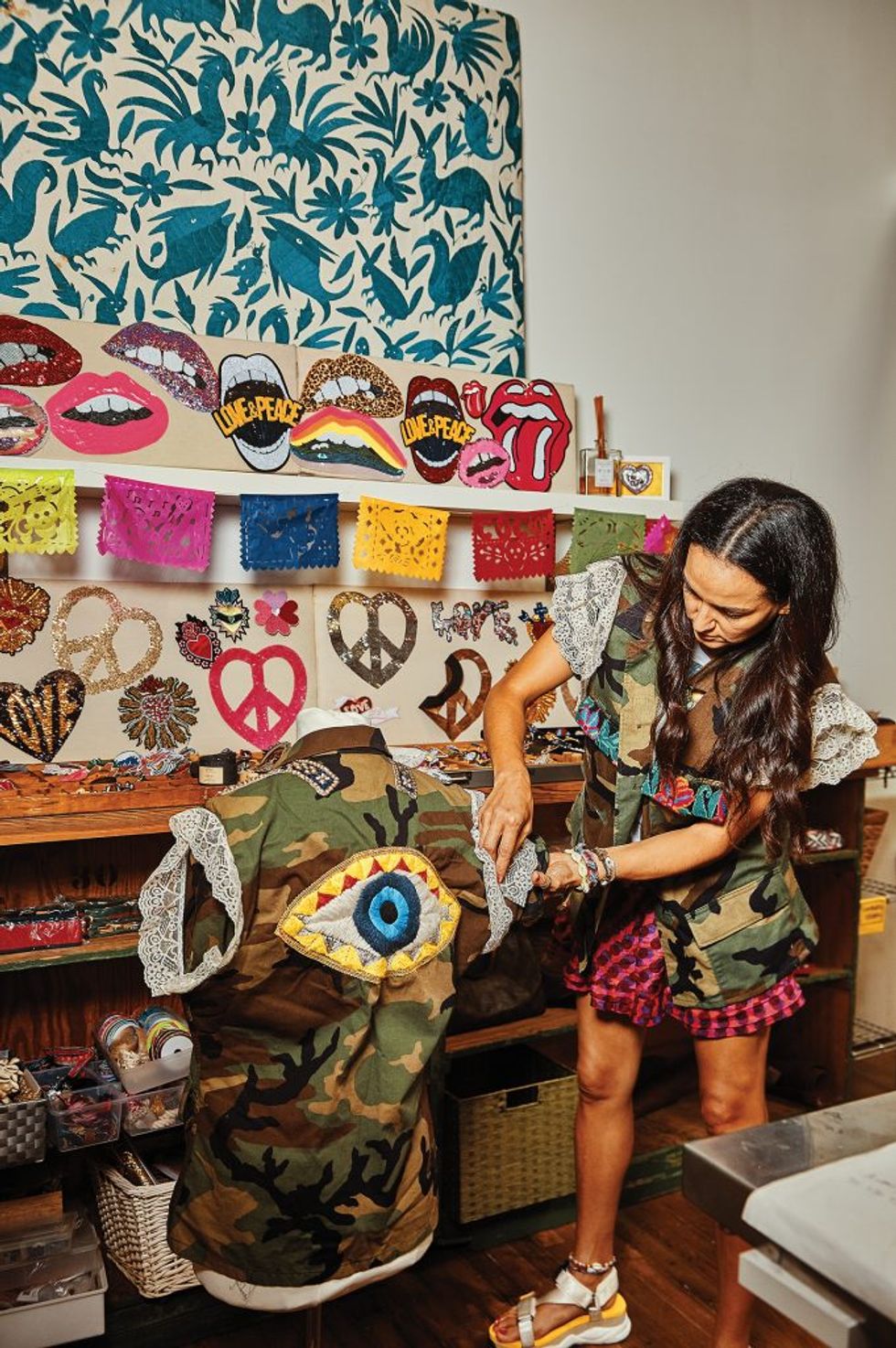 Embroidered Statement Pieces
Carla Valencia de Martinez, a former magazine editor and publisher, has always had a certain eye. And now, her detail-oriented embroidery frequently depicts just that: a colorful eye, perhaps with bold lashes or situated inside a Middle Eastern hamsa. 
Valencia and her father, Carlos, channel the spirit and skill of Carlos' parents, who once owned a denim factory in Guadalajara, Mexico, to create custom patches, jackets and more. Carlos operates the sewing machines while Carla hand-stitches certain items — sometimes even onsite at her pop-ups, which occur at boutiques like Paris Texas Apparel Co. and at private shopping parties. 
Among their most popular items: Guitar straps that are beaded, tassled, bejeweled, monogrammed, embroidered and then repurposed as crossbody straps, instantly giving vintage or otherwise tired bags a new life.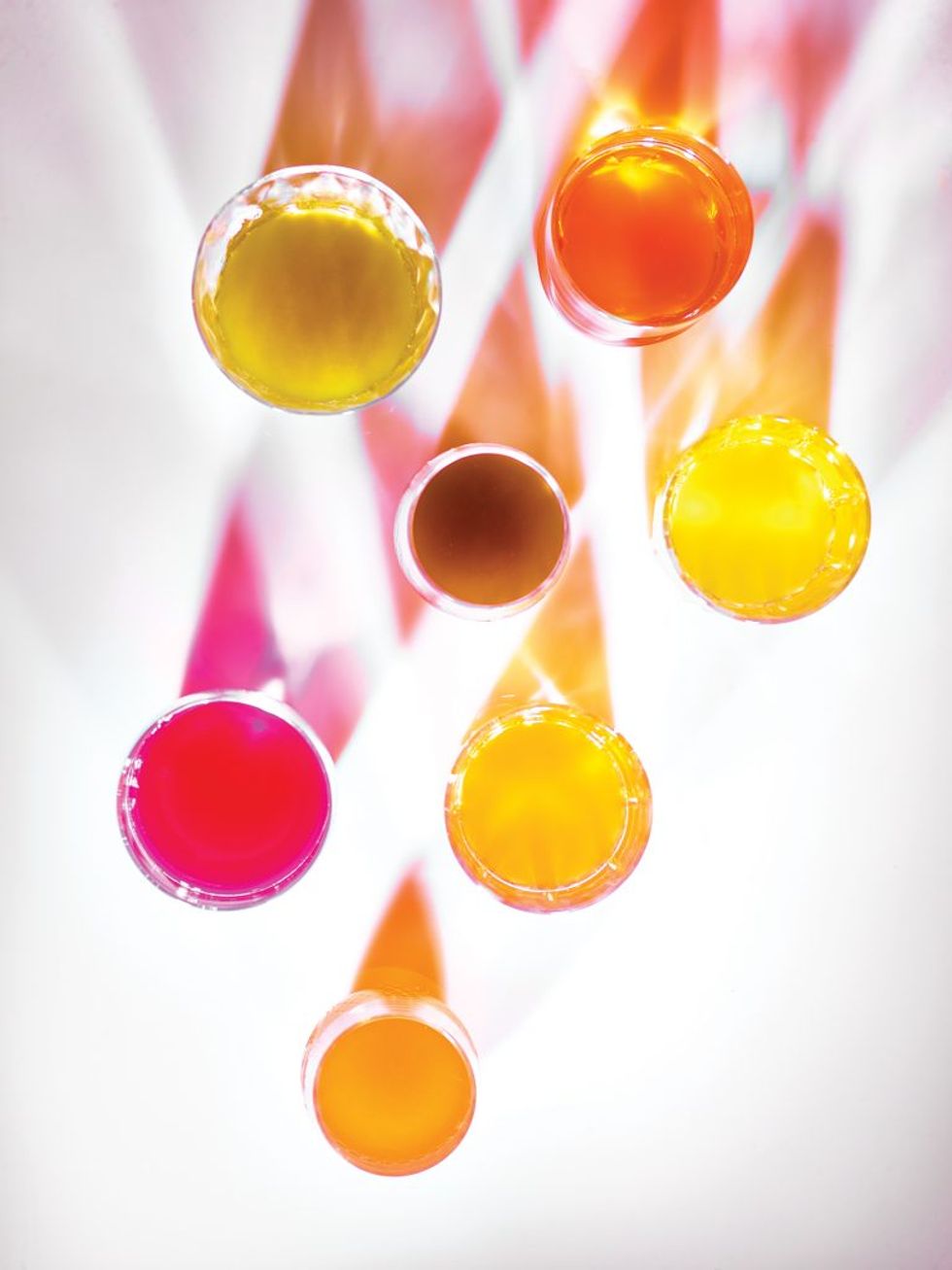 Cool Kombucha
Kombucha, a chilled, fermented tea, is one colorful component of the health-food craze that began sweeping the city about a decade ago. Houston's Kickin' Kombucha brews and bottles its flavors (berries and hibiscus; lemon, matcha and kelp) at its East End HQ, where it just opened a taproom. A cross between coffeeshop and brewery, it offers growler refills, seasonal flavors and loose-leaf teas. 
Business+Innovation