Mall Tales
Swimwear Department makes a splash with raucous concerts and quirky tunes about retro teen spirit. Live Photo by Todd Spoth,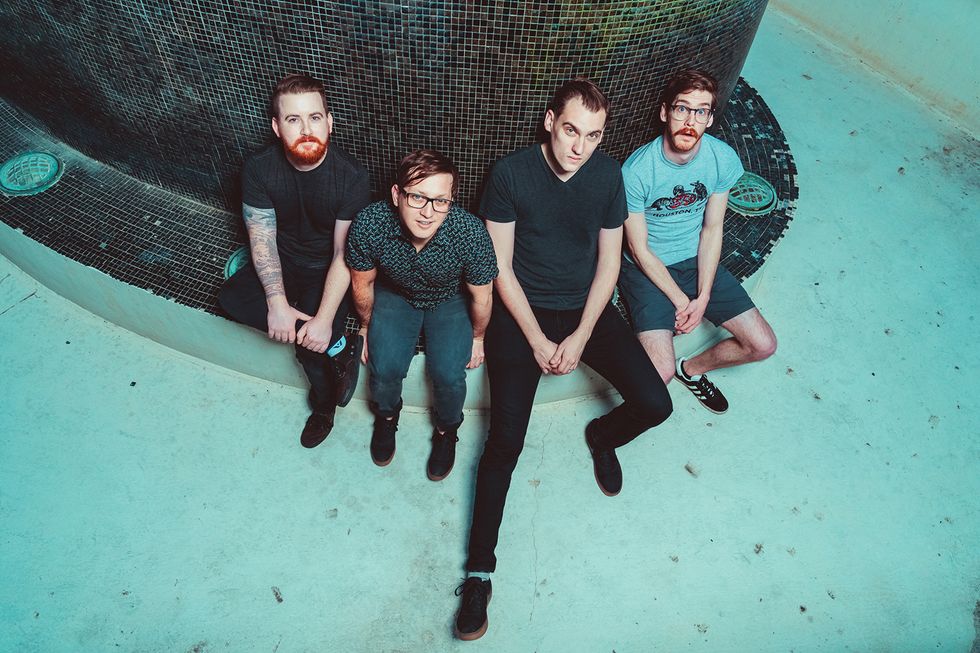 Step into the crowd of a Swimwear Department concert, and you're transported into a 1950s fever dream. Dressed in a bright, flowery romper at a June show at Darwin's Pub, lead singer Matt Graham swerves through the audience, imploring show-goers to participate. His energy is manic and exuberant as he leads calls-and-response about swimming pools, and initiates a spirited limbo contest. The crowd chants "summer" as the contest winner cuts a ribbon with oversized scissors to mark the start of the season.
---
Drawing inspiration from Graham's experience as a creative-writing teacher — his day job — Swimwear Department started two summers ago as a writing prompt of sorts. Graham and bassist Ned Gayle, a local improv comedian, built the band's aesthetic around a name they cooked up while trading messages on Facebook Messenger. "It'll be like Beach Boys meets Office Space," Gayle sent Graham, which led to a musical style that blends surf-rock and '50s pop with a splash of Motown sensibility. From there, they layered on the instruments — drums and a fuzzed-out base to start, keys to follow — and found their lyrical center: the mall. 
Graham, 38, is old enough to remember the mall's cultural weight in the '80s and '90s. In his songs, he treats the mall as a living being, one that provides joy and levity but that also must shapeshift with the times. "It's whimsical and it's fun and it's a party, but I'm still able to channel some sincere grief about the malls closing," he says. A folk singer in a previous life, Graham grew up in a strict Christian household and grappled with spirituality and the loss of his father in his 20s. Swimwear Department helps him work through issues of identity with optimism and a sense of humor. (Graham's lighthearted advice to the mall — that it could have a second life as a mega-church in the band's new song "Clothing Optional" — also serves as a reminder to himself that he has permission to evolve.)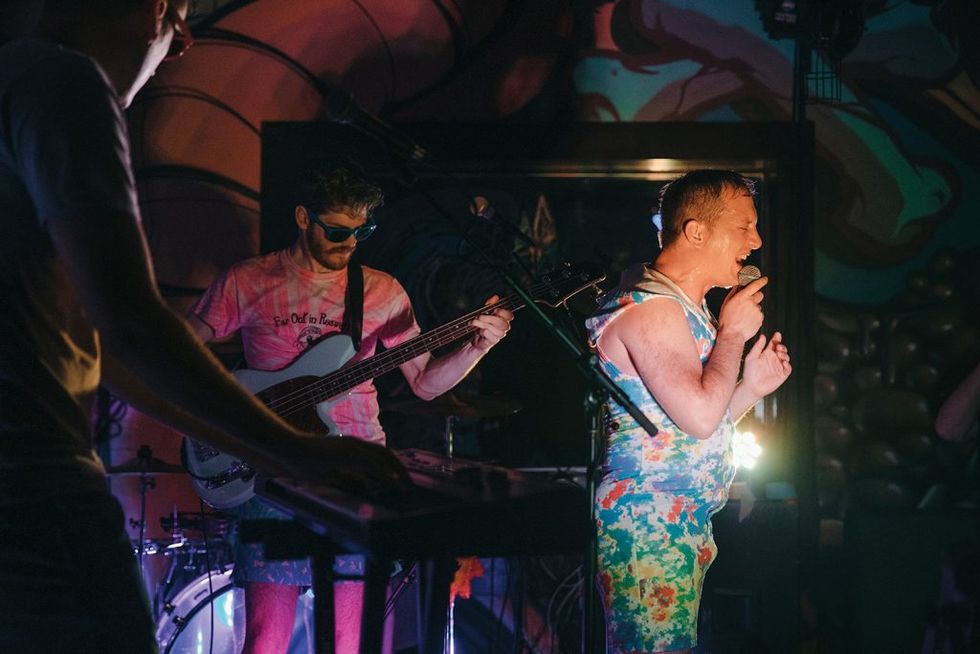 Swimwear Department live
This fall, the foursome, rounded out by drummer Jack Gordon and keyboardist Jeremy Grisbee, will release three new songs as a follow-up to their 2018 EP Turn Over! Go Under!: "Clothing Optional," "At The Pool," and "Mallster," about inventors who live to regret their inventions — including, yes, the mall. 
To promote their new music, the band embarks on a series of colorful gigs this month, which they'll probably play wearing some sort of costume, such as matching swimsuits. Houston label Splice Records' River Revival Festival in New Braunfels (Sept. 26-29) will provide a river-floating backdrop to the band's summery tunes, and a splashy tailgate party hosted by the Houston Dynamo team sounds off on Oct. 6. They'll inevitably play while dressed in concert-specific costuming (they've been known to don matching swimsuits).
Says Graham, "We're just riding the wave.
AT TOP: Swimwear Department's Jack Gordon, Jeremy Grisbee, Matt Graham and Ned Gayle
Art+Culture