Melting Pot Luck
In a new cookbook, a top chef finds that the city's sprawling assortment of global influences adds up to something quite singular: the regional cuisine of Houston. Plus, three of his best recipes!
Julie Soefer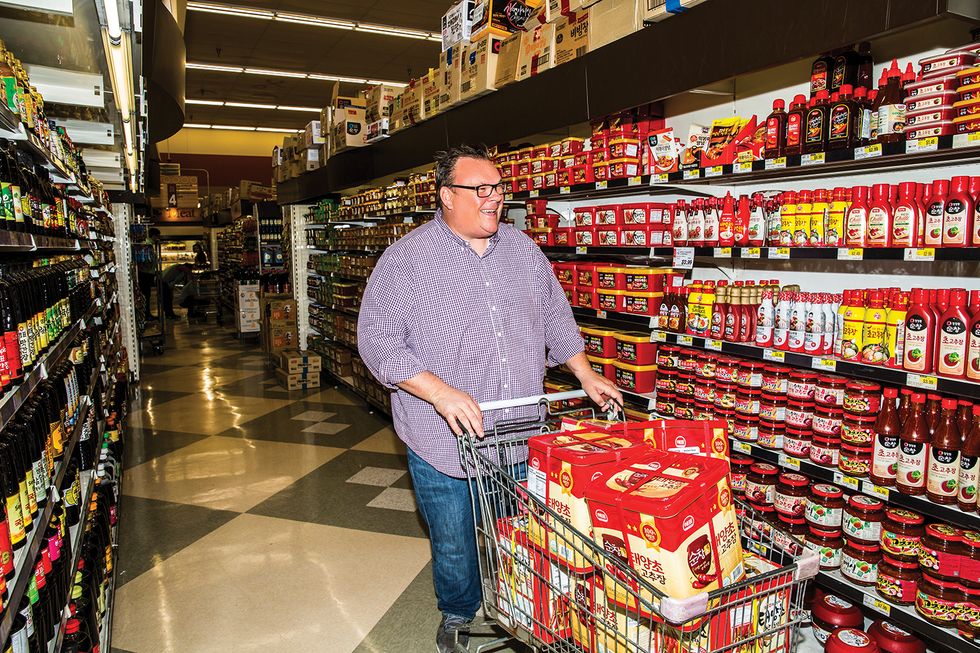 Editors Note: During the COVID crisis, cooks across the nation are finding themselves significantly less busy, or even out of work. But Houston's most famous chef, the James Beard Award-winning Chris Shepherd, is working harder than ever. His nonprofit, Southern Smoke, which supports hospitality professionals in times of need through emergency grants, is fielding thousands of applications every week. In March, $220,000 was distributed to 123 individuals, and big players — like Tito's Vodka and the Houston Texans — are making game-changing donations to ensure that Southern Smoke's great efforts can continue.
---
Meanwhile, as of this week, diners who miss his cooking can now pick up "take-and-bake" versions of some of his most famous dishes at H-E-B. Or place that curbside order and try making a few of his recipes from scratch! Last year, Shepherd's long-awaited first cookbook, Cook Like a Local, hit shelves. It's filled with colorful recipes, warm personal essays and well-written tutorials on essential ingredients like fish sauce and chiles, as well as beautiful photos by his friend and Montrose neighbor Julie Soefer. In this excerpt, Shepherd explains how he began his own culinary journey deep into the heart of home. Cook Like a Local is available at his restaurants and on Amazon.
We've been talking a lot about "local" food in the last decade.
Usually we're talking about the source of the ingredients and their geographical proximity to your plate, but for me, the meaning is broader than that. To me, "local" is just as much about the people who live in my community, the people who inspire me and teach me and work with me, and how they like to cook and eat. 
I'm lucky to live in Houston, which — this may surprise some people — is by some measures the country's most racially and ethnically diverse metropolis. In fact, the last census showed that there is no longer a "majority" in Houston. It's a city of minorities. So for me, thinking about what it means to cook locally in Houston means going out into the different neighborhoods of my city and taking a census of my own: one of flavors, and of culinary traditions. I meet my fellow Houstonians, eat with them, learn how they cook, and then let those experiences inform my cooking. I try to tell stories through my food, stories that represent and reflect where we live. 
Most of my favorite things to cook, many of which appear on the menus of my restaurants, are not dishes I grew up with. I wasn't exposed to bánh mì or tamales until later in life. I grew up in a white middle-class family in Nebraska and Oklahoma, where food was always important. The dishes that my mom cooked fit easily into what is broadly considered (Anglo) "American food": meatloaf and potatoes, green beans stewed with pork, zucchini bread. To this day, I carry a torch for these dishes, and they are still a part of my cooking. 
When I was in culinary school, and then a line cook coming up through the ranks, the ingredients and techniques that I had access to were pulled from Eurocentric cultures and cuisines. French food still held the crown as the "most important and best" cuisine in most cooking schools, and high-end restaurants at the time focused on versions of that same set of dishes. There were small cracks in the firmament, though, ones that piqued my curiosity. As a dishwasher at a sushi restaurant, I had my first taste of Japanese curry, served with scrambled eggs and rice, as a staff meal. I tried to understand the flavors at play in my orders of General Tso's chicken. 
Then I moved to Houston. 
Working alongside Mexican-American line cooks, I learned about chiles — how to gauge their heat, how to use dried chiles versus fresh ones. And the late-night spot we all went to after work was a Vietnamese place where I had my first taste of fish sauce. At some point, I began to realize that my cooking, which was still drawing mostly from my culinary school and restaurant training, was happening in a vacuum and didn't reflect the food that surrounded me. And I wanted to get out of that vacuum. 
It started as simple curiosity. A friend would mention a great pho shop, and I'd go, order the first bowl listed on the menu, eat it, and leave. I got into it. I tracked down tips on new shops, and I explored their menus. Pretty quickly, these became the dishes I craved, dishes that became essential to my understanding of the place where I live. And I admit, my first instinct was to be proud of myself for "discovering" these spots — "I'm the guy with a bead on the best pho in Houston." But I realized that there's a distinction between "discovering" and learning. Reality check: I wasn't "discovering" anything because these communities and restaurants had been thriving long before I ever showed up. 
And when I did go, and showed that I was there out of respect, curiosity, and a desire to learn, eating in restaurants became something more, something better: It was about making relationships. The food became more than delicious. It came to be about stories and the context of the people who were making these dishes, and their friendship and trust in letting me share their stories. 
So I started going out as much as I could manage, and I started asking a lot of questions. 
On a typical day off, I'd get in the car with a few friends and drive toward Bellaire, a sprawling neighborhood in Southwest Houston that has the highest concentration of Vietnamese businesses in the city. 
Or I'd head west, to H Mart, the giant Korean grocery store. Or north, to the Mexican restaurant El Hidalguense that roasts whole goats on spits in the dining room. And we'd eat. I'd start conversations with the servers, the cooks, the bussers, and the owners; we'd talk about Houston, how they arrived here, what they miss about the place they left. But the conversations always started with the food. 
I'd come back on another day, and we'd keep talking. Conversations about spices or the proper way to make a sauce opened the gate for more personal exchanges, ones that, in many cases, led to great friendships. More often than not, I've ended up in the kitchens of these restaurants, learning at the sides of these strangers who have become neighbors and friends. And they've ended up in the kitchens of my restaurants, or in our dining rooms for dinner. 
These people have become my mentors, and Houston has proved to be the best culinary school I could ever hope to have.
AT TOP: James Beard Award-winning chef and newly minted author Chris Shepherd makes the rounds at the giant Korean supermarket, H-Mart.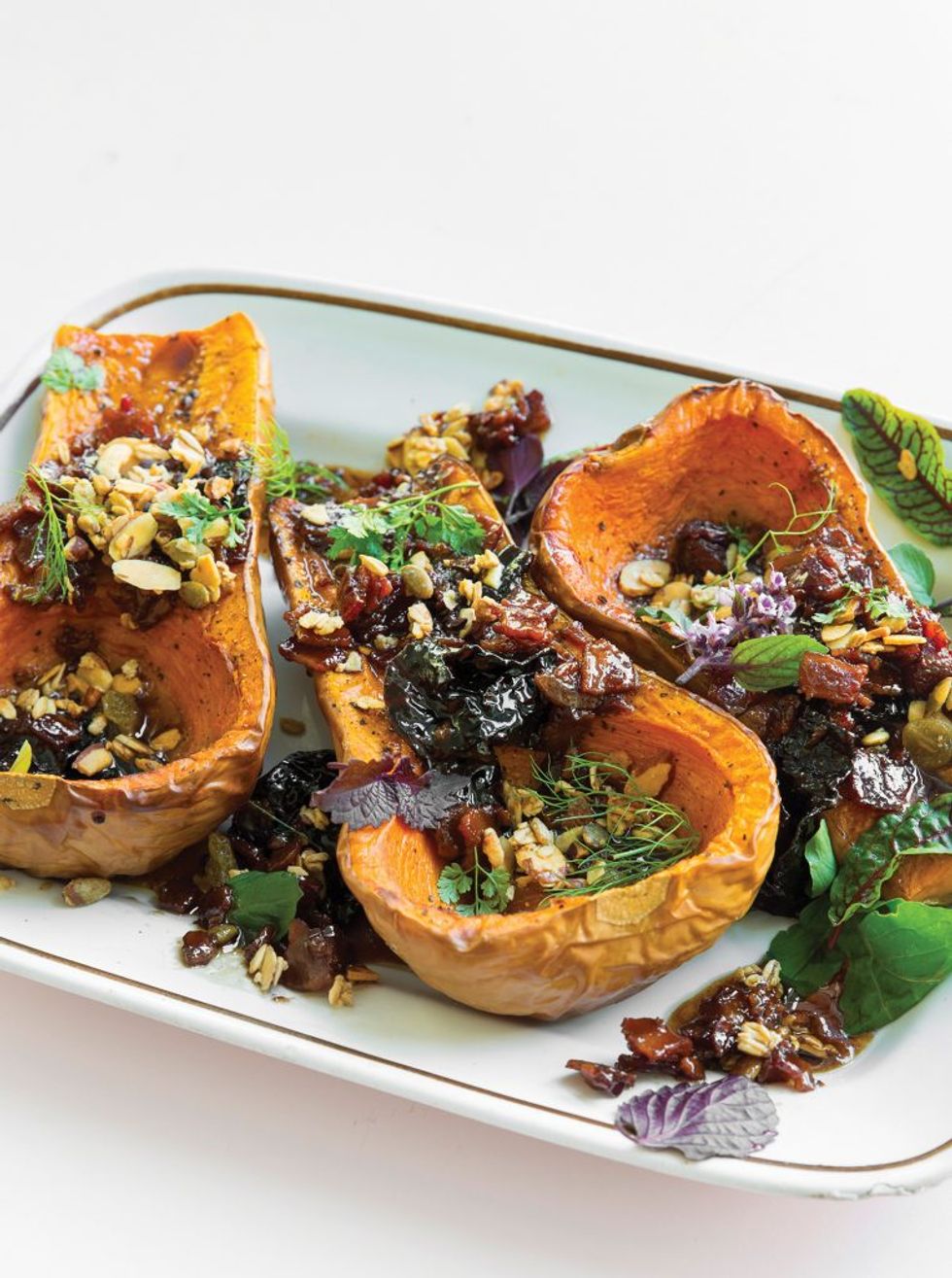 Butternut Squash with Bacon Chile Jam
INGREDIENTS
1 ancho chile, stemmed, seeded, and roughly chopped
2 dried árbol chiles
1 pound bacon, cut into half-inch pieces
1 cup dry red wine
2 cups packed dark brown sugar
1 vanilla bean, split
1 (2-pound) butternut squash,
halved lengthwise and seeded
2 tablespoons vegetable oil
Kosher salt and freshly ground
black pepper
½ cup granola (ideally somethingmore savory, with no dried fruit)
Picked herb leaves, such as cilantro, parsley, or dill, for garnish
INSTRUCTIONS
1. Preheat the oven to 350°F.
2. In a small, dry skillet, toast the chopped ancho and whole árbol chiles over medium heat, agitating the pan and flipping the chiles occasionally, until fragrant, 1 to 2 minutes. Set aside.
3. In a medium saucepan, cook the bacon over medium-high heat, stirring occasionally, until the bacon is crispy and has rendered most of its fat, about 8 minutes. Carefully strain the bacon (save the fat for another use) and return the bacon to the saucepan.
4. Add the red wine, brown sugar, vanilla, and chiles. Bring the mixture to a simmer over medium heat, then lower the heat to maintain a gentle simmer and reduce the mixture until syrupy, about 25 minutes. Remove and discard the whole árbol chiles. (The jam can be made up to one week in advance, and stored in an airtight container in the refrigerator. Warm it up in a saucepan over gentle heat when ready to use.)
5. Place the squash halves on a rimmed baking sheet, cut-side up. Rub the flesh with the oil and season generously with salt and pepper. Roast for 45 minutes to an hour, until soft when pierced with a knife.
6. Transfer the squash halves to a big platter. Spoon the bacon jam over the squash halves and sprinkle with the granola and herb leaves. I like to serve these family-style and bring the squash halves to the table intact, encouraging my guests to scoop out a serving. But you could just as easily cut the squash halves into quarters and serve each individually.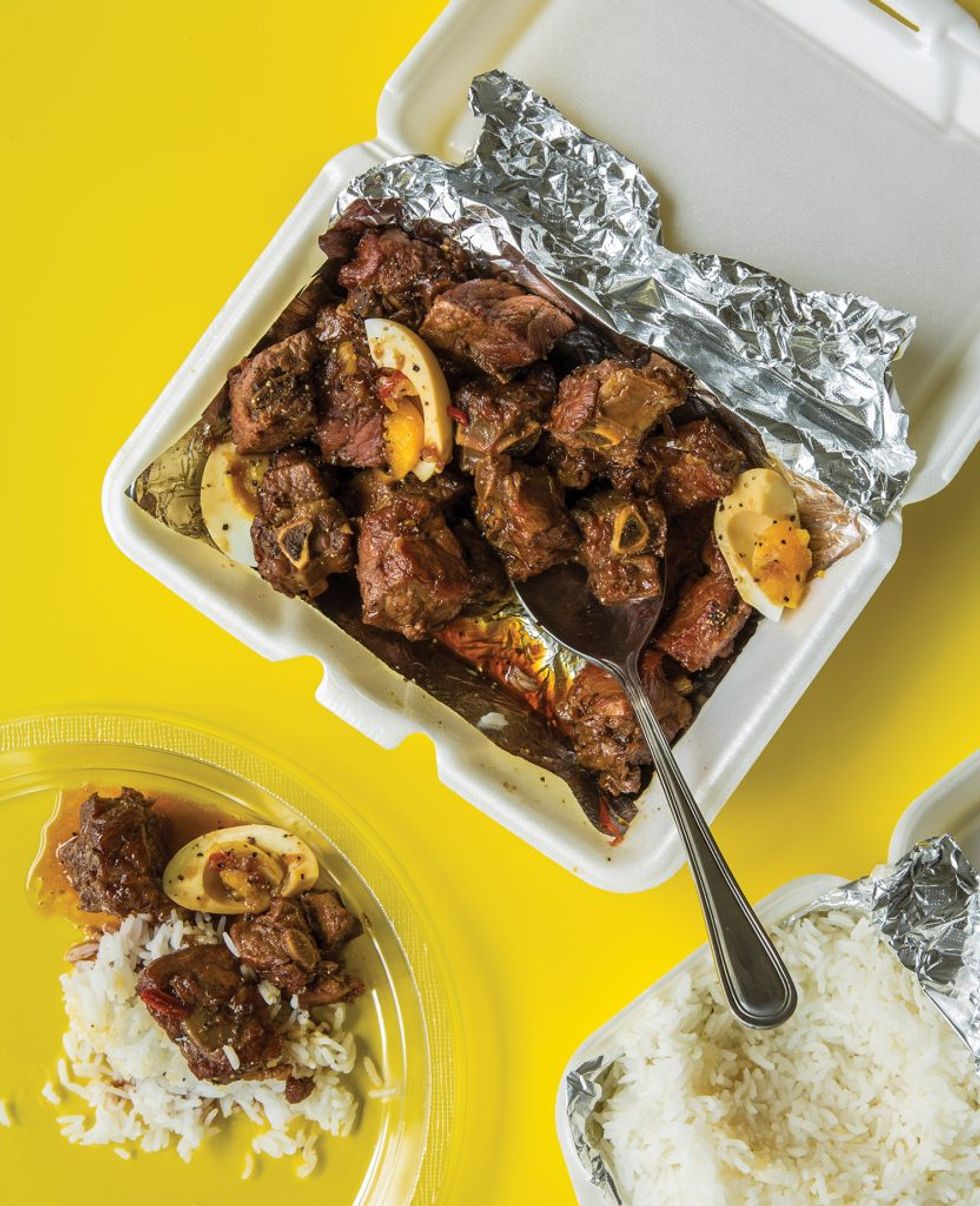 Pork Riblets in Fish Sauce Caramel
INGREDIENTS
2 tablespoons vegetable oil
2 pounds pork riblets, cut into 1-inch pieces
1 cup sugar
½ cup fish sauce (preferably Red Boat)
1 yellow onion, sliced
4 garlic cloves, minced
4 Thai chiles (or to taste), minced
¾ cup coconut soda, such as Coco Rico
4 hard-boiled large eggs, peeled
3 scallions, trimmed and cut into 1-inch pieces
Kosher salt and freshly ground black pepper
Steamed rice, for serving
INSTRUCTIONS
1. In a large saucepan, heat the oil over medium heat until shimmering-hot. Pat the riblets dry with paper towels. Working in batches so as not to crowd the pan, add the pork riblets in an even layer and sear on all sides until golden brown, about 8 minutes. Transfer the riblets to a plate and set aside.
2. Add the sugar and let it cook without stirring for a few minutes. When it starts to melt, start stirring occasionally, and continue cooking until all the sugar has dissolved and the caramel is a rich amber color, about 4 to 5 minutes. Carefully and quickly stir in the fish sauce. The sugar may seize and clump when you add the fish sauce — just keep stirring until it melts back into a smooth sauce. (A few small hardened sugar clumps are fine; they will melt as you cook the sauce.)
3. Return the pork riblets to the saucepan and stir to glaze them in the sauce. Let the riblets stew in the sauce for about 10 minutes. Add the onion, garlic, and Thai chiles and cook for another 5 minutes.
4. Add the coconut soda and bring the pot to a gentle simmer, then turn down the heat to maintain the simmer. Let the liquid reduce by almost half, about 30 minutes. Stir in the whole hard-boiled eggs and scallions. Season with a little salt (if necessary) and a generous amount of black pepper, and serve with rice.
Calas with Coconut Cream
INGREDIENTS
For the batter
¼ cup whole milk, warmed
to 100°F
8 tablespoons sugar
1¼ teaspoons active dry yeast
1 cup all-purpose flour
½ teaspoon ground allspice
¼ teaspoon grated nutmeg
⅛ teaspoon kosher salt
1 large egg, beaten
1½ cups cooked short-grain rice, cooled
Vegetable oil, for deep-frying
For the coconut cream
1 (14-ounce) can sweetened condensed milk
1 cup canned coconut cream
½ to ¾ teaspoon kosher salt
INSTRUCTIONS
1. Make the batter. In a small bowl, combine the warm milk, 2 tablespoons of the sugar, and the yeast. Set aside for 5 minutes to allow the yeast to wake up. In a medium bowl, mix the flour, allspice, nutmeg, salt, and remaining 6 tablespoons sugar. Add the yeast mixture to the dry ingredients and stir together with a spatula. In a separate bowl, mix the egg and rice to combine. Gently fold the egg-rice mixture into the flour mixture until it just barely comes together. Cover the bowl with plastic wrap and let sit in a warm area for 1 hour. 
2. Make the coconut cream. In a medium saucepan, combine the condensed milk, coconut cream, and salt over medium heat. Cook, stirring, until the mixture is completely smooth and warm throughout. Keep warm.
3. Fill a Dutch oven halfway with oil and heat over medium-high heat until it reaches 350°F on a deep-fry thermometer. Working in batches, use a small ice cream scoop or tablespoon to scoop mounds of the batter about the size of a golf ball, and lower them into the oil to fry. Cook on one side for 2 minutes, then use a spoon to turn them over and cook until golden brown all over, 2 minutes longer. Use a slotted spoon or spider to transfer the calas to a paper-towel-lined plate to drain.
4. When all the calas are done, spoon some of the warm coconut cream onto each plate, and place a few calas on top. Serve hot.
Food+Travel