Mystical Mountaintops
Among breathtaking scenery and a colorful local culture steeped in mindfulness, globetrotters find inner peace in Thailand's capital of the North.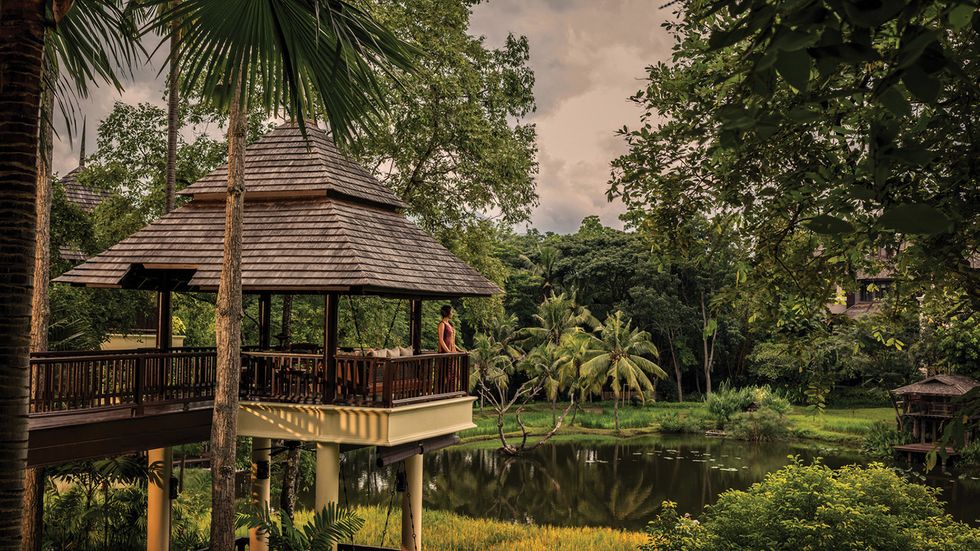 A bike tour departs just after 8 a.m. in Mae Rim, a district in the Northern Thai Province of Chiang Mai. Pedaling through a residential area, a lone water buffalo is grazing lazily on a wide green pasture in someone's backyard. A few blocks over, locals gather along open-air stands for breakfast of steamed rice cakes, Chiang Mai sausage and fried street foods, the delicious aromas wafting through the air. 
---
The bucolic scene is not dissimilar to what one might find on tropical islands such as Kauai in the Pacific on Nevis in the Caribbean. But this is Southeast Asia: Turn a corner, and you're on the edge of rice paddy fields so picture-perfect, the scene looks photoshopped. Set in a flat valley against a backdrop of jagged-edged mountaintops, thick swaths of waist-high grass are undulating gently in the breeze, covering the ground in a blanket of vivid green.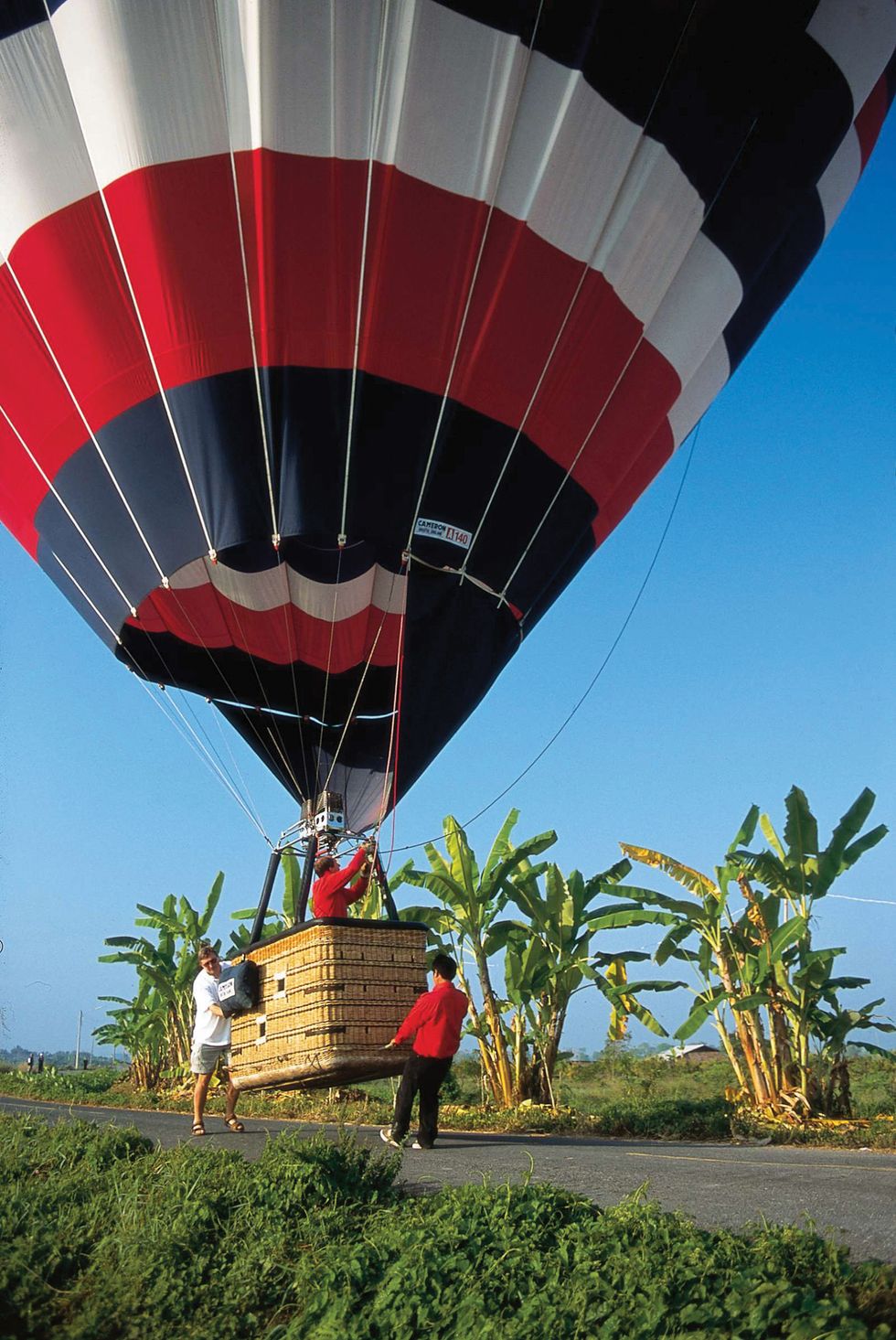 A hot air balloon trip is a memorable off-property excursion
Further along, on a sloping hillside shaded by a tall forest of trees, two Thai lions, or singha, sit at the base of a giant stairwell flanked by larger-than-life, five-headed naga — mythical cobra-human serpents whose scaled tubular bodies run the entire length of the steps to the top of the hill. Climb the stairs to pass through the pearly-white gate at top to experience a moment of intense spirituality.
In the center of a courtyard, a giant gold buddha gazes outward, his benevolent gaze one of pure peace. Positioned directly in front of him is a small jade buddha, while a series of identical white and gold buddhas are seated off to the side. All of the buddhas sit cross-legged, left hand on lap, right hand on the knee, pointing downward in a "touching the earth" pose that's meant to symbolize the moment when buddha found enlightenment beneath the bodhi tree. The unspoken message is clear: In this mystical, magical part of Thailand, enlightenment is within reach.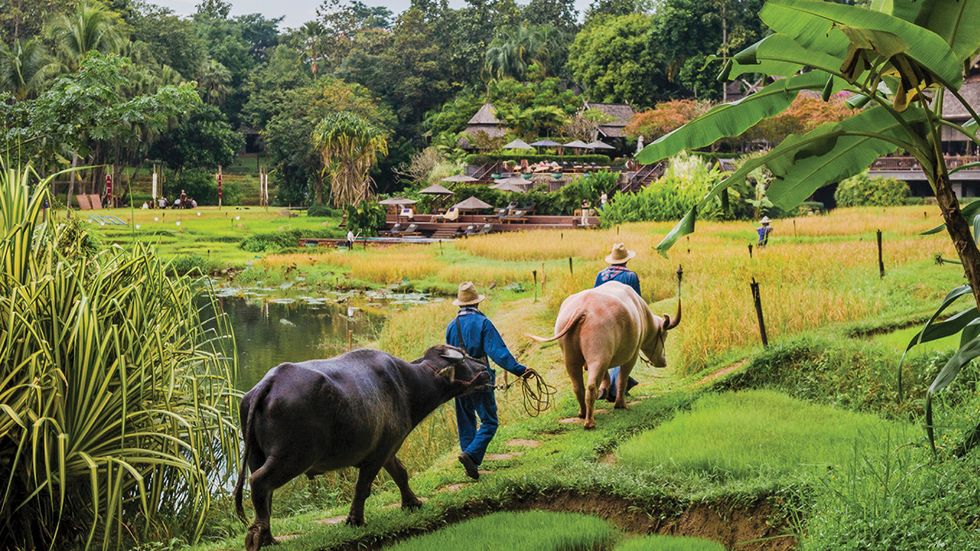 A stroll through the rice fields surrounding the Four Seasons Resort Chiang Mai
Certainly, it seems possible when you're a guest at the Four Seasons Resort Chiang Mai. Located about 30 minutes from Chiang Mai city center in the Mae Rim valley overlooking Doi Suthep mountain range, the sprawling 32-acre, 98-room resort offers a unique slice of Southeast Asian paradise. Resembling a tiny village surrounding a working rice farm — complete with waterfalls, lily ponds, two small lakes, and two resident water buffalos — the fairytale-like environs are undeniably enchanting.
There are Rice Terrace Pavilions with spectacular views of the rice fields, and Garden Pavilions nestled within lush local flora and fauna. The Pool Villa — surrounded by water on three sides, with its own lap pool, gazebo, outdoor rainfall shower, clamshell dual-sinks and canopied bed — is a dream worth splurging on. Skinny dip in the privacy of your own tropical oasis, or revel in the exhilaration of taking a vigorous rainfall shower au naturel, before taking restful slumber. 
Come morning, advance your yoga practice in the Yoga Barn under the tutelage of Wellness Manager Deeraj Singh Patwal, a 22-year veteran of yoga practice who hails from the Indian capital of yoga, Rikeshish. Daily sunrise yoga is also available, but reserve one morning to participate in the ritual gifting of alms to the local monks, who arrive on bare feet to accept the offering of nourishment. 
Do try the the rice planting experience. A fully immersive, super fun adventure, it involves changing into the local "mor-hom" denim farmer's outfits, hands-on learning of the rice planting process, and getting close and personal with the resident water buffalos, Mud and Tay.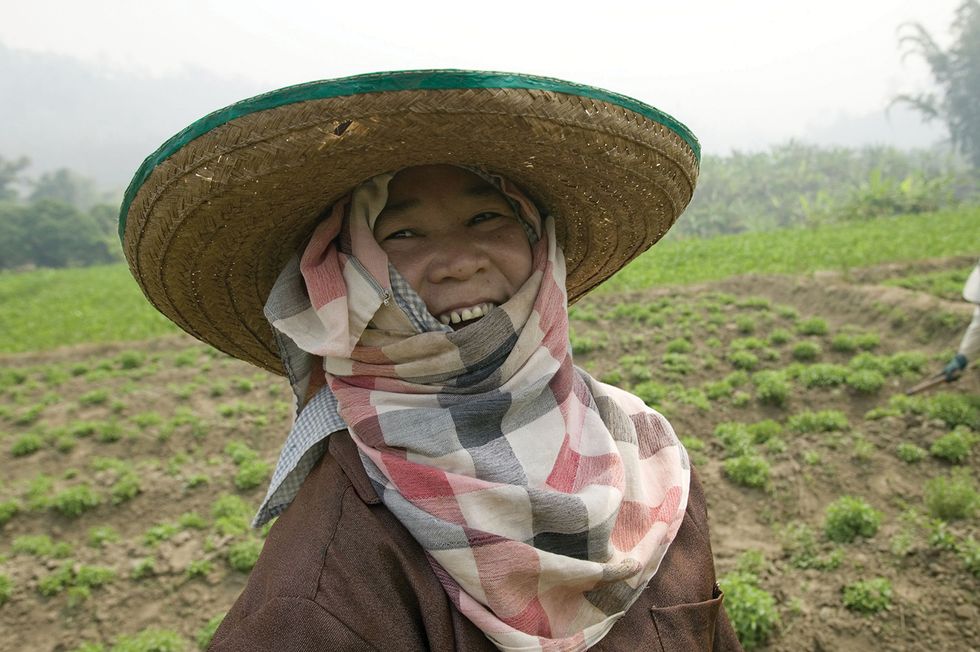 A hands-on rice farming experience with a local farmer
You'll want to take an excursion off property, of course. A compulsory visit? Wat Doi Suthep, a temple at the apex of the Doi Suthep mountain, built on a spot that legends say was chosen by a white elephant carrying a relic of buddha. And just as compulsory? Arrange for a chef-led visit to a food market to taste local specialties like fried pork skin with green chili sauce, beef noodle soup, or the curry noodle called khao soi. An after-dinner alternative is the bustling night market, a repository for local crafts, souvenirs and everything in between.
At some point, it becomes apparent that the idyllic world at the Four Seasons Resort Chiang Mai is something special, that its magical qualities aren't imagined. Maybe it'll be the first night you're there, when the staff go out of their way to give you a glimpse of the area's legendary Loy Kratong festival of light, preparing candle-lit floating baskets for release into the lake as you make a wish, releasing bad spirits and negative energy. Sipping on a passionfruit cocktail made of Chiang Mai-produced small batch gin as a breathtaking sunset paints the sky watercolor shades of aquamarine and peach, there's an overwhelming sense of fulfillment, of utter contentment, and everything is illuminated.  
AT TOP: The Upper Rice Terrance Pavilion at the Four Seasons Resort Chiang Mai offers views of rice paddies and lush, rolling hills.
Food+Travel