NERD TECH!
A brand-new sci-fi video game of epic proportions! Multiple conventions for throngs of cosplay crusaders and the comics cult! An arena for professional gaming on a huge new scale! The nation's portal for audacious anime! Welcome to Houston, where the geek-chic revolution is in full swing.
Jhane Hoang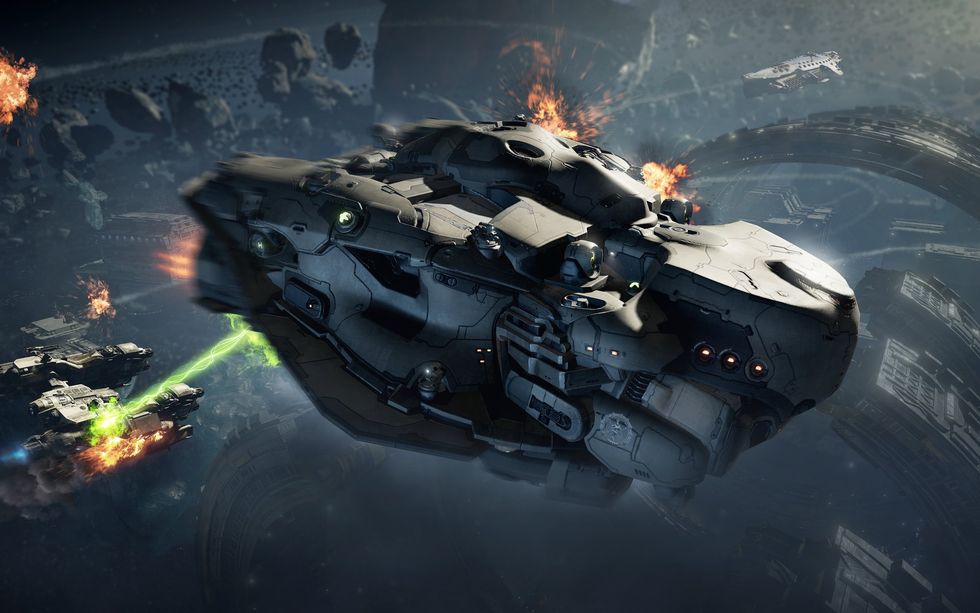 The world is murky, its atmosphere glowing the gray-gold of an Earthly sunset after a storm. It's almost peaceful out. Almost.
---
But this is not your home planet, but rather another realm in another time, and all is not well. Conflict crackles all around, in the canyons and desolate cityscapes below your spaceship, in the asteroid belts and space stations above, and you wouldn't have it any other way. You, after all, are a grizzled mercenary, set on destroying your enemies in a laser-streaked, kill-or-be-killed nuclear war for galactic domination and fame.
Or nah. Actually, you're not. You're kind of a nerd. And you're playing Dreadnought. And that's OK.
It's more than OK actually. It's a show of hometown pride, since Dreadnought is a release of Six Foot, Houston's under-the-radar video games developer. It is the company's first "Triple A" game — think blockbuster movie — a gorgeous-looking ship-to-ship space battle game. Tens of millions of dollars have been poured into the project, which was developed in collaboration with a company in Berlin, and once it hits downloadable-game service Steam this month, it will be a milestone for Christian Svensson, COO and head of gaming, as well as the company's 180 other Montrose-based employees.
And all that's just one chapter in the larger story of H-Town's rise as a world capital of nerd tech. Besides video game production, there's also organized video game competition at a scale you wouldn't believe, not to mention anime, cosplay, comics and a growing number of gigantic sci-fi and fantasy fan conventions and expos. Yes, Houston, home of NASA's real-life space travelers and countless engineers and medical researchers, is, not at all ironically, a hub for state-of-the-art geekitude.
Clearly, Six Foot is at the forefront. The company started in 2000 as an interactive design firm — its first big client was Halliburton — but quickly moved into doing promotions for companies like Mattel, Lego, MGM and Sony Pictures.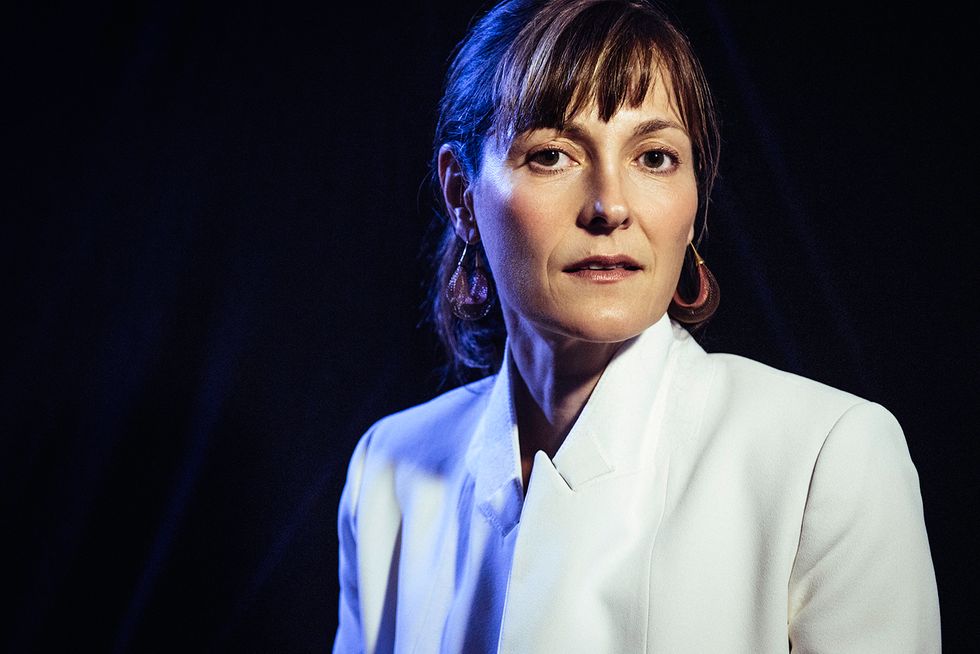 Six Foot's film division chief Vicky Wight
"Ambition has always been there since day one, and we have always wanted to do our best with the medium we have," says Josh Maida, a Six Foot exec, who adds that the city provided the perfect environment for the company to expand in fantastically new and nerdy directions. "There are a lot of preconceived notions about Houston. But we have recruited over 100 people to come here from all over the country — from Seattle, Silicon Valley. And they all tell me there is a quiet energy here, and a certain vitality. There are people here who are going to space, who are trying to cure cancer, those are aspirational human endeavors."
Six Foot has produced two other video games besides Dreadnought — Grey Goo, a 2015 science fiction strategy game, and, last year, a puzzle game called RiME — and now it's even moving into movie production, having wrapped its first Hollywood feature film. The movie, called Emmett, written by Six Foot film division chief Vicky Wight, and starring Zach Gilford and Rita Wilson, is about a 12-year-old prodigy who works with an oddball retiree to solve a crime and save his family from splitting up. The story will be published as a novel by the recently formed Six Foot Press, which will also publish graphic novels and comic books, including a comic tied to the launch of Dreadnought.
"We're extra-thrilled about it," says Coert Voorhees, president of Six Foot Press, noting that the company's CEO is a huge nerd … er, "avid comic book collector." Voorhees adds that Bill Sienkiewicz — a revolutionary comic-book artist famous for incorporating photorealism and other art forms uncommon in comics, per his work in Marvel Comics' Elektra series — is doing the cover art.
Six Foot also produces the expo booths for some big-name companies, including Marvel Comics, at trade conventions around the country, like San Diego's famous Comic-Con. Houston, of course, hosts its own version of a giant nerdfest, Comicpalooza, which takes place at the George R. Brown Convention Center each May. This year it celebrated its 10th anniversary and welcomed headliner guest Tom Holland — the reigning Spider-Man — among other celebs from sci-fi and fantasy franchises. Comicpalooza is the largest annual multi-genre, comic book, science fiction, anime, gaming and pop culture convention in the region. And it's about to have company, starting this month. The Fandemic Tour will debut Sept. 14-16, bringing its celebration of all things geek to the NRG Center.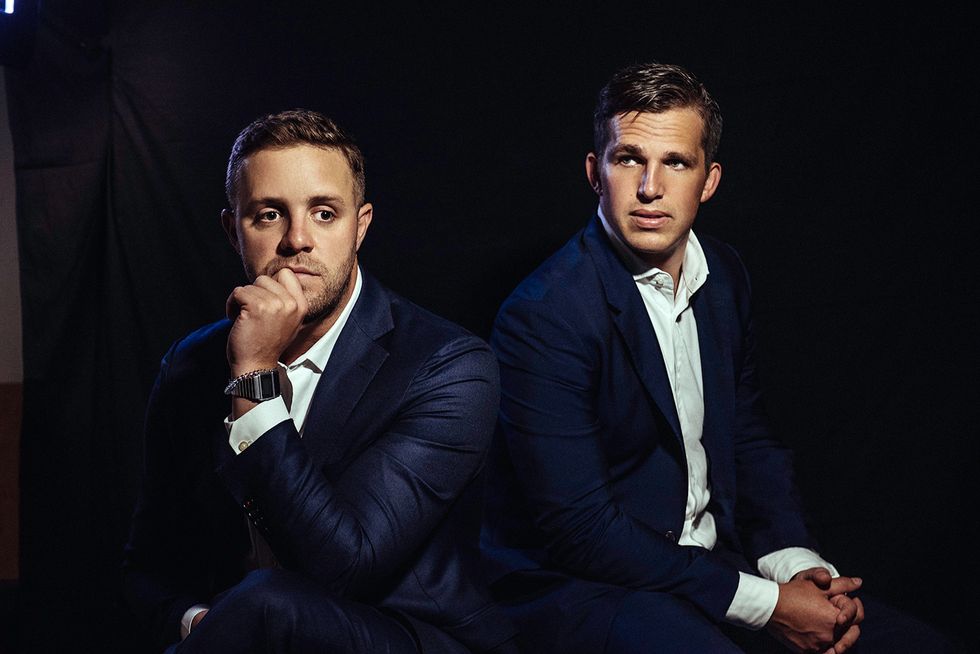 FanReact's co-founder and CEO Chris Buckner and managing director Rush Hannigan
"[Houston] is going to be the third-largest city in the country," Fandemic Tour showrunner John Macaluso recently told a reporter. "You have eight million people there, and my thought was, why am I not doing a show there?"
The new event, whose debut was delayed until this year due to Hurricane Harvey, will feature guest appearances by stars from movies like Guardians of the Galaxy, as well as comic book vendors and, naturally, cosplayers. (Ever seen a photo of a man dressed like the Hulk, body painted green, or a young woman in a schoolgirl outfit wielding an oversized paper-maché battle-ax? That's cosplay, which is short for "costume play.") At Fandemic, The Walking Dead fans will also get up close and personal with stars Norman Reedus and Harry Dean Morgan, who'll make appearances.
Anime, which occupies a cultish little corner of the nerdmosphere, has long had an important presence in Houston. In fact, fans of Japanese anime cartoons like Legend of the Galactic Heroes, Neon Genesis Evangelion and Armed Girl's Machiavellism may be surprised to learn that Houston-based Sentai Filmworks is responsible for having made them available stateside.
Sentai's online shop is the go-to for anime fans looking for the latest and greatest from Japan. And the company has been the top distributor of Japanese anime films for a while: If you have ever enjoyed a Japanese anime series on AdultSwim, Amazon or Crunchyroll, there's a good chance you can thank Sentai. Plus, it has been so influential, that the company often dubs many of the cartoons itself here in the city, using local actors.
If you haven't heard of Sentai — or Six Foot — before, don't be surprised: Both companies keep low profiles. But one company that you will be hearing more about in the coming months is Mainline.GG.
The company — which is run out of The Cannon, a tech-related startup incubator and co-working space near the intersection of I-10 and Beltway 8 — is a new social media company centered on the world e-sports. E-sports? Yes, e-sports, as in the fast-growing world of organized professional video game competitions. Houston is quickly becoming a hub. Mainline.GG offers video game competitions for amateurs and professionals alike and is looking to dominate the online conversation on e-sports, which will become a $1.5 billion industry by 2020, in the same way Instagram has dominated photo sharing.
Mainline.GG hopes to get further attention for e-sports by producing a 30-minute e-sports commentary show — think ESPN's Sportscenter, but for the video gaming set. And, most ambitiously, it plans to build the biggest e-sports "arena" in North America, also at The Cannon. Think of a movie theater, but bigger, with high-tech gaming rigs set up at the front and the action projected on giant screens above.
The company has already hosted watch parties for Clutch Gaming, the e-sports team owned by the Houston Rockets, as well as the Houston Outlaws, another notable outfit. "The events have drawn hundreds of fans," says Chris Buckner, co-founder and CEO of Mainline.GG parent company FanReact, who, alongside managing director Rush Hannigan, has seen the company grow to more than 40 employees in the last year.
As for Six Foot's Maida, he's not at all surprised by the burgeoning interest in e-sports, or generally by H-Town's place at the cutting edge of the nerd-tech revolution. "Sports are about people being at their best, and that will shift to the things that people are willing to do in digital spaces," he says. "We also have a high caliber of people, astronauts and surgeons, being trained on video games now. So, I really think Houston will be leading those charges."
AT TOP: Stills from Montrose-based development company Six Foot's new sci-fi video game, 'Dreadnought,' depict a galazxy at war.
Business+Innovation