Now Let Us Prey
Dig into celeb chef Chris Shepherd's bloody unique new steakhouse, set in an old Montrose church.
Julie Soefer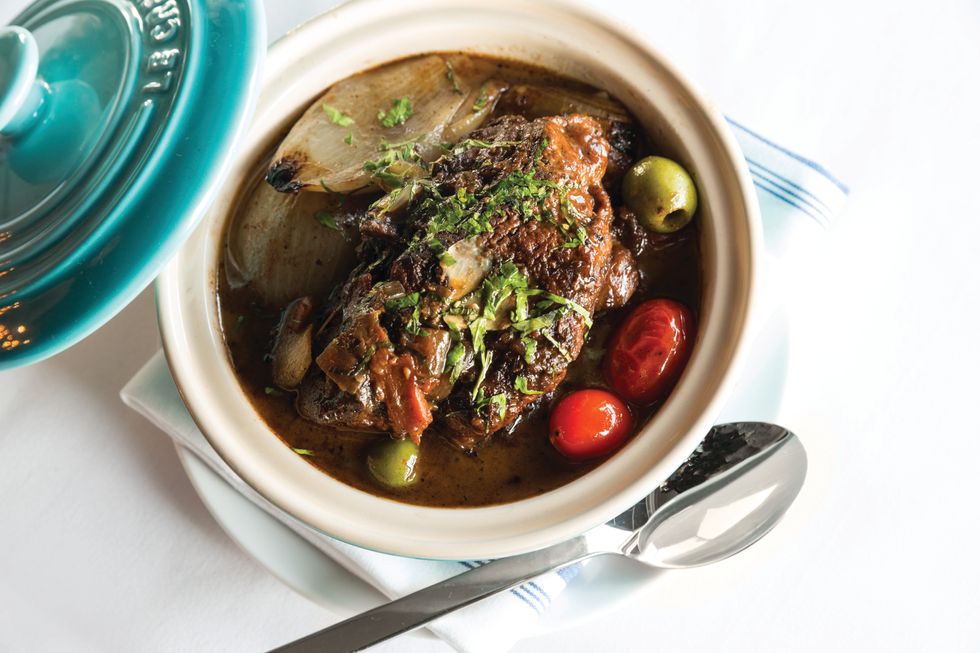 Formerly Mark's American Cuisine for nearly two decades, and a '20s-era church in its original life, the cathedral-esque structure near the corner of Westheimer and Dunlavy is again reborn. Celebrated Underbelly chef Chris Shepherd has opened the first iteration of his One Fifth: One Fifth Steak.
---
Far from traditional in every sense, the two-story dining concept — which features stained glass windows by Houston street artist Gonzo 247 — will rotate every year for five years; by fall it will become Romance Languages and feature Western European fare. The art, including the windows, and Matthew Tabor art deco pieces, will also rotate.
Thoughtful nuances like candles in glass jars brought out to each table seem to be nothing more than tchotchkes, but at closer glance turn out to little lanterns fueled by rendered down Wagyu beef fat accompanied with house-made sourdough. A bright idea — and edible! The single-page menu is equal parts simple and impressive. The grilled bacon sausage, served over crispy hash browns with crème fraiche, is made in house, while the steaks, sourced from local purveyors 44 Farms and Marble Ranch, are cooked in cast-iron, and are best paired with sides like the twice-baked potatoes or "lamburger helper" — Shepherd's grownup take on hamburger helper.
Shepherd's eclectic tastes span beyond the menu to the vast dining space, which has welcomed the addition of a cocktail bar and raw bar, where your attention will likely be drawn to the baby-blue velvet framed picture of Mr. Spock. Why? "Why not!" exclaim the bar staff, who say it's supposed to spur conversation.
And because Chris Shepherd wants it there.
Uncategorized