Nun Sense
For Houston newcomer Gen Norden, a Buddhist nun, beating holiday stress is a state of mind.
Jhane Hoang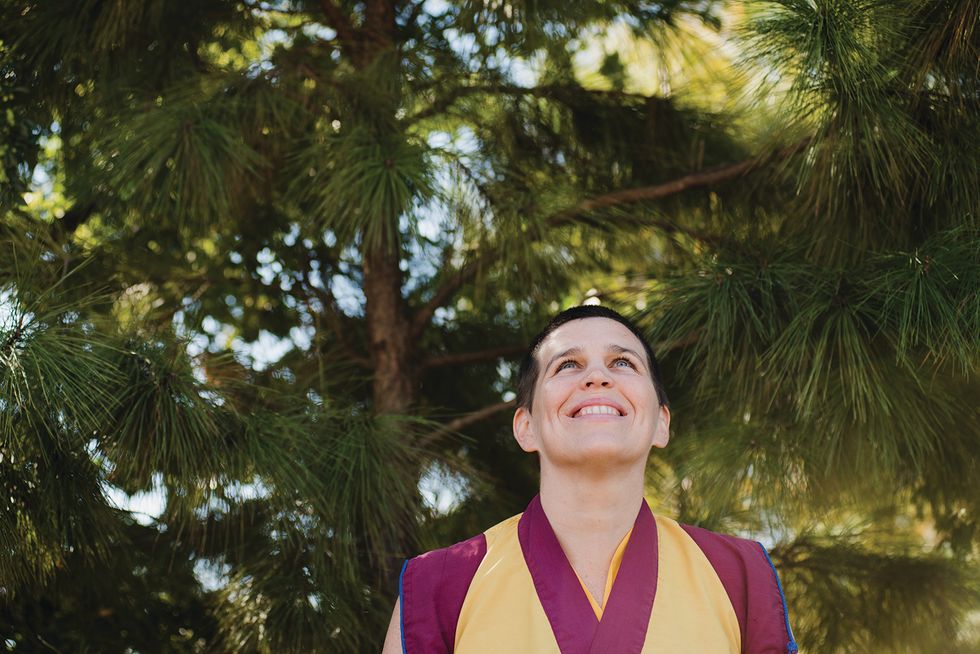 'Tis the season for peace, joy and happiness ... and long lines, crowded airports and visiting relatives. But, as the outgoing, chatty and 41-years-young Gen Kelsang Norden points out, "Happiness is a state of mind." The Buddhist nun from Bath, England, whose work in the States with Kadampa Meditation Centers has recently brought her to Houston, teaches this idea in her weekly classes at the Kadampa center in the Heights. 
---
"The core ethic of Buddhist meditation is that happiness depends on our minds — it doesn't come from our external situation," she says. "We need to do something every day to try and strengthen our peace of mind, to strengthen our contentment. The holidays are a key time to invest in that training." 
As the holidays near, Gen Norden hosts a three-hour workshop, "A Peaceful Mind for the Holiday Season," in which guided meditation is combined with group discussion, and the focus is geared specifically to ease any stresses this time of year may bring — a class she says she offers so she can help people "make the best of the season." Here, she shares her thoughts on why and how meditation can be advantageous, even in the smallest of doses. Dec. 9, 10am, The Cowork Lab, 2500 Yale St.
Why is mindfulness important during the holiday season?
The holidays are an amazing time, full of joy, generosity and kindness. But in reality, it can also get very stressful. Time with family members you may not always see can bring challenges. For people who don't have family nearby, or who may have lost loved ones, there is another set of challenges. We need a little help to make sure the holidays are a peaceful time, and things that cause us stress and anxiety don't get the better of us.
How can meditation help? Meditation is a tool for learning to identify our love and kindness, not just to our partner and family, but to any living being. Our whole world would be much better off if we did this — identify compassion, and fuel it, feed it, and develop it, and grow it. And we can grow as much of it as we want. That's a key element to the holidays, compassion.
What will people take away from your upcoming workshop?
One thing we talk about is generosity. It doesn't have to be material things that we give this season. We can think about the people we are going to meet over the holidays and think, "What else can I offer?" Like our patience, for example. It doesn't cost anything and it has a beautiful effect.
What do you tell people who say they are too busy to meditate?If you are too busy, then you really need to meditate more! Meditation opens up time in your day, it doesn't take time away. If your mind is not focused, it takes you longer to do the same task and you are not as effective in doing it. But if you can learn to focus your mind and get calm and centered, then you can do the same amount of things in less time — be more productive. Meditation is definitely for people who are too busy to meditate.
Where do you find inspiration and peace in Houston? I didn't know much about Houston before I moved here, and I was so pleasantly surprised. It has such a fabulous mix of people. Buffalo Bayou is a lovely place to walk and meditate. I love to meditate in the gazebos on the walking trail along Heights Boulevard — people jog by with their dogs, going about their day, and it's just beautiful.
Wellness+Giving Back