Palace Intrigue
Boldly channeling the opulence of a grand India, and serving food that's at once whimsically artful and classically grounded, Musaafer has opened in the Galleria. Finally.
Julie Soefer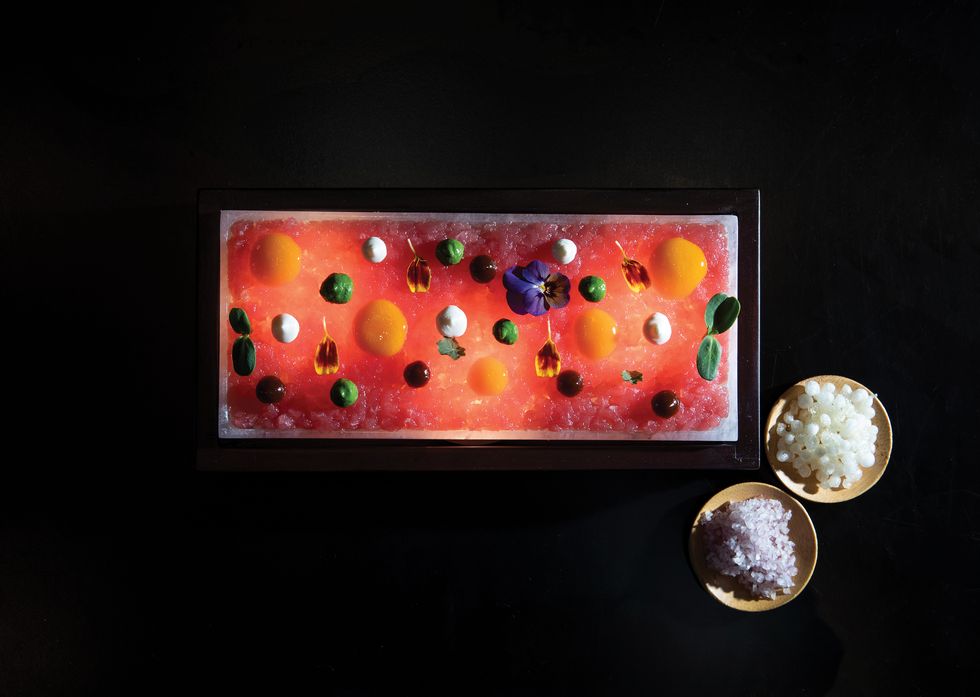 It's hard to imagine the frustration of trying to open a business over the last few months.
---
Harder still, think of opening a truly opulent restaurant, styled after Indian palaces, with no details left unconsidered, down to the handcrafted, mismatched, jewel-toned lampshades — imported, like almost everything else in sight, from the motherland — to form a dazzling overhead mural in the entryway. Imagine if this process had unfolded over a painstaking two-year build-out, at one of Houston's most posh and pricey addresses, opening briefly after the lockdown ended, only to have it close again when a staffer gets Covid. Well, that, of course, is exactly the story of the early days of Dubai imports Shammi and Mithu Malik's new Musaafer, which now, as of press time, is blessedly reopened in the Galleria. For good, one hopes.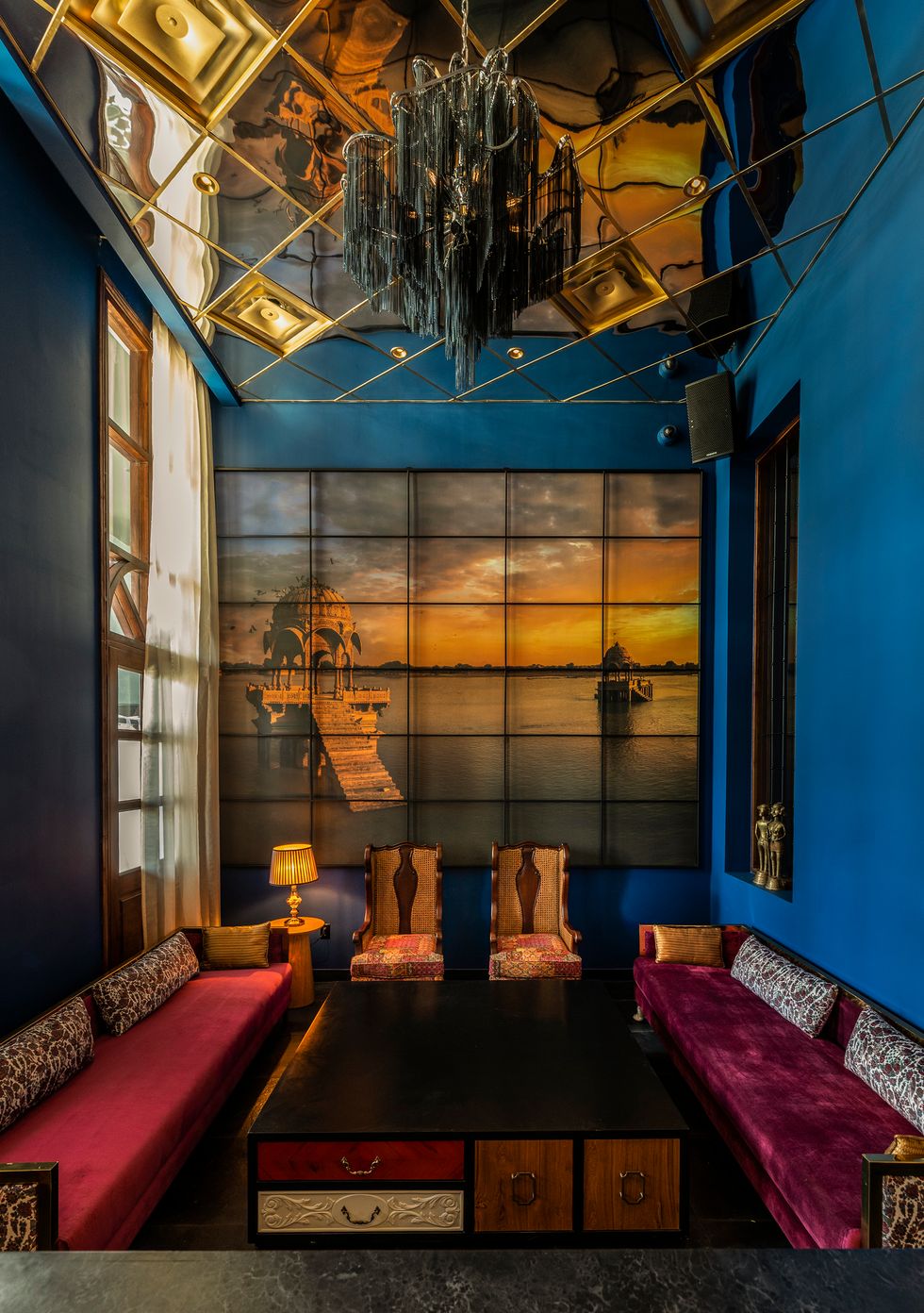 Jewel tones and velvet in a cozy alcove off the Musaafer bar.
The kindly "namaste" with which you're greeted by the chicly black-masked hosts who take your temperature as you enter the place — the feast for the eyes beginning well before the meal arrives, so astounding are the surroundings — belies that there's been any trouble. New Delhi-based Chrome Design Studio's interior scheme features seven distinct dining spaces set around an open kitchen, with design elements as eclectic as a larger-than-life-size statue of a musaafer (a traveler in Hindi) and live-edge community table in the Traveler's Room, and the Shadow Room's large brass overhead lanterns, casting shadows on the walls meant to recall henna tattoos. The main dining room, with its regal, swirling floor design of black and white tiles, adjoins a sexy glassed-in bar, glowing in the magic hour as the sipping of post-work cocktails that might be flavored with saffron or cardamom gives way to dinnertime. Just beyond the inside bar is an intimate outside bar.
Some other restaurateurs can go a lifetime promising digs with multiple "best seats in the house" and never really deliver quite like this.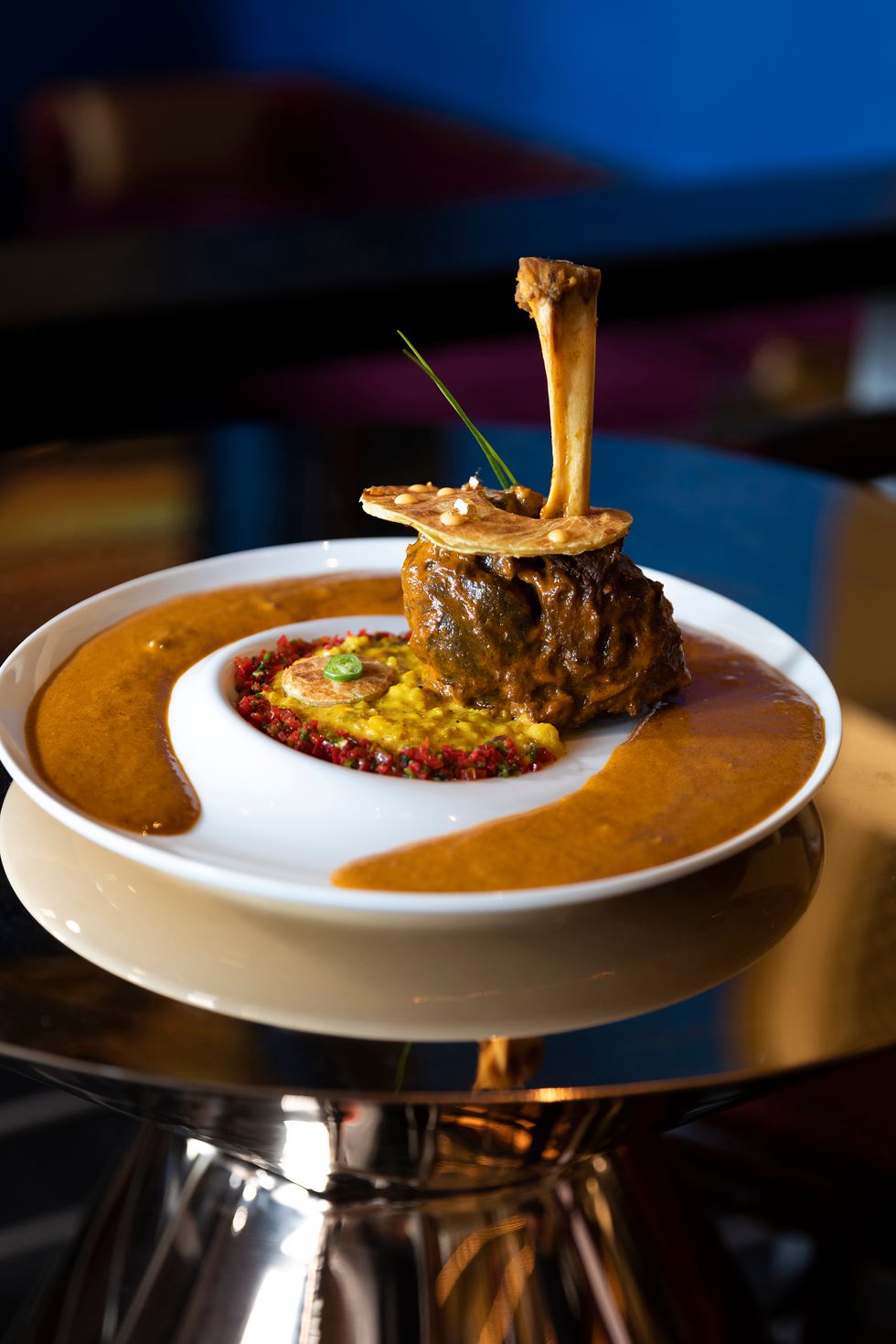 Nalli Hihari is a lamb shank accompanied by cauliflower 'risotto' and pepper gremolata
Musaafer might be forgiven if, in the middle of opening one of the most striking eateries ever in Houston, in a pandemic, the food was just OK. But chef Mayank Istwal and pastry chef Ruchit Harneja, both raised in India, bring their A-game, playfully but authoritatively mixing artful presentation, advanced techniques à la molecular gastronomy, and traditional, grandma-approved cooking. Consider the starter "eclairs" which come stuffed with a dense reduction of almost pure minced mushroom and adorned with mint gel and flowers — and the remarkable lobster curry, in which a tail pan-fried in the shell arrives swimming in a thick, simmered coconut-milk-based sauce infused with exotic flavors of the sour-sweet tamarind-like kokum fruit, Kashmiri tea leaves and famous Byadgi chili peppers.
For dessert, more mushrooms, these fashioned of white chocolate, arriving sprouting from custardy house-made yogurt covered with pistachio dust and dotted with freeze-dried raspberries. This is most fabulous foraging, in a decadently designed space — an escapist's fantasy well worth the challenge of dressing up and leaving home in days like these.
AT TOP: Tuna chaat
Food+Travel