Artist Collaborates with Young Cancer Patients to Create Moving Memories of 'Home'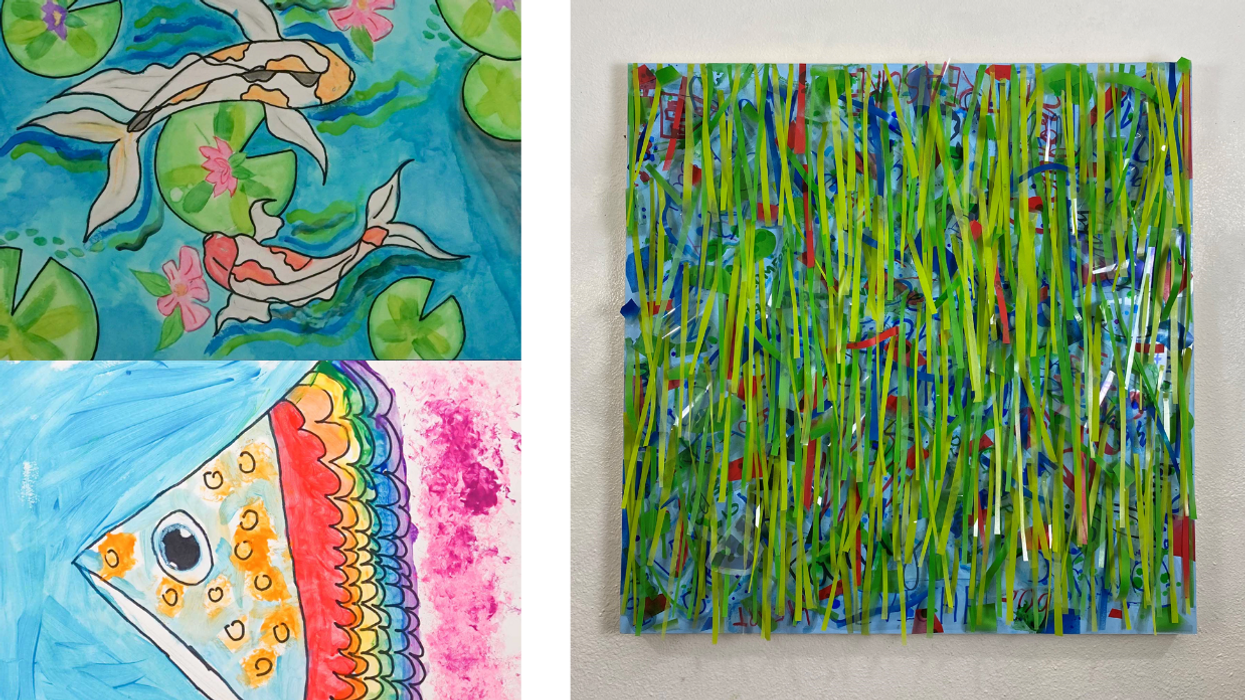 WHEN HOUSTON MULTI-DISCIPLINARY artist Matt Manalo was asked to create a new work for The Periwinkle Foundation's annual Making A Mark exhibit, which would include over 200 pieces of art and creative writing by child patients at Texas Children's Cancer and Hematology Center, he had no idea how profoundly the experience would impact own practice, or how much he would learn from his young collaborators.
---
"I literally cried while making the piece," says Manalo. "It was transformative, and healing for me as well."
At the beginning of the project, Manalo met with patients ages 7-15 at a summer camp sponsored by Periwinkle, as well as older, former patients who survived pediatric cancer and continue to meet as a community. He asked the kids for words that, for them, defined "home." Some of the words were very concrete, like "dog" and "my mother's enchiladas," but other words were more abstract, and described physical and emotional well-being.
"What moved me is when they would write words like 'comfort' or 'resting' or 'sleep,' says Manalo. "These are words that I myself would take for granted, but they mean so much for those kids, considering what they were going through."
Manalo, who turned 38 this year and is the father of a 17-year-old daughter and 8-year-old son, was born in Manila, the capital region of the Philippines. He came to the U.S. at age 19, and his memories of Manila, especially the stained glass windows of the house he grew up in, found its way into the artwork he created for Making A Mark. Titled "Home," the piece features a curtain of thin strips of green transparencies that move with the air, be it a whiff of wind or blast of air conditioning. "It's not just a flat piece," says Manalo. "There are a lot of layers in it."
Manalo, who has a history of heart disease, chose green as the dominate color for "Home" as a contrast to the bland, monochromatic interior of a hospital. "I'm not a big fan of being inside a hospital," says Manalo. "I know Texas Children's is working hard to make it as comfortable for the patients as possible. But you're still kind of inside." Cut-outs of the words the kids wrote to describe their ideas of "home" are layered within the work.
Accompanying "Home" is an installation of drawings and paintings by children touched by cancer and blood disorders. The life-affirming display of colors speaks to the internal feelings of joy, sadness and hope in the artists, some as young as four, while transforming the hospital into a much more visually pleasing environment. Not surprisingly, all of this color has changed how Manolo plans to make work in the future. "Kids see the world differently from how adults do," says Manalo, whose work up until recently didn't use much color. "They make work that's so colorful and pure, just emulating what their experiences are."
Making A Mark is currently on view on the 3rd Floor Auxiliary Bridge at Texas Children's Hospital in the Texas Medical Center. From Sept. 29-Oct. 1, the exhibit will be at the University of Houston as part of the three-day conference Healing Arts Houston, Innovations in Arts and Health.
Art + Entertainment