Pool of Thought
A husband-wife duo dives into a burgeoning biz — a fun, family-friendly, year-round approach to kids' swim lessons.
Fulton Davenport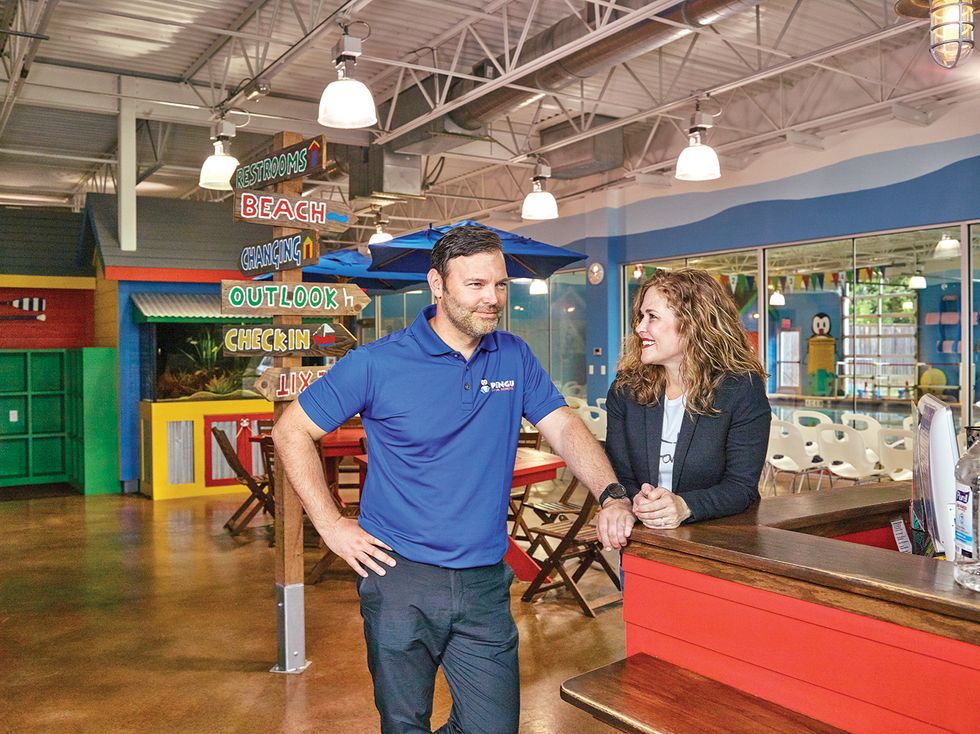 For many, surviving the heat of summer is unthinkable without a dip in the pool. But for some parents, the season symbolizes the slightly terrifying rite of passage in which kids gain their water wings.
---
In the case of Tiffany and Lothar Hofbauer, their children's need for swimming lessons was the catalyst for their business venture. "What we found were either outdated and waitlisted community pools, or private and expensive facilities," says Lothar. "We knew immediately that we needed to explore the idea of bringing a fresh and new concept to the industry that would serve the needs of other parents in our community."
Lothar, originally from Bavaria in Germany, was surprised to learn that swimming was not part of the school curriculum as it had been for him. "I viewed this as a necessary part of a child's development," he says, "and not just as a sport, but helping a child to develop a positive relationship with the water — which is the main aim of our business, and doing so in a safe and fun environment."
The couple, who have been married for 15 years, met at their best friends' wedding in Austin; Lothar was the best man, and Tiffany, the maid of honor. An overseas move for Lothar and three kids later, the pair are the proud proprietors of Pengu Swim School, which launched in the Heights in 2013 and just opened its third area location, in Sugar Land, with a fourth spot in the works in Cypress.
Lothar and Tiffany credit Pengu's success to huge demand from the community, and the fun-focused and imaginative environment they've set out to create for the children. "We wanted to make this a place where children would be excited to come, and a gathering point for friends and family, in or out of the water," says Tiffany. Pengu's open-swim sessions for families and the hosting of birthday parties are just some of the events that encourage visits to the inclusive environment.
Having traveled to a number of different cities within the U.S. and Europe, Tiffany and Lothar took the best ideas in design and methodology to create their state-of-the-art indoor aquatic facilities. Taking inspiration from the Muizenberg and St. James beaches near Cape Town in South Africa, the facilities' colorful seaside décor and charming mascot, Pengu the penguin, have made it a far less sterile and intimidating place for children of all ages to learn how to swim. Accredited by the United States Swimming School Association and Safer 3 water safety program, the school commits to one instructor per every four children.
Its business model of providing year-round swim lessons means that students don't sign up for single sessions, but continue to come weekly on a month-to-month basis. "The premise of this facility is to produce confident swimmers," says Lothar, "but we also keep the parents in mind."
Business+Innovation