Raquel Cepeda, Bossa Nova Babe
Helton Mendes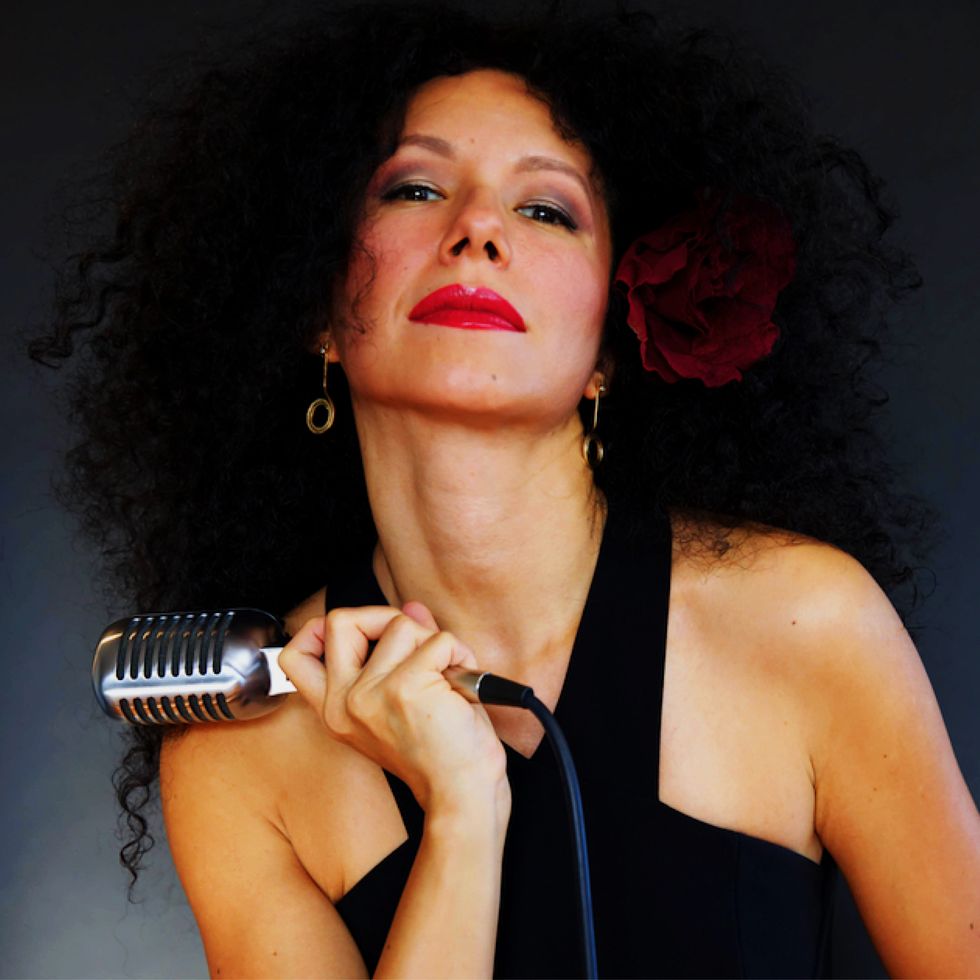 It's safe to say when Venezuelan-born singer Raquel Cepeda enters a room, people notice — well before she's even sung a note. Dressed in a lime green dress fit for Houston humidity, a flower in her jet-black curls, Cepeda speaks quietly and passionately, in between sips of sugar-free lemonade, about her Empório Jazz and Bossa series, a standing Friday gig. She performs weekly through June at Empório Brazilian Grill (12288 Westheimer Rd.), where she and some of Houston's most in-demand musicians perform Brazilian classics and jazz standards in the bossa nova style.
---
"Bossa nova can be very simple in itself," says Cepeda of the samba-like music, "but it can be over simplified too. It has a rhythmic pattern, but the interesting his is how are you, the singer, going to go around that pattern? How do you break the rules a little bit, but stick with the message?"
Bossa nova emerged in Rio de Janeiro in the 1950s and 60s out of the musical experimentation of such musicians as Antônio "Tom" Carlos Jobim and lyricist Vinicius de Moraes, who together composed the 1964 global hit "The Girl From Ipanema." Bossa nova blends the sophisticated harmonies of jazz with rhythms brought from Africa to Brazil via the slave trade, and conveys a sublime, cosmopolitan vibe. It's urbane yet earthy, kind of like Cepeda herself, who came to Houston in 2005 to work for BP. "It's almost like a whisper," she says of the genre. "It helps to understand what the lyrics are trying to convey, so you can recreate that with the music. That's a subtlety that goes beyond any technical skill you may have."
For her weekly musical journey at Empório, Cepeda draws from a pool of Houston's finest musicians who are able to navigate the genre's challenges. Pianist Barry Sames is a frequent guest, as is bassist Thomas Helton. Another important creative collaborator in Cepeda's life is her Brazilian husband Helton Mendes, a quality engineer and a gifted photographer. They first met in 2015 at a show where Cepeda, whose native language is Spanish, was singing in Portuguese.
"We started talking in Portuguese and English at the beginning," says Cepeda smiling, and blushing slightly at the memory. Before the two met, she had studied Portuguese, and worked with two pronunciation coaches while recording two Brazilian compositions for her 2013 album I'm Confessin'. Mendes knew a little bit of Spanish, but wasn't yet fluent. "Eventually, he decided to take some Spanish classes, and now we speak Spanish all the time," says Cepeda.
Not one to rest on her laurels, Cepeda is always looking ahead, pushing herself to dive even deeper into Latin American music, and bring what she discovers to audiences from Brazil, Cuba, Colombia and Mexico who now call Houston their home, as well as Anglo music lovers who welcome the new wave of Latin jazz that's sweeping across the city. She debuted her new band, called Passion, at McGonigel's Mucky Duck in November. Passion focuses even more on Afro-Latin rhythms, and features the young Cuban drummer Orlando Fuentes and seasoned Brazilian percussionist Cassio Duarte. Cepeda hopes to record the project later this summer, and no doubt, she'll make it happen.
Art+Culture