Elementary Students Gifted Instruments, Scholarships to Prominent Music 'Boot Camp'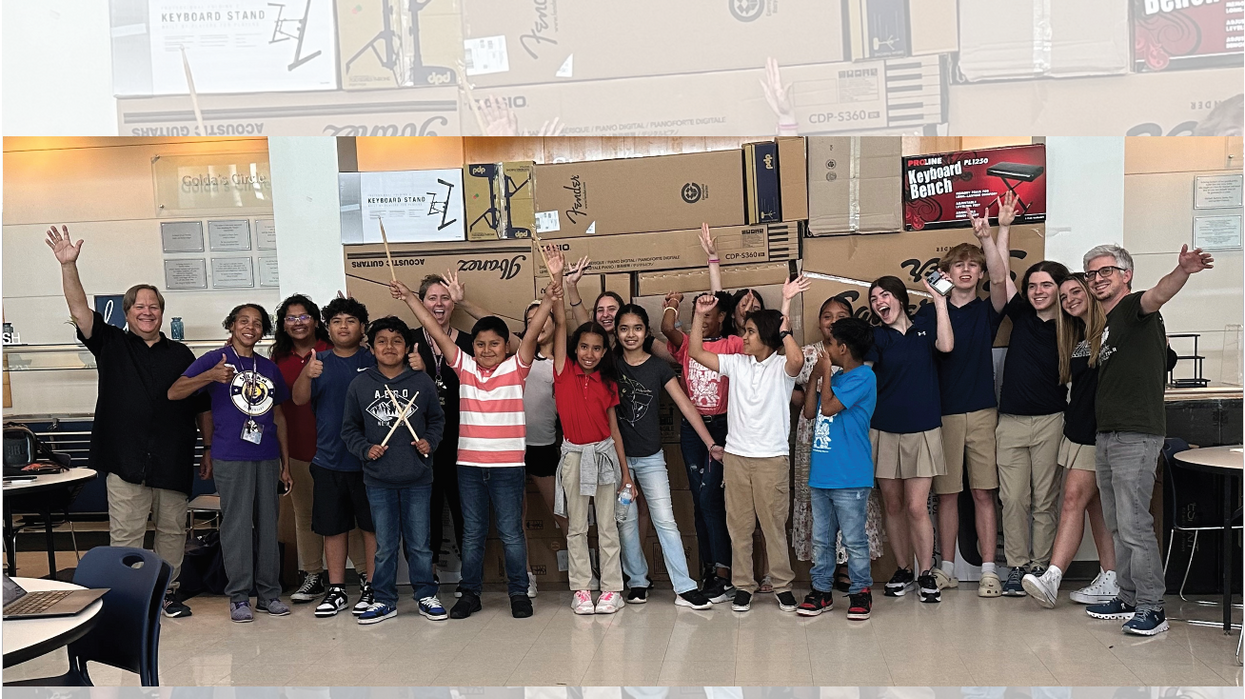 SINCE 1972, THE Summer Jazz Workshop (SJW) has schooled more than 15,000 middle and high school-age students in the art of playing jazz, a music Duke Ellington once described as "freedom of expression." Saxophonist and multi-instrumentalist Kelly Dean, who teaches music at Houston's Emery/Weiner School, has been an SJW faculty member since 1994, and his commitment to the workshop — co-founded by the late great drummer and educator Bubbha Thomas and Thomas' mentor Conrad O. Johnson — remains strong.
---
"It's been a true privilege," says Dean. "The workshop alum continue to astound me with their music and general success in life." That alum includes several internationally renowned musicians, including Grammy Award-winning pianists Jason Moran and Robert Glasper, as well as drummers Reggie Quinerly and Chris Dave. The workshop gets rolling June 20 and culminates with a public concert on July 15 at Ensemble Theatre.
This year, SJW enrollees include 13 students from Dean and fellow Emery/Weiner instructor Josh Sheiman's after-school program for fifth-grade students at Shearn Elementary, which debuted at the start of the 2022-23 school year.
In this ground-breaking program, students are taught the fundamentals of music and music theory by learning to play piano, bass, guitar, and drums and perform repertoire that includes jazz, blues, pop, and classic rock music. That's a lot for an adult to get under their fingers, let alone a child growing up in challenging circumstances. But in an interview with the Jewish Herald-Voice, Dean explained his multi-instrumental, multi-disciplinary approach to music education: "Statistically, some of these kids may struggle to finish high school. We want to give them something in their life they can count on and give them some hope."
The after-school program's inaugural students earned level-one certification on all instruments and at the end of this school year, each student was gifted their favorite instrument to take home and use as students in this summer's Summer Jazz Workshop. The instruments were purchased and then donated to the program by Houston entrepreneur and web developer Matthew Mullenweg, who in addition to founding WordPress is an SJW alum. The Shearn students also have full scholarships thanks to Houston drummer and retinal surgeon Dr. Richard Fish.
Dean has described the SJW as a "jazz boot camp," where for five weeks, five days a week, four hours a day, students learn not only how to play as an ensemble, but how to book a gig, negotiate a fee, and even announce a song, which helps a young person develop their public speaking skills.
Heading the camp is band director and master drummer Craig Green, who as a teenager played drums in "Prof" Johnson's Kashmere Stage Band and is seen both as a teen and adult in the excellent, Jamie Foxx-narrated documentary Thunder Soul. Other esteemed SJW faculty include bassist Al (a.k.a. "Big Al") Campbell, saxophonist Lloyd Hughes, saxophonist Cliff Gordon, who appeared in Houston CityBook's 2018 Music Issue, and bassist and trombonist Nic Allen.
For Dean, who has performed all over Houston in a variety of funk, rock, and jazz ensembles, jazz is a tool for teaching improvisational music, which transcends genre. It provides young musicians the opportunity to express themselves by composing melodies on the spot, in real time, that are compelling for the listener and adhere to a song's underlying chord progression.
"When it works, it's incredibly exciting for both the performer and the listening audience," says Dean. "The result is helium . . . the music floating above all of us."
Art + Entertainment